Backseat driver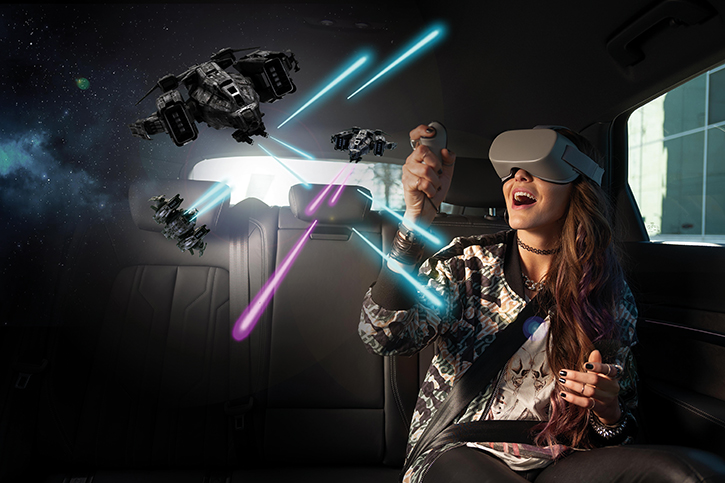 Autonomous, connected cars are a hugely untapped market for content and data. Will car manufacturers beat Silicon Valley in the race to the in-car video ecosystem?
"Keep your eyes on the road, your hand upon the wheel," sang Jim Morrison of The Doors. But that was in an age of seatbelt-less Ford Mustangs careening down Laurel Canyon Boulevard, drivers flicking cigarette ash out onto the dry Southern California grass. The future of driving – maybe the not too distant future – is going to be something else entirely. 
Within a decade, the self-driving or autonomous vehicle is going to be commonplace. Gone will be the days of piloting your vehicle through traffic like Han Solo through an asteroid field. Your car will be steering itself – and more safely than you could ever dream of doing. 
In the meantime, you'll just be sitting there, doing…what? Well, a growing number of car companies are betting you'll be consuming content – video content. 
In-car video systems are already a mature technology; DVD players and flip-down screens have been available for as long as 20 years. Seat-back video options are becoming commonplace – an iPad hanging from the headrest has been de-stressing long family drives for some years, and there's a variety of new seat-back video products available that offer tethering to networks or old-fashioned DVD players.
The car traveller is a captive audience – strapped in and committed for the duration of their voyage, the untapped potential for delivering content to –not to mention advertising to – that audience is enormous. An iPad hanging from a headrest is still a viable way for a traveller to watch content, but car manufacturers are seeing in connected video a whole new opportunity for enhancing their brands and the driving experience they offer. 
Ready Driver One
Media-enabled vehicles are becoming a high-profile showing at the CES show in Las Vegas. This year, Audi exhibited connected 'car-to-x' technology, designed to allow cars to share data with each other and operate more quickly, efficiently and safely as a vehicle 'swarm'.
Audi also debuted Holoride, which had teamed up with Disney to bring VR experiences to passengers in cars. Holoride was developed by German tech entrepreneurs Nils Wollny, also head of digital business at Audi, Marcus Kühne, project lead of Audi's VR experience and Audi software engineer Daniel Profendiner. At CES, Holoride debuted with a game called Marvel's Avengers: Rocket's Rescue Run. In Holoride, the motion of the car itself intelligently incorporated into the VR content, with experiences tailored to match the length of the passenger journey and incorporate the quirks of the terrain.
The company claims that a passenger having a VR experience is less likely to experience any motion sickness. Counterintuitive though this may sound, motion sickness is often triggered by the conflict of the inner ear sensing movement that the eyes don't register. A VR experience providing a context for that sensation of motion should decrease the level of nausea – at least theoretically.
Audi started on the Holoride experience four years ago, and brought Disney in only in the last year, but the company hopes to make it an open platform, giving creators the ability to create content for any car. An SDK should be available this year and the company aims to make content widely available on the platform within three years.
Audi's VR experiments are at the more dramatic end of the in-car content spectrum, but manufacturers are developing a variety of solutions for in-car entertainment which they hope will mean a revolution for their businesses and for the content industry.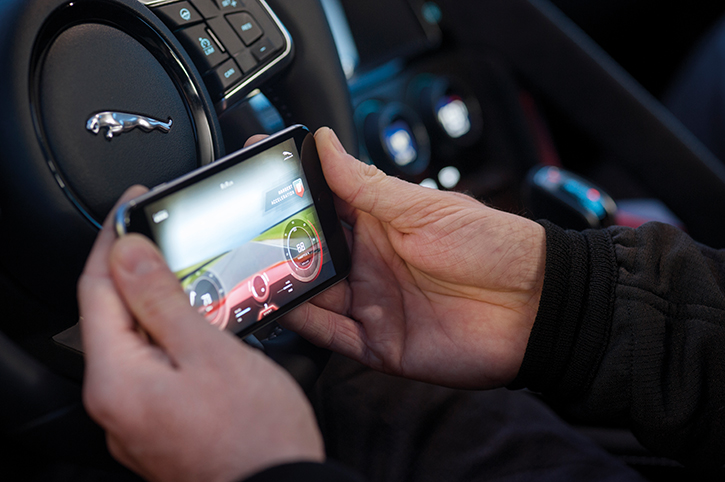 Driving connection
Access cut its teeth in mobile networks and launched the first mobile web browser in the 1980s. The company now provides software solutions to connected and mobile devices including the connected car. Access Europe, based in Oberhausen, Germany, specialises in both digital TV, IOT and automotive connectivity with a focus on HTML5 and web technologies. Many of the worlds' leading car brands use Access software for their connected infotainment units. Any given new Jaguar will have four Access-powered browsers operating in the vehicle simultaneously. Jaguar uses HTML5 browsers even for displays of air conditioning and comfort controls, which allows them to easily rebrand for each of its car models.
The company also has a speciality in media sharing technology, allowing content to be watched and continued across devices in the home. It has combined its browser heritage and in-home media experience into Twine for Car, a product enabling automotive OEMs to provide branded entertainment services to automobile screens, from rear-seat units to mobile devices. "Twine for Car gives you a set of features that will be applicable as we transition from where we are now towards electric vehicles and autonomous cars," says Access Europe's Robert Guest, VP of product management. "We're working with content companies to provide a full package. We have the technology component, but can also provide OTT and streamed video, audio and games. We want to become a service platform for the car, rather than just a component."
A market on the move
Car manufacturers and OEMs are currently in some disarray. 'Diesel-gate' has forced a sudden shifting of gears, and the rapid de-escalation of fossil fuel use required over the next few years means car companies are searching for new ways to differentiate brands, boost revenue and add value. Opening up the possibilities for creating a new in-vehicle content market could be a gold mine. 
Guest explains: "If you're treating the car as a new market for video and audio, the beauty of it from a content company perspective is that you're not cannibalising the market you already have, because you don't have an automotive market yet. And for the automotive companies, it gives them a chance to continue a relationship that normally stops at the point of sale.
"With a view to the idea that this cockpit will become semi-autonomous, then autonomous, then an entertainment pod, car companies are looking to build their brand beyond the metal."
Driving away the competition
The media-connected car of the future – for an additional monthly fee – could deliver content through a branded entertainment app that works seamlessly through the main driver console and across other screens in the vehicle, as well as via apps on customer mobile devices in the vehicle.
"Obviously this isn't going to come in the next one or two years," says Guest, "but the problem that the car companies can foresee is that if they don't move into providing these kinds of services now, then the car will end up being effectively branded by California – you'll end up having a Google car or an Apple car. From a consumer perspective, maybe we don't care, but that's the worst thing for a car brand."
Establishing an ongoing media relationship with their drivers could then enable car companies to open the door to all kinds of other possibilities, including targeted advertising. This could prove especially lucrative given the whole new set of data that can be extracted from the driving experience. This includes not only location data, but speed, weather, surrounding traffic conditions and destination. Enhanced by AI, it could determine who is driving the car, with what passengers and for what purpose. Drivers could be served personalised ads based on their route: "Why not stop in that Starbucks two blocks ahead? There's a parking spot available."
Future business models for car companies could include different entertainment packages and subscriptions for car owners. The packages could be upgradeable to include all kinds of premium content, potentially content produced solely for subscribers to that in-car media service. These services could also enhance car rentals, taxis, public transport – and almost certainly your local Uber or Lyft ride. Wi-Fi hotspots will also start to come as standard in cars, which also offers another option for manufacturers, but a potential challenge to their own in-car branded subscriptions. "We're at the start of what could be a massive marketplace," says Guest, "and video is a huge element driving that".
AI is my copilot
The most revolutionary feature of the connected car is not so much the passenger watching the technology, but the technology watching the passenger. Swedish AI start-up, Valossa, has been demoing intelligent car technology to monitor and analyse not only who is driving the vehicle, but what they are doing and even what they are feeling.
Valossa's speciality is a live AI model that analyses video data in real time with high precision. One of its major markets is content management, where its AI can quickly identify faces, objects, places, activities, speech and sounds, and categorise, flag content or apply any other metadata based on the user's selected parameters.
This same AI technology can also be applied to video collected by an in-car camera. Videos of driver and passengers can be analysed for deep monitoring of driver or passenger behaviour, sentiments and direction of attention. AI-assisted human analysis can detect changes such as driver distractions, fatigue and even states of high emotion.
Though still in its trial stages, the technology could appeal to insurance companies, public transport and, of course, law enforcement – anyone basically for whom the physical, mental and emotional state of a driver is a significant factor in doing their job well. 
At a more consumer-friendly level, in-car video analysis can identify who is driving and who is a passenger, automatically adjusting seat, mirror and other comfort settings, as well as selecting content based on each person's known favourites, or on how they appear to be feeling and how awake they are. Road rage setting in? Cue the Brian Eno. Feeling fatigued in the last leg of a long journey? It's Ride of the Valkyries, turned up to 11. And your smile will be recorded.
This article originally appeared in the March 2019 issue of FEED magazine.