Fa-Fa-Fa-Fa-Fashion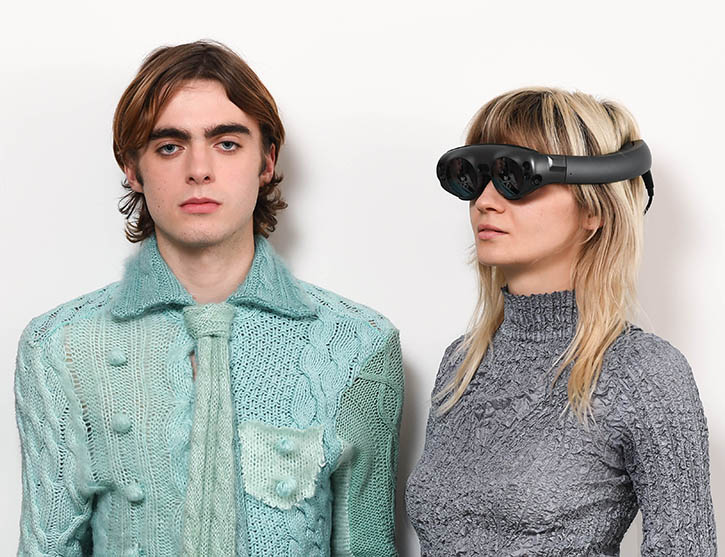 What happens when fashion meets technology? The world's first 5G mixed reality catwalk.
Words by Mike Elliot
Runway fashion shows are an essential feature for any serious design career, with glittering installations, bespoke soundtracks and luxe wearable tech concepts becoming the new standard. However, this means designers are now embroiled in a game of one-upmanship, as they attempt to satisfy an international, tech-centric audience. 
Frustratingly, the tech revealed at these shows goes out of fashion quicker than, err, fashion, and immersive media that has become fashion's latest fling. We've already seen holograms at Alexander McQueen and the first 4D fashion show, care of Ralph Lauren. Tommy Hilfiger populated his front row with social media stars for his first 'see-now, buy-now' show. And, outdoing all of it, we've just witnessed the first-ever mixed reality fashion show. 
The MR fashion event was held at Central Saint Martins for London Fashion Week's MA graduate show. MR, for those that don't know (or didn't read our mixed reality issue last December) is the merging of real and digital worlds to produce new environments and visualisations where physical and virtual objects can coexist and interact with each other in real time. 
The Shock of the Lightning 
The MA graduate show debuted upcoming designer Gerrit Jacob's collection, which was inspired by '80s gaming arcades and fairground scenes. His collection was modelled by Lennon Gallagher (left), son of Oasis frontman, Liam. Lennon strutted down the runway with digital elements materialising above him. These visuals were taken directly from the collection design and included giant skulls, tiger heads and lightning strikes. 
The MR experience was brought to life by Rewind, an independent studio specialising in creating VR/AR/MR and 360-video experiences. It was in partnership with Three network's 5G technology and Magic Leap's virtual reality display headsets.
Greg Furber, senior creative/XR director at Rewind explains the reason 5G was integral to making the world's first MR show happen: "We needed to make sure every beat of the show was in time with the music, the other lights and what the models were doing. Even if we were out by a few frames, the illusion would be broken. To get a synchronised performance like that, you need a low-latency, high-speed data connection, which is only possible with 5G." 
"You need a low-latency, high-speed data connection, which is only possible with 5G."
Furber explains: "Everyone in the mobile industry is excited about the roll-out of 5G and what it can offer, but what it can do for us in the creative space is equally as exciting. If you look at the shows put on by Chanel, Givenchy and Dior, the settings they put in place are these huge builds, costing millions of pounds. The power of 5G will enable students like Gerrit to create that same environment, but through virtual means". He continues: "The MR fashion show was a first glimpse into how 5G will transform the future of fashion, and how the fashion elite could view collections with increased creativity on the catwalk – just as they are brought into the mind of the designer." 
The designer, Gerrit Jacobs, explains: "Runway shows are a really nice example of what mixed reality could do, but it could be used in the shops or on the streets. All we do as designers is work on creating the context of the world around us. To make it become a reality is, to me, an opportunity in every aspect of presenting clothes." He adds: "I think – for every designer – it would be a great opportunity to work with mixed reality."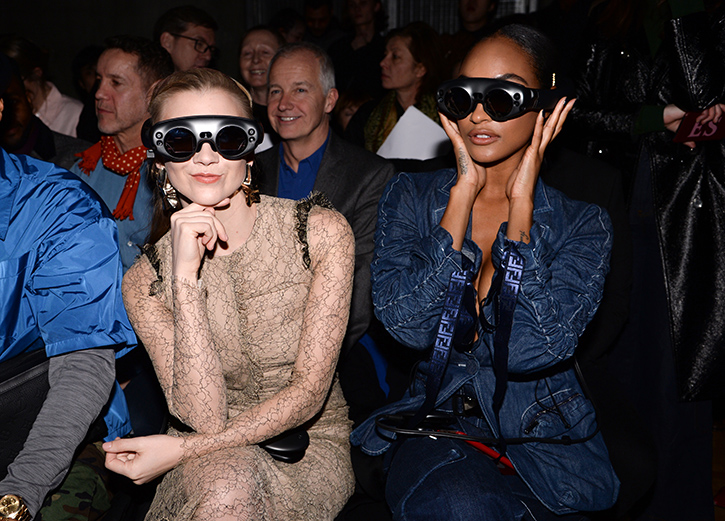 Fortnite Fashion
The same real-time game engine used to create cult favourite, Fortnite, was used to create the MR visuals for the Central Saint Martins MA fashion show. Unreal Engine 4 (UE4) is designed to easily render complex imagery at high frame rates. Rewind used Unreal Engine to make three models for the characters, which were then animated and built into the Magic Leap headsets.
"Unreal engine 4 is designed t0 render complex imagery at high frame rates

."
"We synchronised the designs with the Magic Leap headsets using a computer that ran the UE4 build. We also had a traditional TV vision mixing desk, which enabled a live camera feed. This meant we could create a live mixed reality broadcast through the TV screens as well," says Furber.
The MR show was captured as a live feed that was aired to screens within the building, but it wasn't livestreamed online due to the length of the run. "We could've easily done a live stream, but we decided against it because of how short the run was and how long it takes to get a following on those streams," says Furber. "We released the feed on Instagram, YouTube and other social channels after the event."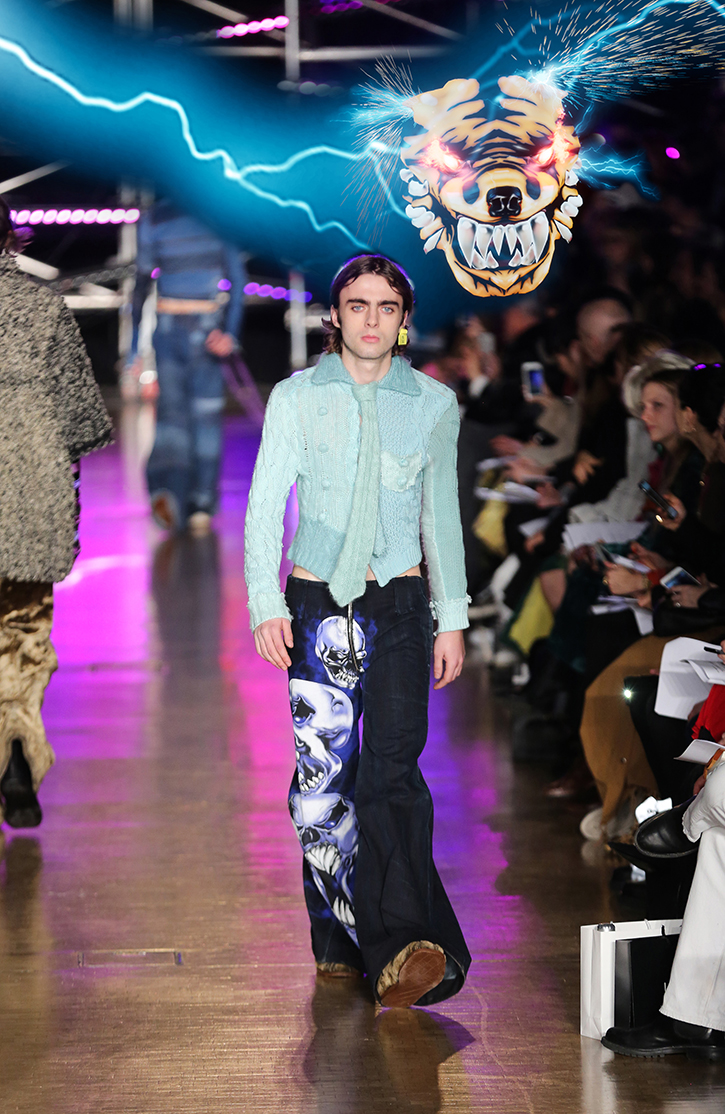 It's a Kind of Magic
Ten VIPs were given the immersive experience, which had to be viewed through Magic Leap's headsets. "There were 700 people in the audience and our systems could have provided a shared mixed reality experience for all 700 if we had the hardware," says Furber. "Of course, we were incredibly lucky Magic Leap supplied the hardware, because those headsets haven't even been released in the UK yet. You can't just nip to the high street and buy a load." 
He adds: "The phrase 'world first' gets chucked around a lot. It's a marketing phrase designed to guide our attention to something, but genuinely no one had used Magic Leap in this way before. The guys at Magic Leap even said to us afterward, 'How on earth did you do that? We know our hardware is good, but we didn't know it could do that.' 
"The headsets had a level of finish to them, but they were still a developer model. Every time we used them, we were testing them to see how well they responded and, equally, Magic Leap was learning from what we were doing as well. It was a good test for the gear." 
Furber tells us the biggest challenge for his team was working with this new hardware. "It was very intense knowing A-list celebrities were wearing the headsets and if anything went wrong, we couldn't exactly restart the show, because it was live. The intensity was all part of the fun, though."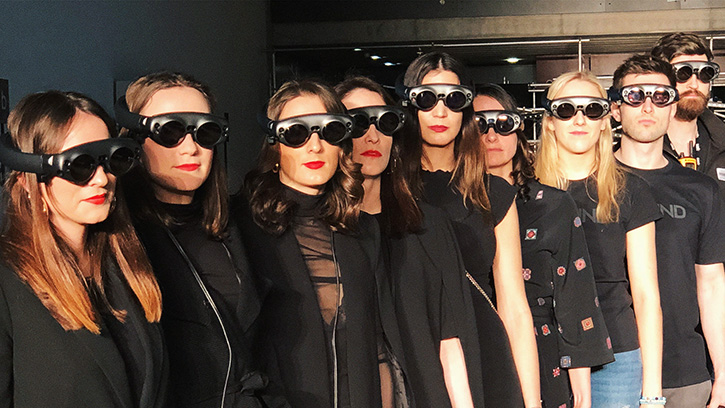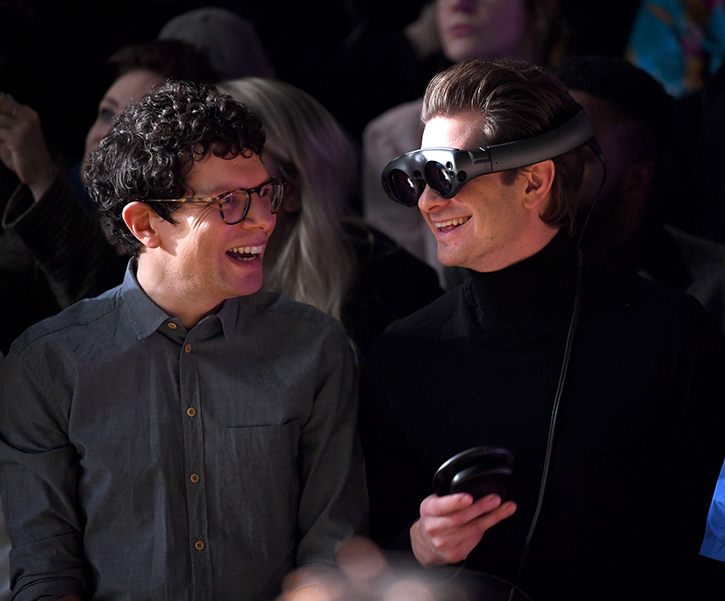 Trendy Technology
Fashion runways are evolving beyond the physical realm. The once far-fetched prospect of a brand connecting its audience through a skilfully crafted virtual reality has now become reality. 
"Fashion has always been a trendsetter – but of course it is, it's fashion," says Furber. "Fashion is the leading edge of that midpoint between technology, design and the real world, and I think you'll start to see MR appear on the runway more."
Away from the excitement of London Fashion Week, the collaboration between Central Saint Martins and Three is part of a long-term creative partnership. Three is setting up a design-focused 5G laboratory on its campus, which will include the internet of things (IOT) hardware and other connected technology. This will allow students to experiment with new ways of creating art through AR, VR, MR and cloud technology. 
Furber concludes: "Mixed reality is going to be a game changer for fashion, both in terms of presenting it live at an event, but also in terms of the design and creation process. Designers will be able to see their collections come to life in the real world." 
This article originally appeared in the March 2019 issue of FEED magazine.