Into The 5th Dimension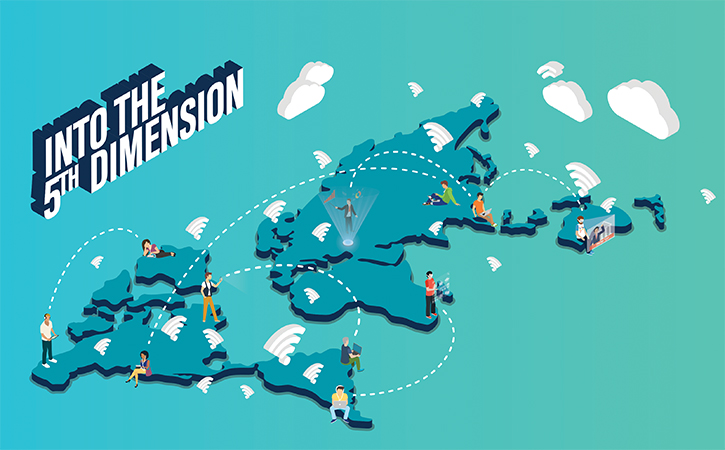 5G is a connectivity revolution, and it's just around the corner – we think
Bigger, better, faster, badder – 5G is coming, and as dedicated followers of fashion, we should all be terribly excited about getting the next 'G' on our smartphones. 
Or should we? 
Turns out that while 5G is going to be a great thing for us day-to-day consumers of mobile technology, this big 'G' is actually going to be a lot more important, and wider ranging, than any of its predecessors. 
What makes 5G different from previous standards is the way it is being designed, taking the outline for what it needs to be from multiple industry sectors as opposed to being a consumer-driven standard. From autonomous vehicles and media everywhere, to a guaranteed data rate that means users will no longer talk about speed (or a lack of it), this standard will have 99.999% reliability, will connect the Internet of Things (IoT), and will have ultra-low latency and a guaranteed quality of service. 

Next Major Evolution 
"5G is the next major evolution of mobile networks," says Steve Plunkett, chief technology officer at Red Bee Media, formerly the broadcast and media services division of Ericsson. "It introduces significant improvements in performance and capacity over 4G LTE networks, through a combination of more efficient radio transmission, access to greatly more radio spectrum and changes to the core networks that connect radio base stations. This translates into much more bandwidth for mobile devices, less transmission delay (latency) to better serve real-time video and augmented reality (AR) and virtual reality (VR), along with more certainty and performance guarantees for different categories of user and applications. In short, it's faster and better than the best on offer today and it will change how we work and play."
Yet 5G is more than a new generation of technologies; it promises a new era in which connectivity will become increasingly fluid and flexible. According to Michele Zarri, technical director at GSMA: "5G will be a catalyst for innovation and enable richer, smarter and more convenient living and working". GSMA Intelligence expects 5G to cover 74% of the EU population by 2025 with over 170 million connections. 
The combination of high bandwidth and low latency will allow real-time, interactive communication at a new level, believes Plunkett. He says 5G will allow people to fully experience locations and events without physically being there (using AR, VR, mixed reality and 360 video). "It will allow the remote operation of equipment, using high-quality video, in industrial and medical situations. It will facilitate large-scale autonomous vehicles such as self-driving cars and drones. In short, it will collapse distances between people and the world around us, enabling innovations that will change society in much the same way that voice- and text-based communication has up to now," Plunkett says.

New Worlds of Possibilities
"5G will open up a new world of possibilities," enthuses Kjetil Horneland, CEO at Norwegian video solutions provider Sixty. "Imagine being close to a match in a sports event, no matter where you are, with almost no delay from the live experience, to it being available on your mobile device in a stadium or at home. Imagine richer content at your fingertips, where you actually influence the TV broadcast, more than just watching a static TV broadcast. At any time you could jump into a VR experience of it all. Imagine gaming, TV, social and data services all merging in one delivery, but in a form where you find it simple to use and that the experience is personalised to your preferences. Imagine being connected no matter where you go. This means getting more and richer digital services wherever you are, in the street, at an event or at home; the world will be seamlessly connected."
Horneland continues: "In the past decade we've seen an enormous shift in the industry when it comes to mobile networks, Internet access and the availability of streaming media services. Still, this is only the beginning. By 2021 the industry prediction is that around 85% of the world's Internet traffic will be video. With more and more connected devices available, the network side needs to keep up to distribute these services effectively. The Internet was not really built to distribute these loads of data, and we are gradually seeing a shift of better network technology to serve our distribution and future of IoT. "The rise of IoT services will be huge. Imagine simple and future of IoT.

"The rise of IoT services will be huge. Imagine simple gadgets measuring your entire life from health to media services. Imagine having services which will keep you healthy, before you get sick, because it was detected in time. With better networks it will all be connected. You control both your life and all your surroundings from wherever you are."   
Says Brian Morris, VP and general manager, media and entertainment at Tata Communications, 5G will power new sports and entertainment experiences as well as platforms that are inherently mobile, for example, VR, AR and live 360 video, but that are today dependent on Wi-Fi. He explains: "5G will make experiences, today constrained to static Wi-Fi, truly mobile. Looking at live 360º video, for example, to date, any 360 video experiments in sports have been hampered by a delay between the 360 video and live TV feeds, preventing a widespread adoption of the technology in live sports. 

"At the 2017 Singapore Grand Prix, Tata Communications conducted a test of truly live 360 video to show how the F1 racing experience could be augmented for fans, enabling them to experience the action in and around the circuit almost as if they were there," continues Morris. "It was all about overcoming that delay, and showing how a fan could watch Lewis [Hamilton] or Sebastian [Vettel] coming into the pits on TV, grab their tablet and get a second, completely in sync 360º view of everything too!"
Meanwhile, Zarri says the 'headline' 5G services will focus on three areas: Ultra-HD video, AR and VR applications. However, 5G will also enable machines to communicate without human intervention in an IoT capable of driving a nearly endless array of services. He adds: "It will facilitate safer, more efficient and cost-effective transport networks and offer improved access to medical treatments, reliably connecting patients and doctors all over the globe. From low power, sensor-driven smart parking to holographic conference calls, 5G will enable richer, smarter and more convenient living and working. It is a giant step forward in the global race to digitise economies and societies."
"5G is a technology that can augment and maybe eventually replace digital terrestrial TV."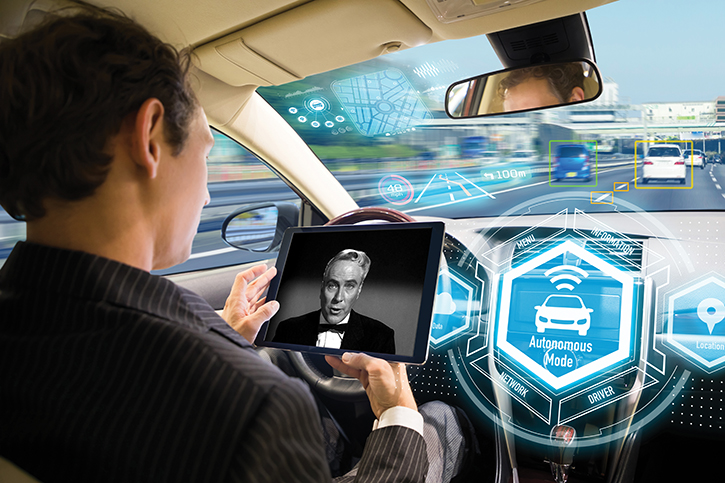 Self control 5G will facilitate the use of autonomous vehicles such as self-driving cars and drones
So how will all this work? One aspect of the magic is network slicing. This allows mobile networks to chop the 5G spectrum they own into smaller pieces to use almost as mini virtual networks within the whole, for multiple purposes. 
"With 4G, it doesn't matter what you're doing, everyone is using the same network, which means it's still a best-effort service," says Matt Stagg, head of mobile video and content at EE. "What happens with 5G is that you can segment the network so it enables you to create virtual networks tailored to the requirements of what is using it. For autonomous vehicles, we can use edge computing to get the low latency needed, whereas consumers don't need 99.9% service reliability to watch cat videos. But if they're watching breaking news or critical communications, they do. 5G is a technology that can augment and maybe eventually replace digital terrestrial TV," Stagg adds.
There have already been some 5G trials around the globe, even though the first edition of the 5G standard was only ratified in December by the 3GPP. The standard has established a set of features and functionality needed for deploying a commercially operational 5G system. Adds Plunkett: "There are a number of technology trials underway and both standards and spectrum harmonisation will be complete in 2019. By 2020 we will see the start of large-scale availability and use. In the meantime, 4G LTE is continuing to improve, both in terms of coverage and new versions that will smooth the transition from 4G to 5G."
EE carried out a lab trial in November last year demonstrating "phenomenal" speeds, according to Stagg. The operator worked with Huawei to create 2.8Gbps download speeds across an end-to-end 5G test network in its UK mobile lab. It linked the fully virtualised 5G core to a 64×64 Massive MIMO active antenna unit broadcasting 5G New Radio, using 100MHz of 3.5GHz test spectrum via the proof-of-concept Huawei 5G baseband unit. The consistent 2.8Gbps speeds and sub 5ms latency were delivered end to end, rather than just across the air interface.
Earlier this year, in collaboration with Samsung Electronics, Arqiva launched the first field trial of 5G fixed wireless access (FWA) technology in the UK. The idea behind FWA is to provide a cost-effective and streamlined alternative to fibre-to-the-home (FTTH) or fibre-to-the-building (FTTB) solutions, without sacrificing on service performance, capacity or user experience. 
Samsung's 5G Access Units (base stations) were used, utilising high frequency mmWave (millimetre wave) spectrum and advanced technologies such as beam-forming, to provide high-density coverage and ultra-high bandwidth connectivity to customer premise equipment (CPE) installed in a nearby location. The trial successfully provided ultra-high speed connectivity to multiple devices, with performance in excess of 1Gbps – that's 30-50 times faster than 4G (the highest average 4G speeds in the UK are still less than 30Mbps) – which can enable high-quality video streaming and virtual reality. Arqiva achieved up to 25 simultaneous UHD streams on a single CPE.
Some countries are further ahead than others. We will see pre-5G in Korea this year, comments Zarri: "Markets such as South Korea, Japan and China are driving the development of 5G mobile technologies, just as Europe pioneered 3G and North America led 4G. China's mobile operators plan to run a phased testing period for 5G networks through to 2019, before commercially launching services in 2020. 
"There are also challenges the industry will face. In some scenarios, the deployment of 5G may be very expensive compared to the additional revenues it will produce initially."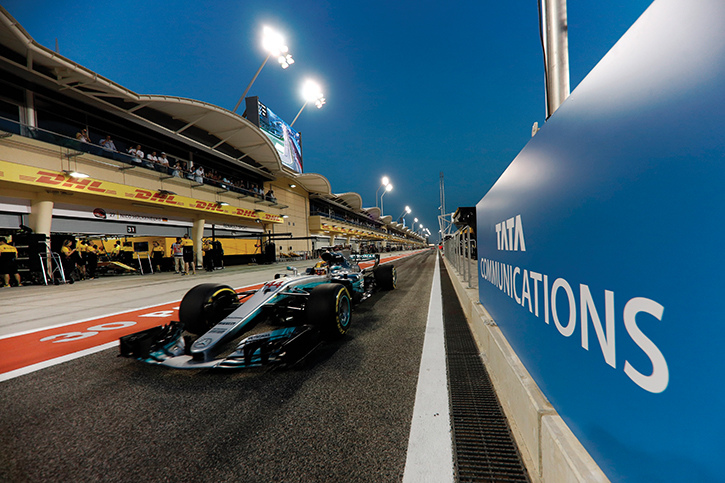 Augmented viewing A test of live 360 video at the Singapore Grand Prix allowed fans to experience the race as if they were there.
Changing content distribution
The most obvious application for moving content around is improved mobile broadband, with 5G building on the capabilities of its predecessor. Chris Alner, business development director, satellite and media at Arqiva, says: "The next is fixed wireless access (FWA), as in many instances 5G will offer better speeds and lower costs than fixed broadband solutions, such as fibre and cable; this will be the case in urban and suburban areas under certain conditions."
Trials suggest 5G could be considerably faster than we currently believe, "with some in the industry estimating eventual download speeds up to 1,000 times higher than 4G, potentially exceeding 10Gbps", states Alner. "This may not happen immediately, but such speeds are faster than most, if not all, current UK consumer fixed broadband lines. This could be an indication that 5G will transform the telecommunication industry as a whole, not just mobile."
The superior capabilities of 5G to deliver at fast speeds with close to zero latency will mean that live events such as sports can be streamed to individuals in near real time with excellent speed, quality and reliability.
"Content such as match statistics could be superimposed and viewers could choose from multiple camera angles to make it a more immersive experience," says Zarri. "This will likely lead to innovations in the delivery of premium content offers. It will also take seconds to download typically heavy content such as TV, films (in 4K or 8K Ultra High Definition) or games, without any connectivity problems."
In the end it is about the content and how easy it is to get it distributed, says Horneland. He explains: "This puts the content owners in a powerful position, as you can see in the rise in cost of media rights. Everyone needs relevant content to distribute no matter which network they are using. As a result, larger players in the market will probably challenge the smaller operators and distributors. Local distributors can choose to become bundlers of content offerings and act as reseller channels, but they will still be threatened by global trends and distribution offerings. In terms of business models, I think you'll see big changes in which companies will still be around in ten years' time. You will also see new bundles of media services that have not existed before."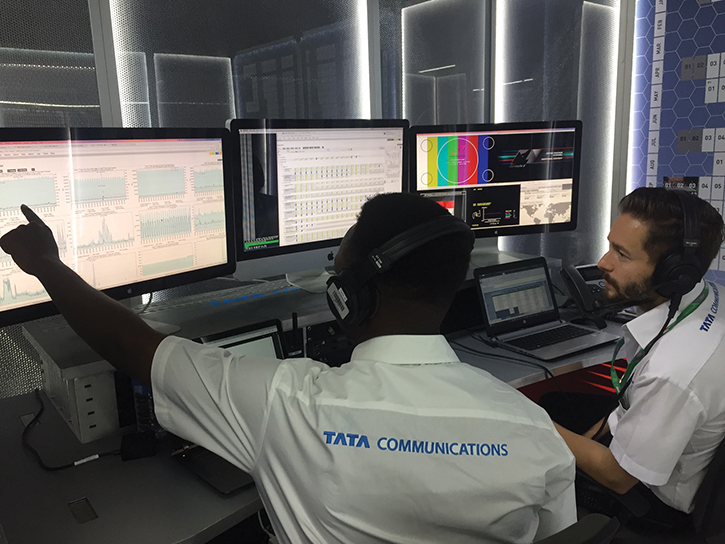 On the move 5G will make experiences totally mobile, without being reliant on static Wi-Fi.
"The deployment of 5G may be very expensive compared to the additional revenues it will produce initially."
Dodging Potential Problems 
However, Alner comments that all this speed does come with problems: "5G networks will be very different from today's 3G and 4G networks. They require real-time, end-to-end visibility; automated, intelligent resource analysis and allocation; and most importantly, they will be underpinned by software-defined networking control. The success of 5G, therefore, and whether its potential is fulfilled, will depend on how these components are deployed and managed." 
"5G is a global opportunity but uncertainty still surrounds several key technologies required to make it a reality," says Zarri. "Not all technologies for 5G have been proven, especially at commercial scale. The speed and extent of 5G deployment will also depend on local demand for it, and this means that fragmentation could be a real danger for its global success. We think that the critical development will be in virtualisation and the ability to do network slicing because this allows mobile operators to generate multiple types of networks from the same infrastructure and support multiple types of businesses associated with them. For us, virtualisation and the new architecture that is designed around it is the major revolutionary aspect of 5G." 
This article originally appeared in the March 2018 issue of FEED magazine.