Lost in music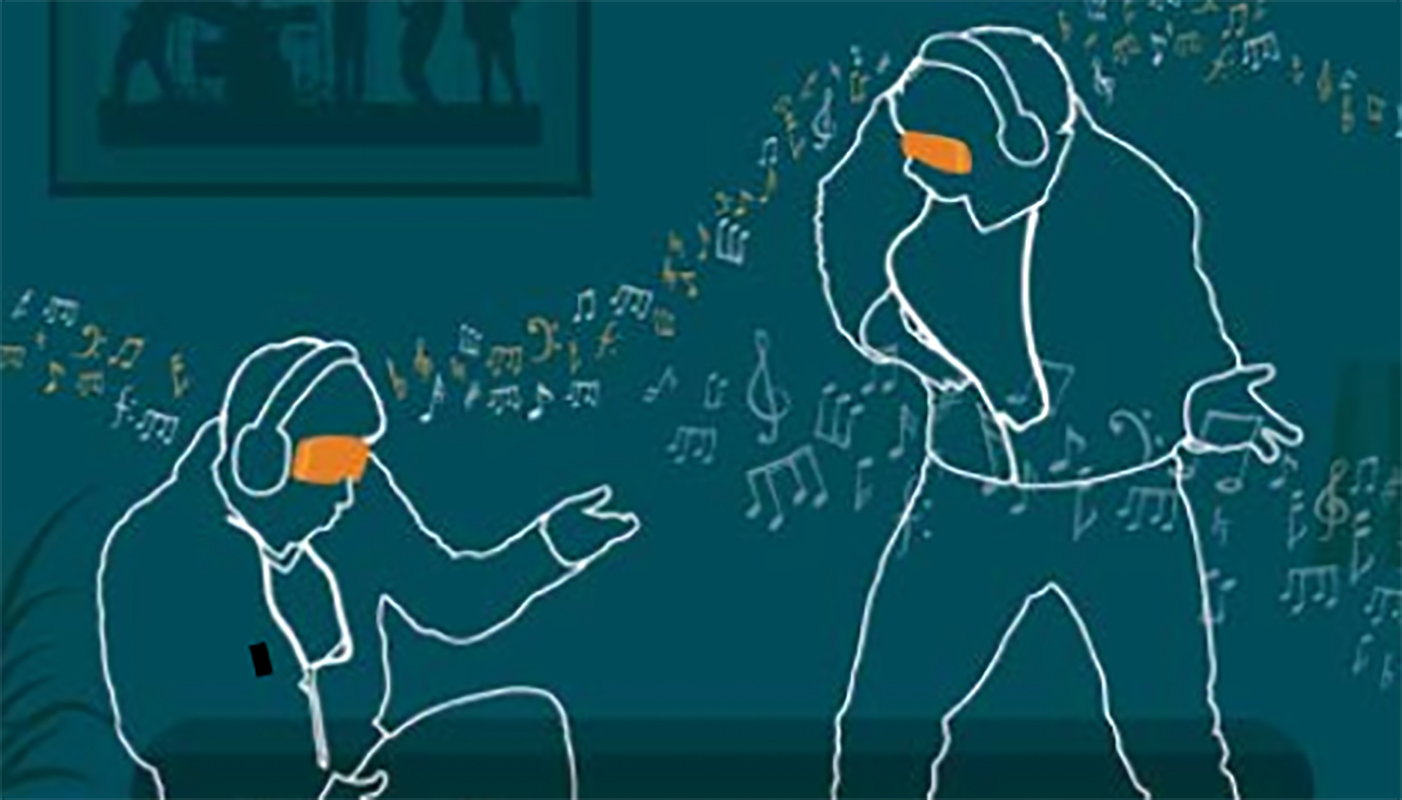 Germany's Rock am Ring festival proved a key testing ground for the Magenta Musik 360 app for livestreaming VR.
Despite the transformation of the music industry from physical discs to downloads and streaming, live music still provides a unique way for artists to connect with audiences. That said, an artists can only do a show at a specific physical location, in some cases pricing can be prohibitive and making it to a venue may be daunting for certain segments of the audience.
But using virtual reality, it is possible to offer music lovers an intimate involvement with an artist, close to the live experience, without being on-site. Artists, too, can benefit from these new technologies for engaging with fans. And, for the video content industry, VR provides the potential for a new, rapidly growing revenue stream.
Launched in June 2017, the website, Magenta Musik 360 provided live VR streaming from that year's Rock am Ring (Rock at the Ring) concert. Twinned with the Rock im Park (Rock in the Park) show, the event is one of the biggest music festivals globally and Germany's biggest. The content from the concerts was not only available on the Magenta Music 360 app, but also via a free 360° HD live stream and a feed on EntertainTV. The idea was to use VR and 360 videos to bring the concert directly to the users, for an experience as close as possible to being there. This meant providing a service that included new interactive features, such as being able to choose camera views to allow users to engage in a deeper experience with the artists.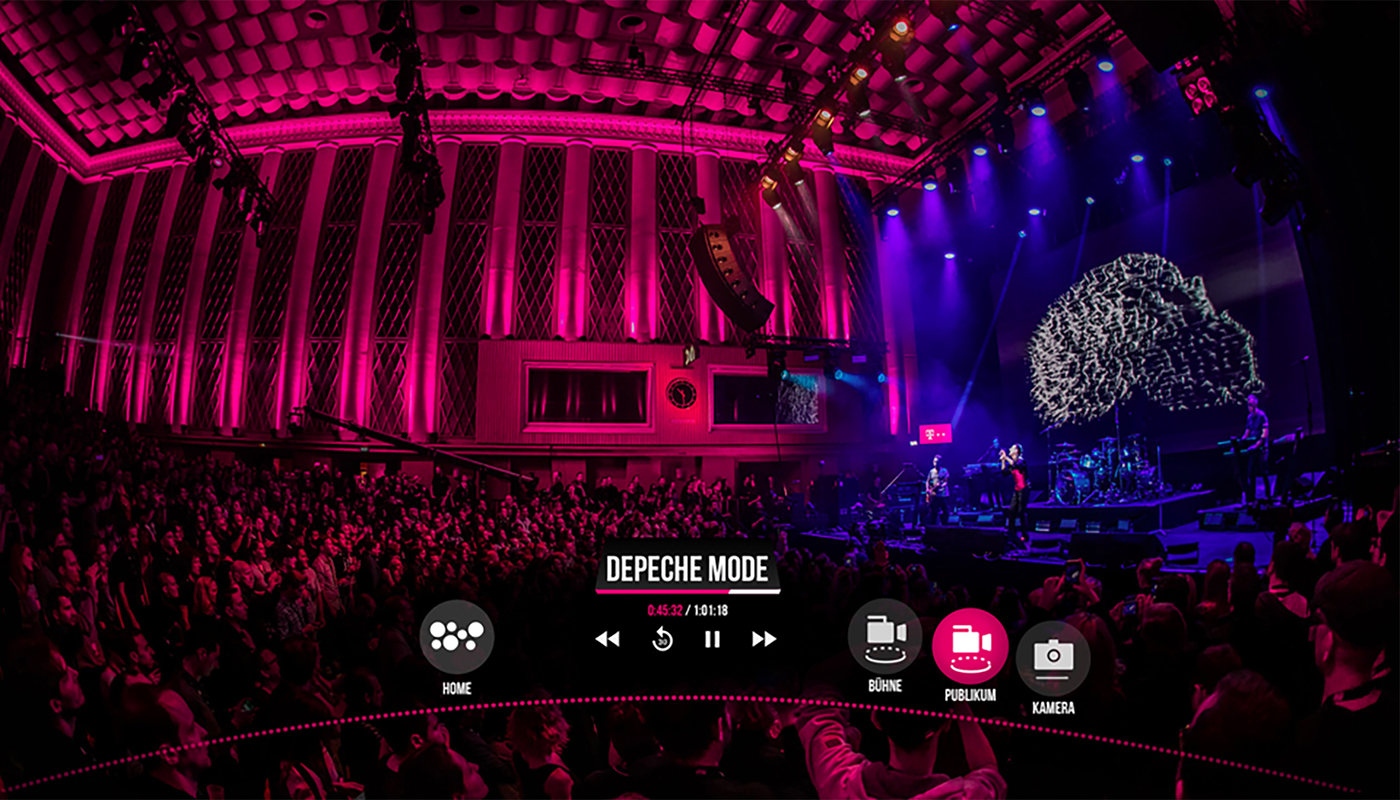 Around the same time, Swedish video solutions provider, Accedo, announced that it was working to launch the world's first mass-market available VR experience for live concerts. The company offers a portfolio of experience-centric video solutions that enable customers to monetise video and transform video services to meet rapidly evolving consumer expectations.
Covering the massive Rock am Ring event was quite a challenge. The production crew delivered VR content from multiple stages, with bands performing simultaneously. In all, viewers were offered four different VR perspectives. But the experience was a great success and the relationship between the concert and Accedo continued for this year's Rock am Ring.
"The number of live streams available in the app is significant and variable over time"
GROUNDBREAKING
Accedo, which has years of experience delivering VOD services to consumers, together with an understanding of how consumers interact with and navigate new interfaces, developed the platform and application.
The solution used for the Rock im Ring concerts uses Accedo One, the company's cloud platform for application configuration and content management. This app is capable of delivering business critical parameters to client applications in real time and with endless capabilities of adaptation. Together with One's A/B testing module and cross-platform analytics toolkit, it also allows managers and developers to dive into data about how their applications are being used, when and on what platforms.
Accedo One provides modern video experience providers with real-time control, configuration and cross-platform insights over their video experiences from one, full- featured, cloud-based platform.
INTERACTION
Magenta Musik 360 features a carefully designed user experience with round organic features, using the depth and width of the immersive experience to show possible navigations and interactions to the user. Unlike many other VR video services, it allows the user to completely navigate inside the VR experience, solving the challenging user experience with an intuitive multi-level information structure. What is most important for the experience is the immersive interaction; that is to say, consumers never have to leave the VR experience to move between cameras, stages, artists or other features. The chosen solution was an attractive UX design where the depth and width of the screen were used to show possible navigations and interactions to the user. This provides quick navigation for experienced users, while still having a limited enough interaction pattern for inexperienced users.
Accedo's research into VR and user experience found that focus should be on creating a 'leaned-back' experience where the user can use head orientation for navigation, without putting excess strain on their neck muscles. The navigation for Magenta Musik uses a blend of ease of use, immersive experience, and an intuitive information structure, allowing the user to find what they are looking for in just a few interactions.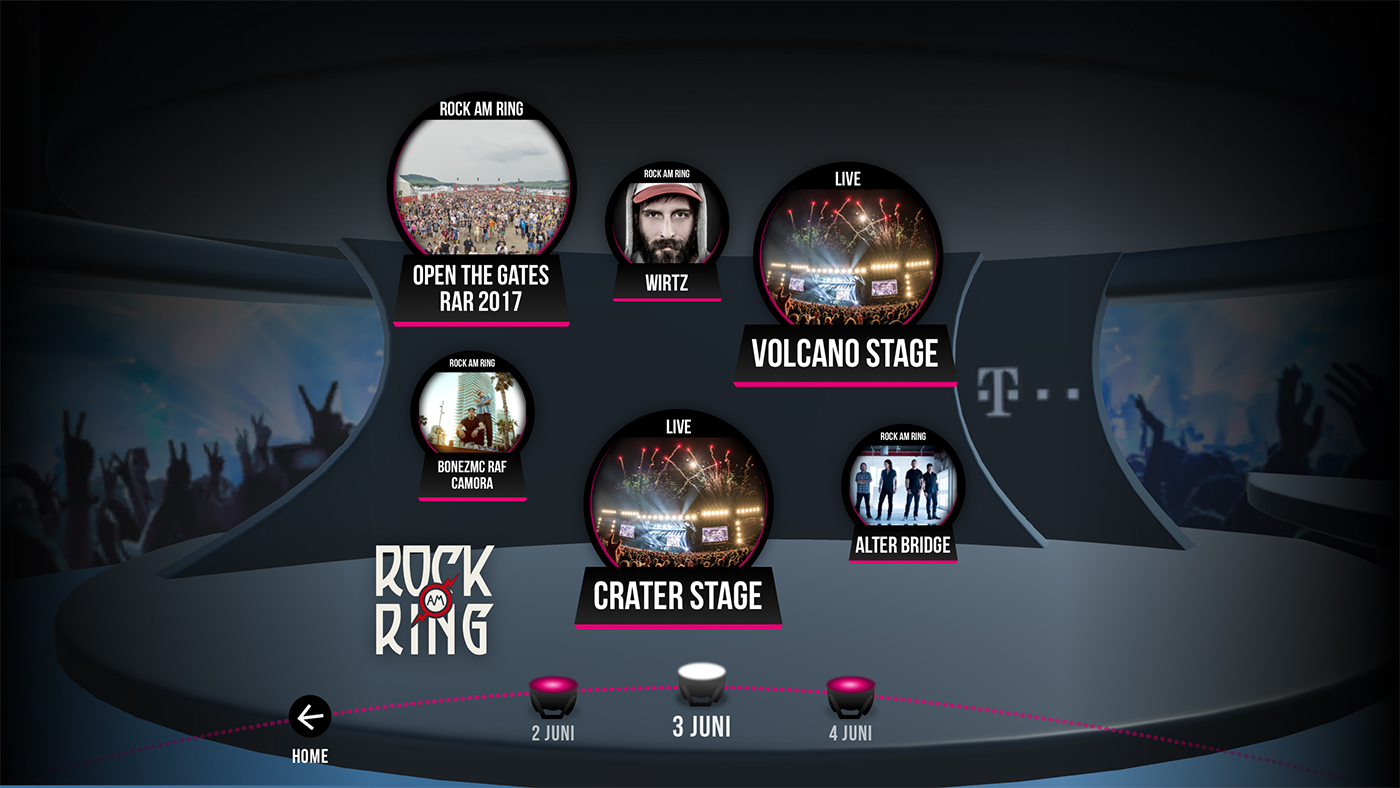 TECHNICAL CHALLENGES
When it comes to the live streaming, Magenta Musik uses 360 VR Livestreaming on iOS and Android, utilising WebVR technologies. It is believed that this service is the first in the world to launch a commercial music application of this kind. Although WebVR is a developing technology, it allowed for improved efficiency in terms of platform compatibility, saving both time and effort.
Since the application supports multiple performance stages and each stage has several cameras, the number of live streams available in the app is significant and variable over time. The possibility for consumers to stop and start streams, as well as the need for an adaptive and dynamic UX to handle the information in real time is a significant challenge.
To add to the complexity, the service supports a range of devices, ranging from low-end to premium handsets, as well as multiple web browsers. This means that there is a need for a range of encoding profiles to support all possible combinations of bitrate and resolutions, depending on each device platform's capabilities to render 360 streams.
The Magenta Musik 360 service was launched via a website as well as native applications on Android, iOS Phones/Tablet and Samsung Gear VR. The website offers 2D and 360° of the full video experience. The Android and iOS mobile applications, apart from 2D and 360° video content, also provide stereoscopic VR material.
In addition, the service includes both standard controls, as well as full VR navigation controls when the user places their phone into a VR cardboard or Samsung Gear device. The tablet experience, which cannot be fitted into a VR headset, instead focuses on navigable 360 video content, providing an immersive experience for the user while not being full VR.
This article first appeared in the November 2018 issue of FEED magazine.