Microphone Metamorphosis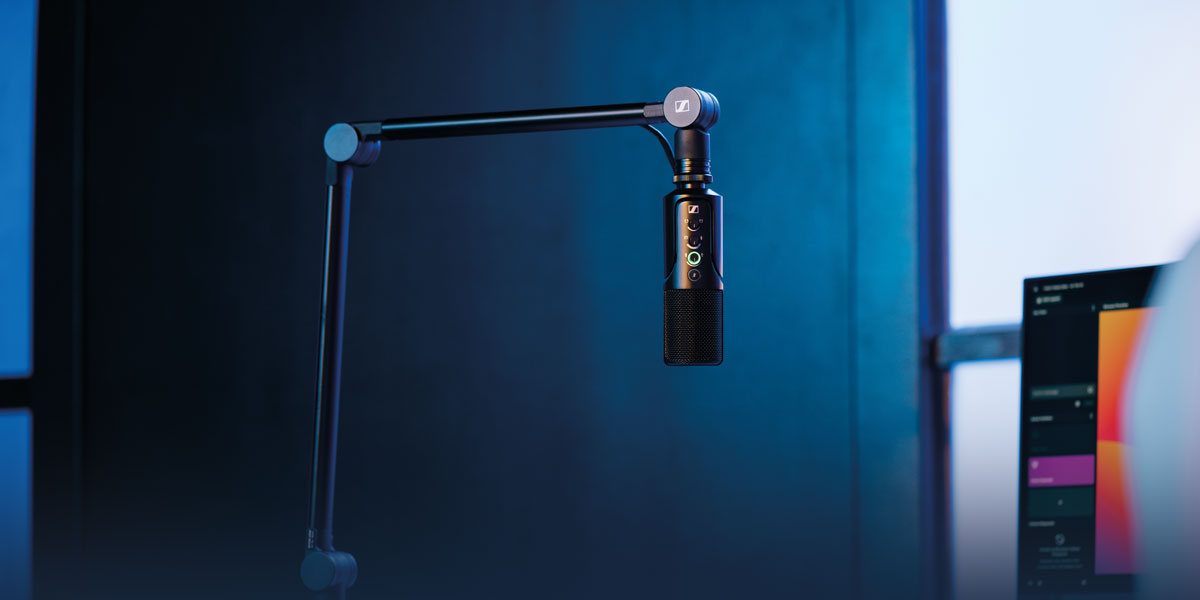 Posted on Nov 21, 2023 by FEED Staff
From tin cans to precision instruments: FEED explores those who have been influential characters in the story of sound
It will come as little to no surprise that the invention of the microphone was in part connected to one of humankind's most influential electronic inventors, Thomas Edison – it having been introduced in 1877 by Emile Berliner, who was working with the inventor at the time.
In its first form, it consisted of a drum-like device that was a carbon button microphone. During this period, many other microphone models had been introduced, however it was the carbon button format that was generally accepted.
The instrument was dubbed a 'loose-contact transmitter', as it included two electric contactors that were separated by a light layer of carbon. The loose contact was connected with a diaphragm that vibrated once hit with a sound wave. Berliner had originally owned this concept, but it was then that the patent was sold to Edison for $50,000.
Microphones are now ubiquitous in the modern world, facilitating clear communication and artistic expression. 
Whether it's capturing the raw emotion of a live music performance, enabling remote collaborations or enhancing the way we interact with smart devices, microphones continue to shape the ways we experience and share sound.
In the context of broadcast media, you can now choose from thousands of unique microphone models, making it simple to select something that precisely fits any of your podcasting, streaming or top-level broadcast needs – whatever they are.
Hearing aids and theatre
It's quite an odd sensation hearing a recording of your own voice, as it often sounds different to how you experience it internally. The reason for this is that listening to a recording excludes the element of the sound that comes from bone conduction inside your head. When you speak and hear your own voice, your bones and tissues tend to enhance the lower- frequency vibrations.
That's part of what makes our first example so interesting. Having tried one of its microphones ourselves at NAB Show this year, members of the FEED team agreed it was the first time we'd heard our voices back and thought, "Yep, that's me."
DPA Microphones, which is based in Denmark, draws on more than six decades of world-class microphone design experience. That history dates back to the fifties, where its predecessor, Brüel & Kjær, developed the first, precisely accurate measurement microphone.
"I joined DPA because it strives towards absolute perfection," begins Helga Somava, director of product management at DPA Microphones. "It's a seriously gratifying job to work somewhere that does not compromise on anything."
DPA offers solutions in a range of sound-related industries, as well as broadcast. This range was in-part initiated by the theatre market, which required a solution that, while still capturing clear sound on stage, was flexible and easily concealable.
Around the same time, Danish companies were making amazing advances in hearing aid technology, focusing on creating better sound in much smaller packages. In order to gain the competencies needed to accomplish this task, DPA collaborated with the top Danish hearing aid manufacturer Muphone.
This led to DPA minimising the capsule size into a miniature package that was so clear-sounding and yet unobtrusive, it could support creative expression on the stage. Once the capsule was perfected, work began on creating headset versions of the miniature microphones. After years of shared success, DPA and Muphone merged in 2005.
"DPA was formed from the idea of using condenser microphones," Somava adds. "Those were basically the best microphones ever for the purpose they were created – they being our original 4006 microphones.
"With time, the team learnt about the possibility to miniaturise the condenser microphones and created our 5mm capsule, which became extremely successful – in particular, we grew a nice market share in the theatre and film industries. The reason being that those microphones didn't compromise on sound."
DPA sets itself apart when it comes to its manufacturing process. Each microphone is assembled using a balance of automation and handcrafted processes.
"We really strive to create microphones that pick up sound as authentically and consistently as possible," describes Somava. "We have very tight manufacturing tolerances – that we haven't seen from our competitors."
It takes up to 200 individual steps to assemble a DPA microphone. During the manufacturing process in Denmark, a microphone can be calibrated up to 15 times before final approval. Narrow tolerances mean that you can switch between any parallel DPA microphone and never hear a difference in sound.
Straight outta Sydney
As time has gone on, there are several examples of microphone and audio vendors that have become household names within the production and broadcast spaces.
One of these is our next example, Rode Microphones. With a storied history dating back over 50 years, Rode is an Australian-owned and operated company that has been at the forefront of creator technology – revolutionising everything from home studio recording and audio for filmmaking to podcasting.
Tom Lewis is the brand manager for Rode Microphones in the UK and is responsible for myriad elements of the company.
"I've always been deeply involved in the music scene, playing in bands and recording music for friends," Lewis begins. "Rode played a significant role in shaping the sound I wanted to achieve, even before I had the opportunity to work for them."
The Rode story began in 1967 when Freedman Electronics first opened its doors in Sydney, Australia. Freedman Electronics soon became a leader in the fledgling Australian audio industry, it was the first company in Australia to carry Dynacord consoles, which gained fame in the country while Henry Freedman sat behind the desk mixing a young Tom Jones during his 1968 tour of Australia.
Fast-forward to the 2020s, Rode has now established itself as the choice of today's creative generation. Following its break into the podcasting market with the Rodecaster Pro, Wireless Go was released in 2019; a revolutionary tool for creators that leveraged Rode's established reputation in the professional wireless category. Tom Lewis has a few favourites.
"The Rode NT1 5th Generation," he says, "quite simply encapsulates everything Rode stands for as a brand: cutting-edge technology, innovation and ease of use.
"The 32-bit floating point technology allows you to record literally any sound source at any level, without having to worry about noise floor, distortion or other artefacts that may ruin a recording – which makes for an easy, great-sounding end result."
Naturally, a company that's so experienced in the evolution of sound also knows precisely which trends the industry faces next.
"The biggest trends we are seeing in broadcast mics are size and smarter features," Lewis expands. "Mics are getting smaller, while products in wireless categories have more storage and processing power – and are able to further ensure the audio received is as good as possible even in more challenging situations.
"The new generation of Rode products have their own proprietary operating systems, and new features are being added after launch to improve user experience and increase functionality based on user feedback."
Keeping it in the family
Having been around for over 75 years, it would be wrong to write a feature exploring microphones that forsakes Sennheiser – now a global leader in professional audio technology.
A family business at its core, Daniel Sennheiser and Dr Andreas Sennheiser have been managing the independent, family-owned company – now in its third generation – since 2013. Its headquarters are located in Wennebostel near Hanover.
Fritz Sennheiser founded the company in 1945, creating a 'laboratory' in a farmhouse, a property still owned by the Sennheiser Group today. Starting off with measuring instruments, the company's first foray into the mic space was when Siemens commissioned it to rebuild a microphone from an Austrian supplier, which launched in 1946 as the MD 1.
In the same year, Sennheiser began developing its very own microphone: the MD 2 expanded the company's portfolio in 1947, and was closely followed by the MD 82, the first shotgun microphone, in 1956. Following that, it commenced what resulted in being instrumental research and development in the field of condenser microphone technology – a technology that only found further applications in recording audio for film sets and TV studios.
Sennheiser is also making waves in future sound tech, having acquired a majority stake in Dear Reality, a company specialising in spatial audio algorithms and VR/AR audio software.
World-changing tech
What's evident is that microphones are the unsung heroes of the media and entertainment landscape, performing a lead role in transforming the way we consume and engage with content.
These devices are pivotal in enabling productions, platforms and networks to deliver high-quality experiences to their audiences. Whether it's the warmth of a dynamic microphone, or the precision of a condenser, the right choice can elevate any production, podcast or live stream to new heights. 
Originally published in the Winter 2023 issue of FEED.