Raising the Mary Rose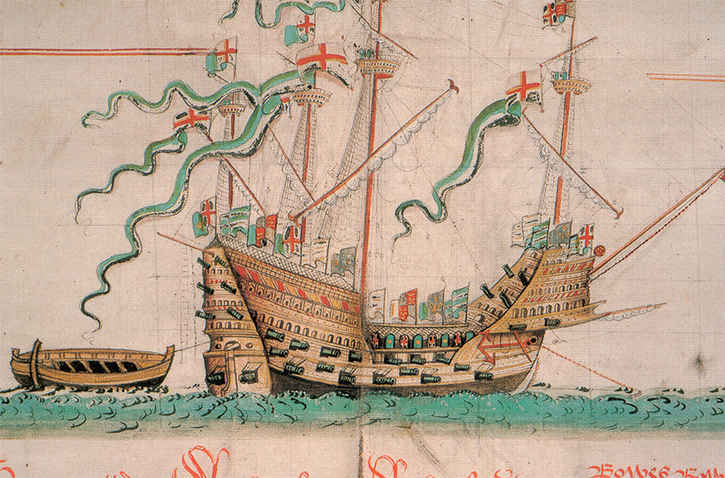 The Mary Rose sank 500 years ago. Students at University of Portsmouth made it sail again.
Given that NewTek's equipment has found its way into most media education facilities, last year the company decided to launch its inaugural UK Education awards. 
The competition was open to any kind of educational establishment – college, university, primary school, specialty training – as long as they were using NewTek gear. Owning the gear wasn't a prerequisite for entry either. Institutions could hire a NewTek TriCaster or 3Play control surface for the duration of the submitted project. The University of Portsmouth's digital media programme has been expanding in the past few years. That investment paid off with the University's win for its live broadcast on the Mary Rose, Henry VIII's prized warship, raised from the bottom of Portsmouth Harbour in 1982.
The live broadcast, which was also streamed to the big outdoor screen in Portsmouth's Guildhall Square, gave viewers access to previously unseen areas of Portsmouth's Mary Rose Museum and artefacts from the famous sunken ship, as well as live expert interviews and exploration of the remains of the wreck.
University of Portsmouth's broadcasting principle lecturer Gary Bown brought NewTek's TriCaster aboard some years ago. At that time most high-end broadcasting equipment was priced out of the range of small institutions, and the TriCaster was one of the only options serving microbroadcasters. "There was something about the TriCaster that just opened up the world for us," explains Bown. "We had a remit at the university to do things for real – real practice, real-world experience. If we're going to run a student television channel, let's do it as well as we can."
Portsmouth University's broadcast programme already has a 24-hour broadcast under its belt and is looking toward new formats and new ways of challenging its students. They already shoot the university's graduation ceremonies and university events, but they are now looking at a wider range of outside broadcast training with upcoming broadcasts from a local hospital, the "most haunted house in England" and Portsmouth Pier. The Portsmouth student channel is broadcast via IP throughout the campus and there is a fibre connection to the Guildhall Square screen, which shows a weekly broadcast from the university. As well as broadcasting live, content is available on demand through YouTube.
Five university staff run the programme with a total of 150 students on the course. Third year students are broken into three teams for their intensive core broadcast work. A brand-new broadcast journalism course wil be bringin together the journalism and broadcast courses. "The University of Portsmouth is really behind real client, real work experience. That's what drives us to think of these different broadcasting experiences. We have some crazy stuff planned. "If you're running a television course, you have to be doing this as regularly as possible. It's about making content all the time."
Winners of the 2018 NewTek UK Education Awards
Best Video 2018 The Mary Rose Live: Human Endeavours, by Television and Broadcasting students at University of Portsmouth

 

Best Elearning UK Content Good 2 Learn: Fractions ESTV, by Creative Media Production students at Grimsby Institute
Best Existing UK Content

 

Ganda-boys: Live from Middlesex University, by TV-Studios Television Production at Middlesex University
UK Tutor of the Year

 

Charlie Watts,

 

Television and Broadcasting course leader at University of Portsmouth
Best New UK Content

 

The Mary Rose Live: Human Endeavours, by Television and Broadcasting students at University of Portsmouth
This article originally appeared in the April 2018 Issue of FEED magazine.