Run for your life stream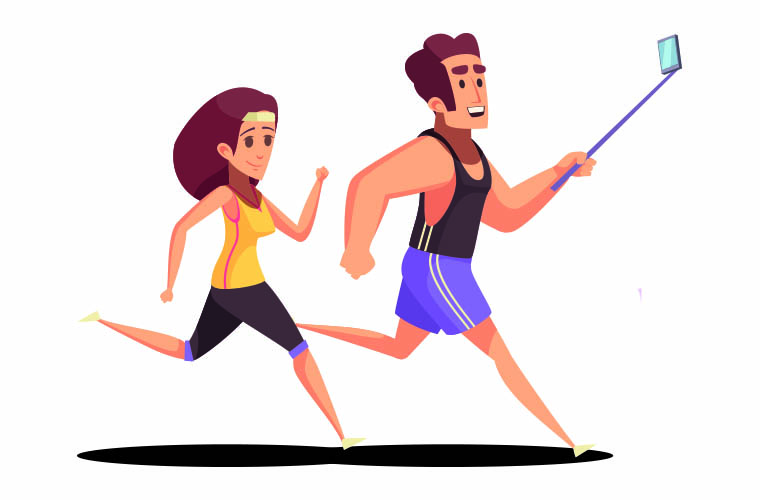 <![CDATA[IRL streaming is booming – it's becoming a great way for businesses to boost engagement and for people to share common interests IRL stands for 'in real life', and IRL streaming has – in some sense – been going on since the beginning of the internet. Today, IRL streaming (AKA 'life streaming') refers to live broadcasting in an intimate, potentially confessional way, moments from one's own life, and from any location at any time. But the origins of live streaming go back to the 1990s with live camming. The 'cam girl' of the early internet offered access to their private lives – not just glimpses, but 24/7 viewing – often via multiple cameras. However, with the internet running at a speed of around 56kbps, the voyeurism was confined to still images, which would update several times a minute.
Is anybody there? Jennifer Ringley's 'JenniCam' revolutionised how people understood the internet could be used. Jennifer Ringley's JenniCam site is now the stuff of internet legend. In an era of continuous video influencer noise, it's easy to take for granted how groundbreaking Ringley's was. In 1996, aged 19 and attending college in Pennsylvania, she started publishing live images from her dorm room, a single still image every three minutes, 24 hours a day. If not Ringley it would surely have been someone else, but she was the first true live cam star. Certainly, a lot of people watched JenniCam waiting for titillating moments, but beyond its voyeuristic lure, JenniCam became a window into the mundane – the long, slow, dull moments of a person's life – and evoked a kind of zen celebration of the ordinary. Ringley's site was initially shot with a single computer webcam, at first in black and white. She added a live communication via a chatroom and, in later years, multiple rooms, colour and a paywall. She ended up a celebrity with millions of fans worldwide and high-profile TV exposure. "Not only did she lay out the template for how everyone does the internet now," commented Reply All's Alex Goldman in a 2016 BBC radio piece on Ringley, "she also just shut down her webcam and vanished."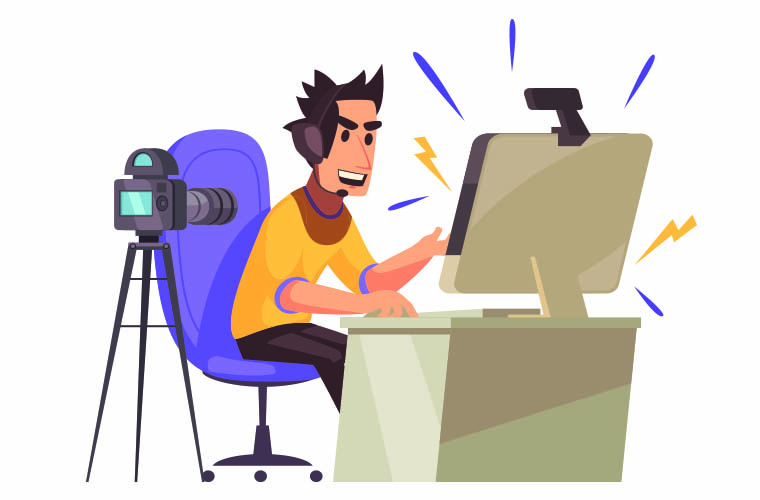 Twitch arrives
As the internet became more video friendly – and video codecs became more internet friendly – one of the first things people did was livestream their lives; the smartphone revolution combined with faster networks meant that video could be streamed live from anywhere. Social media became a natural outlet for life streaming, with platforms like Periscope allowing for one-touch broadcasting from a mobile device.
DIY IRL: Pete Wilkins live streamed his marathon run for charity But the live streaming genre that pushed the technology furthest wasn't via weekend narcissists – it was gaming. Sharing gameplay has been a huge driver of consumerism live streaming, starting with people recording then live broadcasting their online gameplay. It spawned a whole new video content genre: esports. Twitch launched in 2011, offering a platform for gamers to interact live with fans and each other. But Twitch wasn't just for gamers. It soon became a platform for live streamers of all kinds – some built around specific interests, many around the streaming personalities themselves. The most significant advance is that live streaming has left the desktop, with people live streaming their views, there passions, their daily grind from any location, using high-quality streaming tools.
A powerful platform
Pete Wilkins studied electrical engineering at university, but wrote his thesis on a live streaming video codec and reducing latency. This was years before he founded Gaming Careers (gamingcareers.com), his highly successful channel for gamers – and anyone else – looking to make a living by live streaming their skills online. "Originally, gaming was the easiest niche for live streaming content because people were already sitting at a very powerful computer with a consistent internet connection," says Wilkins. "Now, people can do all kinds of live streams, but five years ago, when live streaming started to blow up, gaming was by far the biggest." Wilkins started the Gaming Careers YouTube channel at the end of 2016, in response to a lack of resources for games trying to build and monetise their own live streaming brands. "It was still a technically difficult thing to do. People were wanting to start, but there wasn't a lot of great information – about what equipment you would need and things like how to set your bit rate and frame rate. So I started creating some tutorials on YouTube and it snowballed in popularity until I was able to do it as my full-time job."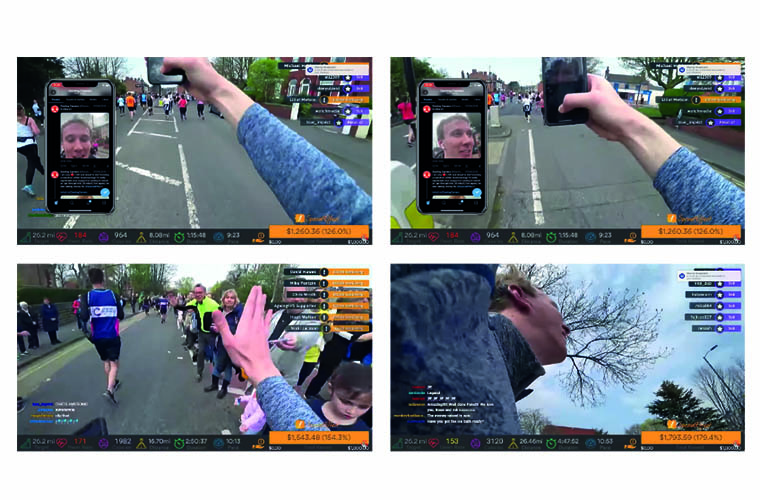 Hot shoes: Stills from Pete Wilkins' marathon live stream reveal the tech involved, from a shoulder-mounted cam to mobile phone In the few years since then, the number of live streamers has boomed, and the major tech players have become fully aware of the increasing size of the market and the potential profits. Amazon's purchase of Twitch five years ago for almost $1 billion (after a deal with Google fell through) may have baffled outsiders at the time, but Twitch is now one of the world's major content platforms. YouTube has also improved its live streaming tools, and Microsoft has been aggressively boosting its live streaming offering Mixer, and has been working hard to lure big names onto the platform. "The major tech giants are all heavily investing in live streaming. They're realising how powerful a platform it can be for content creators and they want a piece of that pie," explains Wilkins. "From the content side, people are wanting to stream a lot more than video games," he continues. "It's all kinds of things – travelling around another country or cooking live streams, or music or sports. There's a demand for anything that was on YouTube to be in a live stream format and to have that live interaction with a creator. Its so much more powerful than a VOD." That live interaction, though Wilkins notes it doesn't sound like much on the face of it, can make all the difference. "It's so much better to be able to interact with a creator and to interact with them live. I compare it to sports – it's not as interesting to watch your favourite football team play when you're watching highlights or video on demand as it is when you're watching in the stadium, or seeing it at the same time as everyone else."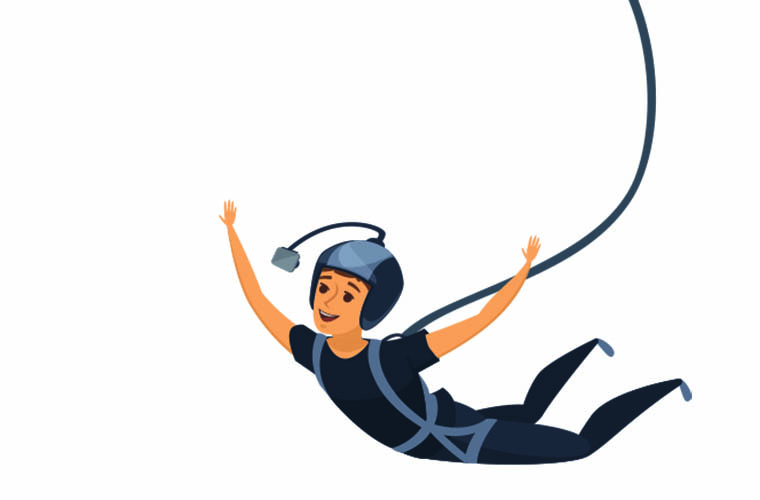 Going the distance
The 'Real Life' part of IRL streaming needs solid wireless technology to back it up. This has often been a phone with a Wi-Fi connection or full bars on a 4G signal, but increasingly even individual streamers are being held to the highest technology standards. With so many tools now available, an unexpected interruption or glitch doesn't mean you're a plucky indy streamer working at the cutting edge – it just means you're lazy and haven't prepared your technology properly.
People want to be part of the event and it's an easy way to involve your community
"You can just go and live stream with your smartphone. It will drain your battery quickly. And there are certainly a lot of people doing that. The quality of cameras is so good it's a very watchable experience," says Wilkins. "The difficulty is that if you're moving around, you only have one network provider at a time on your phone, so if you move out of range, your signal can drop." There are companies building different equipment specifically for live streamers. LiveU's Solo is a pocket-sized bit encoder that receives video via HDMI or SDI, and seamlessly bonds multiple cellular or Wi-Fi networks to enable an unbroken signal. It costs about $1000 (or you can hire one for around $200 a day), plays well with most CDN, and makes it simple to live stream to your platform of choice.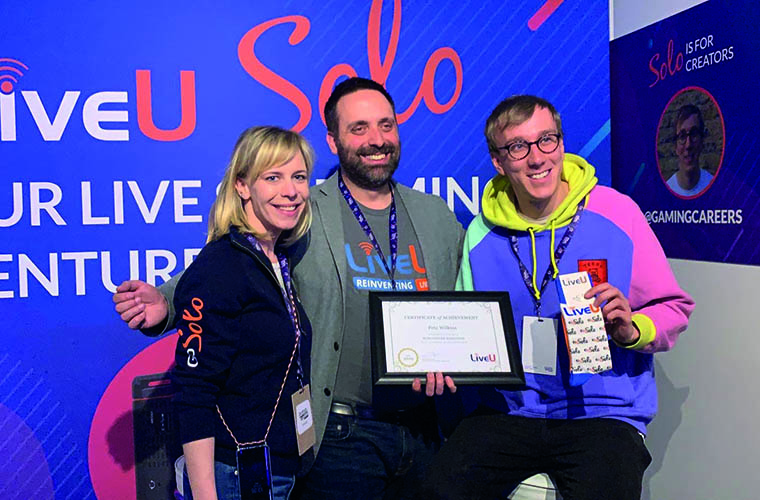 Going solo: Pete Wilkins (right) with the LiveU team after his epic and groundbreaking live stream marathon experience Wilkins has tested the reliability of the LiveU Solo as few have. Last year, he was the first person to live stream running the Manchester Marathon – maybe the first to live stream the running of any marathon. Kitted with a LiveU Solo and batteries in a backpack, a shoulder-mounted Sony Action Cam and a mobile phone to monitor audience comments, he raised a large amount of money for charity and showed what could be done with IRL streaming.
Every year the gaps are closing between what you can do in a one-person production and what you see on broadcast TV
"I did regret having such a heavy backpack, but it was such a fun experience. I had 2000 people watching live and donating for charity, and it was a really cool experience… People want to be part of the event and it's an easy way to involve your community, no matter where in the world." To boost the engagement and interest in his stream, Wilkins included an overlay with the video that added statistics to the feed, including his heart rate, calories burned, distance and time.

 

"There are so many people live streaming their gameplay that, to stand out, you have to think of creative ways to add things to your stream – some people have custom artwork designed. Every year the gaps are closing between what you can do in a one-person production and what you see on broadcast TV."
Sharing with the world
The media power that can now be exercised by a single person is remarkable – but doing it all on your own isn't simple.

 

"It might sound easy, even just live streaming gameplay, let alone IRL streaming. But realistically you're the director, the producer, the talent, the chat moderator, and you have to juggle all these things. And for IRL streaming, because it's live, you have to be constantly entertaining for the three or four hours you're streaming."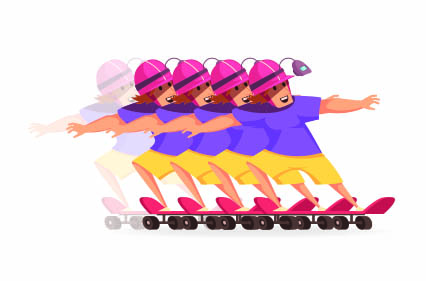 But Wilkins doesn't see live streamers having to invest in big backpacks for much longer. As he sees it, the future is mobile. "I think the real innovation is happening in mobile phones and mobile streaming; as 5G rolls out we will get better transfer rates and coverage across the country, and the world. I think mobile phone apps are going to fill the gap rather than big tech innovators introducing new products. "I see live streaming growing, with more industries getting involved. Whether it's live streaming and extreme sport or gardening, I'm sure there's going to be a market for it. The thing that makes live streaming so appealing is the interaction you get with someone who shares your interests." This article first appeared in the March 2020 issue of FEED magazine.]]>