Start-up: Choicely, Finland, 2015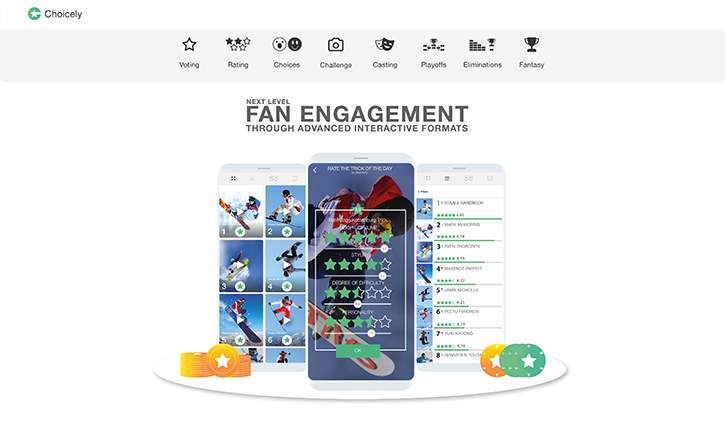 Frustrated with the number of steps he needed to take to use an online TV voting app, Kaius Meskanen started to sketch more user-friendly screens while he was waiting for a connecting flight out of Istanbul airport.
"It was then I realised that this would be something worth developing so I started to put a plan together," he says.
The aim of Choicely, which Meskanen developed with co-founders Tommy Eklund (now the company's CTO) and Matti Ketolainen, is to make online voting a quick and automated process. 
Along the way, the team – which also includes chairman Heikki Rotko, former chief exec of Finnish broadcaster MTV3 – also developed further features and interactive formats to complement voting and engage audiences.
With Choicely, voting apps can be created instantly or integrated into any website or application and users can schedule an entire season of quizzes or votes using the app's tools. 
One of the system's strengths, according to Meskanen, is that it can handle video, blogs and multiple images simultaneously. It also has a powerful backend that can cope with millions of users – in part thanks to Google.
"We spent 12 months on a Google start-up programme and tracked down the engineers who had previously helped the Pokemon GO team."

 
"We spent 12 months on a Google start-up programme in London and tracked down the engineers who had previously helped the Pokémon GO team through the scaling challenges they faced during their uncontrolled high growth period. They came up with a plan for us to handle traffic and that's how we built our scaling components," Meskanen explains.
The app was recently put through its paces on Yle's Finnish Sports Gala, which saw TV viewers vote for their favourite sporting moment of 2018. 
The UI featured athlete profiles with video clips of their performances, which users could view before voting.
Advertisers were also able to generate lead captures through a competition generated through a pop-up, which is triggered once voting is complete. In this instance, it gave users the opportunity to win tickets to the gala by submitting their information. The app, which was embedded on multiple websites, received 120,000 votes, 53% of which generated lead captures. 
"A result of 5% would have been good, so 53% is off the scale," Meskanen adds.
Besides the Finnish national broadcaster, the start-up's clients range from US networks, such as CBS – where it has started work on new show Face the Truth – to sporting events such as Formula One and the UEFA Champions League. It also boasts an unusual amount of beauty pageant clients – 170 to date.
"When we first took Choicely out to market, we soon learned that it only took three minutes of pitching before pageants realised it had the potential to help their businesses," explains Meskanen. "They tend to be smaller operations staffed by fewer than five people with lower technical competencies. With us they get the same tools, which are easy to use, and perfect for adding video, images and voting options."
Another non-broadcast use case is casting for TV shows. Audition tapes and notes can be stored on each potential contestant/actor in a way that is fully GDPR compliant, according to Meskanen. 
"Because of new GDPR rules, casting through emails is not a good idea. You need to be able to generate transparent disclaimers if you're capturing personal data and people need to accept those terms," he adds.
"There are also more rules regarding casting – how long you can save the data for etc. We had to go through everything with our lawyers to ensure that we are being fully GDPR compliant."
Choicely is privately funded through business angels with support from Business Finland's Innovation Fund, while its business model is a licensing fee, plus a share of the revenue generated through its tools.
Plans for 2019 include a new tool that allows production companies and international rights holders to create interactive websites and apps for an unlimited number of territories on the Choicely platform. Demos have been sent out to ten major global production companies so far, including BBC Studios, ITV Studios, Fremantle, All3Media and Syco Entertainment.
This article originally appeared in the February 2019 issue of FEED magazine.