Start-up: Orbie, Greece, 2018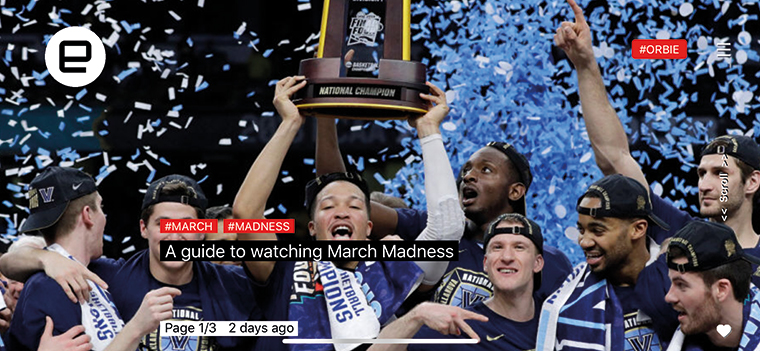 Athens-based start-up Orbie has created a news aggregator that pulls content from websites and collates it into one automated video stream for publication on smart TVs, VR, mobile and in-car entertainment systems
Founder and CEO Nick Damofli says that his video-based curation app was inspired by Flipboard, the Silicon Valley news aggregation start-up founded by Mike McCue and former iPhone engineer Evan Doll.
"I thought if Flipboard could create a magazine out of other websites maybe we could create a TV channel – that was the inspiration," he says.
The product has been in development for around three years, with the bootstrapped company channeling much of the work into developing AI and ML technologies that can categorise content and learn users' preferences.
You could launch a TV station that needs no editorial or camera teams on a budget of $100,000
"We're able to extract a number of semantics from news articles – including name and people identifiers, geographic locations, topics.
"The tech can also extract data so that publishers can get better insights into their users, which will lead to better targeting of their content," he says.
Unlike Flipboard, Orbie is focused on the B2B market and the firm is in talks with media outlets in its home territory and abroad to expand its client base.
"We'll be white labelling our mobile apps – embedding our tech into their platforms," he says, "and it's all automated, so hopefully it will make the editors' lives much easier."
A sample of the mobile app is currently available for download on both Apple Store and Google Play.
"We selected 15 random sources – mostly from the tech and business industry – and aggregated content with an automated video feed, but also with text, voice and VR options," he explains.
Although Damofli's background is in developing mobile apps, the platform he appears most keen on conquering is Smart TVs, where any type of user curation can still incur friction.
"Users don't want to interact via their TV remote controls; our technology enables users to create an automated video stream on a Smart TV and show all of this content, even when it is static." Damofli adds that the company is not yet in talks with electronics vendors about Orbie's potential, but adds that the firm is "very interested" in developing apps for this platform.
This year at NAB's StartUp Loft, Orbie also unveiled its prototype for Mobile VR applications, which work along similar principles as its video aggregator.
Orbie is also developing the next version of its platform using IT tech to create "even more engaging video streams out of the same data sources." Damofli explains that the tech will allow users to create "After Effects projects on the fly. It's dynamic and data driven – this is the next step on for our product."
The newly tweaked platform, he says, will also enable media organsiations to create whole TV stations out of aggregated content, using Orbie to trawl websites and create linear video streams.
"You could launch a TV station that needs no editorial or camera teams on a budget of $100,000 – something unthinkable in the past," he says.
Damofli is optimistic about the start-up scene in Athens, which appears full of optimism following the recent election of the New Democracy Party, following years of economic upheaval.
"We're a small, tight community that is thriving. We also have a huge talent pool of tech professionals in Athens, so we're feeling pretty confident."
This article originally appeared in the August 2019 issue of FEED magazine