Bex Smith: "There have to be role models"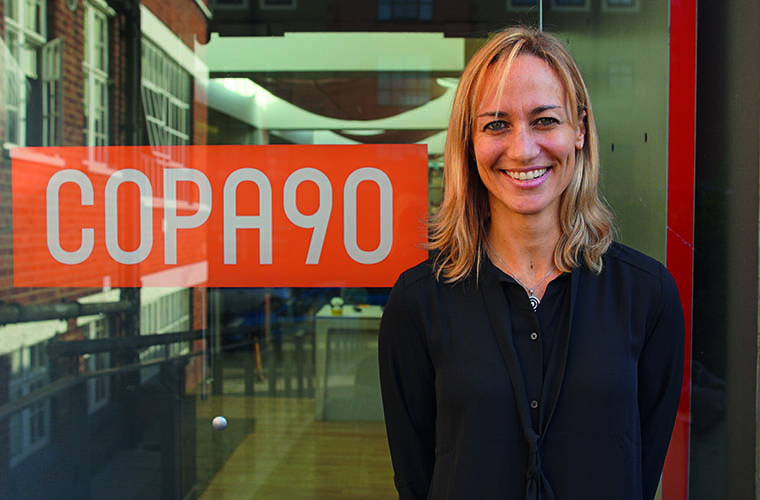 Posted on Mar 27, 2020 by FEED Staff
After a long career in football, including captaining the New Zealand national team, Rebecca "Bee" Smith is now working to bring women's Football to the world at online football destination COPA90

FEED: How did you get from being on the football pitch to working on bringing the game to the wider world?
Bex Smith: I was born in LA to Kiwi parents from Christchurch. We grew up in both countries and then I went to college on the east coast at Duke. When I was playing soccer in college, I got picked up by the New Zealand national team for World qualifiers in 2003. I had never really wanted to be a professional footballer, but I enjoyed that opportunity. They made me captain of the team in my debut match, which
was crazy.
Internally You need the company to understand and really live by that culture
I was going to quit soccer, but Australia left the Oceania Football Confederation, which meant New Zealand had a direct qualification into the World Cup and Olympics, so I thought, I'm technically captain of a national team that could go and play in a World Cup and Olympics, and it felt really crazy not to try it.
I played in Frankfurt at FFC Frankfurt, which was at the time the best team in Europe. I didn't know that at the time, because there were no agents or anything like that for women players. I was on the internet Googling anything I could find, sending out emails and asking for a try-out.
From there, I went to Sweden, then played in Newcastle and Australia and then went back to Germany. Then I had to retire because my knee was really bad. I couldn't play anymore, even run any more to be fair. So when I was looking at what to do next, I got approached by FIFA to come and run their women's tournaments.
FEED: What was it like at FIFA?
Bex Smith: I was at FIFA for four and a half years, organising the women's football – the Under 17, under 20 and Women's World Cup. In the last year I was there I did more strategic planning. What kind of competitions do we need? What does an international match calendar look like? And how do we use the tools at FIFA grow the women's game globally?
But I got tired of governance and politics and wanted to try something new, FIFA didn't have the same values as I did. I think there it was a lot more to do with politics and power and money. With the resources and brand name – I mean, who has a bigger brand name than FIFA – I think that they could do so much more. By the end I saw too much politics and other things that I couldn't put my name to, I'm just not a politician.
Having said that, it is still the biggest moment in women's football and last summer was incredible. There are still really good parts of it. I wish that they would double down on those great parts of the women's game. I hope that they do the right thing and actually put their money where their mouth is when it comes to the women's game.
FEED: What have been some of the barriers in building up women's football?
Bex Smith: One of the biggest barriers in terms of growth and investment was a lack of it being a great brand. The story of the players wasn't out there.
All of the storytelling and the messaging around women's football was, you should get involved because it's good for girls and gender equality and so on. Which is a great thing, but the game is also about incredible athletes with phenomenal stories. And the sport itself is worth watching – tough quality, good pace, good technique and tactics. The product was good and the players are incredible. But there was a need to get the right storytelling.
My sister is a cinematographer-director in LA. She started a production company and we started doing projects with some top female footballers about a year and a half ahead of the 2019 Women's World Cup. Working with players like Abby Wambach, Megan Rapinoe, and Alex Morgan, we looked at doing a proper series with some cool storytelling. That's how I met Tom Thirlwall, the CEO at COPA90, I got introduced by Abby Wambach.
Tom had brought Abby on in an advisory role to help COPA90 get more into women's football. It had always been a digital-first football media company, telling stories and celebrating football culture from a very fan-centric point of view. It didn't have any rights, but it started a football channel that focused on the fans and their stories. 
FEED: What did you like about COPA90?
Bex Smith: COPA90 is very celebratory. It's very much about diversity and inclusion. It's about how football can bring communities together rather than the normal rhetoric around Manchester City versus Manchester United and blue versus red. That's conflict. COPA90 took a view a totally different view. It was more about how fans have similarities. And that's what I really loved. I loved the values that the company had.
About a year and half ago, they brought me in and said, "We need you to integrate the women's game into what we do. Whatever resources you need, we'll help you." So I started working with the strategy team to try to figure out: What's our proposition? What's our tone of voice? How do we see the women's game? And we came up with a cool strategy for how to rebrand women's football.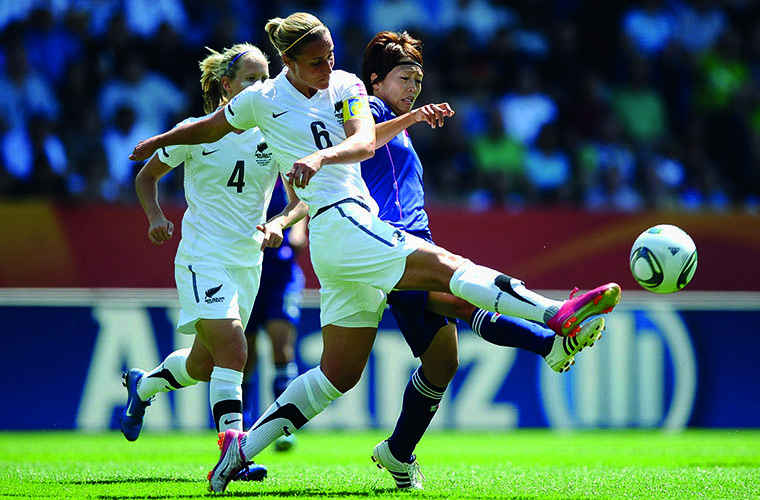 On the ball Bringing the characters and stories of women's football to a wider audience is helping shift perception and uptake of the sport
FEED: What specific steps is COPA90 taking to rebrand the game?
Bex Smith: We had to look internally and see how we, as a company, buy into that strategy. It's all well and good that we're putting it out on our platforms, but internally you need the company to understand and really live by that culture. 
I started sitting with the different parts of the business, asking how we ensure that operationally or systemically we include women's football. What are the KPIs that are relevant, but are also not jarring? We had a 91% male, very young fan base when I started – we don't want to suddenly say everything has to be 50% women's football. 
We knew we had an opportunity during the World Cup to make an impact and plant our flag, so we set up clubhouses. We had a physical space in Paris, near the Pompidou, that had different activations for the entire month, and the last week we moved it to Lyon where all the matches were. 
We had an art exhibition. We did a photography exhibition with Goal Click, which is a project that sends disposable cameras to players so they can document their own stories. We had a fashion show. We also had a music night with an awesome DJ named Krystal Roxx who has her own company, Superfoxx, which promotes other female DJs. We had three of the biggest players – Abby Wambach, Ada Hegerberg and Nadia Nadim – and did three big content pieces on them. 
We also screened all the matches, so people who come to the clubhouse could watch every single match of the World Cup. We also worked with FIFA, we did their daily women's football show. So there was this all-the-time buzz.
We wanted to create a hub where you don't have to watch the matches or like women's football or say you're a fan. Just come hang out. We wanted to offer as many excuses as possible to try to get as many sorts of fans involved as possible and build a community on the ground. 
In the UK, women's football was banned for 50 years. That ban was only lifted in 1971
FEED: How has the uptake of women's football 
changed

?

Bex Smith: We did a data piece. Metrics for the digital space can be quite black and white – what's your reach? What's your engagement? We didn't want to compare it to men's football because you're not going to get those same numbers. Instead, we created our own metrics. 

We wanted to increase visibility, we wanted to change perception and we wanted to accelerate acceptance. So we asked questions about women's football. At the end, we actually doubled the brand awareness of COPA90 and we doubled the number of people that now say they are women's football fans and will be willing to recommend it to other friends, and recommend COPA90 as a place to get women's football content. So it's pretty cool that we shifted the needle in terms of brand awareness and brand perception not only for our own brand, but also for the sport.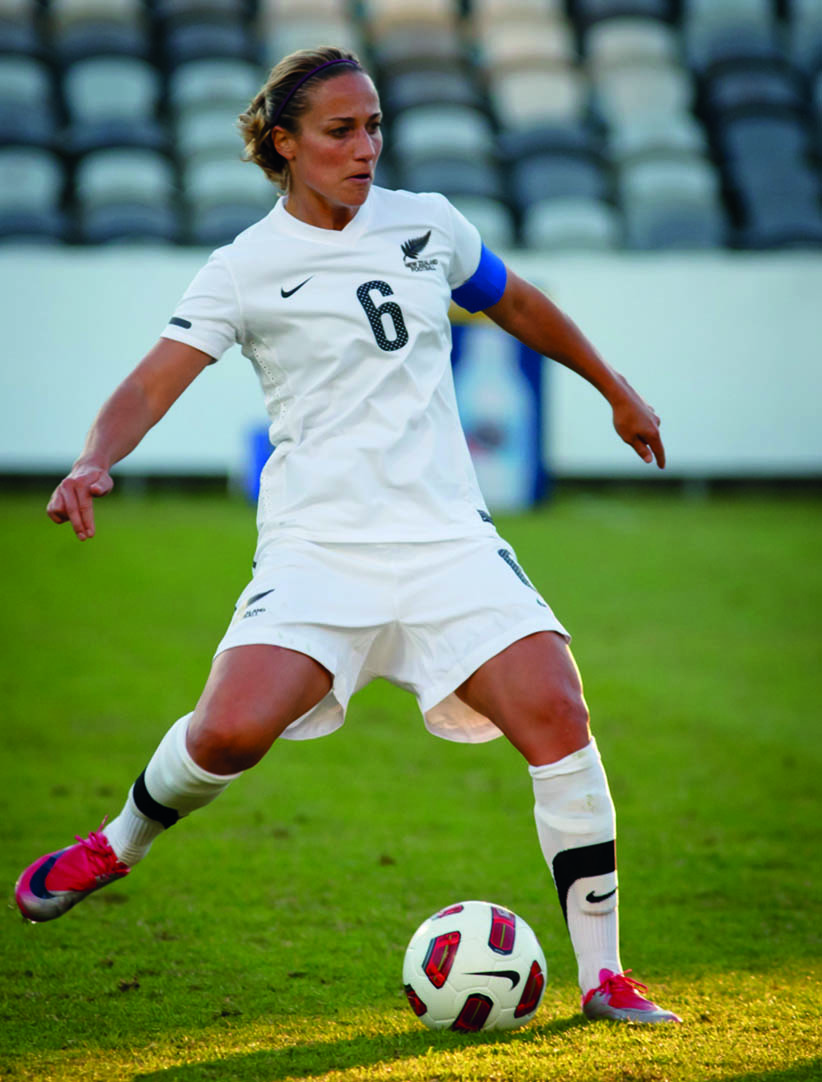 FEED: Have you noticed that different countries have different responses to women's football?
Bex Smith: It's a global game. Having been here in the UK for almost two years, when people have a dismissive attitude toward women's football, I cringe. In the UK, women's football was banned by the FA for 50 years; the ban was only lifted in 1971. Whereas in America, when I was growing up, you could always play. There were all different levels of club, so the brand of women's football in the US is so different from the UK, or in South America, where there are very strong social and cultural barriers for women. So you have these different cultural and social barriers in all different parts of the world. 
The biggest swing in momentum is in the UK and in the US. Those are the two markets that we started with and doubled down on, but we're not ignoring the rest of the world. When players or stories are coming in from South America, from Asia, from Africa, we want to shine a light on all of it. 
FEED: What are some of the big things that can be done to change perceptions of women's football?
Bex Smith: First, there have to be role models. There has to be representation wherever you consume content or you educate yourself. When I was growing up, in 1999 the US women's national team won the World Cup. We were at the Rose Bowl for that final match with 92,000 people watching the women's national team win. For me, I never questioned that I could be a pro footballer. It was very, very normal. Whereas in the UK in 1971, girls weren't playing, so they genuinely didn't think that they could – well, they couldn't actually. 
Second, there has to be the support and infrastructure for girls to make it to that level. You have to invest. It's a vicious cycle when you say, well, girls don't want to play football. They don't want to play because they don't see anyone else playing. And when they do play, they're the only girl and that's an uncomfortable place. If you're not willing to invest in this infrastructure to create those environments for girls, then it doesn't matter what they think, they're never going to be able to play.
It really isn't about football. It's about what football can bring and how it breaks down barriers and shifts conversations that so desperately need to take place. We need more support with things that bring people together and build communities.
This article first appeared in the April 2020 issue of FEED magazine.