TV Steps Up to the Cloud
<![CDATA[For years, Arqiva has been the network underpinning a notable portion of UK broadcast delivery. But last month the company launched a new, cloud-based service – a suite of virtualised media management tools aiming to expand Arqiva's already far-reaching broadcast services to include cloud-based playout, OTT managed head end and video on demand.  The new offering is built on Amazon Web Services, with a serverless architecture that employs AWS Lambda, Amazon DynamoDB and the Amazon API Gateway. Arqiva plans to leverage AWS Elemental Media Services for dynamic ad insertion and live-to-VOD in the next few months, as well as for video processing in live and VOD workflows. In establishing a new branch of services, Arqiva isn't just reaching into the future, but is responding to feedback from its long-standing broadcast customers. "People are increasingly watching away from the television – watching on tablets and smartphones – and our customers are in the business of wanting to ensure that they reach their audience in the right way and the most cost-effective way," says Chris Alner, Arqiva's Commercial Director for Media & Satellite. "What we're hearing from our customers on the legacy broadcast side is 'How do we ensure that we can reach all of these audiences and not just quadruple our cost base?'. I think they're doing a huge amount of head scratching because a lot of them come from a fairly traditional linear broadcasting environment where they run in multiple channels across multiple territories around the world, and they can see that there is a slow shift of eyeballs into different forms of consumption." .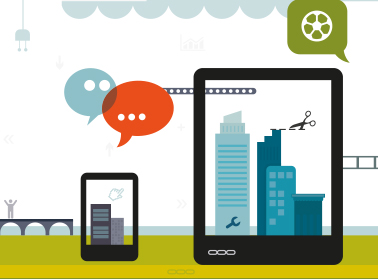 . Consequential Conversations Arqiva's first step has been to virtualise some of its services by placing them in the cloud. Virtualisation enables Arqiva to quickly ramp up services without having to invest in capital-intensive infrastructure and to offer customers access to the new, flexible commercial opportunities the cloud can provide. At present, these new virtualised media management services are primarily focused on an OTT cloud head end for IP streaming and on non-linear/VOD services.  "We have seen the market evolving for many years," adds Alex Pannell, Managing Director, Satellite & Media, "so we have worked very closely with a number of our customers to really understand their challenges, opportunities and future business model needs." Arqiva's first goal was to reduce the cost of distribution for their customers in new markets, primarily with the delivery of linear TV channels, combined with the ability to deliver associated non-linear/VOD content as needed.  "As a consequence of these conversations," says Pannell, "we have built automated orchestration that lets us deploy, in scale, a number of fully-managed content services across a range of software-based solutions, without the need for capital intensive infrastructure or people-heavy processes. This provides our business and customers a cost model that provides flexibility whilst reducing commercial risk for all of us. We can then add and augment with other cloud capabilities, including AI and machine learning." .
"We have worked very closely with a number of our customers to really understand their challenges."
.

Speed and flexibility

 

One customer using the new Arqiva services is a major US-based multichannel broadcaster with significant presence in the UK. The broadcaster asked Arqiva for advice about its non-linear/VOD processing. They have a constant flow of VOD assets that need to be delivered on a weekly and monthly basis, but they also have a challenge of wanting to launch into new markets which is a much shorter term requirement, requiring speed, flexibility and the ability to use AWS to burst into the cloud quickly. A second Arqiva partner is a major US broadcaster who acquired some high-profile sports content based out of Europe. The company wants to look at a digital-first strategy in delivering that content to their viewers in the US. Arqiva worked closely with the broadcaster for over a year and will be delivering content in a number of different ways. The first will focus on their core TV market of US cable viewers. Then they are providing a fully virtualised cloud OTT platform for the distribution of European content into the US market. That means the broadcaster can quickly spin up instances in the cloud for use during the week and tear them down when they are finished.

 

The result will be a low-cost, high-quality service that will allow them to experiment with the digital-first strategy. "I think the future for us will continue to be based on what our customers want," says Alner. "They're very high-profile brands. Their content needs to be delivered at high-quality with resilience and needs to be highly secure. We will therefore need to make full use of all and any technologies as part of that process. I expect for the next five to ten years that we'll make increased use of the cloud across our entire portfolio." Changing models Sam Alwan is Arqiva's Media Services Director. He agrees that enabling customers to experiment with new ways of delivering content is one of the company's key services going forward.

 

"To find the right models, our customers need the capability to essentially fail fast and fail cheap, which will allow them to find the perfect model for a particular brand or content or territory." "Historically, Arqiva has been fundamentally an infrastructure company, removing infrastructure problems for its customers. Using cloud-based tools, they are moving more into being as a service provider, a partner to our customers trying to find traction in a changing world.

 

"Arqiva's role is being able to stitch together all of the different services or micro services that are out there in a way that makes them one entry point in, with multiple ways out, for our customers," says Alwan. "Our key challenge is going to be keeping it as lean as possible, flexible as possible, and delivering to the same levels of service that we always have. As the industry continues to change and key technology keeps evolving in a way that enables new ways of delivering to consumers, our model needs to change as well."]]>