Uncompressed for AV spaces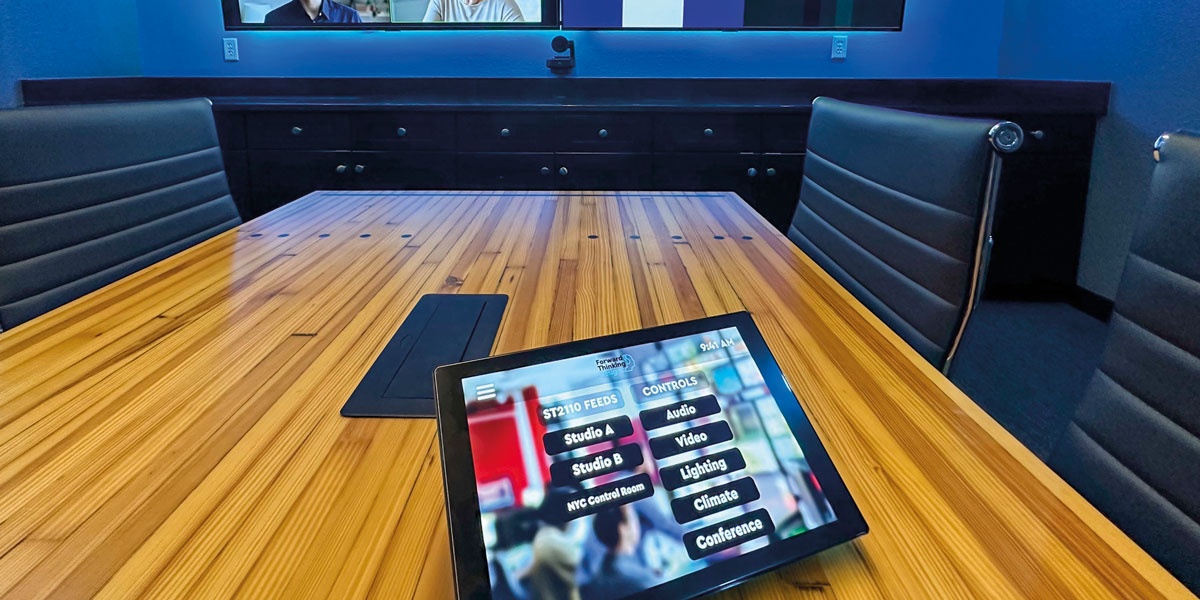 Posted on Oct 4, 2023 by FEED Staff
Forward Thinking Designs uses Riedel's MediorNet IP platform to deliver high-quality video to entertainment and corporate venues
Sponsored editorial
Forward Thinking Designs is an award-winning design and development company for audio, video, lighting and show control systems specialising in the themed entertainment industry. Based in Florida, the company has worked on theme parks, attractions, museums, live shows, cruise lines and many other immersive experiences worldwide.
Today, entertainment and hospitality rely on increasingly complex, powerful control systems. But the hardware can only ever be as good as the software set-up that is controlling it. 
Forward Thinking Designs' expertise lies in both designing and programming show control systems – and the company also boasts a team of developers specialising in custom plug-in creation. 
The company is using Riedel's MediorNet FusioN IP edge devices and MediorNet MuoN SFPs in a VirtU IP platform to bring SMPTE ST 2110 and its many benefits into corporate and hospitality spaces. In delivering development services including show control programming and custom Q-SYS plug-ins, the company is leveraging Riedel's IP solutions to handle uncompressed video over a wide area network (WAN) for high-quality, broadcast-grade video.
"For AV spaces that traditionally use compressed video, the upgrade to uncompressed HD or UHD broadcast-quality video offers stunning quality improvements," explains Evan Hall, chief of big ideas at Forward Thinking Designs. "However, broadcast control systems are quite expensive, so the real trick was to find a broadcast-quality solution at an AV price.
"That's where Riedel's Open API and the Q-SYS control system come in – providing SMPTE ST 2110 routing and supporting easy embedding and de-embedding of audio into the AES67 ecosystem. We selected Riedel's SMPTE ST 2110 MediorNet solution for its full-featured, RESTful control API and the company's history of making robust, mission-critical products.
"We have a substantial themed entertainment project underway where all of the distribution throughout the park is SMPTE 2110," continues Hall. "As themed entertainment companies move towards being really immersive technical spaces, the key drivers are video content and refresh rates.
When the projects aren't of the highest quality, they lose the illusion. Stepping back and looking at network distribution and security, they want everything to be on a network – that is the path forward."
Customised Control 
Forward Thinking Designs has deployed Riedel MediorNet MuoN, which offers processing such as up, down and cross conversion, as well as embedding or de-embedding capabilities, in a VirtU IP core infrastructure platform. This is combined with MediorNet FusioN, for signal conversion of SDI/HDMI to IP and IP to HDMI/SDI at the edge, using  the Riedel API to interface to Q-SYS. 
Pairing Riedel's SMPTE ST 2110 products with the Q-SYS control system, the company is building a cost-effective and highly customised set-up for audio, video, intercom and even GPI, enabling its customers to control details down to the area, user and even time of day, while supplying spectacular images. 
"Being able to control the FusioN routes, while controlling the whole AVL system within one platform, is a tremendous advantage," states Hall. "By controlling the routes down to a granular level, we are able to build highly customised control systems for the customer. Riedel has been a great partner, always ready to help us with our bespoke projects." 
"By lowering the price point and reducing the complexity of bringing broadcast-quality video into corporate and hospitality applications, the solution developed by Forward Thinking Designs is a game changer for the AV space," says Joyce Bente, president and CEO, the Americas, at Riedel Communications. "We love partnering with innovative companies that find ways to leverage Riedel technologies broadly – and realise even greater benefits. Forward Thinking Designs has done it again with this Q-SYS integration." 
With the introduction of MediorNet more than a decade ago, Riedel has pioneered the distributed approach to video infrastructures by combining signal transport, routing, processing and conversion in a redundant real-time network. Since then, MediorNet has grown to be a versatile and reliable AV networking backbone. To this day, MediorNet remains the only system offering all the advantages of distributed, software-defined hardware.
Riedel's most recent answer to the challenges arising from the IP transformation is a range of innovative SFP-based technologies to complement MediorNet's MicroN, MicroN UHD and Compact intelligent signal interfaces as well as the MetroN core switch. Boasting the highest density on the market, the processing modules and hubs MuoN, FusioN and VirtU round out the Riedel video portfolio with full IP solutions.
All these versatile devices can serve a wide range of applications, but are united by two key qualities at the foundation of the company's media infrastructure philosophy: they are distributed and software-defined.