Studio in a Bag is chromakey for the masses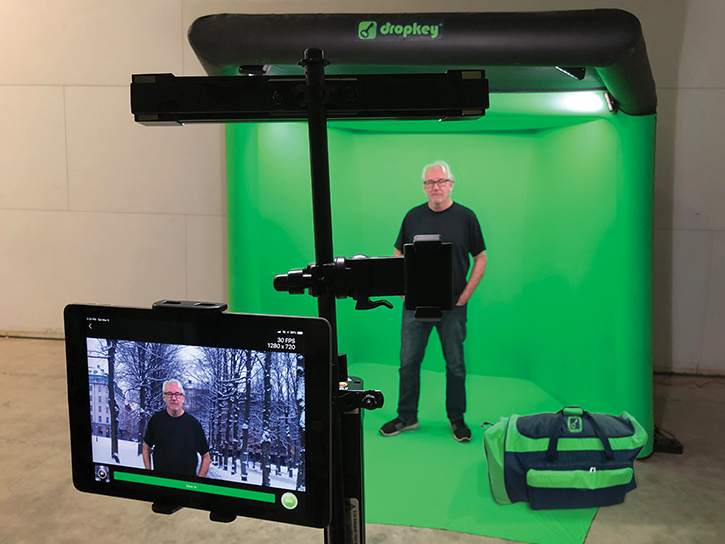 <![CDATA[
DropKey's Studio in a Bag is a new green screen/chromakey solution that aims to turn your iPhone into a complete TV studio
DropKey founder Rockwell Scharer III began to think about the powerful production capabilities inherent to Apple's mobile technology when he had his first iPhone 3G. "I was thinking about American Idol auditions and how the producers could save 50 million bucks by not doing an 11-city tour and instead having contestants send in their auditions taken on iPhones," Scharer recalls. "When I started thinking more about it, and about how the iPhone could run a perfect chromakey while capturing video, I realised I had something." After several years, his efforts resulted in the DropKey Studio In A Bag: a portable, inflatable green screen system that also has the ability to swap digital backgrounds in and out of footage from a large library of HD video footage. The system is aimed at small production companies, YouTubers and even hobbyists, and is available via the DropKey website for £460 ($599). DropKey is also aiming to offer a complete online marketplace for backgrounds, which will allow purchasers of the system to download video loops that suit their location requirements and content. The videos will cost $0.99 each and sync directly to the user's content from the cloud. The company is also developing a streaming feature for Twitch users.
"Studio in a Bag is not just an innovation that allows live background replacement," explains Scharer. "It's actually the infrastructure of what we think is going to be on television, captured on smart devices, five or ten years into the future. With cloud technology, professionals can create content in the cloud that non- professionals can then use to make their content, sync it to the cloud, use whatever workflows they might subscribe to and then output the finished piece to whichever device they want." Studio In A Bag has recently won a Platinum prize at the 2019 Edison Awards in the category of Media, Visual Communications & Entertainment. The Edison Awards, launched in 1987, honour excellence in new product and service development, marketing, human-centred design, and innovation. Scharer believes the DropKey solution will help democratise content creation and open it up to a lot of first-time video creators, from teenagers up. What makes Studio In A Bag unique, he says, is that it is a full solution for broadcast-quality chromakey for iPhone. He believes the broadcast production power of iOS devices is only now coming into its own.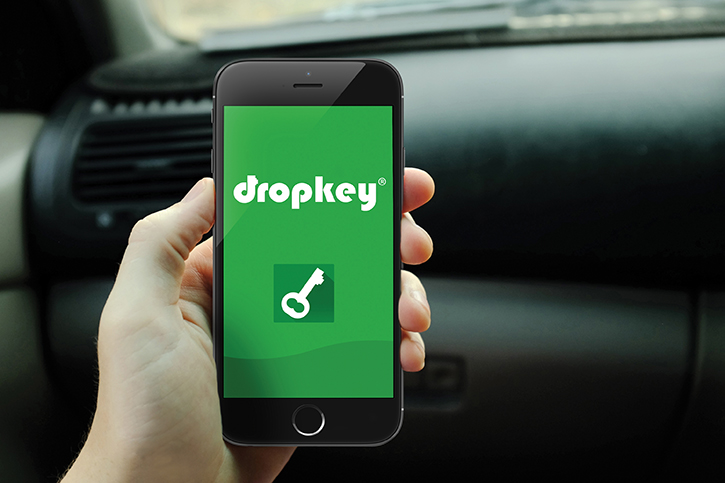 "The iPhone is only missing three things that enable you to have the same power as a major broadcaster: professional lights, professional sound and professional background replacement." Having addressed the third issue with the Studio In A Bag solution, Scharer is going to trial a full broadcast implementation later this year. "In the next six months, I'm going to take three iPads and create a sitcom in a basement and no one will be able to tell it's not made at NBC Studios. What we have is a full chromakey solution. The other things you see out there are pieces of a solution, but ours is perfect, live chromakey," he says.
Tools for pros
Near the beginning of Scharer's career, he worked as a recording artist, and was an early adopter of the democratising power of digital tools, including audio hard disk recording technology and audio editing software by Digidesign (which later became Avid Audio). He also wrote and produced the single Get It Together, which saw some success in the charts. "That experience led me to believe that I could marry an iPhone with those three things the iPhone is missing to create a whole, mobile-based television station. People don't understand that 60 or 70% of what they watch uses chromakey and green screen," says Scharer.
"If we could put one of these in every high school in the country, that would be great"
Scharer's first iteration for the Studio In A Bag centred around a tent-pole design, but he and design partner Richard Mall quickly realised parents would be reluctant to buy their children something overly rigid. The final product is an inflatable 'bouncy castle' trapezoid shape with lights built into it. Strength and flexibility were essential features of the design. Scharer and his development team wanted it to be able to comfortably withstand a thousand set-ups. "Although most people will probably just set it up once in their basement," Scharer predicts. "And it will stay inflated for a year or two. It's very stable."
The HD background store is just as important as the green screen hardware for the DropKey business model. Scharer envisions an entire mobile content capture marketplace that allows professionals to sell backgrounds they've shot, then others can to pay to use them in their Studio in a Bag-created content. With the prototype developed, the company's focus is to dramatically scale up production and make Studio In A Box widely available. Scharer is especially targeting YouTubers – from basement filmmakers to major online influencers – and is showing off the product at VidCon in LA in July. He says: "We aren't going after the professionals. We're going to price it for those aged ten to 25 who love social media. We believe 'likes' are the new currency for kids, and we want to help them get there with their creativity. If we could put one of these in every high school in the country, that would be great. We're working with some people now who I hope could make that happen."

This article originally appeared in the April 2019 issue of FEED magazine.

]]>