Slow down and play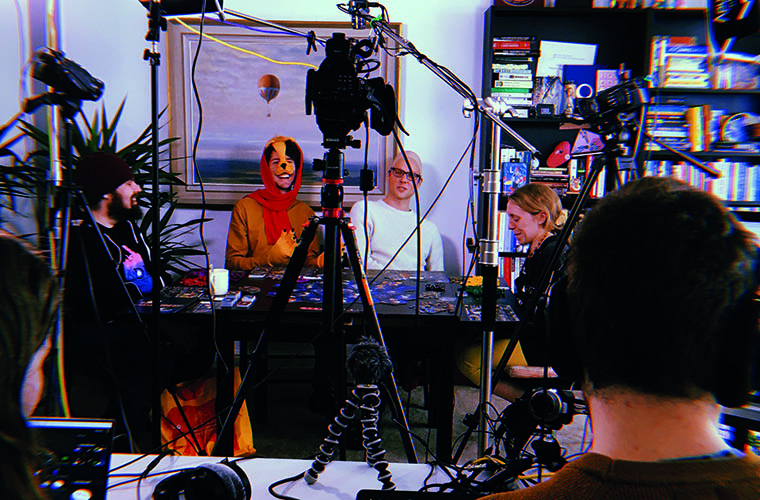 We look at bringing digital video to the world of board games, tabletops and tokens with Shut Up & Sit Down founder, Matt Lees
Matt Lees and his friends are online gamers. They stream their games live on Twitch, and the competition is fierce. But this isn't esports: this is the real thing. This is board games.
Shut Up & Sit Down started when some friends who worked in the video game industry decided that not enough people were talking about board games. Matt Lees, one of the founders, explains: "We thought they were really interesting and that it was a much more niche hobby than it needed to be." 
They established a YouTube channel that focused primarily on in-depth reviews of board games. The channel has been a huge hit, with over 170,000 subscribers and some videos reaching over half a million views. Not bad for a 'niche hobby'.

A lot of Twitch is influenced by modern media trends of information overload 
"Since then, we've been growing and growing, getting more of an audience and getting better at what we do", says Lees. "And it's getting really big – board games are becoming kind of a cultural thing again."
Shut up & Sit Down, in keeping with its subject, has adopted a hand-crafted and highly curated ethos. In a hugely oversaturated market, the channel is about quality over quantity, presenting viewers with honest analysis of carefully selected games. The result is a very loyal audience and respect within the community. 
"Rather than covering more stuff, we cover less. We work out which games really matter, which games are really great, and try to promote them." He adds: "We want to encourage people to spend more time doing things face to face and having social interactions with people."
SU&SD's refined and controlled approach left their audience hungry for more frequent content. Rather than trying to churn out more of the same, the team decided to try a different format and began livestreaming. Every two weeks, SU&SD streams a show on Twitch. The flavour is different from the scripted format of the game reviews and allows for more spontaneity and live audience chat. Lees had previously tried video game streaming, but it didn't appeal to him.
"I found the mix of trying to be entertaining and insightful, while also trying to chat to people directly and moderating the chat, too, could be quite distracting
and draining," he explains. "And when you end up having community issues – which everybody in video games does, whether you like it or not – I found that quite draining as well."
As a result of Lee's past experience of feeling uninspired by the bulk of Twitch streaming, SU&SD are reaching for something different. "We're experimenting with the format, rather than just falling into the habit of doing what people are already doing," says Lees.

Like hanging out in your living room
The set-up they have opted for currently is one where none of the SU&SD team have to keep an eye on the technical part of the stream, including the chat. "I wanted it to be detached from us, so we wouldn't become distracted by it," Lees explains. "We didn't want to have the studio environment and the coldness that can come with that – even if you are with real friends, everyone kind of freezes up and changes who they are." He adds: "We wanted it to be like us hanging out in our living room. And it pretty much is, along with the fact that we don't have to think about the tech, but we know it's going to look as good, or close to as good, as our actual filmed footage on YouTube."
The streaming set-up is powered largely by Blackmagic Design. Lees has been the technical lead, teaching himself as he goes along. "It's not really consumer-facing equipment," he admits. "But I like a good tinker. I spent a couple of months on it and got it under control, and we can now start experimenting with it, with the ability to have a huge number of sources being plugged into it."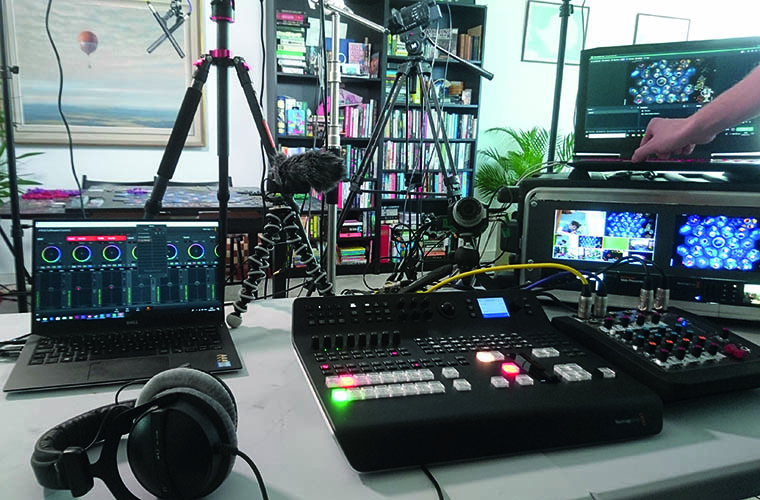 Streaming set-up: SU&SD employ a Blackmagic ATEM Television Studio Pro 4K, switcher and control panel for their live streams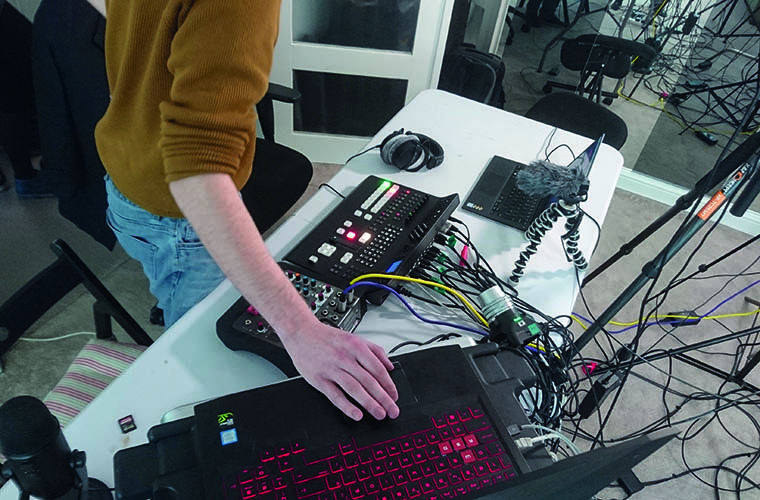 The streaming set-up got a serious shakedown with a ten-hour Twitch stream of classic space opera board game, Twilight Imperium, in February. It used Blackmagic ATEM Television Studio Pro 4K, switcher and control panel, three Blackmagic Micro Studio Camera 4Ks, a Canon EOS C100 and two Sony PXW-Z90s with SDI outputs. 
One of the Micro Studio cameras captured individual player confessions in a separate 'diary room' connected by SDI. Using a Reflecmedia green screen, the diary room used the switcher's keyer to run a loop of a galaxy behind the players to-camera revelations about their gameplay. 
Two Blackmagic HyperDeck Studio Minis were employed, too. One played out pre-recorded content, including clips from SU&SD's 2018 documentary about Twilight Imperium, called Space Lions. The second was used to record a clean version of the stream, which was then later uploaded to YouTube. The stream was captured prior to its output to Twitch, so it could be viewed without the Twitch fan commentary, which is a key part of the live experience, but not as valuable for lean-back watching. 
Searching for something more than the usual Twitch, talking-head commentary, SU&SD employed an illustrator, who provided a visual caricature commentary throughout the gameplay. The drawings were captured in Photoshop, then sent to the ATEM mixing desk where they could be overlaid onto the feed as required. Other graphics assets were included to help viewers track the gameplay. The entire workflow requires little monitoring or intervention, which is essential for keeping the intimate atmosphere of the gameplay intact – especially since Lees is the only member of the team wholly at home with the technology so far.

A bit slower
The gear is easy enough to set up that SU&SD have been able to take it on the road. The business puts on an annual board game convention in Vancouver called SHUX. This has allowed them to livestream from the show in front of an 800-seat live audience. 
"I think a lot of Twitch is influenced by modern media trends of information overload," says Lees. "A lot of video game streams are someone playing a game, then in the corner of the screen they have a video of their face, have the chat embedded and have other elements popping up. For me, it's just a bit much. I'm increasingly fond of some of the media trends of ten or 15 years ago. If you go back and look at TV shows from then, you're surprised by how slow they are. They're often more like radio shows." 
He concludes: "Rather than having this information overload, with mad pictures and overlays, we wanted something with the option to create something a bit less busy, a bit less intense and a bit slower."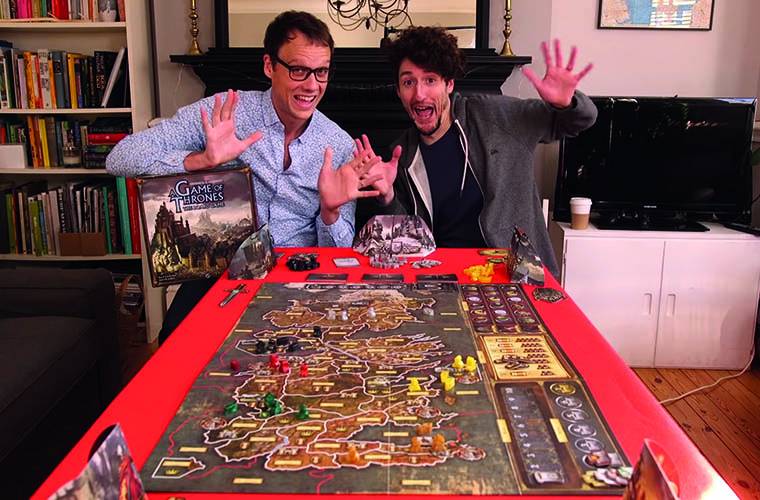 This article first appeared in the May 2019 issue of FEED magazine.