Can esports and traditional broadcast be friends?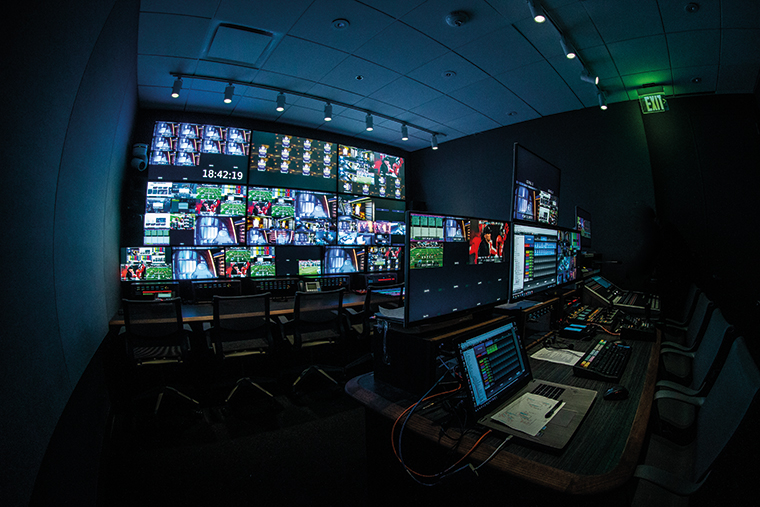 Posted on Oct 20, 2019 by Neal Romanek
The popularity of esports is turning video game companies, like Electronic Arts, into broadcasters. Once a world miles away from traditional TV, game companies are treating linear broadcasters as partners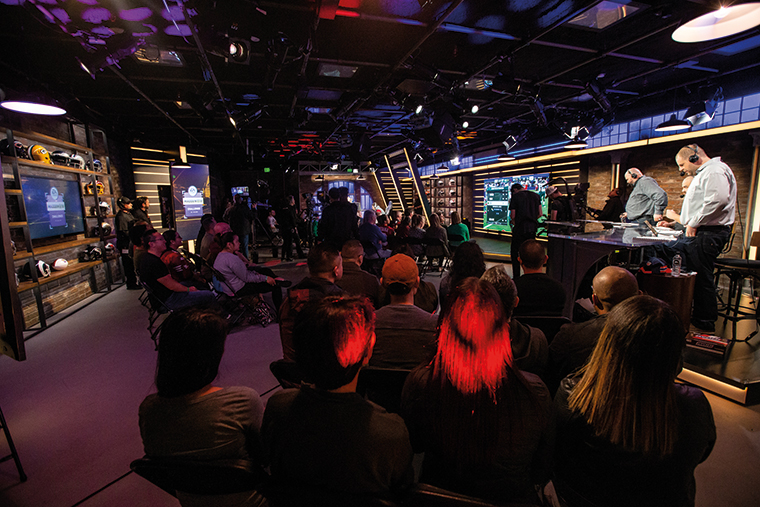 The tension between traditional linear broadcast and online distribution is something the esports world is having to negotiate carefully now. It follows the sector turning into a major international phenomenon, with multiple parties looking for ways to cash in on it. However, esports producers and broadcasters are finding that it pays to cooperate.
Joe Lynch is the head of Broadcast at games giant, Electronic Arts, and this transition from the gaming world to the world of big broadcast is always at the front of his mind.
"The way people consume entertainment now is a little bit of everything," he says. "For us at EA, broadcasting is a pretty new thing. We've only been doing it for a couple of years, and the competitive gaming division has only been around for three years. We've made some strides in that time and created some great content, but really the trick is the partners and who you're working with."
This was explored in-depth at a panel at this year's NAB Show, moderated by VentureBeat, where Lynch joined Matt Edelman of Super League Gaming, Frank Ng of Allied Esports Entertainment and David Clevinger of IBM Watson. 
"We talked a lot about the state of esports production and that convergence of traditional media and esports," says Lynch. "A lot of the conversation centred around where we are going and the very different way we produce esports. From an esports perspective, we're on air eight to ten hours a day, three, four and five days in a row. That's very different from a traditional sport. That sort of thing is quickly overlooked. It's a different way of producing."
EA has begun to work with linear broadcast partners ESPN and The CW, for its Fifa esports content. It is also working with Fox and Fox's online gaming platform, Caffeine. As well as many other broadcasters internationally.
"It's about working with those partners and everyone being on the same page and knowing that we're going to have to try some things. We may not do things the way it's always been done. From our perspective we're very lucky working with ESPN and The CW. They're great partners that want to try new things," adds Lynch.
Now we have our studio, we can just walk downstairs and go to work
Road to the Madden Bowl
EA has launched an esports tournament, the Madden Bowl, centred around its Madden NFL American football video game, which is broadcast from its own studio at EA headquarters in Redwood City, California.
"We had these great numbers and part of the reason for it is not only that we're producing good shows, but because of the way we're leveraging all of our assets, to help get the word out," explains Lynch.
EA worked with ESPN on a four-part series called Road to the Madden Bowl, which lead up to the Madden Bowl final, telling the story of the entire Madden Championship season, who the players were, what tournaments they had won and how they got to where they are today.
"If we had just been doing that on our own, on Twitch or on YouTube for example, we wouldn't have had that ESPN megaphone to use. But by working with ESPN, we were able to tie it all together and really drive eyeballs to that final event," Lynch says.
But Lynch wasn't always in esports. In fact, he actually started his career in traditional TV, at NBC, and is aware of the irony of the digital world now using linear broadcast as a way to expand:
"Back then, we looked at digital as a way to reach new audiences, and now for us, linear is the way to reach new audiences. We're going out on Twitch and the digital platforms. That's where the gamers are, that's where our demo is, but by going to a CW, or an ESPN or a Fox, we're able to reach a separate set of people that aren't necessarily the habitual gaming watchers, and we're able to expose this content to a whole new group of people who we can bring into the fold."
We have everything we could possibly need to create a world-class broadcast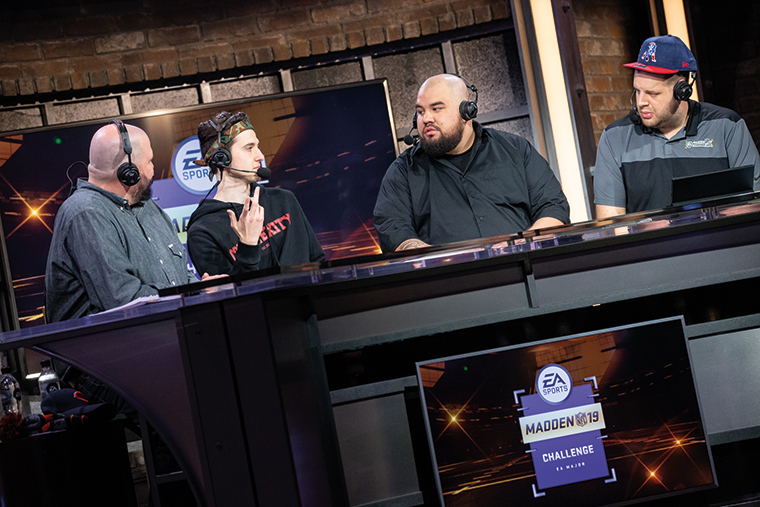 Esports on the Bay
The EA esports studio in Redwood City was completed at the beginning of this year and began broadcasting in March.
"It's given us a place to really hone the craft and not have to spend all the time going venue to venue, city to city, building up, tearing down and wasting time on the logistics of an event or show. Now we have our studio, we can just walk downstairs and go to work," enthuses Lynch.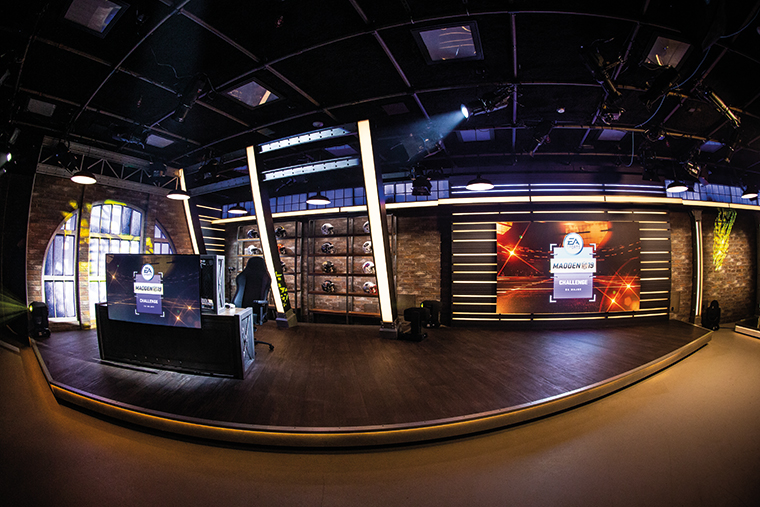 Up to the challenge? EA has launched an esports tournament, the Madden Bowl, based on a popular video game
With its own studio on-premises, it means Lynch and his team can devote more time and energy to creating content. Without the risk of the investment in time, personnel and hardware that doing esports shows on the road would entail, they can experiment with different show formats and different ways of engaging with fans.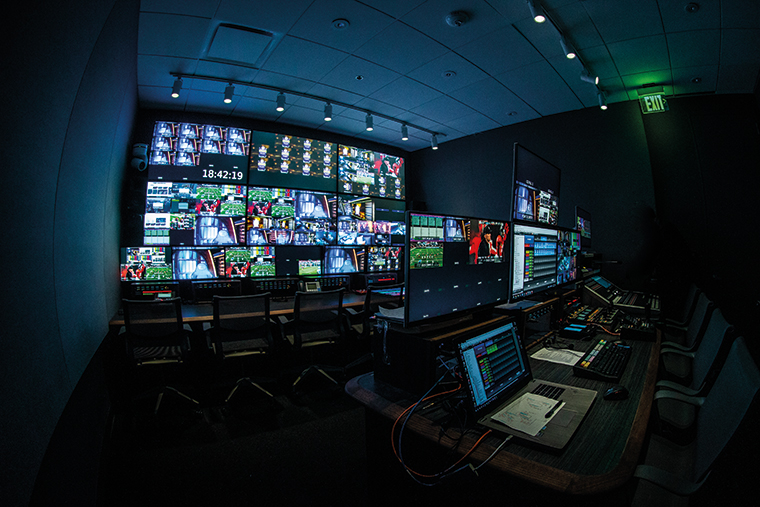 "We can start playing in the studio; we can take things that work in traditional TV and then build things in for a digital audience," says Lynch. "What is that community interaction like? How are we working with chat? How are people engaging in the show? Can we Skype in viewers from home to play games against people? What tools do we have in our toolbox that aren't restricted by a one-way linear conversation or a Twitch stream?"
The new studio was outfitted by local San Francisco Bay Area systems integrator, ASG (Advanced Systems Group). The space itself is not a massive esports arena, but a working broadcast facility, with two spaces, one at 2500 square feet, and the other 1500 square feet. To maximise space, and to be able to shoot from any angle, the studio is designed to work in 360.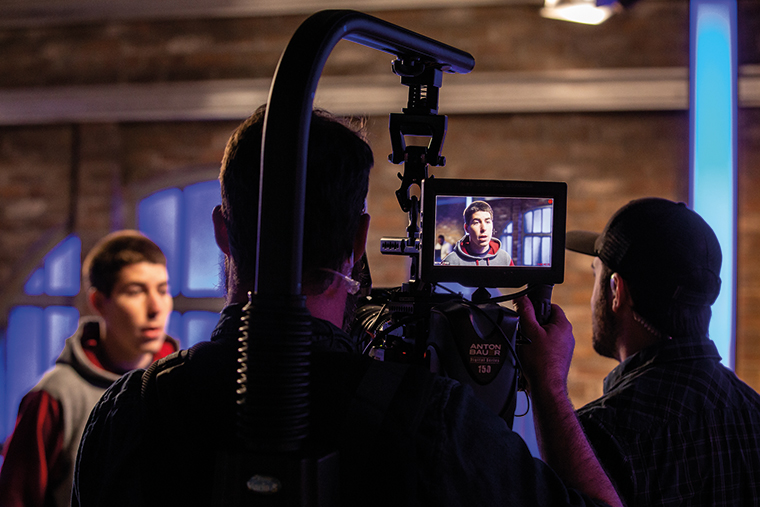 Far from the Madden crowd: The Madden Bowl tournament is filmed from EA's Redwood City studios in California, which opened in March
The studio includes an Acuity switcher and XPression motion graphics system from Ross Video and 12 channels of EVS. The sets were designed by LA-based company, MKPscenic.
"We have everything we could possibly need to create a world-class broadcast. We're happy with the results," says Lynch.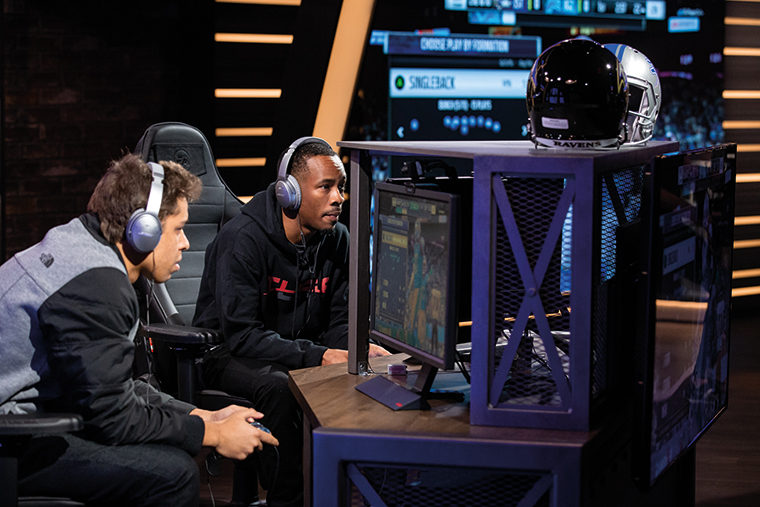 Broadcasts naturally include a lot of content around Fifa, Madden and EA's battle royale title, Apex Legends, but content around other EA games is also being produced.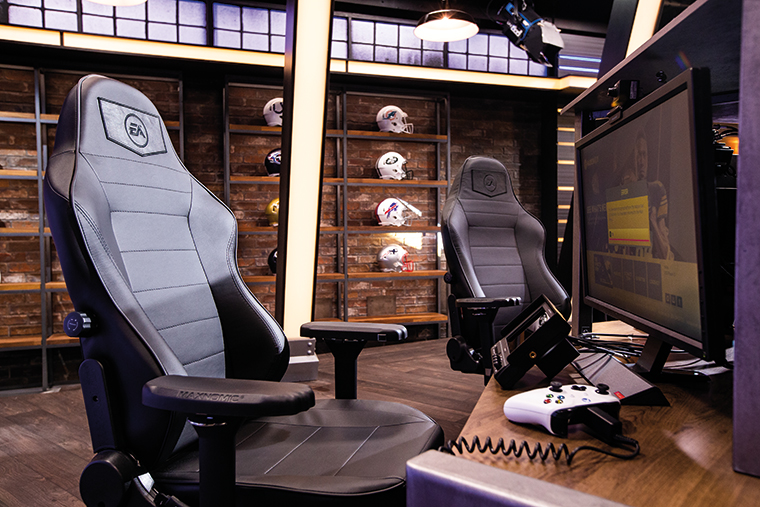 There are genres of games that are ready-made for the world of competitive sport and that have the same uncomplicated, high-conflict appeal many popular physical sports have, but EA's library is deep, including popular sandbox games like The Sims or simpler one-person rush games, like Plants vs. Zombies. 
"We have all of these other titles that may or may not work from a competitive perspective, but we have great content creators within the company and a content strategy team to look at all these titles and think about what other forms of content we can create," says Lynch.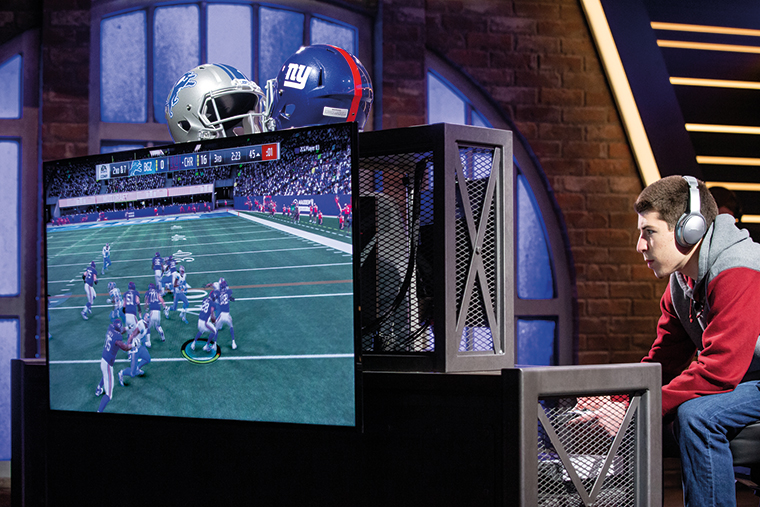 "This is a young department. We're only hitting our stride in the past two years, so we're open to ideas. I'm excited the studio is up and running, and we're starting to crank it out now. I was just telling my team: I've had four requests from teams that we had no prior contact with, saying 'we want to shoot this in the studio, we want to create this kind of content. Can we do it?' Absolutely, come one, come all. Let's start making some fun stuff."
This article is from the August 2019 issue of FEED magazine