Building Gaming Sphere London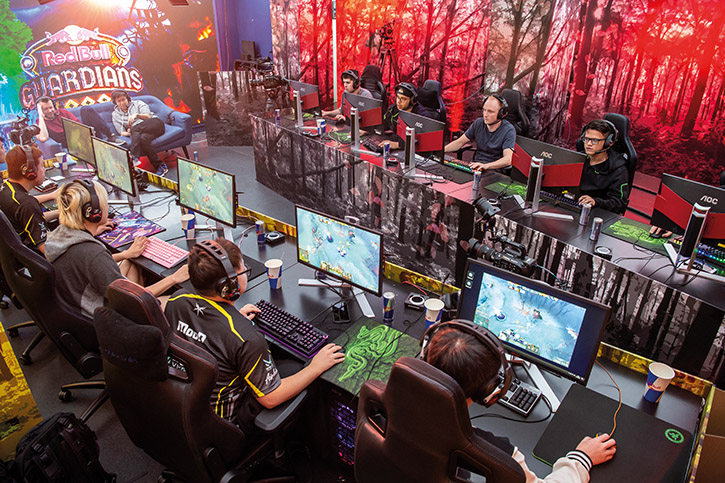 Posted on Apr 3, 2019 by FEED Staff
Red Bull's Gaming Sphere in London has been built to create a flexible and responsive hub for esports events and streaming. It also may be the future of broadcast facilities.
London's Red Bull Gaming Sphere went online in March of this year. Billed as the UK's largest public esports venue, the Gaming Sphere is a space for esports pros, casual gamers and fans to broadcast, play or just hang out. The opening of the London Gaming Sphere came hot on the heels of the launch of the inaugural Red Bull Gaming Sphere Tokyo, and it probably won't be the last such space.
Based in London's tech-hipster haven, Shoreditch, the Sphere admits anyone over 16, for free. Users just need to register beforehand and then they get access to all the facilities, plus opportunities to participate in and attend events, tournaments and challenges, as well as access to a huge array of game titles. There are also events built around individual gaming personalities or players who come in and offer tutorials or trainings.
London systems integrator Dreamtek was responsible for the tech build of the Red Bull Gaming Sphere London. The head of esports at Red Bull approached the company looking to build a public gaming space, but one which could also host and live stream esports events. Dreamtek senior engineer Saqib Razaq was the lead technical architect responsible for outfitting the space and building its infrastructure.
"We went back and forth with them, exploring different ideas of what the space could be like and what Red Bull wanted to achieve with it," says Razaq. "We looked at the different areas that would be in the space and how to best utilise the space to be as flexible as possible in incorporating different kinds of events and environments. They wanted it to be a hub for the gaming community in London, somewhere that the community could come and enjoy the space."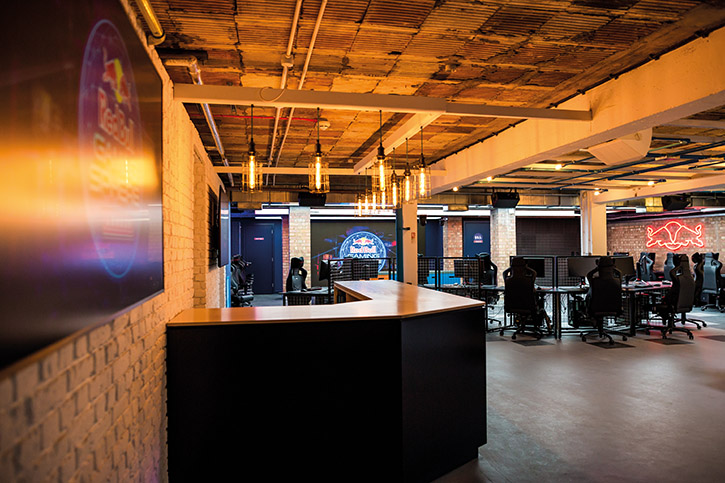 Game of Streams
In addition to being a community hub, the Gaming Sphere was designed from the start to be a broadcast facility for capturing and streaming gaming and esports content. Dreamtek brought to bear its substantial experience in building bespoke livestreaming infrastructure.
"It was clear from the outset that the space wouldn't just be a place where games were played," says Razaq, "but where they would be able to be shared as well, and not just with events, but down the micro-level of an individual gamer streaming out from any one PC in the space." 
The Sphere has made every attempt to put professional tools in the hands of the gamers using it, even including chromakey facilities with one of the studio spaces having a blue screen. 
"We've tried to take all the equipment up to the next level, so it's not just a PC with a webcam. There's a huge amount of capability that we've put into that space, so that they've got the ability to broadcast out to as many outlets as they want to."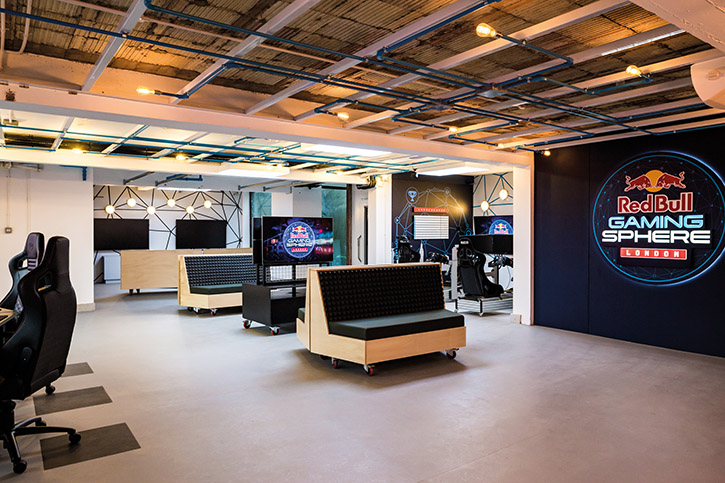 Shooting and Delivering
The broadcast infrastructure for the Sphere is built on two racks full of broadcast equipment, which gathers feeds from all over the facility into one central gallery where it can be vision mixed, using Blackmagic Design's ATEM 4 M/E Broadcast Studio 4K. The team also uses vMix software-based video mixing and switching too. Blackmagic's DeckLink 8K Pro capture cards allow high-resolution playback over 12G-SDI and allow for the high frame rates essential in esports production."
There are multiple video capture points in the space, which use Panasonic UE70 PTZ cameras, controllable from the gallery. In addition, to the PTZ cameras, there are two Blackmagic URSA Mini Pro cameras available which can be used anywhere in the space, for just about any function that could be imagined. There is also a Blackmagic Micro Studio Camera 4K. Because of its small size and great resolution, the Micro Studio Camera is often employed for highly effective specialty shots.
"Because there's so much flexibility in the facility and its design, the world is your oyster."
"We've put the Micro Studio Camera on a Magic Arm mount and mounted it on the ceiling for a top-down effect. We've had events with a kind of board game style set up where we used this top down feed. Because there's so much flexibility in the facility and its design, the world is your oyster. We've had external clients come in and bring their own cameras into the space and we've been happy to mix them in."
Everybody Welcome The space is equipped to host everything from major multi-stream events to individual gamers
Delivering to Fans
The infrastructure is also built to take in the feeds from each gaming console and PC which can be mixed in the gallery.
"People who want to do their own individual streams can absolutely do that from their own workstations. In some of our set-ups we have had a dedicated machine for the actual gaming and another PC for just the streaming elements. For some of the larger events and shows, you can have multiple streams. And sometimes people will come with their own gear and their own set-ups, and we can be quite flexible about that and let them run their own show."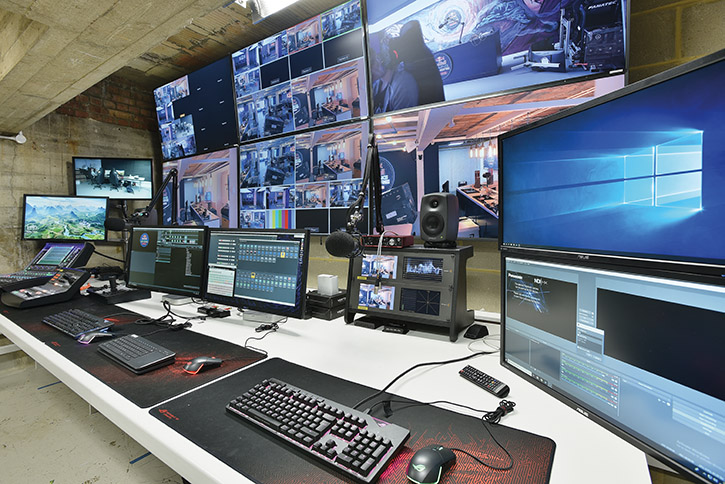 Pro Approach The Sphere's production gallery includes top tools from Blackmagic Design.
Flexibility for Creativity
Dreamtek continues to collaborate with Gaming Sphere London on a regular basis, running, facilitating and delivering events. The open nature of the space really allows gamers and event producers to try all kinds of new ideas for productions and how to stream them.
"We've had the full spectrum of people who want to do something really unique. On an individual level someone might want to film something from a unique point of view. We have a couple of sim racing rigs and people have come in and done special racing set ups for their channel. 
"We've also had huge events, like a World of Warcraft launch, where they transformed the entire space completely, physically put in plants and trees and redecorated the space so it was unrecognisable. There's innovation from the individual all the way up to these huge events. 
"Every event has a unique challenge, and it's always a new layout."
"Every event has a unique challenge, and it's always a new layout. You may have one where it's very straightforward, with PCs on the right side and on the left side. You may have another event where you have a huge stage with a giant video wall. Or another event which is a fighting game tournament with maybe just two consoles that come out on the stage.
"We're very proud of the flexibility that we've been able to incorporate into the infrastructure and design. The feedback and the response has been incredible, both from the community and from the people using the space as well."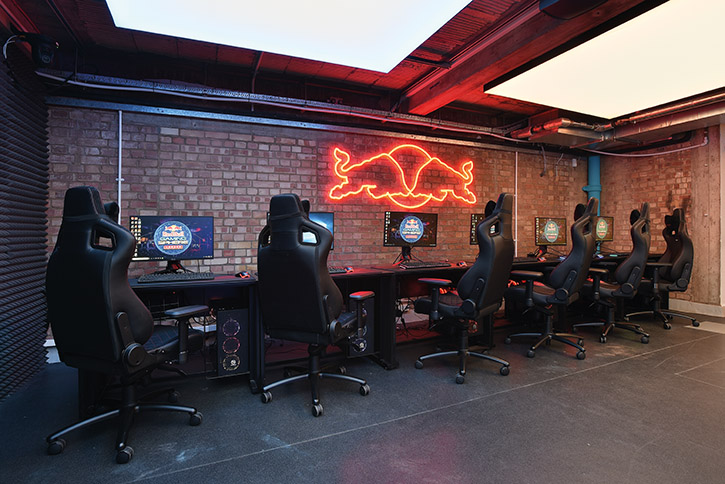 Living the Dream Systems integrator Dreamtek worked with Red Bull to create a welcoming, flexible space for gamers to enjoy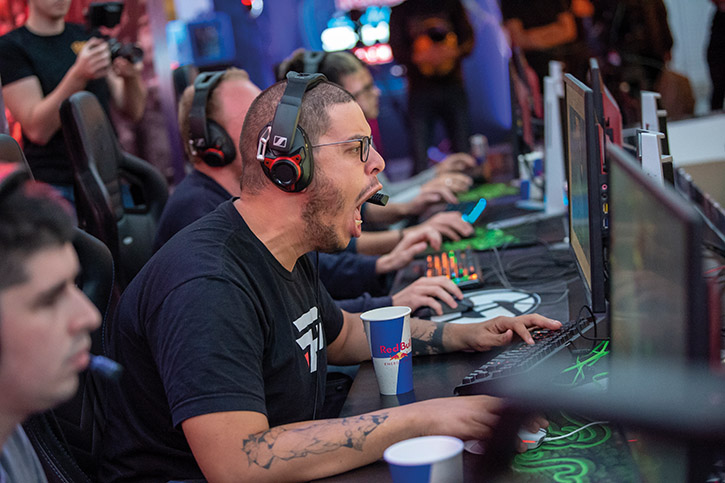 This article originally appeared in the November 2018 issue of FEED magazine