IBC 2023: Flash mobs, award winners and transformative tech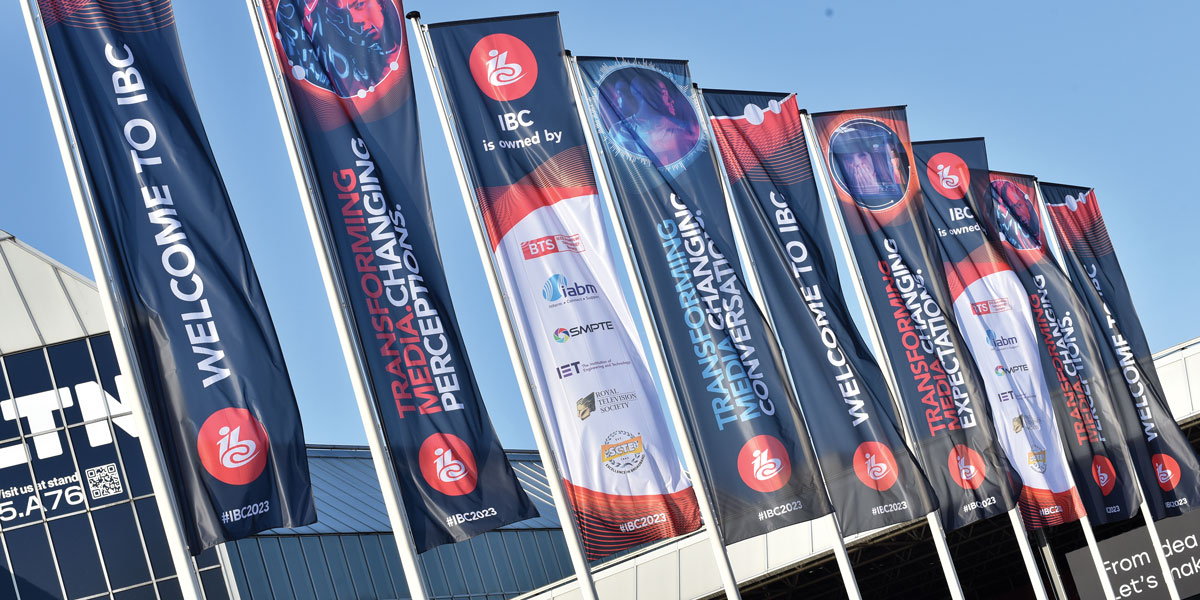 Posted on Nov 14, 2023 by FEED Staff
September saw the doors of the RAI opened once again, with IBC 2023 attracting 43,065 attendees from 170 countries. From male-dominated talks to sustainability struggles, here's what FEED took away from this year's show
From 15 to 18 September, the team from FEED joined over 43,000 attendees in flocking to Amsterdam's RAI convention centre to celebrate business innovation and discover all there is to learn about the latest in media technology.
It was reported that there were 1250 exhibitors, and a 16% increase in total attendees – an upturn that was palpable when navigating the bustling show floor, which felt a far busier hive of activity than the show's post-pandemic debut last year.
"We've seen a fantastic turnout from the entire industry at IBC 2023," describes Michael Crimp, IBC's CEO. "There was a real sense of purpose at this year's show as business leaders and tech innovators came together to help our industry navigate change and build a better future for media and entertainment.
"I'd like to thank everyone for the ongoing support and participation – we're looking forward to seeing you all again next year."
This year's content programme emphasised three core pillars: Transformative Tech, Shifting Business Models and People & Purpose. The number of speakers lined up had also increased from last year to over 325.
What were people talking about?
There's always a dizzying swirl of buzzwords present at trade shows; some stay resolutely at the top of the conversational food chain, however there is always a rise and fall in topic popularity each year. The topics we picked up on, both in the show's many talks and from exhibitors on the show floor, included the following:
• AI
• 5G
• VR/AR/XR
• Gaming
• Edge computing
These topics were also emphasised by proof-of-concept demonstrations delivered by the IBC Accelerator Media Innovation Programme projects, which championed cross-industry collaboration and new use cases.
The focus on gaming was especially hard to miss, with IBC's launch of an immersive Esports Showcase. Working in partnership with Unlocked, the latest innovations in esports production and delivery were presented; the showcase also acted as a valuable space for industry experts to explore key trends and opportunities at the intersection of gaming and media.
Rise up
Rise, a group for women in broadcast, as always pulled out all the stops to empower the usually outnumbered female show attendees. It raised the show curtain on Saturday with a flash mob in collaboration with Streaming Media and GalsNGear.
Helen Weedon, managing director of Radical Moves, who took part in the flash mob, was quoted in IBC Daily: "We want to show that women are here in force, but highlight that this might be less noticeable as soon as you enter the show floor."
This much was true, and it was hard to ignore the skewing of the equality scale when it came to numbers of male panellists and speakers as opposed to women and non-binary, a recurrent issue at so many trade events throughout the year.
But initiatives like Rise having a growing presence at historically male-focused events offers hope for the future. At the Rise stand, 250 'emergency kits' were given away – little bundles of essentials for any woman doing her rounds on the show floor that needed it. Additionally, Rise organised a Safe Car Initiative, which safely escorted 40 women back to their hotels after their evening events had concluded.
Top talk
One of our favourite talks from the whole of IBC 2023 took place on Friday. Its title was 'Winning over Gen Alpha: What broadcasters and brands need to action now'.
Otherwise known as the 'second-generation digital natives', Gen Alpha differ from Gen Z due to having the opportunity to be connected since they were born. This reliance was further heightened during the Covid-19 pandemic, where school was switched to screens.
"I think that the speed of change in how everybody's consuming, engaging with and making content means that there will likely be a paradigm shift. Second-generation digital natives will be the evolution," stated Matt Risley, managing director of 4Studio at Channel 4.
The talk expounded that 'generation glass' and 'screenagers' are misnomers, and there is much more to these under-13-year-olds that brands, media outlets and retailers had bargained for.
It also explored how young Gen Alpha creators are demonstrating impressive content creation skills as well as a seemingly innate ability to build a brand and market their platforms.
Read the full roundup in the Winter 2023 issue of FEED.