Must-see at IBC 2023!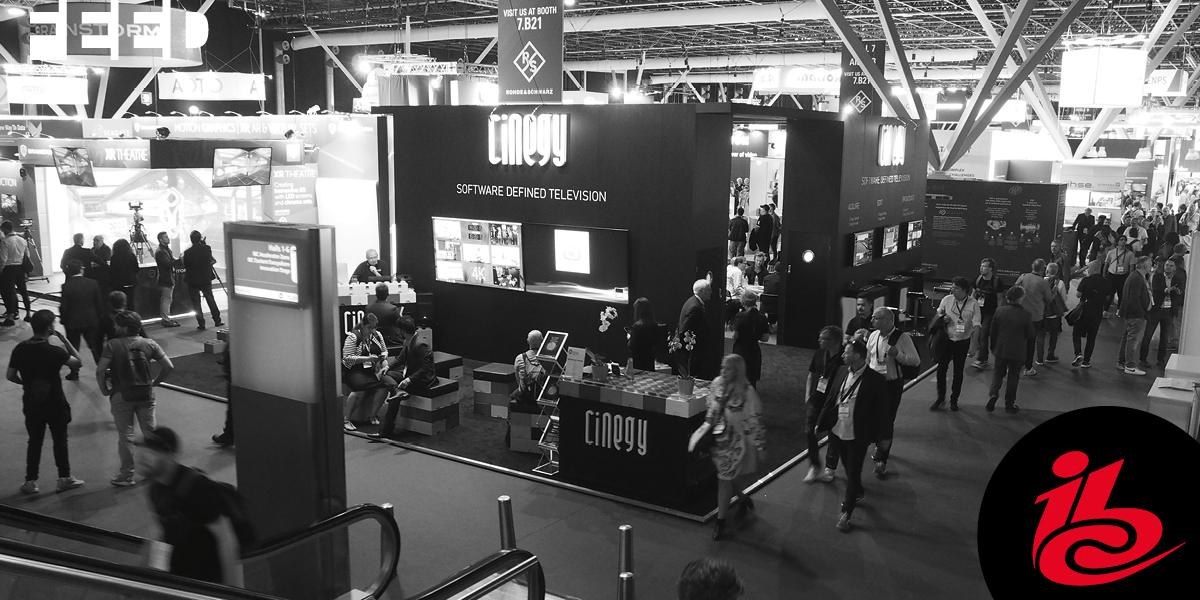 Posted on Sep 8, 2023 by Samara Husbands
FEED takes you through the essential products and demonstrations at this year's IBC
IBC is just around the corner, so we've put together a 'must-see list' for our readers. Every year, IBC provides a dedicated space for the biggest names in the global media and entertainment industries to discuss, learn and collaborate. Spread across 13 innovation halls, over 1000 exhibitors will play host to experts, speakers and content-led sessions. Last year, more than 31,000 visitors were in attendance from 170 countries, and we're forecasting that this year will be the biggest yet!
We'll speak to everyone from industry experts to influential decision makers to bring you the latest insights, while attending as many demonstrations as we can. From Dejero to Clear-Com, here's what we're most anticipating.
Looking to boost your brand? Contact sales director Sam Scott-Smith at [email protected]
Dejero
Dejero's award-winning Smart Blending Technology delivers critical connectivity for newsgathering, sports, live events and film/television production. Whether you're experiencing poor network connectivity or dealing with network congestion, Dejero's EnGo 3, 3s and 3x video mobile transmitters deliver optimal reliability and performance. Smart Blending Technology blends together multiple wired (broadband/fibre) and wireless (3G/4G/5G, Wi-Fi, satellite) IP connections to create a 'network of networks'.
See Dejero's next-generation 5G video mobile transmitters and other solutions at IBC stand 2.B51.
Qvest
This year, Qvest is exhibiting the full range of products, practices and services, including Makalu, Qibb and ClipBox, so you can learn to create and enrich media content using AI algorithms and discover the benefits of cloud infrastructure. Makalu helps you succeed in a competitive media landscape, delivering compelling content to create new revenue streams in FAST channels. With Qibb, you can create and maintain your own low-code workflows with dozens of pre-built flow templates. ClipBox offers a multichannel production playout, enabling you to easily create rundowns for multiple players and control their playout.
Join the experts to discuss topics like foresight and innovation, digital media supply chain, data and analytics, digital product development, and systems integration and broadcast transformation in hall 10 at booth C31.
Ross Video
Experience the future of live video production and broadcast with Ross Video. Witness exciting demonstrations, showcasing the latest advances in extended reality (XR), news workflows, LED production, production graphics, camera motion systems and automated production. You can book a one-to-one consultation with Ross Video experts to discuss industry trends and receive tailored guidance for achieving your video production goals.
Connect with Ross Video at hall 9, booth A05.
NPAW
At IBC, NPAW will be previewing Publisher Analytics, which provides real-time data for editorial teams aimed at increasing engagement and retention rate. Editorial teams can struggle with pinpointing what truly resonates with their audience; this is where A/B testing comes into its own. With Publisher Analytics, you can test different content elements in real time. If you're in the market for accurate performance markers and optimisation, this is one to check out.
Meet NPAW in hall 5, booth G56.
Tedial
Following a successful launch at NAB earlier in the year, Tedial has an exciting release for IBC 2023. SmartPacks empower users with quick-deploy Packaged Business Capabilities (PBCs) and enable composable enterprise. Aimed at streamlining digital transformation for composable business, SmartPacks provide automation tools that can be customised for a variety of business requirements by leveraging existing digital capabilities to accommodate the precise requirements of specific applications.
Find out more by heading to stand 10.D45 at IBC.
Clear-Com
Today's broadcast world requires an unprecedented level of efficiency and flexibility, alongside solutions for remote production, on-premises and virtual production workflows. At IBC this year, Clear-Com will showcase a range of IP-based and remote production intercom solutions. The flagship Eclipse HX Digital Matrix Intercom, including Dynam-EC real-time production software, industry-leading role-based workflows, and the new 2X10 Touch desktop touchscreen panel will be the main focus.
Clear-Com will also announce new features for the award-winning Arcadia Central Station platform. Stop by stand 10.D29 for a full demonstration.
Lawo
The broadcast and media industries are changing faster than ever before, rendering five- to ten-year purchasing cycles obsolete. That's why Lawo offers an instantly scalable processing solution that can run anywhere. Built around the pillars of connectivity, security management and processing, Lawo Home Apps are designed for processing tasks via the Lawo Home platform, running on standard on-site servers in private data centres or in the public cloud.
Catch up with Lawo at booth 8.B90.
Zixi
With a focus on content creators and online production, Zixi has established itself as an industry leader. Offering cost-efficient and highly scalable live broadcast-quality video over any IP network or protocol, Zixi's Software-Defined Video Platform has received high praise. This year, Zixi will demonstrate how to effectively reach worldwide audiences, leveraging the Enabled Network of over 1000 media companies and 400 technology partners globally.  Learn how to exchange live video, and accelerate new content acquisition, business models and opportunities to reduce cost and generate revenue.
Meet Zixi in hall 5 at booth A85 or schedule a meeting and demonstration.
Marshall
An established presence in the industry, Marshall has provided quality professional broadcast equipment for years. At IBC 2023, witness the next generation of broadcast products, including the newest cameras with highly optimised Sony sensors, allowing for improved performance in low-light environments. Discover the wide assortment of broadcast production monitors with up to 12G monitoring. Find the correct product for your next broadcast production or integration, from audio racks to PTZ cameras with NDI network capabilities.
Stop by booth 2.A47 to learn more.
EVS
Join EVS for demonstrations in live replays, asset management, media infrastructure and officiating solutions. At the heart of this immersive experience is VIA MAP – the cutting-edge Media Asset Platform. VIA MAP weaves together the facets of creation, production, distribution and monetisation, creating a cohesive production environment that elevates the value of your content and broadens your horizons.
Explore the possibilities in hall 10, stand A25 and meet the team to discuss your unique production needs as well as various topics including AI, the cloud, cybersecurity, ESG and more.
Argosy
If you work with traditional SDI workflows and are looking for a way to make UHD/4K accessible, then Argosy's ULTRA range of 12G solutions could be for you. Compatible with SDI, it empowers users to utilise standard copper cables and connectors that can be effortlessly terminated on-site – unlike fibre, which requires off-site termination and complex threading through existing infrastructures. The ULTRA suite provides a cost-effective end-to-end solution comprising a range of 12G products, including the Image ULTRA range of coax cables, KORUS ULTRA HD 12G BNCs, 12G ULTRA termination and ULTRA patch panels.
Catch up with Argosy at stand 10.C51.
That's all from us for now, but we're excited to see you at IBC!
For more on this year's IBC, head to the official IBC website.