Keeping the pirates at bay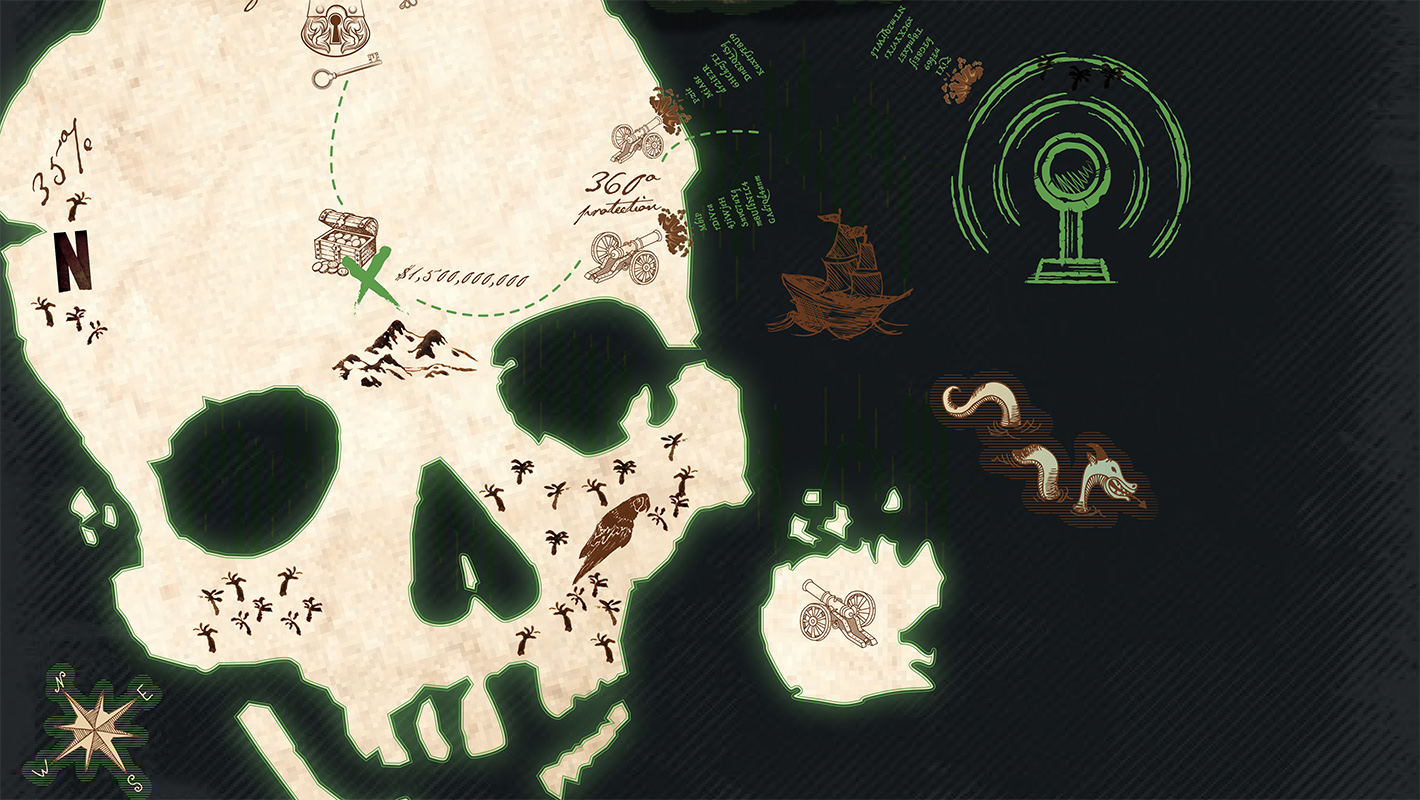 <![CDATA[It's predicted that $52 billion in revenue will be lost to content piracy by the year 2022. The solution isn't just technology – it's also education and more user-friendly services This time last year the industry was on high alert. Hackers had breached Netflix, Disney and HBO, threatening to release script details or entire shows to the web unless ransoms were paid. Even then, Game of Thrones season seven was pirated more than a billion times, according to one estimate. In recent months no such high-profile incident has occurred – or at least been made public. The industry would appear to have stemmed the tide. This could be partly due to the firepower being thrown at the problem. Analyst Ovum estimates that the spend on TV and video anti-piracy services will touch $1 billion worldwide by the end of 2018 – a rise of 75% on last year. Increasing adoption of these measures such as DRM, fingerprinting, watermarking, paywalls and tokenised authentication will see losses reduce 3%, it predicts, to 13% in 2018 of overall TV revenues. Even at 13%, the revenue expected to be lost this year by global online TV and video services (excluding film entertainment) amounts to $37.4 billion.
The defining moment for watermarking has undoubtedly come with the rapid growth of 4K UHD content
A report from Digital TV Research forecasts the cost of lost revenue due to piracy will reach an $52 billion by 2022. Piracy – euphemistically known as content redistribution – is rife in sports broadcasting, too. At the start of the World Cup this year, Saudi TV channel BeoutQ was alleged by FIFA to be illegally broadcasting the opening games. Viaccess-Orca research, across 17 first round matches, recorded over 1 million views of illegal streams via Periscope, 3.1 million via YouTube and 7.5 million via Facebook. It identified the same top five ISPs hosting the sites used for streaming: two in the Netherlands (NForce and Quasi), Private Layer in Switzerland, Marosnet in Russia and Contabo in Germany. These illegal streaming links were not stopped by tracking services used by rights owners or TV operators. Most of this piracy is the work of sophisticated, well-equipped organisations, using set-top boxes, Conditional Access (CA) technology and mainstream payment systems. But with a good screen and a good camera, anyone can create their own instant illegal streaming facility, redistributing content using Facebook, YouTube, Periscope, Twitch or other platforms and apps.
Awareness is being raised on all fronts. Netflix, HBO, Disney, Amazon and Sky are among more than 30 studios and broadcasters to form the anti-piracy Alliance for Creativity and Entertainment. Earlier this year it shut down Florida-based SET Broadcast, pending a lawsuit alleging content piracy and it has also initiated legal action against Kodi set-top box makers in Australia, the UK and the US for providing illicit access to copyrighted content. As the technical quality of content is raised to UHD and HDR, its value and therefore attractiveness to pirates has risen too. MovieLabs, which was formed by the Hollywood studios to set technical specifications for the distribution of premium content, identified watermarking as one of the key security mechanisms for securing 4K UHD content back in 2014. A forensic watermark, also called a digital watermark, is a sequence of characters or code embedded in a video to uniquely identify its originator and authorised user. Forensic watermarks can be repeated at random locations within the content to make them difficult to detect and remove. Last year, the Ultra HD Forum, a promotional body for UHD founded by Dolby, Harmonic, LG and Comcast, included forensic watermarking in its guidelines, and in August MovieLabs updated its own specs for systems to securely mark video both at the server and/or the client end. "There are a variety of use cases for watermarking, and different approaches are required for video-on-demand and live content, but the defining moment for watermarking has undoubtedly come with the rapid growth of 4K UHD content," says Peter Cossack, VP of cybersecurity services at Irdeto. He expects that, over the coming year, rights owners will increasingly mandate watermarking and other anti-piracy requirements into their licensing contracts. Paul Hastings of watermarking tech specialist, Friend MTS, also reports some content owners writing into contracts a stipulation that broadcasters or service providers must be able to provide subscriber level watermarking for set-top boxes and OTT. Of course, particular focus on watermarking should not mean neglecting other security methods.
The most effective approach to countering threats of piracy starts with education
"Operators ask if they still need to expend so much effort on secure chipsets," says Cossack. "Well, yes, you do: if there is a weakness there, the pirates will go for it." Consumer education is required, too. Illegal streaming services are increasingly sophisticated, with slick websites and advertising, secure payment facilities and money-back guarantees to trick consumers into subscribing to an illegal service. Three-quarters of pirate streamer sites openly advertise payment methods including Visa, MasterCard and PayPal, according to a survey by Irdeto. It suggests more could be done by these brands. "If media organisations threaten to vote with their feet against payment platforms that enable piracy, it'll be fascinating to see who blinks first," suggests Mark Mulready an Irdeto cybersecurity expert. Cryptocurrencies, incidentally, only accounted for around 4% of payment method mentions on the sites it analysed. Of course, there are many people who knowingly head to an illegal streamer, the equivalent of getting the dodgy DVD with the xeroxed cover from a bloke down the pub. Some visit pirate sites in frustration with attempting to pay for and access a pay-per-view event, as happened en masse just ahead of the Mayweather vs McGregor boxing clash.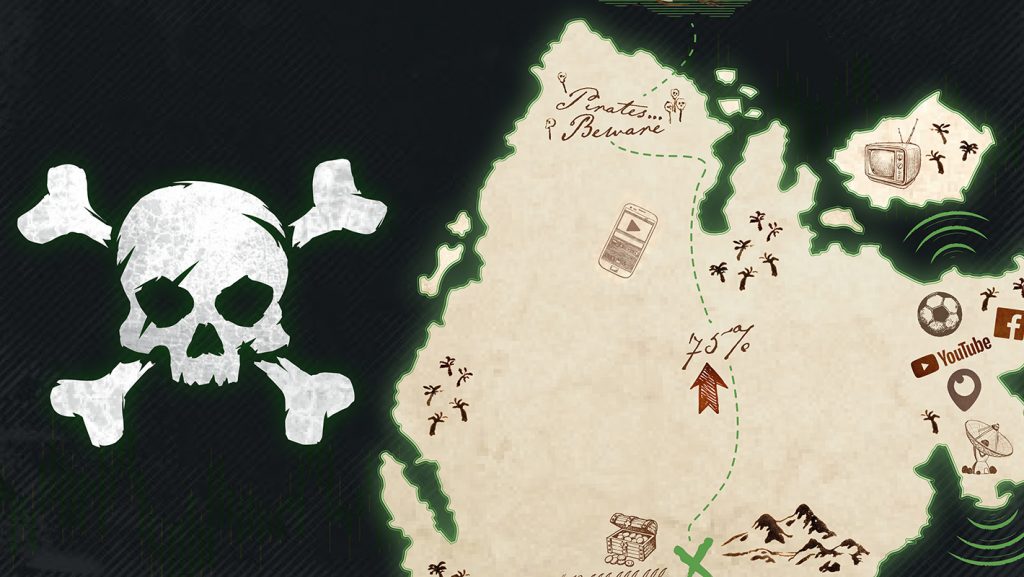 Many of us also think sharing passwords for paid streaming services is, well, an okay thing to do. A study from Hill and Magid found that 35% of 18-30 years olds (yes you, millennials) share login credentials. US streamer Hulu loses $1.5 billion a year due to such nefarious activity, according to business management specialist, Cleeng. However, a study from Ampere Analysis suggests that password-sharing among Netflix users is not as problematic as most believe. Only one in ten users share Netflix passwords with their family or peers, it found. What this suggests, according to Cleeng, is that although account and credential sharing have risen, the most successful OTT services have happy customers. "In short, rather than focusing on locking people out, success will lie largely in encouraging loyalty and enticing fresh subscribers through a winning mix of incredible content, a flawless user experience and an innovative approach to the service," the company advises. The most sensible protection strategies apply layers of security mechanisms and close the loop by monitoring and then enforcing – in the courts if needs be – action against breaches. "The most effective approach to countering threats of piracy starts with education, then moves into rights expertise, with rights enforcement being the final step," says Verimatrix CTO Petr Peterka. Experts candidly state that no device, content or data is ever 100% safe but a 360-degree security approach with constantly updated protection technologies will at least ensure theft is minimised.]]>