A New World of OTT Services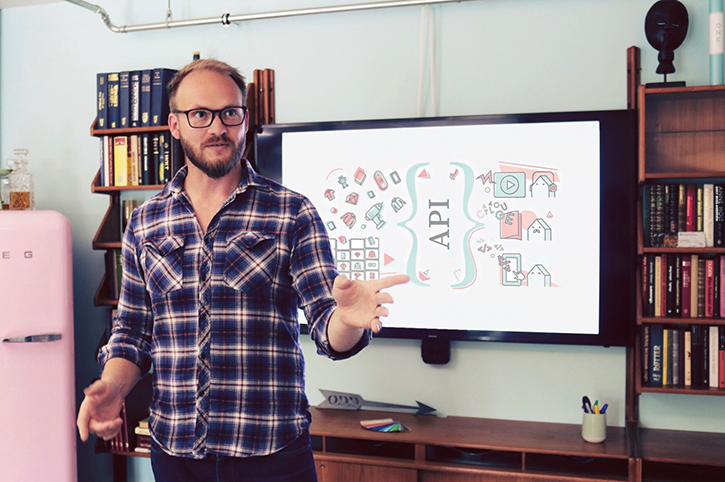 A Norwegian start-up is taking advantage of a VOD revolution fueled by AWS Elemental's suite of cloud-based media tools.
Crystallize is Bård Farstad's second start-up. Previously, the CEO and his brother, Aleksander, founded eZ Systems, which provided content management services for big subscription brands like Elle, Vogue, the Financial Times and The Economist.
"One thing we discovered is that it's quite painful managing subscription-based business models," says Farstad. "You may have a physical product you're delivering, as well as digital access, and you may have streaming video, like the Financial Times…and that is very difficult for media companies to manage. We see this struggle over and over again."
To relieve this pain point, the brothers founded Crystallize, a cloud-based ecommerce platform, with the purpose of offering companies a modern, subscription-based business model that would help orchestrate the delivery of diverse products across diverse platforms.
"We wanted something on an enterprise level that you could rather quickly go to market with and would let you experiment with differing offerings of physical products and virtual products."
Farstad noted that most media companies he's worked with don't have a central management platform, and these technical constraints slow down the business. Another problem is that when a company ends up building a solution that connects five or ten different enterprise systems, the result is often too complex and too slow. "It's not fuel for the business. It ends up slowing the business down."
Crystallize's new ecommerce platform aims to be significantly faster. Greater speed results in a whole bouquet of benefits beyond a better user experience. Greater efficiency means less CPU power used, which leads to cheaper hosting and the greater speed ends up resulting in a higher search engine ranking.
OTT for Odds
Last year Farstad was approached by Norwegian football club Odds Ballklubb. They wanted to launch an OTT video channel for their fans, but they didn't have a lot of money. "Even a year ago, it would have been very hard for them to justify a business case for launching an on-demand, subscription-based video channel for a Norwegian football club," comments Farstad. "It would have been too expensive."
But at the end of November 2017, AWS Elemental launched AWS Media Services, which offers cloud-based broadcast-quality workflows to just about anybody. AWS Media Services tools include everything from encoding to analytics to machine learning and VR/AR development. Suddenly Odds Ballklubb's subscription video service went from an aspiration to a reality.
With Crystallize's help, the club's new OTT platform had a streaming video service up and running in six weeks with a few hundred subscribers within the first week.
"AWS is all about democratising technology. They want to make it available to everyone so we can innovate. It's really a game changer. We are working with companies that are producing niche documentaries or niche TV series and they've been wondering if they should sell to the linear broadcasters or go with a Netflix. But now they have a real third option which is to actually go with their own OTT channel. The technology is now available for them to make a business case out of it."
Farstad points to the power of a niche community. Channels can now be easily trialled and marketed specifically to niche interests which, though they may be a small percentage of the population, can provide enough revenue to run a business.
Video Revolution
This summer, Crystallize has helped a fitness brand launch an OTT video offering. MyRevolution is a Norwegian high-end fitness supplement brand.
"The supplement industry is really competitive," says MyRevolution Head of Marketing Lars Wenås. "What we saw is that we needed a closer connection with our users, not only to get new customers to our shop, but to produce long-lasting relationships and reduce churn. We had to think of ourselves not only as an ecommerce shop, but also as a media company."
The company plans to now offer its users valuable and relevant video content. MyRevolution's customers are quite diverse however and the different customers require different types of content – and content that's not just about fitness supplements.
"We see ourselves as a supplement brand, but in our vision we want to help all human beings develop their full potential. Not just athletes, but everyday individuals," says Wenås.
The ecommerce system MyRevolution had been using didn't support the new strategy. They needed to be able to combine ecommerce with media and video. Crystallize's platform will not only allow them to manage multiple types of content and assets, it will allow them to target and personalise the content for its diverse database of customers.
MyRevolution only offers its supplements through its own site. This is also a key part of their customer relationship strategy. "We don't want to be everywhere. We want to have everything through our own site, so we can control the whole customer journey."
In the past the company has outsourced some of its production needs, but aims to enlarge its in-house team. Company founder Børge Fagerli has been the focus of much of the content so far, providing health and fitness insights and acting as a frontman for the brand. But the company aims to do more video about health and nutrition and to start cooperating with other brands to enlarge the scope of its content.
"Crystallize has a lot of knowledge about where the market is heading and they saw the need for thinking different. There's a lot of potential for us in going in this direction."
This article originally appeared in the July 2018 issue of FEED magazine.