VR springs into fashion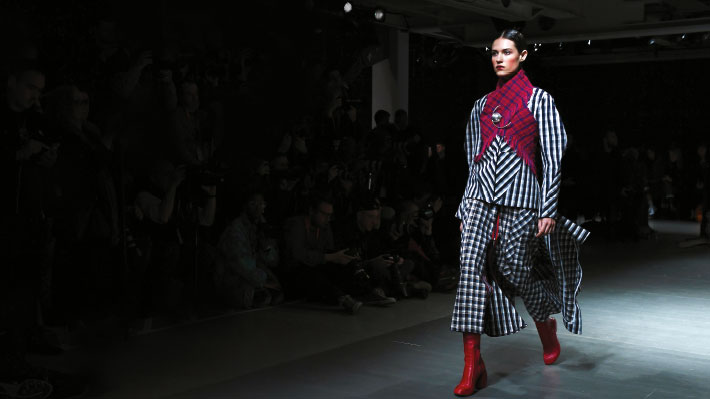 VFX powerhouse Digital Domain has partnered with the British Fashion Council to place the consumer right at the centre of some of the world's biggest fashion events.
Renowned for modelling virtual humans for use in films, Digital Domain recently created a virtual reality spectacle featuring real human models in one of the fashion industry's flagship events. The world got an exclusive runway seat beside the fashionistas as February's London Fashion Week was presented in 360-degree VR.
One of the 'Big Four' fashion weeks, its catwalk events showcase over 250 designers and are attended by more than 5,000 press and buyers.
It is organised by the British Fashion Council (BFC), which also runs London Fashion Week Men's, The Fashion Awards and London
Fashion Week Festival.
Always hip to the latest fashions in technology, in Spring 2010 London Fashion Week was the first of the Big Four to broadcast shows live on the internet. This latest VR experience is the early fruit of a grander multi-year partnership between Digital Domain and the BFC to showcase Britain's innovative and creative fashion design talent. Through the partnership, Digital Domain will be granting immersive access to the public to all major BFC events, providing fashion enthusiasts – of whatever profile – unprecedented access.



"Working with BFC and their partners, we aim to expand the world of the traditional runway model for at-home viewers and shoppers," says Alireza Saifi, VP, Global Business Development, Digital Domain. "By providing designers access to Digital Domain's XR technologies, they can expand their reach and provide an up-close and intimate experience to their shows for millions of fashion industry fans."
Digital Domain already has experience with streaming events in 360-degree VR, including live streaming, but given the very high profile nature of London Fashion Week, the project demanded careful creative planning.
"Digital Domain's production and creative teams work closely with the BFC team and designers," says Saifi. "Together, they evaluate stage set-up and environment, from lights, audience locations and brand vision to the creative direction. It's all in order to influence the creative content, the storytelling direction and execution."
"We AIM TO EXPAND THE WORLD OF THE TRADITIONAL RUNWAY MODEL FOR AT-HOME VIEWERS AND SHOPPERS"
"London Fashion Week is known for its broad range of designers and fashions, which we wanted to share with people from all over the world," adds Ben Carlin, VR director, Live and Cinematic, at Digital Domain. "Visually, there is a striking contrast between venues and we curated our experience to feature those differences. In post-production, we took this material and used some new techniques to help drive the pace of the final piece without having to make faster cuts. It was very important to us that this wasn't just a typical fashion show piece, and with the combination of camera access, stunning environments and some cutting-edge post techniques, I think that we accomplished what we set out to do."
Up on the catwalk
Given the amount of lighting, sets, and the sheer volume of moving people, the LFW events would be a difficult place to film anything without getting in the way, never mind a VR set-up that requires very careful camera positioning and camera control.
"Access is everything," says Carlin. "We wanted our viewers to get that VIP experience, and this is where our partnership with the British Fashion Council really helped. They were able to get us into those positions and helped us to schedule site visits ahead of time, which was incredibly important.
"We took notes on camera settings at each site during some rehearsals and were able to fly into these venues on the day to set up very quickly with confidence," he continues. "Of course, something always changes when it comes time to hit record, so while we're shooting we monitor all of our cameras via Wi-Fi on tablets. In this case, there were moments where one operator could be flipping between four cameras, and in these environments you just don't have the ability to physically adjust a camera. Once the show starts, that remote connection becomes extremely important."
"OUR EDITOR DEVELOPED A GHOSTLY TIME-LAPSE EFFECT THAT 'HADN'T BEEN USED IN 360 VIDEO BEFORE, SPECIFICALLY DESIGNED FOR THE RUNWAY"
Choosing the correct cameras and codecs was also important – Digital Domain used a mix of Z Cam S1Pro – a low-light sensitive VR camera which captures footage using four fisheye lenses to create a 6K spherical resolution image at 30 frames-per second – and GoPro Fusion, the action camera maker's first 360 model.
"These shows happen all over the city on a very tight schedule, so we had to be able to run into a venue, set up, shoot for half an hour, then move onto the next venue," explains Carlin. "ProRes is what works best for our post-production workflow."
Set for streaming
"For a project like this, turning around videos needs to happen while they're socially relevant," says Carlin. "With this in mind, our approach was to release some 'snackable' videos on site and to create a highlight reel within two weeks."
Here is where the pipeline and, in particular, data wrangling, became crucial. "We rely on our post-production team to turn around dailies similar to any other traditional 2D shoot, but with the added step of render-intensive stitching this adds more time," explains Carlin. "The whole machine has to operate smoothly, as one snag in the process can halt a 360 production and add days to the delivery.
"Creatively, our editor Lee Bledsoe developed a ghostly and wispy time-lapse effect that hadn't been used in 360 video before and was specifically designed for the runway. This allowed us to drive the pace of the piece while giving viewers the ability to see multiple models and looks within a 10-second clip. And it looks really cool!"
While this wasn't a live VR production, it was approached in a very similar way, says Carlin.
"That means pre-production becomes paramount to the turnaround that we were looking to achieve," he explains. "It means having graphic assets, music, and even temporary VFX prepared ahead of time and ready to drop into our timelines on set. Site visits and camera plans are approved ahead of time so that we can run into a venue and shoot without issue. Taking
the time to understand the unique beauty of each designer's runway show, and how we can best do our job to convey that to the viewer at home in an engaging yet comfortable way, is especially imperative in VR."
Centre of Innovation
However grand in ambition, the Spring project seems to be just a taster for the BFC and Digital Domain's immersive content strategy. All of the BFC's events and partners, including designers and brands, can now have access to Digital Domain's expertise.
"The British Fashion Council has a strong legacy of being at the centre of innovation, and we are committed to continue pushing the quality of our content," says Caroline Rush, chief executive, British Fashion Council. "Working with Digital Domain will allow us to do so and will give our designers an exciting platform to reach their fans around the world in a new engaging and interactive way."
The focus on interactive is set to expand. Digital Domain's capabilities include hot spot technology, allowing viewers to interact with the shows, designers, the products, and to shop in VR and other related technologies.
"The next form factor in ecommerce will evolve into interactive and immersive commerce experiences," says Alireza Saifi. "Consumers want to get as close as possible to an 'object' and the 'environment', with the added conveniences of experiencing prior to purchase. For example, how the piece of clothing moves and looks on the body, how it's perceived by others, and the feeling of being present – all of which will impact the decision-making process. We believe immersive and interactive commerce will lead to a world of 'see it live, experience it live, buy it live'."