Queen of the Cutting Edge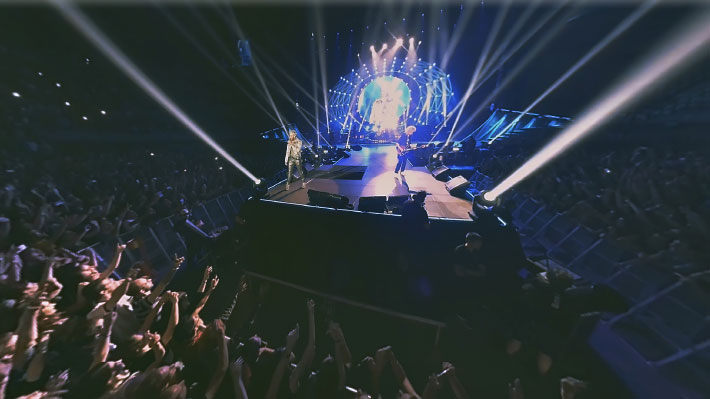 Director Jannicke Mikkelsen is breaking records in her career as one of the world's top VR filmmakers
I had been interested in 3D ever since I was 12 years old. I had a school project about how NASA was mapping the world in 3D, and I thought 'Wow! What's this all about?!'"
Years before Oculus Rift was a gleam in Palmer Luckey's eye, Norwegian director Jannicke Mikkelsen had fallen in love with using technology to vision immersive worlds. Now she is one of the world's top VR filmmakers and seems determined to take immersive filmmaking to the next level.
"After that school project, I gradually learned how to take 3D pictures – and how to view them the old stereoscopic way, instead of seeing them on a 3D screen – and I began to find an online community of people interested in 3D."
Mikkelsen's interest in cinematography continued to grow, but in the meantime, she was deeply immersed in another passion – skating. In fact, she was a member of the Norwegian Olympic speed skating team and only missed qualification for the Vancouver Games by .02 seconds (she was in the midst of watching some of her teammates competing in Pyongchang when we called her for this article).
By 2009, Mikkelsen had fully developed her skills as a camera operator, and she received a call from a friend, Florian Maier, who now heads high-end 3D camera rig developer Stereotec. Maier was riding the 3D boom, bringing his stereoscopic gear to the burgeoning 3D sector.
"Florian told me: 'I've just signed to shoot this 3D feature film, but you're the only one who knows how to operate my rig. Can you move to Germany?'"
So Mikkelsen moved to Germany – and stayed there for two and half years.
"Florian and I were full-time live action stereographers. We're the ones who move the cameras, a bit like being a focus puller in a 2D film, but you're moving the rig – the interaxial distance between the cameras – rather than the focus."
The pair went on to shoot 3D features, including the German film Vicky and the Treasure of the Gods and Paramount's Hansel and Gretel: Witch Hunters, and they won the Advanced Imaging Society's Lumiere Award two years in a row for best stereography.
"We were all very taken up with the technology," remembers Mikkelsen. "You were very used to doing the best possible job, with the production not paying for any correction in post. We had to make certain everything was perfect on set. That was our trademark."
virtual reality sets in
Then the 3D bubble burst and a community of craftspeople, who knew more about human vision and capturing depth spaces than any other cinematographers in history, were wandering around trying to figure out what to do with their lives.
How did Mikkelsen cope?
"This is really embarrassing, but I got really jealous of the DP I'd been working with – he was a 60 year old man. I was in awe of the way he could work and be creative and the way he could sculpt a theme. Back home in Norway, a DP might choose a house because he likes the colour of it, but building a house and painting it the colour you wanted was totally out of our concept. There was just no tradition of working like that."
So, having worked at the cutting edge of capture technology, and with awards and feature films under her belt, Mikkelsen went to study cinematography at London's National Film and Television School.
She did her dissertation on the history of stereoscopy. 3D images are as old as photography itself, with the first 3D stills taken in 1839. Mikkelsen's studies took her full circle and she worked with the NASA 3D collection that had first inspired her. She also had access to NASA's archives of VR, which the agency has been producing since the late 1980s, and delved into the collections of museums and institutions, and private collections too.
Naturally, all this brought her face-to-face with the lead guitarist of Queen.
Dr. Brian May CBE, guitarist of one of the world's biggest rock bands, has been (in addition to being an astrophysicist) an avid stereographic photographer and 3D tech collector for decades; a recently released book, Queen in 3-D, features a collection of his stereoscopic photography, taken during the band's touring days. Her collaboration with May gave Mikkelsen access to a wealth of material for finishing her degree.
In the meantime, Mikkelsen had been knocking at the door of Alchemy, the VR wing of blue-chip factual producer Atlantic Productions. She wanted to use her skills to work on location, and particularly in natural history. The day after she graduated from the National Film and Television School, Atlantic's Anthony Geffen called to ask if Mikkelsen could go work on a 3D documentary in Costa Rica – and could she please send over her passport information in 20 minutes?
All set to use her 3D skills in the field, she met with Alchemy and found that it wasn't a 3D documentary she had been recruited for, but a 2D 360 documentary.
Mikkelsen worked with Phil Harper, who was head of Alchemy's digital team at the time, creating 360 rigs from scratch and helping design more of the cutting edge tech that Atlantic/Alchemy has won so many awards for. She shot multiple projects for Atlantic, Cocos: Shark Island and the award-winning David Attenborough's Great Barrier Reef. But the Atlantic documentary was only 2D 360. When would she have the opportunity to user her stereographic skills in 360 production?
Another phone call. It was Dr. Brian May. This time, he didn't want to talk 3D history; he wanted to make 3D history. He asked Mikkelsen to help produce a 3D 360 concert film, featuring Queen on its 2016 tour.
The result was VR The Champions, a fully immersive live concert of the band performing some of its best-loved songs.
May kept asking for the impossible, and Mikkelsen kept providing. Not only was the film to be in 360 3D, but there would be a flying camera, which would swoop over the audience and stage and have access to all parts of the arena. A flying camera introduces a pandora's box of technical and artistic challenges. Do it wrong and the viewer becomes nauseated, or the 3D and VR experience is irritating. You're also committed to doing everything remotely.
Mikkelsen designed a rig of 20 GoPro cameras, as well as complex software that held it all together, building on her experience and the knowledge base in 3D and VR built up by her team over the years. To top it off, the film also featured ambisonic audio.
The film earned Mikkelsen an Imago Award last year for Extraordinary Technical Achievement.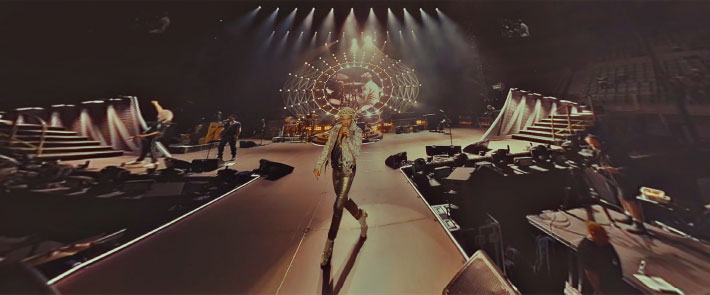 "I think females prove stronger in a field that requires multi-tasking"
Long live VR
Certainly the common cynicism is that VR is going, or will soon go, the way of 3D, that it will become another media tech flash in the pan.
"I think that's a misinformed point of view," counters Mikkelsen. "Firstly, 3D has been around since Victorian times and the technique hasn't changed. And the technique we use for VR hasn't changed since the 1850s. It might not be called VR in five or ten years from now, it may be called something different, but it's using the exact same technique.
"Looking at the 'hype curve', people have said VR is now in the 'recovery phase' after a post-hype crash, and that people are now making money out of it. I think everyone who jumped on the 3D bandwagon and chased that bubble learned a lot, and the result is there is a lot of high-quality VR."
Mikkelsen sees sports, documentary and marketing as being potential growth areas for VR, as well as immersive, choose-your-own-adventure storytelling.
But VR may need to undergo some more evolution before the mainstream sees its value.
"I'm not super-fond of wearing the headset. I'd like to see home entertainment systems or cinemas. There's a big 360 spherical projection theatre in South Korea at the Gwangju Science Museum that's interesting. Maybe it will be a visor or glasses that you wear, but something that isn't a heavy thing on your face. Remember though, when NASA was first using VR, astronauts had to wear a laptop on their face. We have come a way already from wearing a laptop on your face to wearing a phone on your face.
"VR does take a bit of commitment, but that can pay off. As soon as you've passed the threshold of putting a VR headset on, you tend to commit a time to it. In my experience, if people sit in VR for the first 20 seconds, then they'll sit there for 20 minutes.
"VR is also a scary entertainment because it envelops you completely. I think that can be addictive if you get a sense of self-worth from what happens inside that content. The future painted in Ready Player One is a scary idea, but you know, we could easily end up there."
Mikkelsen believes that creators have a moral responsibility, like journalists, to make sure that the content they make serves the common good, not just the bottom line.
"I think as a filmmaker you have the power to affect people and get them to question their existence. I love to make films that inspire in some way. Maybe there'll be something that will make them happy or remind them of these amazing moments we have in life, diving with whales or sharks, or being on the stage experiencing music or being that rock star you always wanted to be."
"If people sit in VR for the first 20 seconds, then they'll sit there for 20 minutes"

A new Reality for women
There seems to be no shortage of talented women in VR. Mikkelsen points out that, in common with most of the industry, the field is still dominated by men, but that there is a higher percentage of women excelling in VR.
"I honestly think it's because VR demands so much multi-tasking. There's no doubt that male brains and female brains work differently. I think females prove stronger in a field that requires multi-tasking. If you mess up VR, it's completely obvious. It's not something you can fudge and say it's a creative choice."
Mikkelsen says she sees the same thing in science. She helps run the Starmus Festival, an annual intersection of astrophysics and music whose guests have included Neil Armstrong, Stephen Hawking, Jean-Michel Jarre and Brian Eno.
"The whole festival is about science and communication, in both writing and music. I run the festival's Morning Programme. We had a team of girls from a Norwegian university building the world's fastest electrical race car – it was only girls. And I've found in the Morning Programme 70% of the speakers are women. I didn't specifically go out to find women. I just tried to find the coolest projects, but they were all run by women. Maybe they are able to see the bigger picture? Or maybe it's just because it's a new avenue and there's no one standing at the door to restrict access? I don't know, but it's a really exciting future."
Mikkelsen seems driven to work at the cutting edge, and one wonders if her beginnings as a world-class speed skater aren't somehow the precursors of world-class work in filmmaking tech.
"Maybe it's OCD. You know, how we skate in a circle: straight ahead, turn left, straight ahead, turn left, woohoo – and that's what drives you for eight hours a day. It wouldn't be far off comparing working in 3D to that – they're both pretty tedious! And of course VR takes place in a circle!
"Maybe I am an adrenaline junkie, I don't know. You don't skate to fall or wipe out, you just push it as far as you can."