Start-up: Jump, Spain, 2019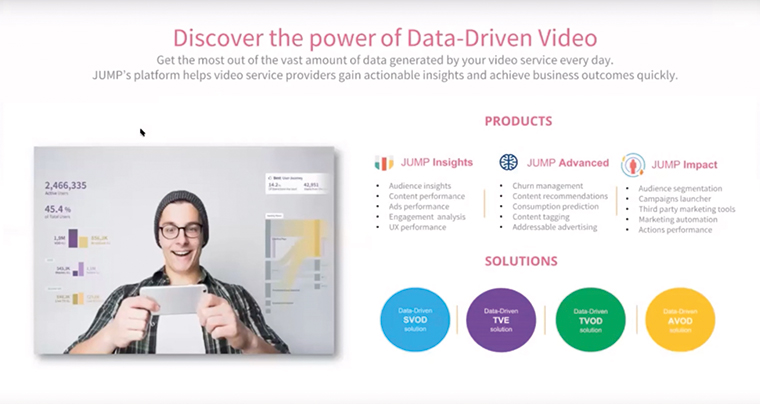 In Start-up Alley, we take a look at an machine learning algorithms for OTTs
Combining big data and machine learning to compete in the OTT space has, until recently, been outside the grasp of many OTT players. But the arrival of the cloud and fall in cost of computer processing means all video companies can use these technologies to enhance their UX and measure, monitor and increase audience share, according to Jerónimo Macanás.
A former vice-president at Swedish video experience company Accedo, Macanás set up Jump three years ago with fellow OTT/digital specialists Jesús Herrero – now the firm's chief research officer – and software engineer John Pater, the company's CTO. Jump's aim is to democratise data and ML technologies with its own algorithms packaged into a software-as-service platform that OTTs can use to grow audiences, fight churn and increase revenues.
Jump already boasts an impressive roster of customers and many of its products now come pre-integrated into third-party solutions offered by Comcast, Accedo, Toolbox, Google Cloud and Brightcove. Last year, the Madrid-based company secured Series A funding led by Accedo – one of its most influential customers in terms of product design – as well as numerous investment angels.
Jump's platform comprises a range of AI-powered tools. These include the ML-powered Retention, which predicts churn and offers actions such as personalisation to prevent it, as well as marketing solutions to remedy it.
Through in-content analysis, you can detect and categorise the emotion of each specific scene in a video
Deep Insights, meanwhile, identifies and measures performance KPIs and audience data monitoring, and suggests actions customers can take to improve performance. And there's its clustering tool that identifies user behaviour relationships and breaks them into segments to trigger marketing activities.
This kind of segmentation has already become of central plank in Netflix marketing and commissioning activities, as the streaming giant doesn't make programming decisions based on demographics, but on the tastes of broadly defined groups of subscribers who gravitate towards the same shows (so-called 'taste communities'). Jump's products go "one step further", according to Macanás, as the firm's recommendation engine – Deep Recommender – claims to be able to search for content that matches a user's current mood, using image recognition and natural language processing to automatically detect objects in content. "Through in-content analysis – based on colours, sounds, dialogues – you can detect and categorise the emotion of each specific scene in a video," he says. "Then, as you know the consumption behaviour of the individuals, you can create an emotional scoring of your audience and use it to improve the user experience per individual."
Following last year's cash injection, Jump has said part of the funding will be used to improve the user experience. "Until now, no one has been putting effort into the UX. Combining data with the UX is the essence of our partnership with Accedo," says Macanás
The entrepreneur thinks we're in the really early stages of learning how to effectively use data and ML, but he envisions a time in the future when a device is turned on and it will recognise who is watching. "It will select appropriate content and play it; it will allow interaction with your friends; for live programmes, it will select the best camera angles; there will also be immersive experiences, augmented reality and many more cool features," he adds. So watch this space.
This article originally appeared in the September 2019 issue of FEED magazine