Start-up: Mux, USA, 2015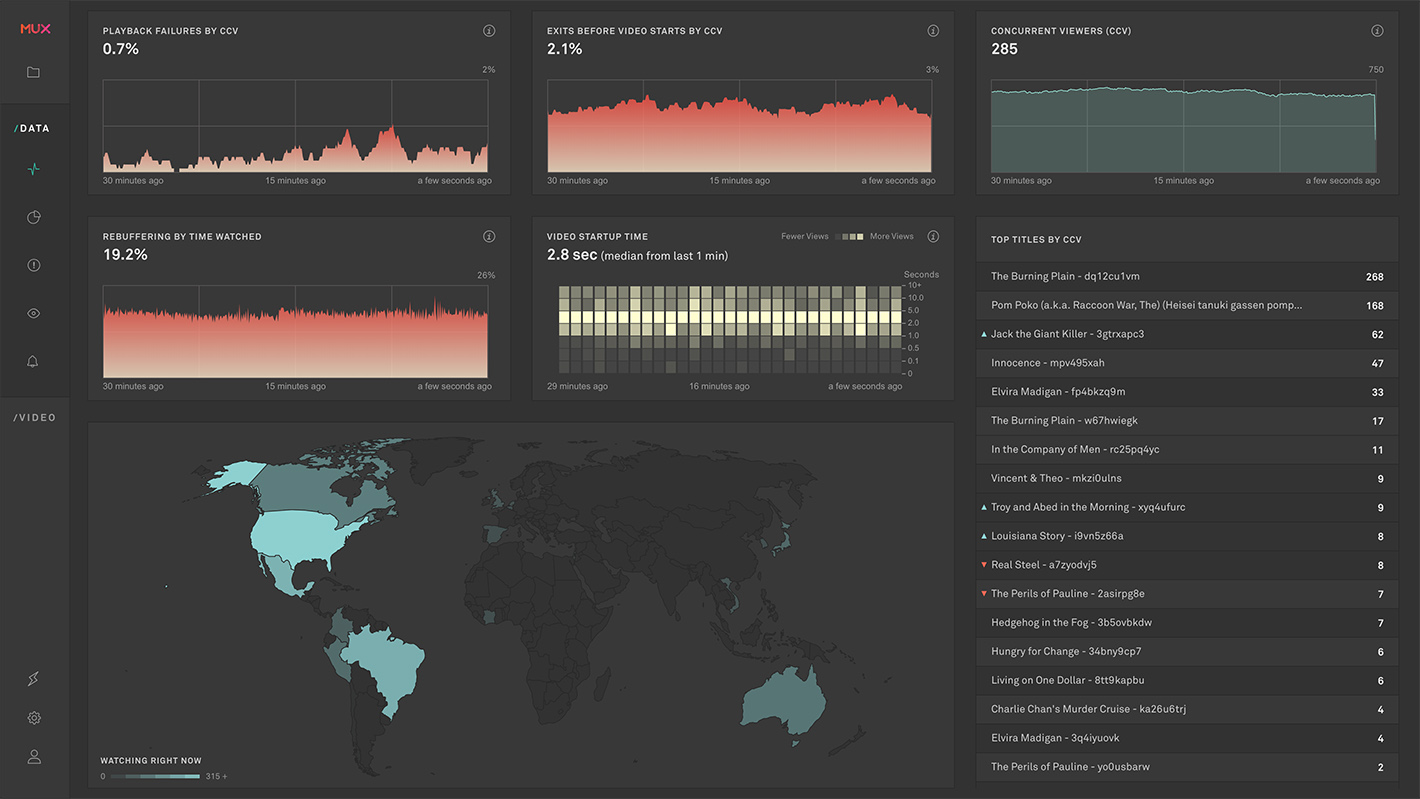 As start-ups go, Mux is a pretty safe bet. Its chief executive and co-founder Jon Dahl's previous venture was cloud-based transcoding service Zencoder, which he co-founded with Steve Heffernan raising $2 million in funding from high-profile backers such as Y Combinator. The firm was then bought two years later by Brightcove for a cool $30 million.
Under the Brightcove banner, the duo also created Video.js, one of the biggest open-source video players on the web. So why did they choose to start all over again in 2015 with Mux? And why has their focus now switched to video analytics and monitoring? Even Accedo's strategy and solutions VP Frederick Andersson, who singled out Mux's new realtime streaming dashboard as 'one to watch' at IBC, admitted that the plumbing involved in making video encoding work to scale "doesn't look too sexy".
According to Dahl, until recently many video publishers, while keen on gathering user-driven metrics, were blind to their core quality of service metrics. But as OTT grows and television moves online, viewers are starting to care more about video quality.
"Audiences have so many choices over where they can devote their attention, so for video publishers to stay competitive, they need to offer a superior experience," says Dahl.
When it started out, Mux said even its high-profile video publishing clients were not measuring rebuffering, time to first frame, errors and video quality. As a result they simply did not know how they were performing across different territories or across difference devices. "And it all starts with data and machine learning," Dahl adds.
Working with customers such as The New York Times, The Washington Post, PBS and CBS, Mux has built a data analytics platform that measures video stream performance that helps them to improve and optimise their platforms. The company, which has raised over $11 million in funding, is now a 20-strong team comprising video experts who have worked at YouTube, Twitch, Facebook and Brightcove.
"It's taken us two years to build something competitive with good traction, and the vision has always been to find this data and use it to drive improvements," says Dahl.
Mux's Real Time Streaming Dashboard is the latest product aimed at driving such improvements, which the firm launched at IBC. The dashboard is designed to help video engineers and product managers detect live stream issues in real time and "treat it before viewers tweet it".
With negative viewer response to outages experienced during the FIFA World Cup and the US Open on some streaming platforms, the release is timely.
Mux uses machine learning to automate certain parts of this process, such as alerting engineers when there is a problem, and on the video encoding side, it works out to be the fastest way to encode video.
Mux's SaaS-based products, which use public cloud from various vendors, are priced on monthly or annual subscriptions and based on the volume of video that is monitored. The company's products are also highly modular and intentionally API-driven so that developers can "build in whatever software they want to build", says Dahl.
It's also why Andersson singled out the company during an IBC "What Caught My Eye" session at this year's show, despite its lack of sex appeal.
He said: "It's a very flexible platform so you can create your own workflows…Mux is at the forefront of being one of those 'best of breed' video platform providers."
This article first appeared in the October 2018 issue of FEED magazine.