Super Bowl 5G | Verizon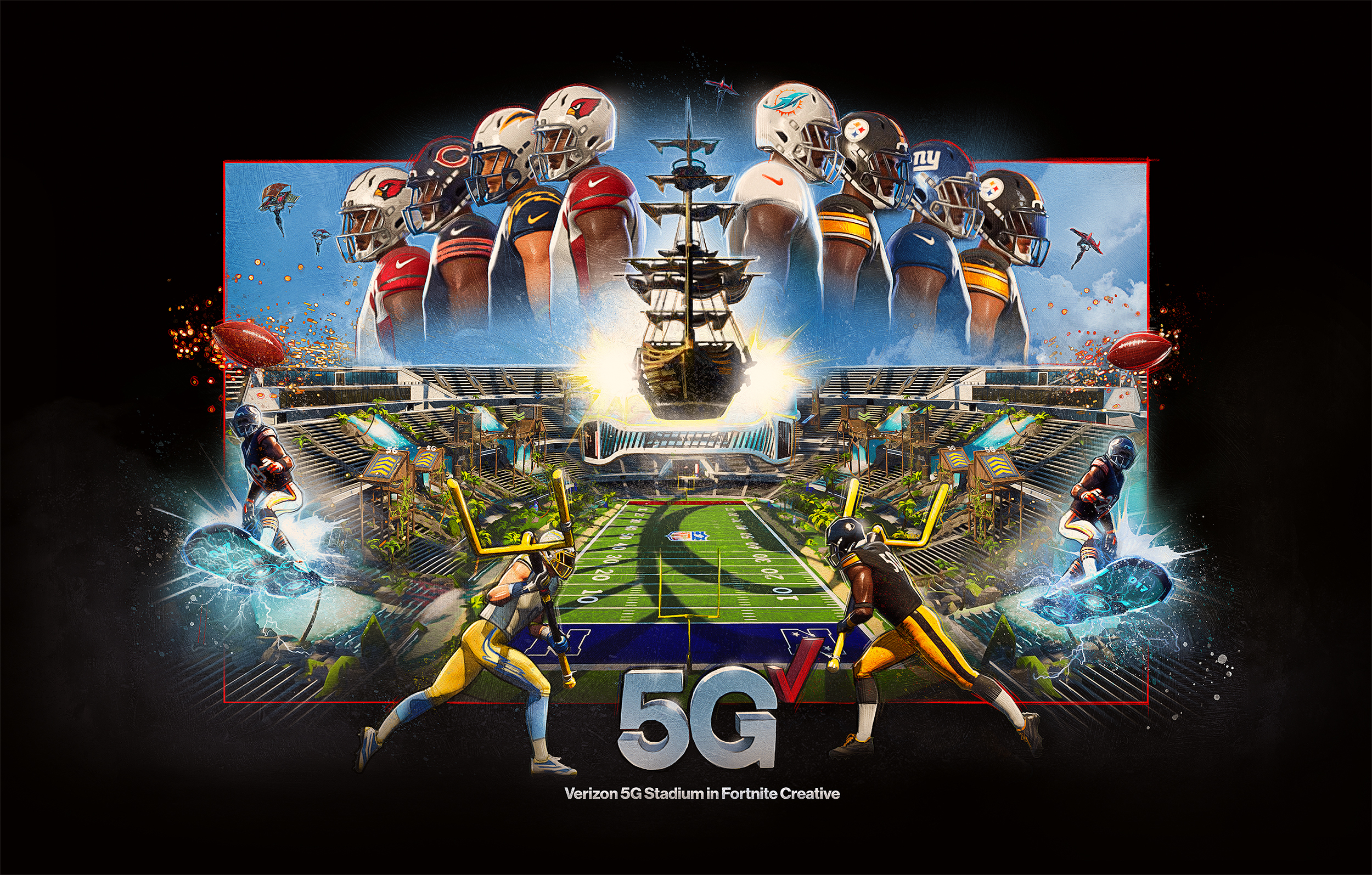 Posted on May 26, 2021 by Verity Butler
Not even a pandemic can stop a Super Bowl party, as 5G technology powers an immersive game experience for supporters in the stadium – and those at home
Events such as the Super Bowl have always been sure to grow in close parallel with mobile technology – particularly as it beomes accessible through a greater diversity of platforms. 
Verizon seized this year's Super Bowl as an opportunity to deploy and implement 5G technologies, with the purpose of elevating the Super Bowl LV fan experience. Firstly, the company kitted out Raymond James Stadium in Tampa, Florida, with its millimeter-wave, ultra-wide band 5G technology. This laid the foundation for the production of immersive experiences for both a socially distanced few able to attend the game and, more importantly, those at home. 
This introduction of in-stadium 5G solutions meant that spectators could access immersive and interactive elements  alongside the regular coverage, to make sure the Super Bowl continued to be a phenomenal spectacle.
Wrapping up the weekend with eagerly awaited performances from Alicia Keys, Brandi Carlile, Brittany Howard and Christina Aguilera. Also, Eric Church, H.E.R., Jazmine Sullivan, Luke Bryan and Miley Cyrus. Therefore the fans in Tampa, as well as those at home, were treated to a mesmerisingly enhanced display.
Apps and ideas
Additional in-stadium experiences were available via the NFL mobile app. Using the Verizon 5G SuperStadium within the app, fans with an iPhone 12 inside the stadium were able to select from seven different camera angles – providing a live viewing like no other. Additionally, home viewers with the iPhone 12 could access five camera angles, along with project AR overlays of NFL's Next Gen Stats for players.
A breathtaking aspect of Verizon's efforts was the virtual stadium
On top of this, Verizon Media's Watch Together, a free co-viewing experience in the Yahoo Sports mobile app, gave fans the ability to co-watch Super Bowl LV with friends and family on their phones. Both SuperStadium and Watch Together were powered by Verizon Media Platform's real-time streaming technology.
Another breathtaking aspect of Verizon's efforts was the virtual stadium, made using Fortnite's creative technology – to the delight of players.
Fortnite gets involved
On top of this, unless you've been living under a rock, Fortnite is a hugely popular online game, amassing more than 250 million users wordwide since its release in 2017.
The 'Verizon 5G Stadium' was an elaborate in-game concept, which allowed players to compete for prizes and interact with real NFL pros. Also, having been the largest activation ever built in Fortnite's Creative Mode, the virtual stadium featured four football-inspired games – as well as hidden surprises for the players to discover. 
"With 5G, we are beginning to see the transformation of various industries and the innovation that comes with it," says Verizon CMO,  Diego Scotti. "Reimagining live events is one of the best use cases for the power of 5G. During a year like this one, it is a thrill to transform the Super Bowl experience by creating a first-of-its-kind virtual stadium in Fortnite that brings a new level of gaming to life, while innovating the in-stadium experience at the same time." 
A view to the future
We are starting to see an exciting new era, where the innovation of 5G has the potential to connect diverse spheres such as live events, gaming and interpersonal communication, delivering sporting events in an interactive way for those who prefer to play, rather than watch.
Clearly, it is apparent that the whopping $80 million invested by Verizon into its network supporting the Super Bowl did not go amiss, with this hugely multi-faceted deployment. It seemed to set an entirely new standard for the deliverance of such events, and made a very clear statement to the industry that 5G is only continuing its determined pursuit to elevate live broadcast and streaming.
This first featured in the Spring 2021 issue of FEED magazine.