The Social Showman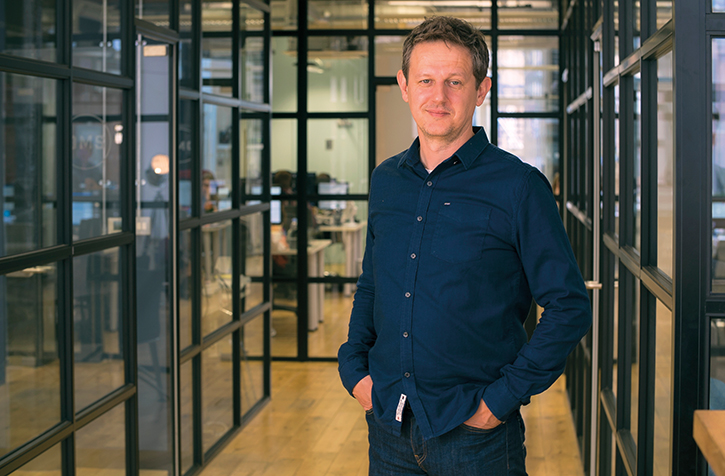 London-based DMS has created a lean and flexible operation to help mega-brands negotiate the new media landscape.
Words By Neal Romanek
Gone are the days of a simple TV campaign, a few trailers and a print campaign," says Simon Briggs. "Now it's about daily posting and reiteration of the marketing message, and with that there's a lot of content that needs creating."
Briggs has been a part of London's post-production world for years. In 2015 he joined DMS (Digital Media Services) as its managing director. The company is full-service digital agency and has become an important asset for producing and distributing international marketing campaigns for the big movie studios.
Out of its London offices, DMS receives original assets from the studios and then versions marketing content which goes out to dozens of countries across EMEA, Latin America and Asia Pacific. DMS also has offices in London and Sydney. 
"We have become a high volume, quick turnaround localisation business," says Briggs. "Last year we localised about 12,500 pieces of content. We're creating between 50 and 60 ads a day here. That's for multiple use – TV broadcast, online and social."
DMS has grown at a time when the studio strategy has shifted. In order to reach potential cinema audiences, studios have had to reach into the online world and use all the tools at their disposal to compete with other forms of digital entertainment. Carefully tailoring content not just for each medium, but for each territory, is essential. This localisation of digital marketing content accounts for half of DMS's total business now. 
DMS also offers a sophisticated media monitoring and analytics service across print, broadcast and online. 
"We offer a full service where we can do analytics and insight about what is being said about a film prior to its release," says Briggs. "We can then create content, campaign manage it and measure its reach and the sentiment around it, which enables us to help clients change their strategy mid-campaign if they need it. We can react very quickly and we can do it in multiple languages. It's a fascinating businesses."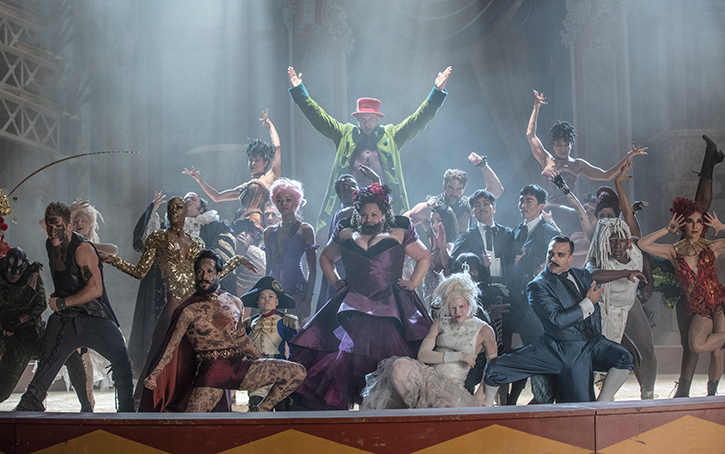 The Greatest Showman
DMS is ready to go into high gear when a studio sees a blockbuster on the horizon. The company's work on the campaign for 20th Century Fox's hit musical The Greatest Showman saw it localising and delivering 509 assets to 30 different countries across the EMEA, LATAM and APAC regions (376 of these assets were for EMEA alone). 
These assets included localised TV and social media spots, digital billboards and a variety of online content for Fox's territories around the world.  
DMS is often working on materials for 15 or more different films simultaneously. Customer services co-ordinators, technical operatives, GFX specialists, audio mixers and quality control operators are all juggling a multinational client base that has multi-millions riding on time-sensitive delivery of quality marketing video. 
Ahead of the release of the film DMS received master files from the Fox Media Cloud system and uploaded them to the company's own secure cloud-based platform, Panther Online. As soon as the content went live Fox's offices across the world were able to order their localised promotional assets. Requirements varied considerably, with some countries requiring 1 or 2 traditional spots to support their marketing and other countries ordering 20 bespoke TV spot variations. 
Some briefs only specified the text needed for the call-to-action details for each asset, with DMS having already tailored content for local requirements such as voiceover, ratings, URL and social media tags. Voice artists recorded the localised voiceovers at London dubbing studios, including DMS's onsite audio facilities. 
The DMS design team created localised graphics cards matching the quality of the post-production studio master graphics. The DMS designers often create localised graphics cards from scratch, recreating the original from the ground up in the local language.
Local customer service co-ordinators checked every asset was delivered precisely to brief and local quality control operators made sure assets complied with country-specific rules. Using Panther Online's secure streaming preview for the final sign off, the assets were finally made available on IMD Cloud, an advertising distribution platform which can deliver to 14,000 stations worldwide.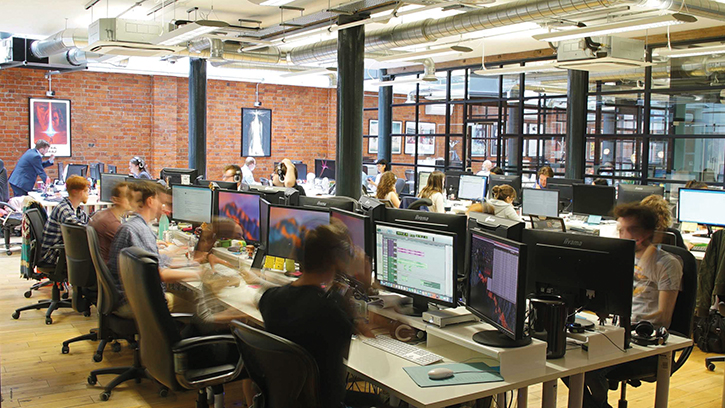 An Adobe house
DMS is primarily an Adobe-centric facility, with designers using Premiere, After Effects and Photoshop as their principle tools – with Maxon's Cinema 4D employed for some graphics work. The workflow is built around an onsite PixStor server from Pixit Media.
"Because we set up our workflows at a time when we knew things were changing, we've been able to adapt," says Briggs. "One studio has gone from 80% TV advertising to 30% TV and 70% online and social in the space of six months, but for us it's all just content. The workflow that we've worked hard to establish is almost platform agnostic. We could see things were changing, so we took the time to set up the business the way we felt it should be."
Briggs has found that the studios are now looking to DMS as a partner and more than just looking for services, they are asking the company for solutions and ongoing support.
"We needed to change first in order for the studios to see us differently. They're dealing with daily posting across multiple platforms. They need much more support."
Red carpet ready
DMS is also providing a red carpet (literally) service in which it sends a crew to major UK film premieres and events. Interview footage and b-roll is collected, edited back at DMS headquarters and then sent out via the company's Panther platform to 1600 media outlets around the UK. 
The company is also producing 'pulse reports' throughout the event, in which real time data is sent to publicists about what is being said around the event on social media. 
"Sometimes key bloggers or influences might be at a premiere, and we're able to notify the publicists 'Hey, so-and-so hasn't posted anything yet, make contact with them.' We can help them make sure they're promoting the movie in the way they want to. That real-time data is useful if there are some actionable insights that help the client do something proactive to change the outcome."
In another case, a studio had promoted a film as being one that everyone was talking about, but when DMS analysed the campaign, it became clear that no one actually was. 
DMS pitched the idea of sending its crew to a local cinema to get vox pops from audiences leaving a screening, cutting it together and posting it across social media.
"It ended up being the most viewed piece of content in that campaign."
Beyond the silver screen
Though its growing relationship with the big studios is something the company wants to continue to nurture, DMS is looking to offer its solutions across other verticals. 
For example, DMS is currently a partner with the US National Basketball Association and is the prime production and digital content provider for the NBA in EMEA.
"We support the NBA creative marketing team based in London, shooting and creating content," says Briggs. "EMEA is an important market for the NBA, particularly with a lot of European players now playing in the US. They're really trying to grow and promote the brand. What we do for them is very much the same as we do for the movie studios."
Whoever future mega-brand DMS may partner with in the future, the company is prepared to deploy its expertise and flexible style to help them get the right message to the right people.