YouTube, the one stop video shop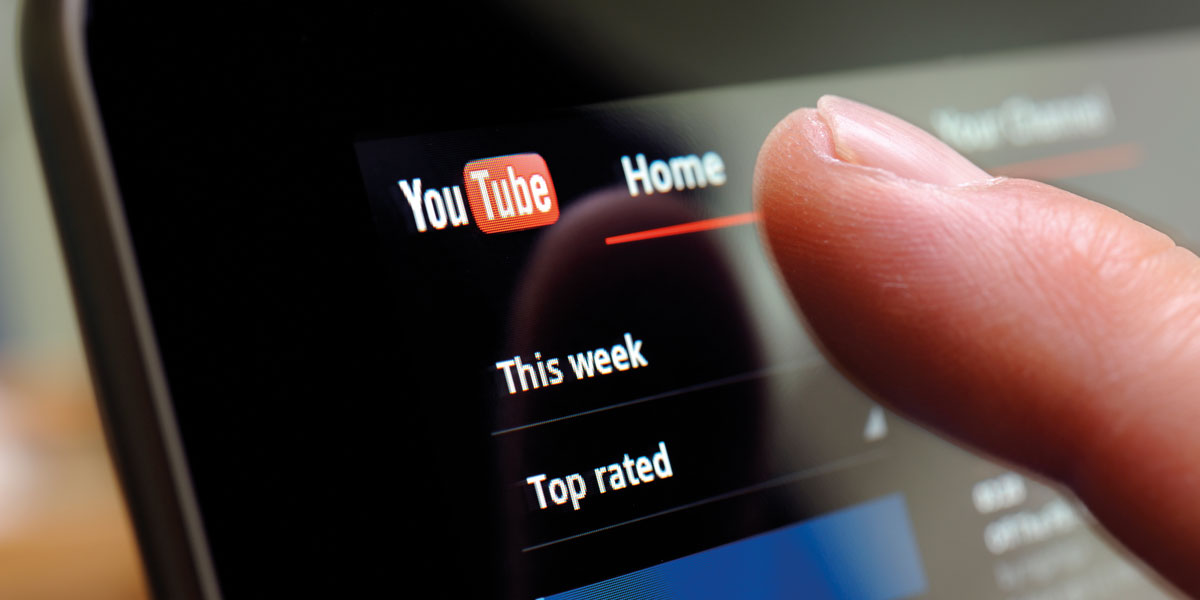 Posted on Oct 3, 2023 by FEED Staff
VOD is now an established media consumption model. We look back at the major online player that helped originate the concept – and how it's doing now
Though they initially designed a video-based dating site called Tune In, Hook Up, Chad Hurley, Steve Chen and Jawed Karim soon spotted a more significant gap in the market. After searching for a clip from the Super Bowl XXXVIII halftime show, they realised no major video-sharing platform existed on the internet. Thus, in 2005, YouTube was born. Today, it's the second-most popular website – receiving 32.7 billion views in April 2023 alone – and the third-most downloaded entertainment app worldwide.
Known for everything from cats and cucumbers to music videos, from fan-created compilations to day-in-the-life vlogs, the platform is a one-stop shop for video content. It has single-handedly catapulted careers; infamous music exec Scooter Braun accidentally clicked Justin Bieber's cover of Chris Brown's With You and the rest was history. Celebrities like Emma Chamberlain and Troye Sivan also got their starts on the platform; at 21, Chamberlain has ranked number five on Forbes' Top Creators and has over 12 million YouTube subscribers.
Though it's seen 18 years' worth of redesigns, spinoffs and software updates, YouTube remains first and foremost a platform for the masses. Vloggers, streamers and broadcasters alike can reap the rewards this site has to offer.
2007: Partners in crime
YouTube quickly realised its greatest asset was creators. The late noughties were dominated by the rise in internet culture, from Myspace and YouTube to Tumblr, followed by Instagram, Snapchat and Vine. And while each platform has a social aspect, it also has a creative one. Everyday people could become photographers, writers, videographers, designers, comedians and influencers.
Creators weren't just bound by the limits of a single platform. There was plenty of crossover between being Tumblr famous, going viral on Vine and even finding yourself branded as a YouTuber. Ordinary people became microcelebrities or online personalities. Even some extraordinary people did. Josh Peck, best known for sitcom Drake & Josh, is considered a YouTuber by occupation as well as an actor and comedian. He has over 3.5 million subscribers.
But is being a YouTuber really an occupation, or just a hobby? The platform has managed to blur that line thanks to its Partner Program.
This allows YouTubers to monetise their content, mostly by collecting a portion of the advertising revenue. Not every creator is eligible, though – a channel needs at least 1000 subscribers and either 4000 watch hours or 10 million YouTube Shorts views in a set number of months.
Luckily, if you're an individual or company with a following elsewhere, you can earn a bit of extra income organically by bringing that base to the platform.
2011: Live and in colour
YouTube began teasing its livestreaming service in 2009, with early experiments including a U2 concert and a Q&A with Barack Obama. These streams relied on third-party technology while the platform was developing its in-house capabilities, released as YouTube Live in 2011.
Initially available only to select channels, YouTube Live offered an alternative to traditional TV, with broadcasts of the 2012 London Olympics, a US presidential debate and the Red Bull Stratos skydiving project. As of 2017, channels with just 100 subscribers can create live streams in HDR up to 4K and even support 360° video.
YouTube, although known for diversity in its content, has a clearly gender-skewed demographic make-up, with over 60% of users being male. The largest interest group that's represented on the platform is gaming – which inherently caters more towards male audiences.
Esports is a rapidly growing phenomenon, catering to a remote fanbase spanning countries and continents. As of 2022, the global esports audience reached 532 million, with that number expected to grow by almost 20% by 2025. While esports streams reached record numbers during the pandemic's early days, their popularity continues, with the average YouTube Gaming viewership hovering around half a million.
YouTube Gaming, an offshoot of YouTube Live, competes primarily with Twitch. As of 2021, Twitch was the most-used streaming platform according to US-based gamers, with YouTube Gaming coming in second. Yet gaming is just one facet of YouTube's livestreaming services.
As with its prerecorded videos, live streams cover just about every niche. Whether it's an endless loop of lo-fi beats or simply a random facet of someone's life, YouTube Live operates as background noise in the eyes of some consumers. Much like radio in a department store or television in a doctor's office, live streams can be a passive source of stimulation.
But this isn't always the case. As with esports, YouTube Live also showcases traditional sports. For instance, YouTube livestreams the Champions League final, which gets a viewing average of close to 400 million across all platforms, and YouTube gets a slice of that pie. Rather than serving as a substitute for TV altogether, live streams offer select matches, press conferences as well as bespoke content. This is largely due to rights agreements between leagues and their broadcasters.
Right now, live content isn't mutually exclusive; YouTube Live can complement TV broadcasts, giving companies the opportunity for more exposure rather than competition. The same can be said for YouTube versus Twitch – creators can utilise both.
Unlike Twitch's business model, YouTube channels do not require a paid subscription. While it may seem counterintuitive, both platforms have their benefits: Twitch streamers earn an obvious income, while YouTubers take more of a gamble, possibly reaping the rewards of extra accessibility (and more, if they're on the Partner Program).
As of late, there's been a push for YouTube to contract Twitch streamers to bring in new audiences – almost like buying an athlete from another team. For example, YouTube Gaming recently made a deal rumoured to be worth $30 million with former Twitch streamer, Ludwig. The platform's willingness to spend on its creators demonstrates its recognition of their value – commercial and otherwise.
2021: Vertical videos
YouTube has had its fair share of healthy competition. Arguably its oldest (but not its most formidable) competitor, Vimeo – founded in 2004 – preceded YouTube in supporting high-definition playback. In early 2013, Vine hit the market, unleashing a new desire for short-form content via 1:1, six-second, looping videos. The platform was incredibly popular yet short-lived, shutting down a mere four years later. Around that time, TikTok went international, finding its success exacerbated by the pandemic – and Instagram released Reels.
YouTube Shorts, which was launched in 2021, was an answer to TikTok and Instagram Reels. Shorts are vertical videos as opposed to the usual landscape format – with a maximum length of 60 seconds. They're designed to be viewed via smartphone, ideal for consuming on the go or in a rush.
In the brief period since YouTube Shorts' inception, daily view counts have surpassed 30 billion. As of December 2022, the platform had more overall monthly viewers than TikTok, with 1.5 billion versus 1 billion. Those viewers, however, could be consuming a range of content, from long-form videos to Shorts or live streams. YouTube remains a video behemoth, a jack-of-all-trades; it's difficult to quantify its success.
Unlike with TikTok, creators are at the heart of YouTube. "YouTuber is a job title," says Jaeki Cho of Righteous Eats. It recently added Shorts to its Partner Program, attracting short-form creators and urging long-form creators to try a new medium.
YouTube and TikTok are separated by more than their financial strategies; the platforms each cater to different generations. YouTube is most popular with millennials; those between 25 and 34 years old account for more than 30% of all users. TikTok, on the other hand, is a young person's platform, with gen Z and gen alpha spending more time on there than on YouTube. This may be because millennials came of age alongside YouTube – and that same thing is happening with younger generations and TikTok.
2023 and beyond
YouTube offers endless opportunities to individual creators, big businesses and everyone in-between. Whether a 17-second clip, travel vlog, music video or live stream, there's something to be shared and gained on the platform.
Building an audience is always risky, and given YouTube's magnitude it seems like competition for attention is never-ending. But it's also a place where almost anything will land. Because it's creator- and consumer-focused, YouTube will almost definitely continue to shape the VOD industry. How broadcasters, streamers and others adapt is up to them. 
Originally published in the Autumn 2023 issue of FEED.