Line up for the new Panasonic PTZ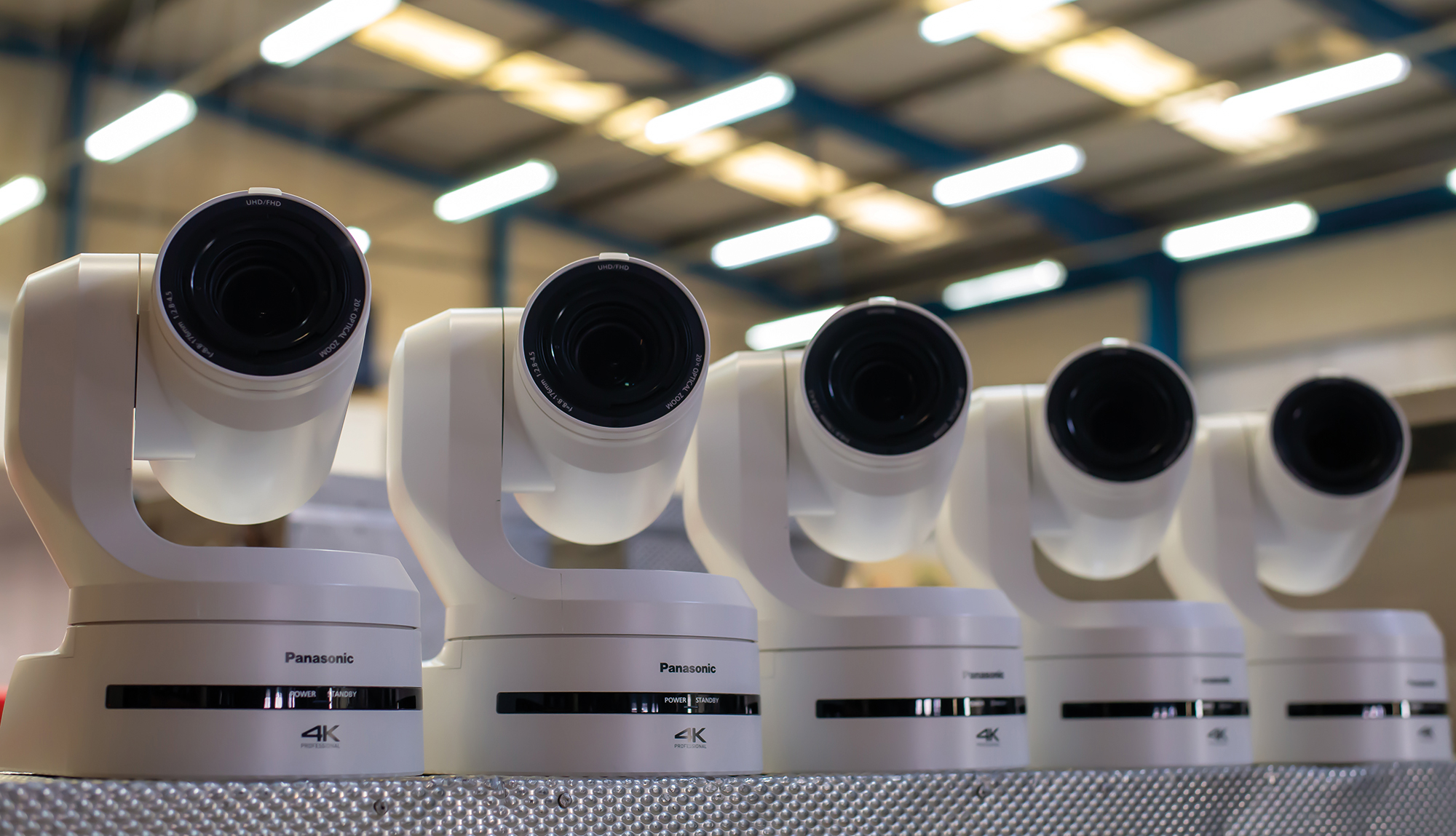 Posted on Jan 6, 2022 by FEED Staff
Sponsored editorial
PTZ cameras have gone from interesting add-ons to centre stage. The latest Panasonic PTZ range brings agile, top-quality capture to absolutely everyone
In a world buzzing with start-ups that come and go, Panasonic stands out as a permanent feature of the media landscape. The company has been in the business of manufacturing electronics for more than a century. With its multi-sector expertise, it has provided broadcast and pro AV with end-to-end solutions made up of everything, from switchers and camcorders, to studio cameras.
"It's quite rare these days to find a manufacturer who can offer all of these solutions," explains Dean Offord, technical product manager at Panasonic. "You have a lot of smaller ones that might only specialise in one area."
Over ten years ago, Panasonic introduced PTZ cameras to the broadcast and AV market, offering an alternative to the prevailing technology: mainly box cameras, with big lenses, mounted on expensive pan-and-tilt rigs. In that time, the cameras have become more advanced, resulting in lighter and faster PTZs, with longer optical ranges and large, one-inch sensors. In the time since Panasonic's first unit shipped in March 2008, the company has shipped around 200,000 worldwide.
"When it all started, PTZs were seen as really complicated products," says Offord. "They went hand-in-hand with the transition to IP."
PTZs now fulfil a requirement for flexible, remote-enabled cameras across sectors that would never have considered this technology a few years ago. They are becoming part of everyday use in education, houses of worship and live music performances. Not to mention more conventional entertainment, like reality TV and fixed-rig documentary – and now studio productions that employ augmented reality. One application, by an industrial customer, even included putting a Panasonic PTZ in a wind tunnel.
"We're seeing a new age of operators. Companies are doing different things with PTZs. Especially during the pandemic, people were using them to film remotely – and safely," asserts Offord. An additional factor in its success is Panasonic's responsive customer service. Accompanying software for PTZ camera management is free.
Panasonic now offer a free 90-day trial of their autotracking software for customers to test during the downtime. And there is an eagerness to incorporate customer feedback into products, which has informed a whole new generation of cameras.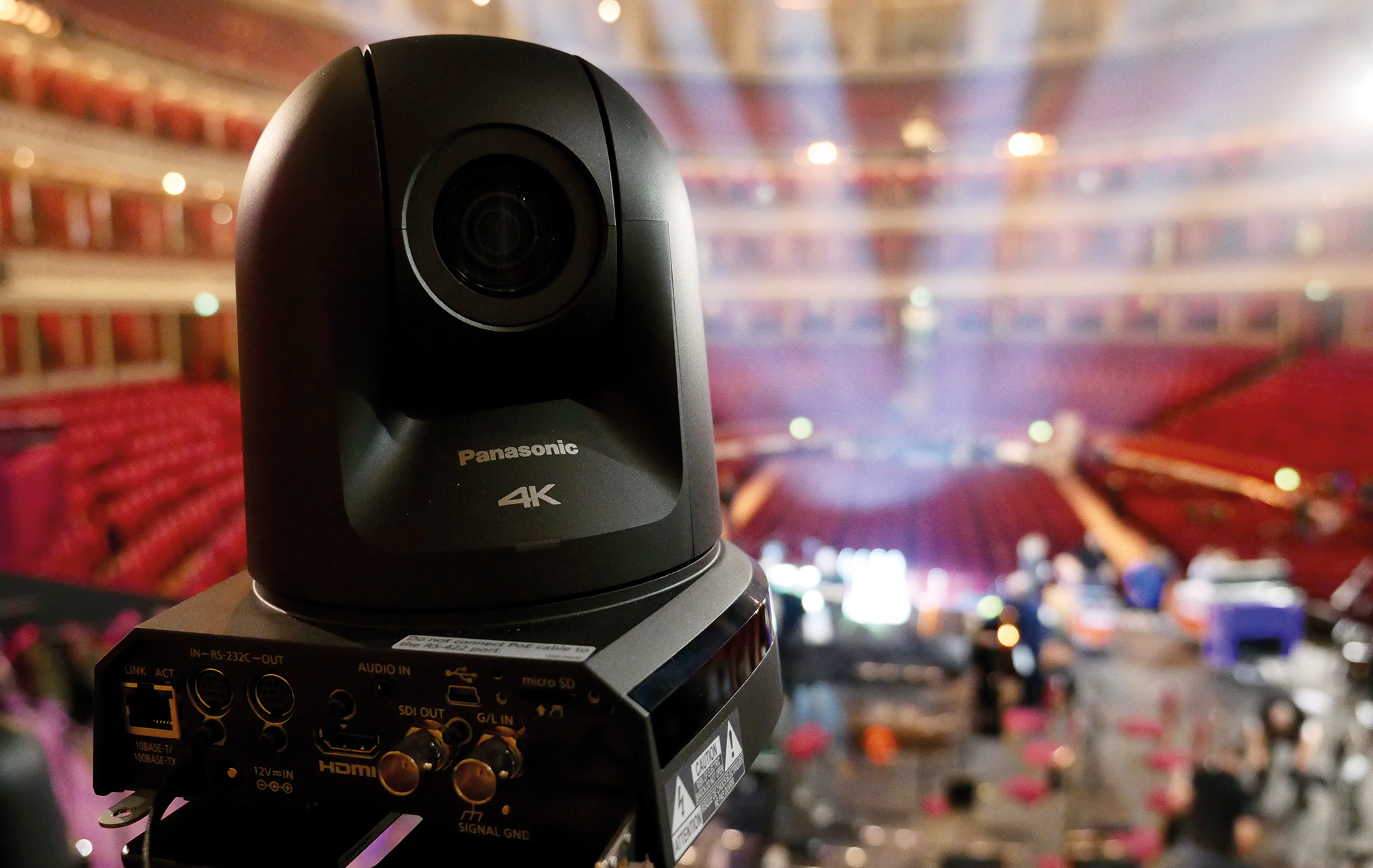 A renewed range
This autumn, Panasonic PTZ rang has gone to the next level, replacing the existing range with a whole new line-up called the UE series. Primarily consisting of full 4K cameras, they vary in feature and spec, with each optimised for a different vertical. The UE series has been updated to respond to new standards and protocols, including NDI, SRT, H.264 and H.265. The cameras feature 24x optical zoom and wider lenses, including technology to help with performance in darker environments – traditionally a challenge for PTZs. An updated chipset will enable better processing of video and communications over the network. With a new and improved processor, combined with a range of protocols such as NDI and SRT, PTZ latency is lower than ever previously thought possible.
According to Offord: "It's quite a radical change. There has been a big shift in this well-established product line-up to a better way of doing things. There is a lot of competition, so we have worked with third parties around the world to offer value added solutions, from rail systems to elevation units, and continue to be the differentiator."
People are going to notice a big difference in the quality of their productions
Panasonic will be introducing four new cameras in the range: UE20, UE40, UE50 and UE80 for each market vertical. The physical design of the UE series is similar to Panasonic's previous raft of cameras, but the internal gearing system has been switched out for a direct drive operation, which is quicker, more responsive and quieter (rated NC25 vs NC35 in the previous era). With the same form factor and power requirements of the last cameras, they can easily be swapped into any existing Panasonic PTZ infrastructure.
"We have to listen very carefully. We interview a lot of different people and get plenty of feedback from our customers, to make sure we're doing the right thing. The engineering team have managed to achieve the same familiar iconic design, but with completely new features inside and out – for today and tomorrow's world."
More use cases
Panasonic PTZs are being used more across multiple verticals, including corporate, education, live streaming and live event production – and the new UE series fits in each of these. Esports has been an enthusiastic adopter of the technology, finding it especially useful during the pandemic.
"In esports production, the operators are often at home, receiving the IP video from PTZ cameras. They're able to operate production completely remotely, without actually having to be on site. It's quite an achievement," Offord affirms.
Demand for PTZs has skyrocketed in the past year, with the pandemic changing how businesses think. From a monastery in Poland that's designed a completely remote workflow for streaming its services, to major governments whose use of the cameras encompasses legislative sessions and press conferences. There are even concert halls bringing recitals to audiences with better, more intimate coverage, that would have been impractical with a real camera operator. We are also able to put PTZ cameras in positions where you wouldn't be able to place a camera operator. This greatly helps in full-capacity venues, as you don't have to take out as many seats to accommodate camera positions. That's a real advantage for us and the concert promoters we work with.
"The market will be excited about a Panasonic product that's so familiar, but updated for newer workflows. When people replace their existing HE40 with a UE40, they're going to notice a big difference in the quality of their productions," Offord concludes.
This article first featured in the Winter 2021/22 issue of FEED magazine.