Pencils Down, Hands-On with Ross Video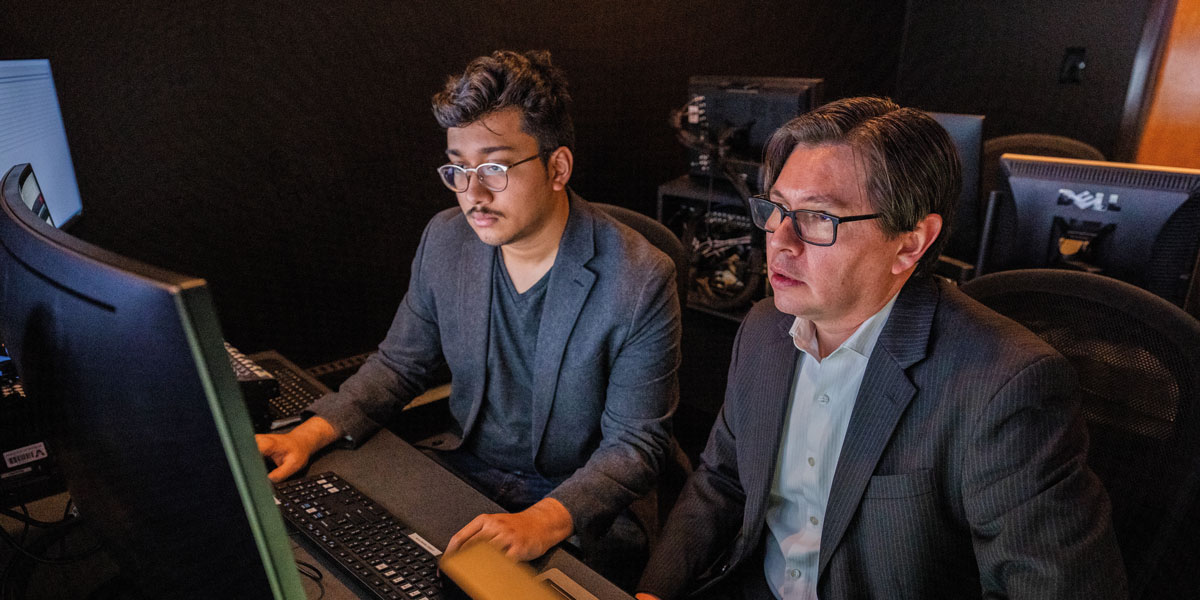 Posted on Mar 28, 2023 by FEED Staff
Sponsored editorial
Educators are adopting industry-leading solutions from Ross Video, transforming students into top-tier video production operators and storytellers
One of the toughest challenges to be tackled in the M&E space right now is how best to build up a future workforce. 
Ensuring the consistent development of fresh pools of engineers, producers and operators is a critical responsibility of a technology provider like Ross, with such widely adopted, industry-leading solutions. 
Getting the grades
Ross Video's palette of professional news workflow and production solutions have been deployed for instructional purposes at colleges, universities and school districts for quite some time.
"Schools can acquire our systems affordably, in the same format as a commercial television station," begins business development manager for education at Ross Video, Matt Peschau. "We implement them in the same way – and the commissioning and operational training schedules right-sized for their production requirements and instructional needs. In that way, schools always receive the same level of service any commercial customer would get."
Ross' solutions are selected by colleges, universities and school districts because they offer learning for traditional and modern workflows. Managing both is a requisite from any provider, what with so many still brimming with legacy systems while simultaneously adopting new infrastructures and practices.
"Ross often covers a majority footprint of any production control room or studio build for instructional purposes – no matter the size," Peschau continues. "For journalism schools, we provide a toolset that helps university professors, instructors and technology managers know they have industry-standard, expansively adopted technology in place for their students to learn with." 
Due to constant advancements in TV production and delivery, Ross works to help educators modernise curriculums to ground students in fundamental production methods. This stands their education in good, future-proof stead, incorporating new remits like automated production control, virtual production, the rise in podcast production and delivery to new content platforms. 
"Our solutions familiarise students with the industry-standard workflows they can expect to be exposed to – and required to be proficient in once they start their first jobs.
"On top of this, there has been a growing number of schools who are developing specialised curriculum and programmes, teaching students how to produce things like live sports, live events, esports competitions and more using our range of products."
It is evident that Ross' solutions allow for a seamless transformation of a control room to suit many types of production. From news, sports and live productions, the flexibility on offer gives students substantial experience, paving the way to future job opportunities.
A deep portfolio of products enables schools to begin building however they wish – even if that's by starting small and gradually adding equipment as that educational programme flourishes.
Ross training the trainers
As Ross' solutions are the industry standard, proficiency in them has become a qualification of its own.
"Our industry customers often reach out to us to help them identify the educational institutions from which they can hire recent graduates that are trained up on our technology, as it's our solutions they are already invested in. They often wish to strengthen that investment by hiring a workforce thoroughly trained on our product portfolio," adds Peschau. "As a result, we actively connect regional educational institutions with commercial employers that might be good candidates for their students.
"Ross also works diligently to facilitate professional development opportunities for both professors and instructors through global education associations for video and live production educators. Members of these organisations get hands-on chances to brush up on their skills and maintain them at a high level."
To learn more about what Ross Video offers within the education field, head to go.rossvideo.com/education-solutions. Follow the journey of a recent graduate that was hired immediately because their school invested in Ross Education Solutions educators to familiarise students with industry-standard best practices.
Article first published in the spring 2023 issue of FEED magazine.