Sony's Crystal LED Virtual Production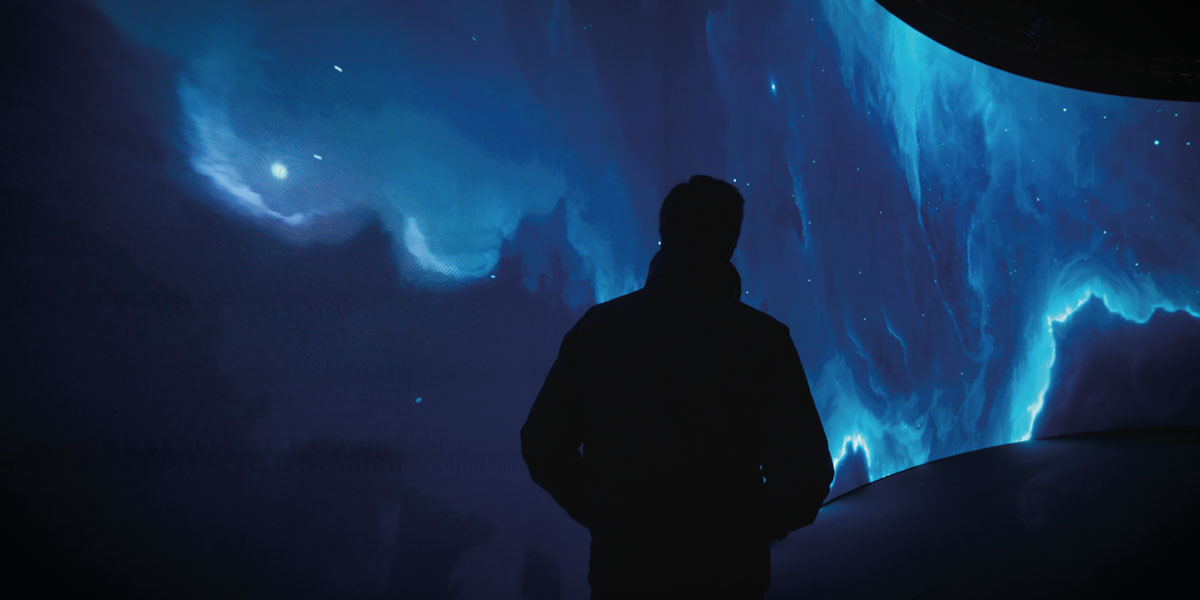 Posted on Mar 22, 2023 by FEED Staff
Sponsored editorial
Sony's Crystal LED and Venice innovations have joined forces to enable a virtual production world-first for Plateau Virtuel and Studios de France
Sony, Plateau Virtuel and Studios de France have teamed up to launch Europe's first Crystal LED virtual production studio. The state-of-the-art 90 sq m screen in Seine-Saint-Denis, north of Paris, offers world-leading image quality for premium film, commercial and TV production – as the Sony Crystal LED display is combined with Venice camera capture technology.
The curved screen, measuring 18m wide and 5m high, is composed of 450 'assortments', each including a combination of eight LED modules. Sony's Crystal LED tech allows for a very high contrast ratio, very thin pitch (1.5mm vs 2.6mm, the current market standard) even with a curved screen and the best reproduction of detail and movement.
"We met the Plateau Virtuel team during shooting of a campaign for the European Space Agency, which was a virtual production using the Sony Venice camera," says Fabien Pisano, sales head at Sony Professional Europe. "This is where the discussion came about, regarding how to bring the virtual production quality to the next level."
"Most screens that we used before had moiré patterns, plus banding, synchronisation and display problems," according to Bruno Corsini, co-founder of Plateau Virtuel, a virtual production studio and subsidiary of the Novelty-Magnum-Dushow Group. "We had a direct conversation with Sony during this shoot where they showed us a new screen: the Crystal LED.
"Now, we can turn off the light and have complete darkness, which brings high contrast – extremely natural, like setting up scenes in the real world – and at the same time a very fine pitch. Until now, we had a gap of roughly 2.6mm: now it's 1.5mm, which is very little. This allows us to shoot really close to the screen.
"It also allows us to have a speed of execution during shoots. We know that the colours on the screen are compliant with the ones recorded by the Sony Venice cameras," adds Corsini.
A league of its own
Studios de France, leading set provider for broadcast in France, is owned by AMP Visual TV. "With the Novelty-Magnum-Dushow Group, AMP Visual TV and Sony, we had common interest to set up at this location," says Igor Tregarot, deputy general manager at Studios de France. "We could introduce it as 'tomorrow's lab studio'. Combining this with a company like Sony gives us dynamic.
"Our clients are often people looking for 'not like everyone else' ways of doing production. We really are in a premium environment here," points out Tregarot.
"We were well supported by Sony's teams that came directly from Japan," says Corsini. "Project managers and product managers participated as well as software technicians. They took a few days to calibrate the screen, colour grading and strong highlights that can occur between two tiles as well.
"Most studio screens are placed on the ground," he continues, "but for us it was important to have a suspended structure in order to be able to slide floors underneath – be they LED or other kinds. We also have an LED ceiling that allows us to do integration if necessary.
"Today, we are very happy and satisfied with the settings done and the material for future projects. It's a world premiere: in virtual production, there is no equivalent," insists Corsini.
The collaboration between Plateau Virtuel and Studios de France has been active for a number of years. It's based on trust – and use of the full range of Sony's technological innovations.
"Sony is a true partner, who operates beyond the traditional customer-supplier relationship," says Thomas Menguy, general delegate, Plateau Virtuel. "On such technological projects, requiring constant R&D, a collaborative and regular relationship with the manufacturer is essential. We have a constructive and winning partnership. This came to life when we carried out the installation with the technical teams and Sony engineers."
"We are the only company in the world to supply LED panels and cinema cameras. We know each technical specification and how best to use it. To maximise the potential of these two solutions, the engineering teams developed and designed each
of them in close collaboration," concludes Yasuharu Nomura, general manager and VP business department, Sony Corporation.
Find out more on pro.sony/virtualproduction
This article first featured in the spring 2022 issue of FEED magazine.