As LG OLED TV slows and reports surface of screen burn on in-store display models, we investigate this pesky phenomenon and if a solution can be found
The younger generation won't recall the desperation and panic of trying to fit in a toilet break, make a cup of tea and grab the snacks, all within the three-minute commercial break  in the middle of a favourite TV programme. The wonders of technology – and the simple pleasure of being able to pause, rewind and record TV – makes consuming media a smooth experience these days. But if you've ever left your favourite Game of Thrones episode on pause a little too long and then been met with a ghostly figure remaining on screen after pressing play, you have been exposed to "screen burn".
Our sister title Definition magazine recently investigated screen burn and discovered that tests by influential technology reviews site RTINGS found screen burn can set in as quickly as two years after buying a new OLED television or, by association, an OLED monitor. That's much faster than anyone previously expected in OLED TVs.
Screen burn, also called burn-in, refers to an effect where part of an image that is no longer displayed is still visible over subsequent images. These might take the form of static graphics that stay on the screen when running timecode, watching news channels or playing video games. The latest reports by RTINGS tested OLED for burn-in on a variety of content, from news and general TV to sports and gaming. During the testing period, the technology reviewers assessed and reported on the screens' brightness and colour renderings every two weeks. The channels and content were respectively displayed in intervals of a five-hour 'on' period and one-hour 'off' period during a cycle that was repeated four times per day.
The tests found that the TVs were most affected by burn-in when they were set to maximum brightness and were showing gaming content and news channels, as both types of content often feature static graphics on screen. After 4000 hours, the TVs testing this content displayed the mark of these logos on screen, even when the content was no longer being played.
The organic material in OLED TVs (OLED stands for "Organic Light Emitting Diode") potentially wears out over time. It is for this reason in part that Samsung decided to stop using OLED technology in its TVs in 2012 and proceeded to develop the new QLED technology. Samsung claims that its QLED TV picture quality lasts for the lifetime of the product, without any visible deterioration in colour over time, due to the advanced Quantum dot technology – QLED uses inorganic Quantum dot material, which is known to be durable and stays burn-in free. As such, Samsung QLED and LED TV sets have received a perfect score (10/10) for image retention in RTINGS' test.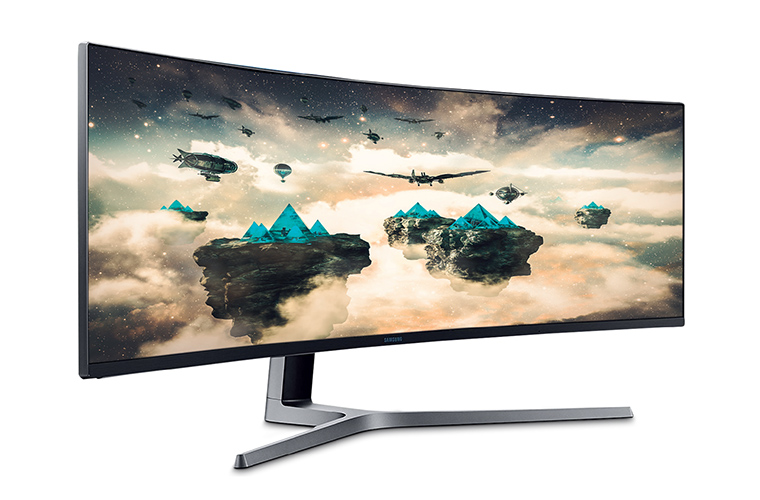 The impartial tests seem to prove that Samsung's QLED and Dynamic Crystal Colour UHD TVs aren't susceptible to screen burn like other TVs and potentially monitors on the market. This seemed to be supported by an article released by ZDNet reporting the sales of LG Display, the world's largest LCD maker, have plummeted, leaving the company in distress. This comes not long after HDTV Test shared images of an LG OLED TV showing signs of screen burn while on display in a retail store.
We recently reviewed the Samsung's QLED gaming monitor, the CHG90, for FEED's Streampunk Tool Of The Month. Phil Rhodes found the CHG90 was designed to be "a fast-reacting display that fills the user's peripheral vision, while not overly stressing your graphics card. Those are specific design choices for gamers and the CHG90 achieves them ably."
Confident of the experience being burn free, Samsung is offering a market-leading ten-year screen burn warranty as a testament to the confidence in its QLED technology.
Read the full review of Samsung's CHG90 here.