Star Studio produces and streams live video content to a very important audience – the kids staying at a Minneapolis children's hospital.
Words by Phil Rhodes
Most kids do not like to be in hospital," says Ben Diger, with huge understatement. "It's not a fun experience, and we're trying to make it as fun as possible so they can forget they're sick… and be kids again." 
Ben is broadcast engineer at Star Studio, which produces live and prerecorded material for patients at the Children's Hospitals and Clinics of Minnesota. With bases at the hospital's two campuses in the cities of Minneapolis and St. Paul, Minnesota, the organisation now produces a regular schedule of original programming, all of which is made available both via streaming and on a Vimeo channel.
The studio's online activity is a comparatively recent development. "Back in 1978, a guy named Larry Johnson was a security guard here," says Ben. "He had a camera and wanted to broadcast some shows to the hospitals, and he started with a show called Electronic Get Well Card." 
In late 2006, amid funding changes, the hospital's family services department decided to reboot the TV service and the current incarnation of Star Studio was born. "There's a couple of bingo shows, a variety game show called the Kids Clubhouse where the kids call in to play games and win prizes. We have a local artist who comes in to do a show called Totally Drawsome, there's a karaoke show, there's a singalong show." 
The Magic Factory
The sharp end of production begins with cameras generously donated by Vaddio. Based locally, the company manufactures remote pan, tilt and zoom cameras, and Star Studio uses them at both its studios. 
"We started off with a bunch of SD cameras and we reached out to them, and they donated a bunch of robotic cameras. Our main cam is a Vaddio UHD camera and the rest are RoboSHOT 30s and 15s." 
Vision mixing is performed using Livestream's Studio switcher software on a PC custom-built by Medianet and outfitted with Blackmagic SDI I/O hardware. Ten inputs and four outputs are enough to combine camera and graphics feeds, then output the mixed production to a Blackmagic Videohub router. 
"Because we have a Livestream account, the support for our switcher comes with that, so it's a no-brainer," says Ben. "We send that feed to multiple places – a [Blackmagic] Hyperdeck recorder, a computer that records H.264, and a Teradek Cube. The file goes to our site on Vimeo. Right now we're manually uploading to Vimeo and posting it to our website. About four months ago Vimeo enabled Livestream captures… I think they did that when they bought Livestream and gained all those live streaming capabilities."
Ben estimates that, each week, the studio produces around 400GB of content, "whether it's our shows, or stuff we're editing or producing for our channel. We also go out into the community and film." He spoke to Feed having just returned from a day covering the Minnesota State Fair, which created not only live material but also 300GB of rushes to be edited on the studio's Mac Pros in Adobe Premiere. Until three years ago, the studio's media server was "a Mac mini with a hard drive attached to it. iXsystems donated a TrueNAS Z20 that has allowed us to produce more content. Now we have an enterprise-grade data solution that gives us up to 20Gb of data from the server so we can edit on all our machines over the network."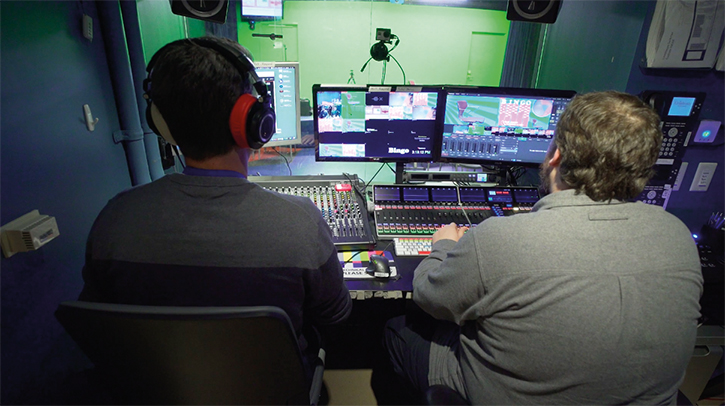 Live Show Star Studio at Children's Hospitals and Clinics of Minnesota produces around 400GB of content each week.
"We get people from the news come in here and say, how do you do this? We put a smile on our face and we do it."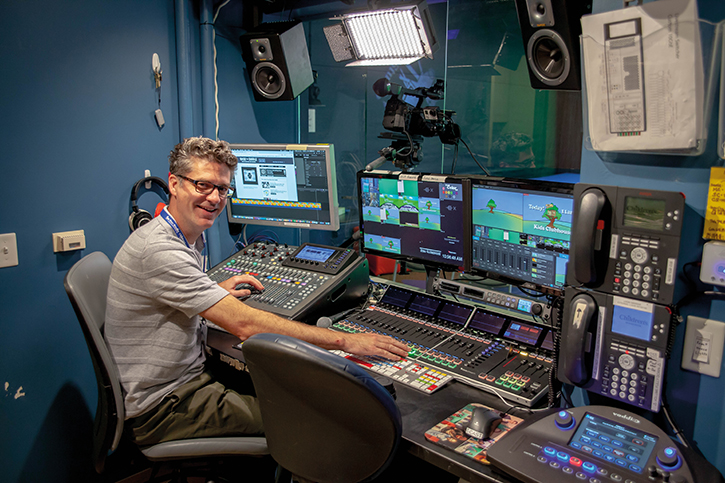 Safe and Sound
Audio is handled by a Behringer X32 mixer in each studio, fitted with Dante cards to allow the studios to communicate over the hospital's Ethernet infrastructure. Audinate's Dante Domain Manager is key to managing audio connection and routing. "When we reached out to Audinate to get Domain Manager, we were just getting into digital audio," Ben says. "We'd been doing analogue audio since day one ten years ago, and now that we have two studios it's hard to route audio. We wanted to do more things. Running cables all over the place is hard and there's already Ethernet in our walls." 
Dante audio networking is widely admired for its very low latency, something that's crucial to the studio's very interactive service. Even so, while the audio is fast, video can be another matter. "MPEG is slow," Ben confirms. "We're trying to get it down to a second to two seconds. The more you delay it the better the quality is and the more reliable it is [but] patients can call into shows, play games, win prizes, and we deliver the prizes to the rooms. It goes from our camera to the TVs in less than five seconds. We're a little faster than the news, because we need it to be interactive. If we didn't need to be interactive, we'd crank that delay up and make the pictures look good."
 "If we didn't need to be interactive, we'd crank that delay up and make the pictures look good."

Producing Happiness
The studio's team includes Ben and five other full time staff. With this skeleton crew and a pool of volunteer and contract presenters, the channel produces an astounding 13 hours of original live television every week. 
"We get people from the news come in here and say, how do you do this? We put a smile on our face and we do it. We keep things simple and clean. If we have time to make it pretty and nice, we'll do it, but we're also looking at how can we make this simpler, faster? Is this going to improve the patient experience? Will kids watch this?"
"I've been here almost 11 years," says Ben, "and I really enjoy it. I could be working in news or some other TV station and it would be stressful. I get people who say, how can you work in a children's hospital and hear their voices? But we're not hearing a kid sad, we're here to make them happy."
The Right Instruments Star Studio is outfitted with a solid range of gear, including Vaddio UHD robotic cameras, a Livestream Studio vision mixer, a Blackmagic Design Hyperdeck recorder, a Teradek Cube encoder and a Behringer X32 sound mixer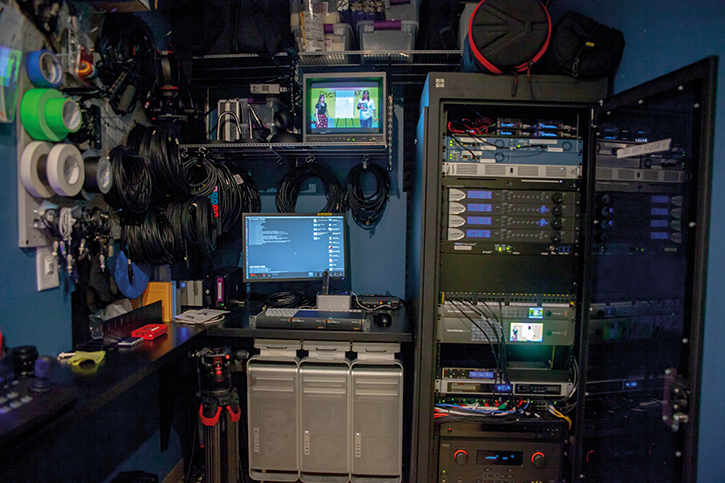 .
Dante (Digital Audio Networking Through Ethernet) Delivers
Dante is a protocol designed to transmit professional-quality audio over conventional Ethernet networks. It's useful in a variety of situations but particularly in an environment such as a hospital, where the appetite – and budget – for an upscale production centre installation is limited. Using a network that's already in place makes for a hugely cheaper, faster approach, and Dante offers a much simpler way to perform complex signal routing.
"Audio is 75% to 80% of what you watch," Ben feels. "If you have bad audio, no-one's going to want to watch. As soon as we found a system we liked we just attached ourselves to Dante fully. We connect both our studios together over our network." All this convenience, however, depends on the good grace of the hospital's IT department. Most corporate IT hierarchies are used to dealing with more conventional networking tasks, and the concept of the network as broadcast infrastructure can be a surprise. "We are a hospital," Ben continues, "and most of the systems we use over the network had to be a secondary use over the hospital's requirements. They do understand why we're doing it, and what the need is for it."
Making the system work in this environment was greatly simplified by Audinate's Dante Domain Manager software. "A couple of clicks and we were up and running, and now it runs flawlessly. We chose Dante Domain Manager because we work across two hospitals, connected with fibre but 12 miles apart. Linking two studios between two subnets was a challenge: Dante came around at the right time."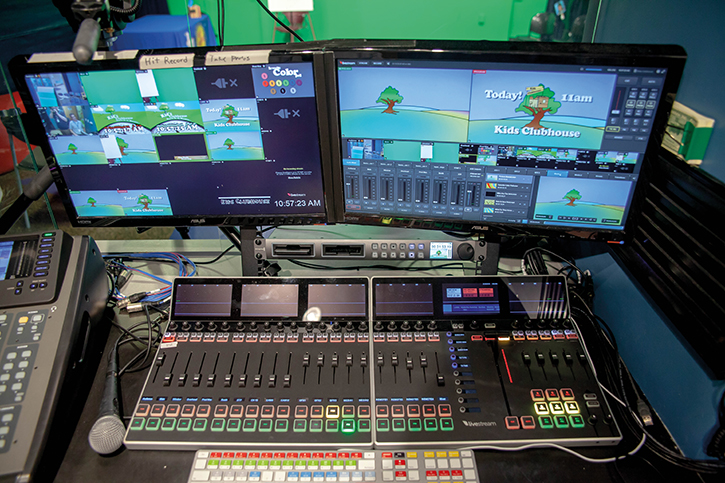 Connected Audinate's Dante Domain Manager joined up two hospital studios 12 miles apart
Beyond replacing and expanding upon a more conventional analogue audio set-up, the bidirectional nature of networked audio can make it easier for the studio to communicate with the location team. 
"I'm working on an intercom on our set-up," Ben says. "Right now we're doing it through phone calls. We're working on having mini mixers mixing our program feed and microphones into anyone's headset through Dante. Then, they can control whether the program feed or the mic is louder. Luckily Audinate came out with their Dante AVIO devices which has made this quite simple."
Audinate's AVIO (currently aorund £150) is a pocket-sized device that functions, in a Dante environment, almost as a bidirectional converter. "It has an input and an output, two XLRs, male and female. It plugs into a network jack that has power-over-ethernet and you can send audio anywhere. The hope is that we can plug into a jack anywhere in the hospital and send it back to the studio." 
This would allow Star Studio's teams to feed audio from anywhere in the complex where there's an Ethernet port – which, in modern buildings, is most places.
This article originally appeared in the September 2018 issue of FEED magazine.