London-based production company Trickbox TV is ramping up for a new era of live streaming with singalongs and dino shoots.
Trickbox TV started in 2010 as yet another broadcast services company providing gear and personnel for studio and location multi-camera productions. With the explosion of video content outside the broadcast sphere, Trickbox has expanded to take in corporate productions, festivals, and events – and live-streaming services for all of these.
"When we began, we were servicing a lot of corporate clients," says Liam Laminman, Trickbox TV MD. "Everything we were producing was for online video, although it may not have been live. As live streaming has become more and more commonplace and user friendly, and the technology has improved, we've begun to offer more services to go with that."
Trickbox now offers four principal services – studio hire and facilities, equipment hire, systems integration and outside broadcast. It's the outside broadcast element which is undergoing dynamic changes. Incorporating live streaming and webcasting, both inside and outside the studio, the company's OB services have only grown over the last couple years. The company continues to reach out to more corporate clients who are looking for broadcast facilities and results, but for their online audiences.
"We don't really distinguish between whether it's a broadcast client or a corporate client in terms of what we offer," says Laminman. "We essentially offer the same thing – even down to pricing. There may be slightly different requirements that each type of client has, but we give them the same options."
The company is agile, with five permanent staff, a handful of part-time staff and freelancers. It also manages Tower Bridge TV Studios, an HD facility on The Thames, with some very monetisable views of Tower Bridge and the London skyline.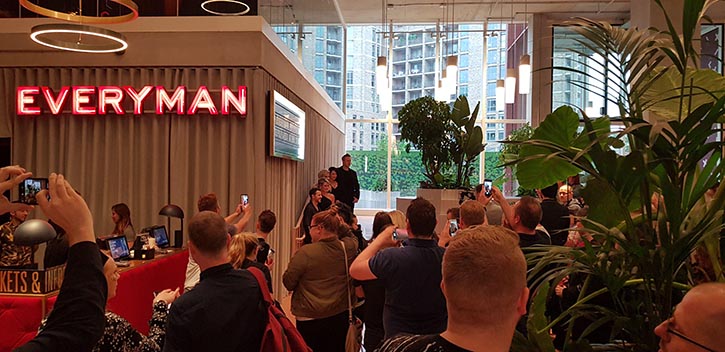 Song and Dance From a fully interactive event with pop group Steps to encoding ITV's NHS singalong, Trickbox gets on with the job without a fuss.
Echo Eight
Earlier this year Trickbox acquired the live arm of streaming and IT services company, Echo Eight. In addition to purchasing Echo Eight's live-streaming technology and contracts, Trickbox appointed Echo Eight's director, James O'Farrell as Trickbox TV head of live video.
The acquisition included multiple LiveU encoders for remote live streaming. Trickbox hopes the acquisition will strengthen its live-streaming capability. Echo Eight had been a mix of traditional IT and live streaming. The two companies had been working in partnership for some years. 
"It seemed a logical next step for us to grow the live streaming in our business and to support James in what he wanted to do. The sum of the parts was bigger together."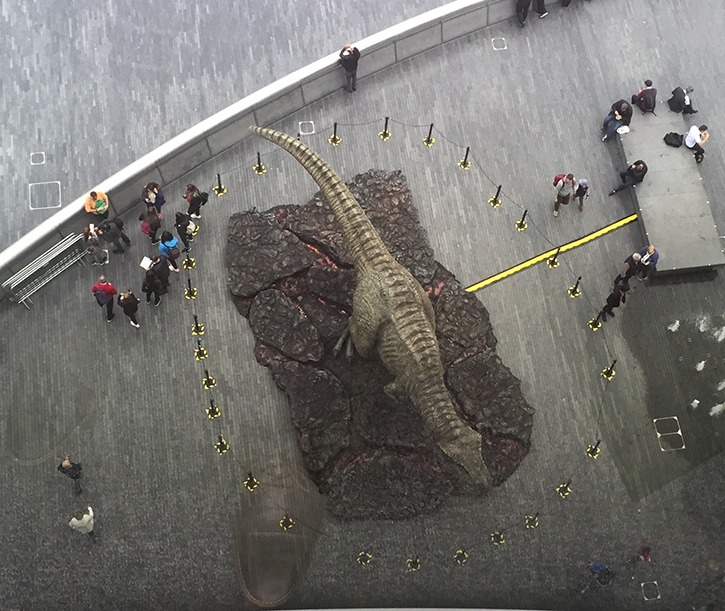 Sailing Away Trickbox had captured and edited footage of this T.rex on the Thames by 7am, ready for streaming to London's commuters. 
T. Rex on The Thames
The opportunities for live-streaming content are as broad as the imagination. Earlier this year Trickbox participated in a stunt in London around the launch of Jurassic World: Fallen Kingdom. 
In the early morning, a barge set off down The Thames with a tyrannosaurus rex aboard (not a live one, a fake one). A Trickbox camera crew in a chase boat was feeding live footage via a LiveU unit back to the Trickbox studio. Cameras at Trickbox's Thames-side studio also captured the passing procession. The footage was edited and turned around by 7am for streaming over the big screens in London's train stations as a 'breaking news' story. 
"With that we were able to test a few different parts of our business – our studio, live streaming," says Laminman. "It was good fun."
This year, Trickbox's live-streamed production has included providing the 4G link and onward transport for the University of Westminster's MA Fashion Design Runway Show, full production flyaway and streaming facilities for the Big Questions Live conference in London, and encoding services for the Big NHS Singalong for ITV.
"Social streaming has definitely increased. The last couple of years that has gone absolutely crazy."

The Word on Webinars
But Trickbox also does more internal corporate work, where the stream is going directly to a client's website, in addition to streaming to that client's social media outlets. The company has also developed its own webinar platform, called Trickbox Live, which allows users to register and receive calendar updates and for the client to operate live Q&A's. The platform is customisable and skinnable for easy integration into the client's own website and brand.
"It becomes almost a fully interactive event, rather than just watching a video." 
The system was used recently in a Q&A hybrid party event around the reunited dance-pop group Steps delivered to Everyman cinemas. 
Trickbox seems set to ride a wave of increasing demand for streaming services.
"We definitely want to develop the live-streaming part of the business and reach more clients in that area, and improve our systems and solutions by investing in more kit and having more R&D time on the IT streaming side," says Laminman. "Social streaming – Facebook, YouTube, Twitter – has definitely increased. The last couple of years that has gone absolutely crazy." 
This article originally appeared in the September 2018 issue of FEED magazine.