Vidcon gear review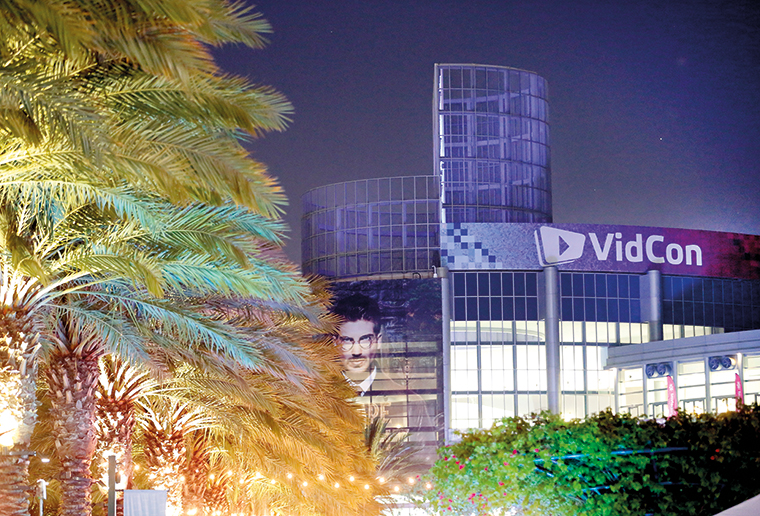 This year's VidCon saw more media tech companies in attendance than ever – and over 75,000 potential customers for its gear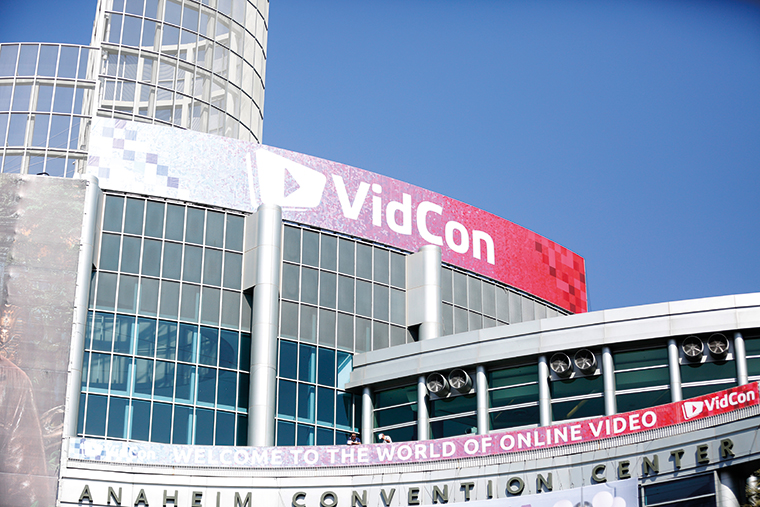 Today's technology reaches more people, more quickly than any inventor or star of the past could imagine. Online video streaming has created megastars, though most people do not know who they are. A YouTube vlogger may have millions of followers and views, but not be a household name.
At VidCon — the Comic-Con for YouTube stars — the focus is on the famous, but none would be known without the tech that supports them. A decade ago, this hardware and software was for professionals; now it is being used in bedrooms and back yards. In just ten years, VidCon attendance has grown from 1400 people in the ballroom of a hotel to 75,000 creators and fans filling the Anaheim Convention Center in Southern California.
Panels, workshops and discussions in the event's 'Creator Track' include end-to-end production on a mobile phone; beginner-to-advanced tutorials on cameras, lighting and editing; tips on using Adobe Premiere Rush and Pro; a sponsored session from Blackmagic Design; and workshops on picture and sound editing, audio post, colour correction, motion graphics and streaming content.
On the show floor, along with the superstar dogs, make-up companies and fans, were over a dozen hardware and software manufacturers covering a wide range of production needs. 
This year's VidCon featured a separate, well-attended industry track, with major content companies talking about the next generation of content. VidCon started as a fan show, but its place as a top destination for media industry pros seems certain. Here's our breakdown of old and new companies courting the VidCon generation.
Cameras
Power shooter – Canon
Canon has been aiming right at the vlogging market with its PowerShot G7 Mark III. Creators wanting to step up from capturing content with a smartphone can live stream with the G7 directly to YouTube. The point-and-shoot records 4K 30p video with a 20.1-megapixel CMOS sensor. The G7 can also shoot vertical video. The camera is able to capture better audio than smartphone via the camera's external mic jack.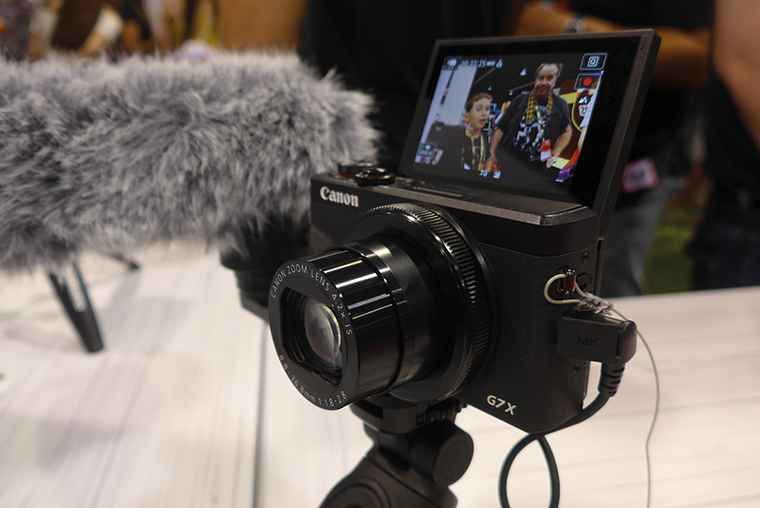 GoPro
Not all contemporary content creators are streaming or posting video from their bedrooms. GoPro is promoting the Hero7 Black to the YouTuber market, which may cause a rise in the number of 24-hour challenge videos shot on a mountain bike path or ski slope. The latest upgrades to the Hero line will appeal to sports enthusiasts and less adventurous content creators as well. 
The biggest advance is improved image stabilisation via the company's 'HyperSmooth' technology. GoPro says that the new tech, eschewing optical stabilisation for an electronic option, rivals a gimbal. For those who take their vlogs to the streets, smoother video will eliminate complaints about handheld romps through the city or late-night car rides.
The addition of built-in livestreaming capability, via a smartphone app, is also a big draw for this market. The camera can stream to Facebook Live right out of the box, as well as to platforms like YouTube, Twitch and Vimeo using an RTMP URL.
Audio
3D audio – Sonic Presence
Sonic Presence offers a speciality microphone to those capturing video and/or audio with their smartphones. The VR15-USB Spatial Microphone records 3D audio with a pair of waterproof and shock-proof microphones worn similar to earbuds. The orientation of the microphones mimics human hearing. Stereo playback puts the listener in the same sonic space as it was recorded, with sound elements coming from all sides. The microphones come with a USB-Type A plug and can be connected to iOS or Android devices via an adapter. 3D audio can be captured with a variety of built-in and third-party video and audio apps. 
Portable recording – ROde
'Portability' is a buzzword for the vlogging market. The Wireless GO microphone system from Rode is a very portable microphone transmitter and receiver, each about the size of a small pad of Post-it notes. The microphone unit can be clipped to clothing or used as a belt pack for a lav mic or headset. The system transmits on the Series III 2.4Ghz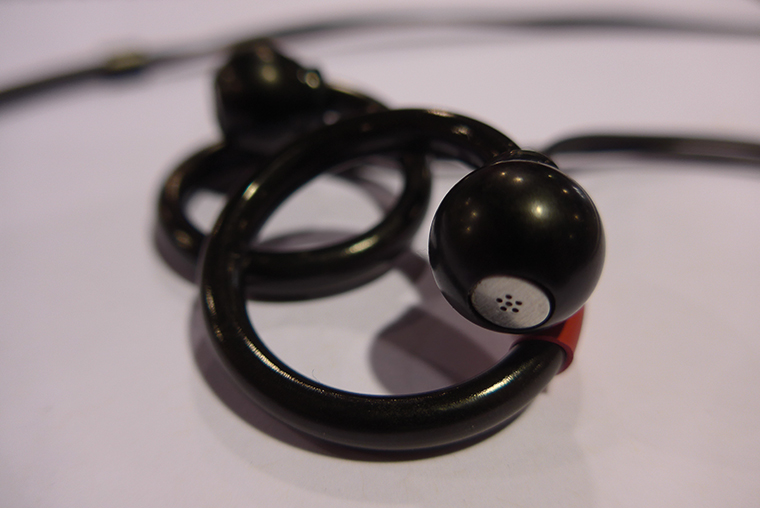 Retailers
Creator Kits – B&H Foto & Electronics
B&H, the popular photo, video and audio retailer, has been successful in changing with the times. The company went from a humble brick-and-mortar store in Tribeca, New York, to its Ninth Avenue superstore, to a website with thousands of products just a click away. Continuing to see the way the wind is blowing, it has put together 'creator kits' for a new generation of video and audio content creators. The range of options includes a DSLR Vlogging Kit or a Mirrorless Vlogging Kit, including the Canon EOS 80D and the Sony Alpha a7 III respectively, and a Mobile Creator Kit, based around the smartphone
(a piece of kit almost every content creator already owns). B&H also offers a Podcasting Kit, featuring the RODECaster Pro audio production studio.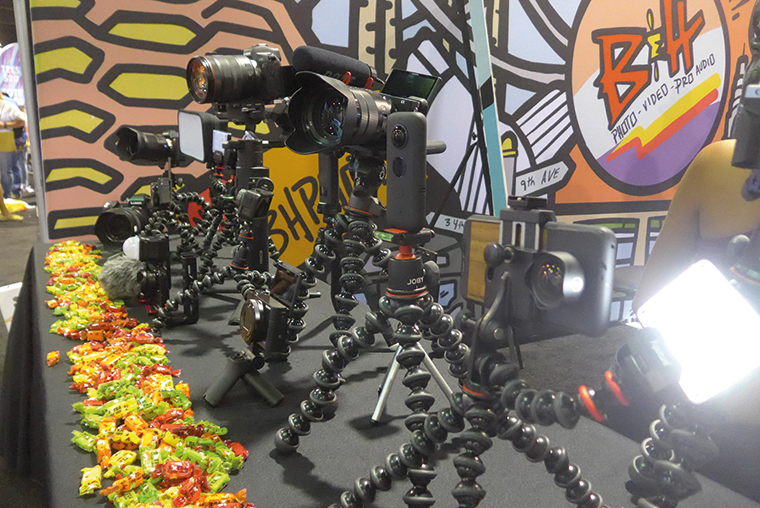 Catching new customers – Best Buy
Another retailer following its customers into the future is the US-based consumer electronics chain, Best Buy. At this year's VidCon, the company partnered with Canon to promote a range of cameras and production equipment, and produced workshops featuring popular YouTubers. The show booth was a production studio with a set for shooting and a suite of post-production tools for editing and sharing content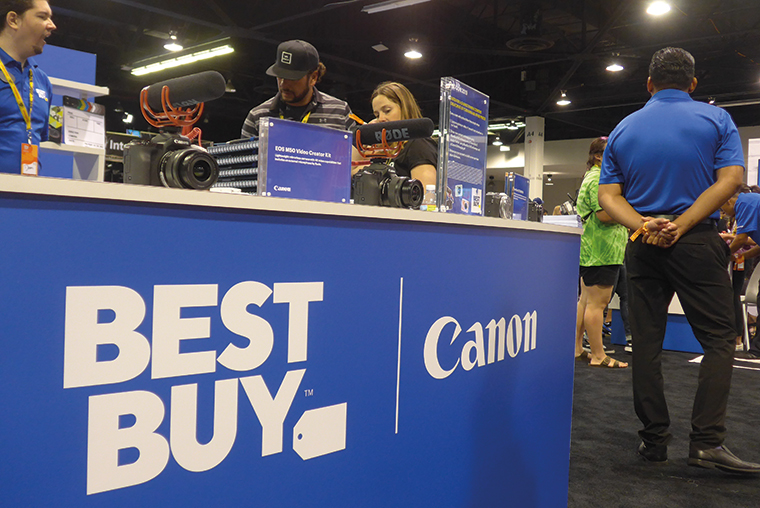 Camera support & Lighting
Shooting on the go – SwitchPod
Funded by a Kickstarter campaign, the SwitchPod appears to be a product made both for and by the vlogging community. The SwitchPod is a sturdy, lightweight, aluminum-alloy mini tripod that folds quickly into a camera handle, for handheld shooting or selfie mode. Works well on a desk or table top, and converts quickly to shooting on the go.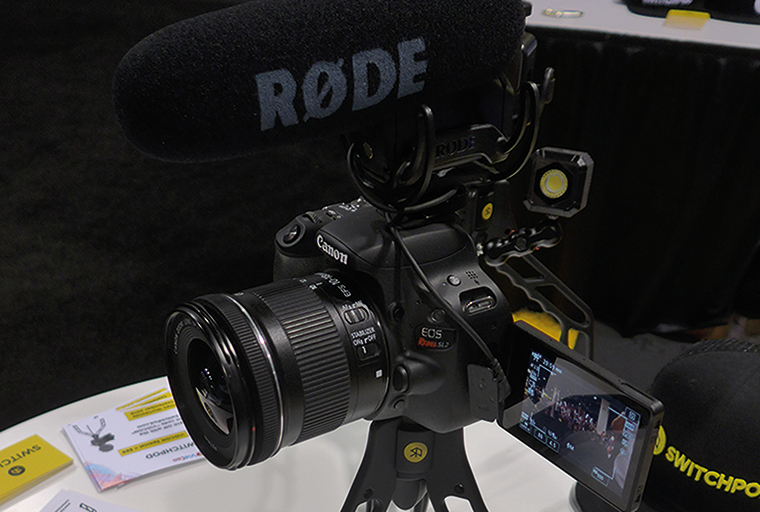 Taking to the air – Lume Cube
Lume Cube offers two different versions of the ultra-portable LED light: the original Lume Cube and the new Lume Cube Air. Though less expensive than the earlier version, the Lume Cube Air is full of features and seems almost purpose-built for the online video creator community. The Air is tiny, at just over 1.5 inches square, and puts out 1000 lumens of 5600K daylight temperature illumination. The light can be mounted to a standard quarter-inch tripod mount or with the built-in magnet. The accompanying iOS and Android app enables one or more lights to be controlled via Bluetooth. The Lume Cube Air is waterproof to depths of ten metres or 30 feet. Since it can be attached to a computer monitor, smartphone, DSLR or GoPro mount, or to the nearest iron fence with the magnet, this light is a solution for any vlogger, videographer or photographer.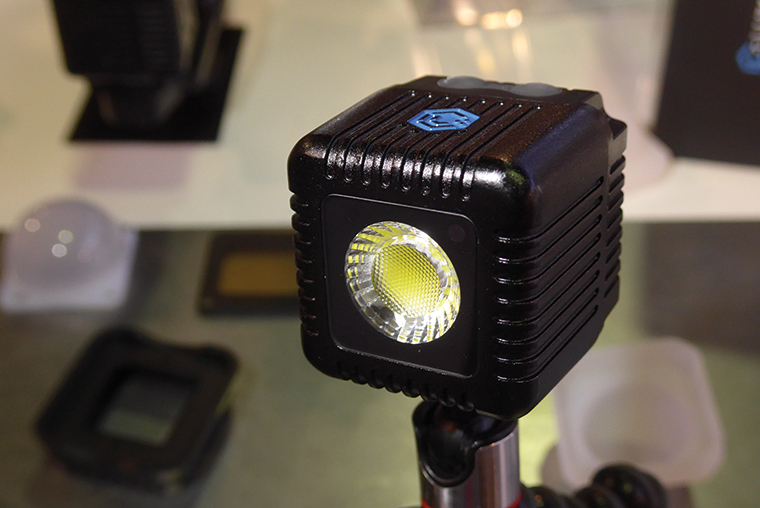 Budget green screens – Valera Screens
When content creators want to up their backdrop game from their bedroom or car interior to anything they can imagine, Valera Screens has portable, low-cost green screens to fit their needs. The Explorer Series includes the Explorer 70 and Explorer 90, and the Creator Series features the Creator 95. The model numbers correspond to the diagonal measurement of each screen, with the Explorer Series cut to a 16:9 aspect ratio. The Creator 95 measures 75×58 inches, with a vertical orientation for capturing full-body shots of standing talent. The Explorer series can be orientated horizontally or vertically to take advantage of available space, or to accommodate the distribution outlet.
Post-production software
Pro post for the people – DaVinci Resolve 16 
Blackmagic Design brings a professional-grade post-production suite of applications to everyone's desktop with the free offering of DaVinci Resolve 16. In addition to modules for video and audio editing and colour correction, the company has added the FX application Fusion. Major feature films have been posted in DaVinci Resolve for some time, and Blackmagic has made that power available to anybody. The application's capabilities rival Adobe's Premiere Pro and Apple's Final Cut Pro, but at the unbeatable price of no price at all, which is the ideal cost for a home videographer looking to upgrade. DaVinci Resolve runs on MacOS, Windows and Linux.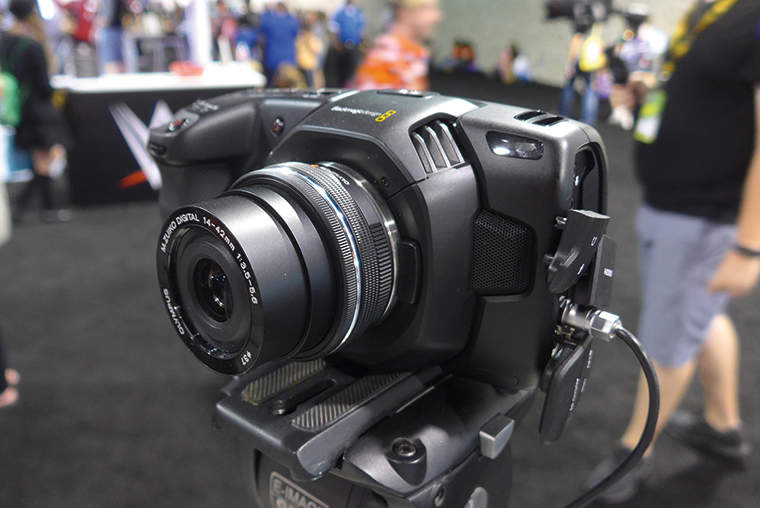 New mobile editor – Adobe Premiere Rush
Adobe has released a mobile version of its editing software with Adobe Premiere Rush for social media content creators. Video can be shot with the software's built-in camera – and then cut and colour corrected. Audio can be mixed, and motion graphics added on iOS or Android devices, or on a MacOS or Windows desktop system. Once finished, content can be uploaded directly to YouTube, Instagram, Facebook or other social platforms using the app. Tips and tricks for vloggers are featured prominently on the Adobe website. A test drive of the app is free and can be upgraded with a monthly or an annual paid subscription.
Mobile-based post – Kinemaster
Kinemaster is another mobile-based, high-powered post-production app for YouTubers. The iOS or Android app can work with multiple layers of video and audio for editing, animation, effects, chromakey, and audio editing and mixing. A free version of the app offers basic functionality, though a watermark is attached to each video. The watermark can be removed and full access to premium content, such as additional effects and transitions, can be purchased with a monthly or annual subscription.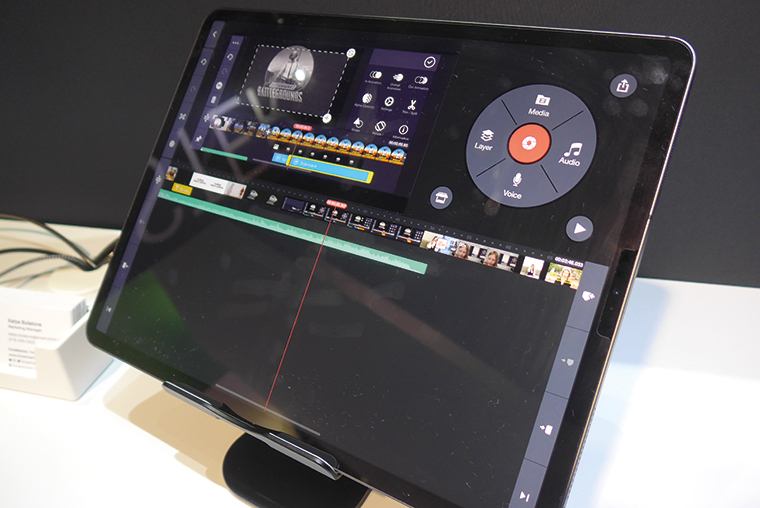 Prosumer Wonder – Filmora 9
Filmora 9 from Wondershare is a prosumer, MacOS and Windows desktop video editor for both new and experienced content creators. Video can be cut, transitions and filters applied, and effects like split screen and picture-in-picture can be added to projects. Finished content can be exported or immediately uploaded to platforms like YouTube, Facebook and Vimeo. A watermark is applied to all exports from the 90-day free version. The full version without watermarks is available for an annual basic or unlimited upgradeable subscription, or a one-time, lifetime access fee.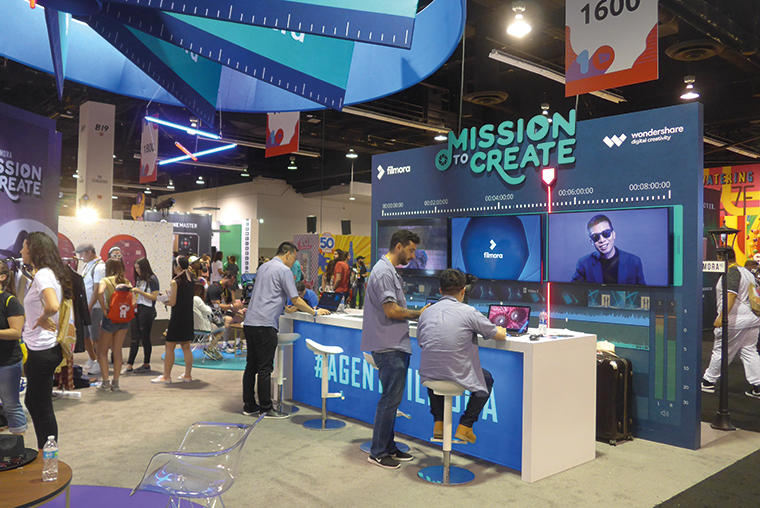 There was plenty of show from companies eager to spread the word about innovative post-production gadgets
Sexy storage – EditShare
The least sexy yet most important aspect of all video production occurring in the vlogger space is storage. While content creators can upload as much as they want to YouTube, computers have a limited amount of storage – and storing a back catalogue on external drives is not the ideal solution. EditShare is pitching its XStream EFS 200 shared storage system to the young producer market. Starting with a 24TB node, which is scalable to 360TB, the EFS 200 is an affordable and flexible option for creators shooting gigabyte upon gigabyte of video. As creators expand from one-person bands to multi-person crews, EditShare allows project collaboration, managerial applications for administrators, and automated tasks for asset backup.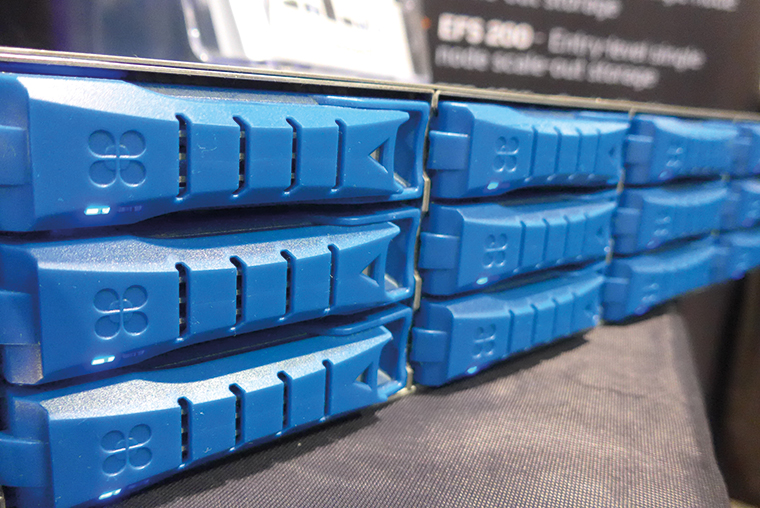 This article originally appeared in the August 2019 issue of FEED magazine