iSportsAnalysis has moved to AWS cloud services to make tagging and analysis of sports easy for everyone, from school teams to pro
Sports organisations, coaches and players are welcoming a host of tools to more effectively evaluate and improve player and team performance. Leading sports performance software provider, iSportsAnalysis, addresses some of the most pressing analytics challenges that sports clubs face today. The iSportsAnalysis service creates a synchronised set of XML data, along with a video asset to provide sports organisations with a robust game analysis toolset.
iSportsAnalysis started as a video streaming platform, providing online sports performance analysis serving private schools, colleges and universities. Recognising there was a need for these clients to be able to analyse games at scale cheaply, it developed a toolset that is now being used worldwide.
Coaches or analysts go through a process of tagging video from a match, which can then generate a report about that team's or an individual's performance. To tag a match, a coach or player watches a stream of the match footage and, via buttons in a 'code window', marks significant events throughout the match – penalties, points scored, etc.
"And that can get very, very detailed, down to positions on pitch, to attempts on goal, home possessions, away possessions. The list just goes on," notes Anadi Taylor, iSportsAnalysis CEO. "For as many coaches that exist in the world there probably are that many different ways of tagging."
Taylor emphasises that the toolset can be customised and adapted for any type of sport. "We do rugby, football, hockey, netball, basketball, arena soccer, the list just goes on and on," he says. "Coaches can sign in, upload a video of any sport, create as many code windows as they want, and then code or tag their matches.
"And they can also have their players – or students if it's a school or university – sign in and use those same code windows to tag the match."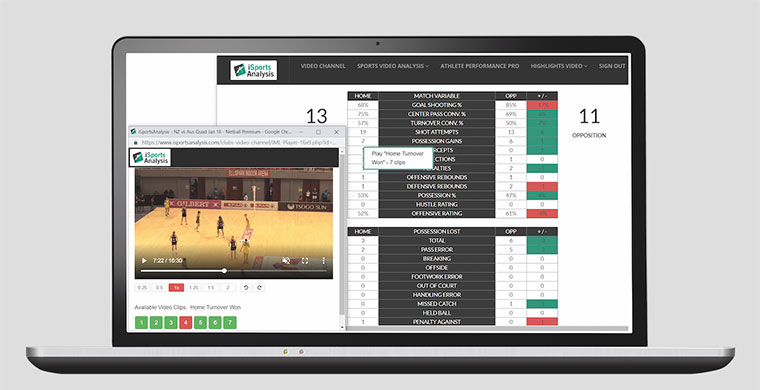 Cloud sports
Recently, iSportsAnalysis moved its solution from on-premises to the cloud with Amazon Elastic Compute Cloud (Amazon EC2), electing to also use AWS Media Services for video transcoding and Amazon Simple Storage Service (S3) for greater efficiency and elasticity.
With a background in corporate streaming, iSportsAnalysis quickly garnered interest from sports organisations looking to analyse performance during games and matches. As analytics fever caught on in sports, more of the company's clients began asking for a way to combine live footage with analysis. Working closely with universities and sports clubs, the company developed a tool to tag possessions and other stats called 'Sports Performance Analysis', which was designed to integrate with third-party analysis tools.
Taylor then began to envision a more cost-effective solution to meet the increasing demand. Drawing on his background in programming and livestreaming, he studied existing solutions, identified gaps in functionality, and interviewed coaches, sport scientists and analysts to uncover their specific needs. The resulting solution, iSportsAnalysis, has been used in real-time matches since 2017. Taylor and his team have continued to refine the solution, adding an online messaging system, synchronised video and analysis, filtering options, playlist generation and more.
Taylor migrated iSportsAnalysis into the AWS Cloud from a rented server. "Transferring to running Amazon EC2 instances was easy and super-fast," he says. "I was ready to go in a few hours. We even moved our transcoding over to AWS Elemental MediaConvert. I also love that AWS tools give us the ability to regularly bring new features to our clients."
"For as many coaches that exist in the world there probably are that many different ways of tagging"
iSportsAnalysis also migrated from a MySQL database service, hosted on Amazon EC2, to using Amazon Aurora. "The transition was incredibly smooth and the backup functionality, failure detection and scalability has proved invaluable, let alone the time savings," Taylor adds.
Affordable analysis
iSportsAnalysis clients – whether coaches, players, or other sports professionals – can now log into an online dashboard to get a customised view of their video footage and associated data. They can easily upload new videos, which are stored in an S3 bucket. From there, content is transcoded to a unified video file format and specified resolution using AWS Elemental MediaConvert. Users can then tag or code the video and generate an in-depth data set that is linked back to the processed asset. The way the technology pairs data with video makes it simpler for users to search and identify key moments that may provide insight as to how players and teams can improve their performances.
The company aims to increase its use of AWS Media Services, with an eye to using Amazon CloudFront content delivery network (CDN) to allow coaches and players to stream game footage with analytics to any connected device, making it faster and easier to improve game strategy as well as individual performance.
"What's very nice for us is that performance analysis has becomes a buzzword," says Taylor. "More and more people are investigating it and are recognising that it's more affordable now, because of iSportsAnalysis."
"Our company has various teams in America. We've got another team that will eventually manage Holland, Germany, Belgium and Scandinavia. Our model now is to scale out. Moving over to AWS, with all of the elasticity and availability, and to have everything under one roof, was a no-brainer. We've never looked back."
This article originally appeared in the June 2019 issue of FEED magazine.