Hoop dreams – the NBA and AR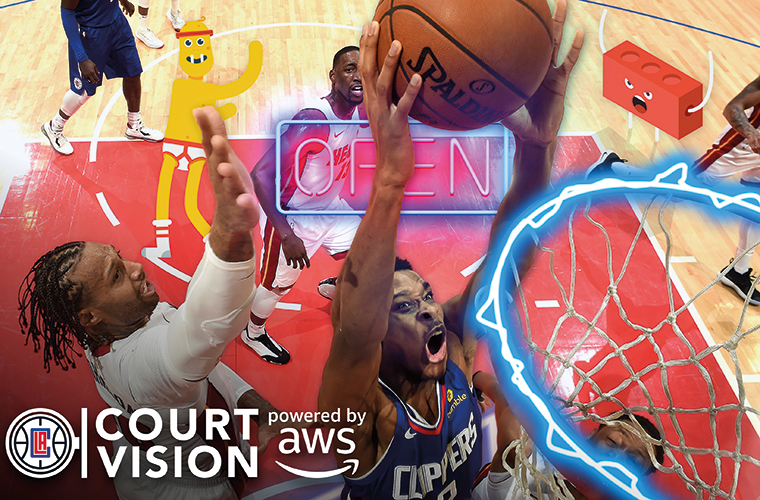 Posted on Jul 30, 2019 by FEED Staff
Sponsored editorial
AWS has teamed up with the LA Clippers to revolutionise how we watch sports
Sports teams are going to extreme lengths to enrich the fan experience, bringing more thrills, deeper insights and fuller stats. The LA Clippers' CourtVision augmented game-watching platform reimagines the way basketball fans experience the sport. 
Clippers CourtVision lets fans toggle across multiple modes with real-time data and augmented reality features. This past season's release includes Coach Mode, which diagrams plays as they happen, Player Mode in which shooting percentages, updated in real time, hover over each player, and Mascot Mode, which incorporates fan-friendly animations, graphics and digital effects. Other features enable fans to choose from multiple camera angles across the arena, select audio, including unfiltered in-arena sound, and watch live games and recaps on mobile or desktop.
Launched at the start of the 2018-19 NBA season, Clippers CourtVision is driven by technology pioneered by a range of machine learning and data analytics services from AWS and Second Spectrum. AWS is now the primary cloud computing, machine learning and artificial intelligence provider for CourtVision. Second Spectrum is the official tracking and analytics provider of the NBA and a partner of professional and college teams around the world. The company creates tools that make data and video accessible and actionable. 
Second Spectrum collects 3D spatial data, including ball and player locations and movements, from multiple cameras located in all 29 NBA arenas, including play-tracking data such as player speed, distance travelled, drives and more. 
Data is stored and analysed on AWS in real time, and artificial intelligence is applied to develop stats that give fans a deeper understanding of what's happening in-game. Second Spectrum uses that data to generate augmented graphical overlays on Clippers broadcasts in real time. These include live layouts of plays, instantly updated probabilities of a shot going in, and a suite of graphics that animate based on game conditions. AWS Elemental's MediaStore cloud storage service is used to help deliver the live game-watching experience.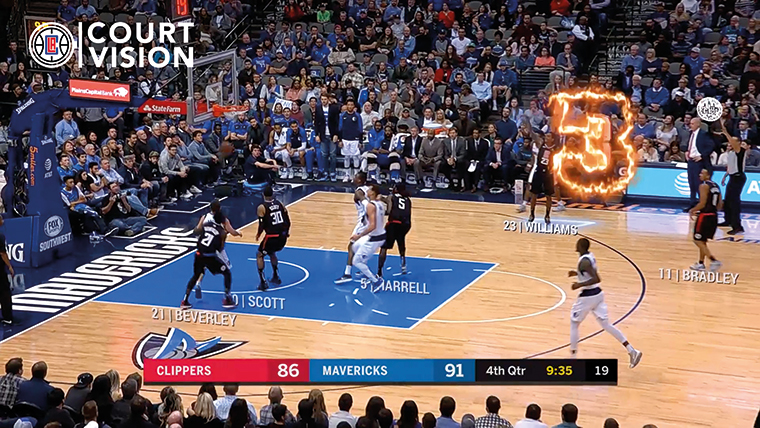 Scott Sonnenberg "Our goal was to evolve the sports broadcasting experience. That goal has been realised"
The LA Clippers plan to further leverage AWS cloud-based services to improve the CourtVision experience and bring fans even more real-time stats and analysis. 
Amazon Sumerian, an AWS service for building AR and VR applications, is also on the Clippers' radar as the team looks to streamline the build of highly immersive and interactive scenes in CourtVision. CourtVision aims to test Amazon SageMaker to build, train, and deploy machine learning-driven stats which will appear on live broadcasts and on-demand NBA game videos.
"Ultimately, we believe this technology will drive a revolution in the broadcast experience" 
"Innovation only happens when big vision is integrated with technological capabilities to bring that vision to life," says Clippers chief global partnerships officer Scott Sonnenberg. "Our goal in launching CourtVision with Second Spectrum was to evolve the sports broadcasting experience. That goal has been realised in large part due to a collaborative approach to computing solutions built utilising AWS."
"The combination of cloud computing and machine learning has the potential to fundamentally redefine how fans experience the sports they love," says Mike Clayville, vice president, worldwide commercial sales at AWS. "Second Spectrum and the LA Clippers are able to leverage Amazon's 20 years of experience in machine learning and AWS's suite of cloud services to provide fans with a deeper understanding of the action on the court."
The CourtVision digital viewing experience is currently available to Fox Sports Prime Ticket subscribers via the Fox Sports mobile application. A first-year limited Beta release has additional customisation features that include the choice of seven different camera angles and three different audio experiences, including in-arena sound. 
Sonnenberg sees CourtVision as a step forward in how we watch sports, with fans having easy, customisable access to a whole set of interactive data. "Ultimately, we believe this technology will drive a revolution in the broadcast experience that translates Second Spectrum's cutting-edge machine learning and augmented reality to all sports, so that fans can watch their game, their way."
This article originally appeared in the July 2019 issue of FEED magazine.