AWS puts the cloud in pole position at NASCAR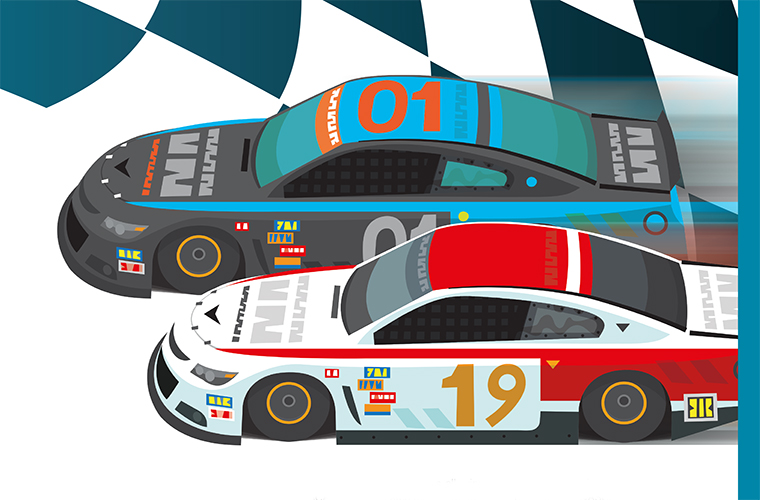 Posted on Sep 2, 2019 by FEED Staff
Sponsored editorial
NASCAR is using AWS tools to put fans behind the wheel of some of America's fastest race cars

Just about every weekend between February and November, NASCAR (National Association for Stock Car Auto Racing) thrills motor sport enthusiasts with some of the highest horsepower racing action around. Cars can reach over 200mph (322km/h), engines rev past 9000rpm, turns exceed three Gs, pit crews move with the speed and precision of professional athletes, and the millions of passionate race fans cheering on their favourite drivers and crews at the track use an ever-increasing variety of smart devices and mobile phones.
It seems a world far away from the invisible, silent transport of zeros and ones across networks, but NASCAR – the top auto racing body in North America – has embraced the cloud. Ever ready to adopt new technologies in pursuit of better performance and better fan experience, NASCAR selected AWS as its preferred cloud computing, cloud machine learning and cloud artificial intelligence provider. 
"Speed and efficiency are key in racing and business, which is why we chose AWS to accelerate our migration to the cloud," says Craig Neeb, executive vice-president of innovation and development at NASCAR. "Leveraging AWS to power our new video series gives our highly engaged fans a historical look at our sport, while providing a sneak peek at the initial results of this exciting collaboration."
NASCAR plans on using AWS technologies to build cloud-based services and automate processes. NASCAR events are broadcast in more than 185 countries and territories. Before 1979, fans watched race-day action on television limited to 15- to 30-minute video highlight packages on programmes from the big US networks. The entire Daytona 500 was broadcast live for the first time ever in 1979 – and post-race fisticuffs attracted passionate fans across the country. 
The racing association introduced a digital platform in 2015. In 2018, the reported race-day digital content consumption was up 30% year-on-year and digital video views increased nearly 50% in the same year.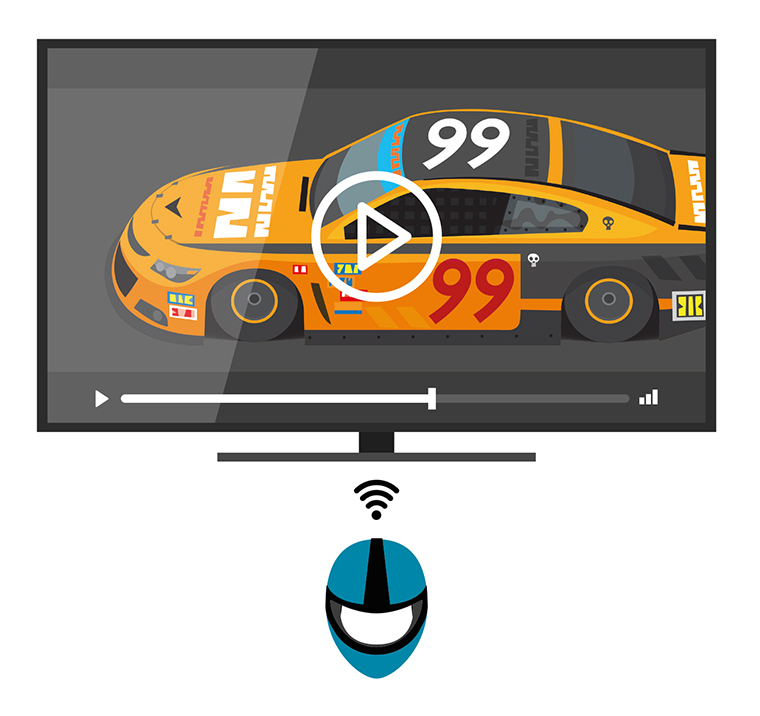 With fans demanding more immersive race experiences than ever, NASCAR is now putting viewers inside the race cars. The NASCAR Drive app lets subscribers experience every curve of the track alongside the driver, easily access real-time race stats and predictions, and gain deeper insight into NASCAR history. 
Second-screen experiences are a critical component of consuming live NASCAR content for race fans. For example, the number of unique viewers livestreaming Fox coverage of the Daytona 500 to their laptops, tablets, phones and connected devices increased by more than 50% from 2018, while both Fox and NBC's streaming numbers for NASCAR coverage have gone up four years in a row. 
Steve Stum, NASCAR vice-president of operations and technical production, says: "We give our fans a lot of ways to consume live NASCAR content, such as NASCAR Drive, a 360-camera feed and communications between drivers and their crew chiefs. We also provide on-demand content 24/7, so NASCAR is at fans' fingertips when and where they want it."
One of the new NASCAR initiatives powered by AWS is a video series called This Moment in NASCAR History. The series kicked off in conjunction with the Monster Energy NASCAR Cup Series race at Michigan International Speedway in June.
NASCAR is migrating its 18-petabyte video archive to AWS, and will leverage Amazon Rekognition – an AWS service that adds intelligent image and video analysis to applications – to automatically tag specific video frames with metadata. Metadata tags can include such information as driver, car, race, lap, time and sponsors, allowing NASCAR to easily search the archive to surface selected iconic moments from past NASCAR races. 
By using AWS's services, NASCAR expects to save thousands of hours of manual search time each year, and will be able to easily find flashbacks like Dale Earnhardt Sr's 1987 'Pass in the Grass', which saw Earnhardt victorious in a breathtaking contest, despite careening on to the grass during the final laps, or Denny Hamlin's 2016 photo finish, won by the closest margin ever in Daytona 500 history. NASCAR will be able to quickly deliver these moments to fans via video clips on NASCAR.com and its social media channels. 
"Moving into the cloud has been our best decision yet"
AWS services will be employed to enhance NASCAR's full range of media assets, including websites, mobile applications and social properties, which are enjoyed by 80 million fans worldwide. 
NASCAR aims to use Amazon SageMaker to train deep learning models against 70 years of historical footage to enhance metadata and video analytics. Sagemaker is a fully managed service that enables data scientists and developers to build, train and deploy machine learning models at scale.
Amazon Transcribe, an automatic speech recognition (ASR) service, will be used to caption and time stamp every word of speech in the huge video archive. This will allow NASCAR video producers to easily locate source footage via text searches. In addition, NASCAR uses AWS Media Services, including AWS Elemental MediaLive and AWS Elemental MediaStore, to support the NASCAR Drive app. These AWS Media Services enable NASCAR to process, package and store broadcast video content, including live races, for delivery to broadcast and industry partners.
To ensure the highest-quality video stream and lowest latency for fans who choose to experience race day on a second screen, NASCAR Digital uses these tools to package, process and store the video for delivery via Amazon CloudFront. This combination of AWS services helps NASCAR deliver more content, innovate new services more efficiently and scale without compromising time and capital. 
"Moving into the cloud has been our best decision yet, eliminating a lot of the friction and overhead costs associated with traditional production and delivery," enthuses Stum. "We look forward to continuing using the technology to push the limits of what's possible for our second-screen viewing experience and beyond."