Dirt Vision livestreams the fast, furious & filthy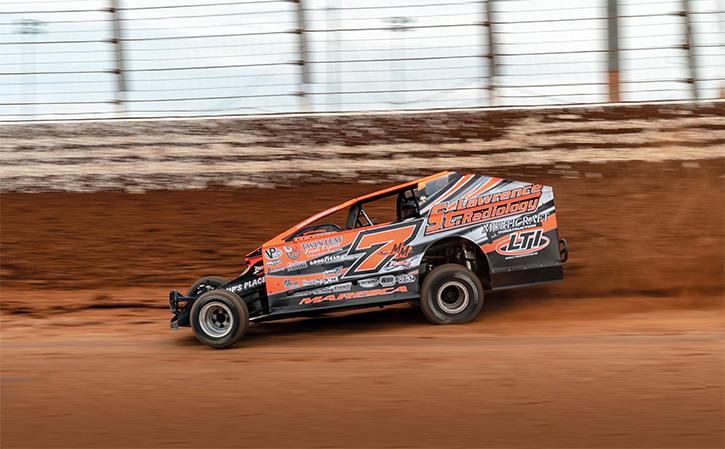 World Racing Group's streaming channel Dirt Vision is racing ahead with an ambitious live broadcast schedule
The scene has played out over and over for thousands of years. Racers circling around a dirt track, audiences tense with the question of who will win and who will wipe out. But instead of chariots on the track, now it′s specially engineered cars, and instead of crowds packed into the Circus Maximus, it's fans watching on their mobile phones at bus stops or on laptops during work meetings.
Dirt Vision launched in 2004, which was early days in the world of live streaming. The online channel is operated by World Racing Group (WRG), and offers live broadcasts and video on demand of dirt track races in the US and Canada. World Racing Group is rights holder for a number of sprint race series, including the World of Outlaws Sprint Car Series and World of Outlaws Late Model Series.
"We started off by streaming a handful of races, when we had decent internet connection at the venue," remembers Brian Dunlap, WRG's director of broadcast services. "It's wild to go back and look at our old venue notes and see when we were happy to push out a 400Kbps stream. But for the time that was as good as most people's home internet connections could support. The improvement of internet streaming has been a really cool thing to witness and to evolve with, and it's really taken a front seat for us in the last four to five years."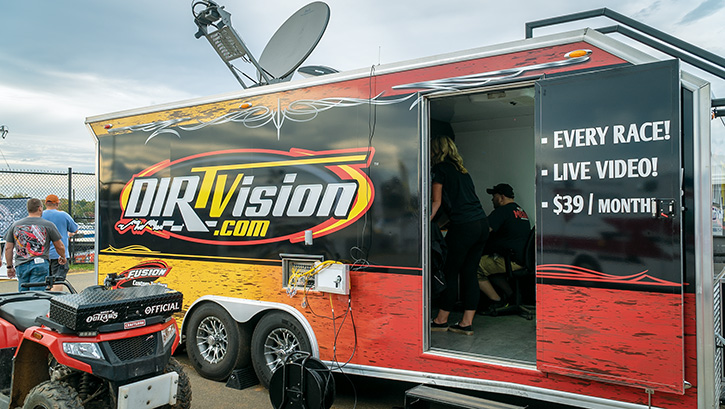 Ready, steady, go! Dirt Track has committed to broadcasting 100% of the World of Outlaws racing season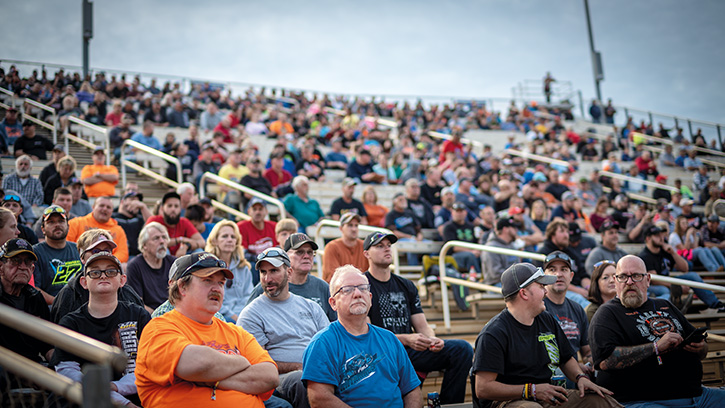 CellSat qualifier
In 2017, WRG did around 70 live broadcasts from dirt track venues across the US. Last year it kicked off an ambitious commitment to broadcast 100% of the World Of Outlaws racing season, which resulted in 120 broadcasts. This year will see further expansion of the broadcast season with 240 scheduled broadcasts.
Each race production has a full-time engineer and a regular team of regional camera operators is brought in to shoot the races. At the venue, Series staff announcers supply live commentary.
Blended cellular and Ku-band IP satellite technology from Dejero has been the key technology in WRG's recent ramp up. The network blending capabilities of CellSat now allow live streaming from venues, which previously would have had unworkable connectivity.
CellSat connects to the production switcher in the WRG production truck and its network blending enables live streaming back to WRG headquarters in Concord, North Carolina, where it is then pushed out to Dirt Vision's CDN and online outlets.
The demanding 2019 broadcast schedule will require deployment of a second OB truck for one race series, a small flight pack for another, and a semi-permanent flight pack at Knoxville Raceway in Iowa, a venue which has been used for car racing for more than 100 years.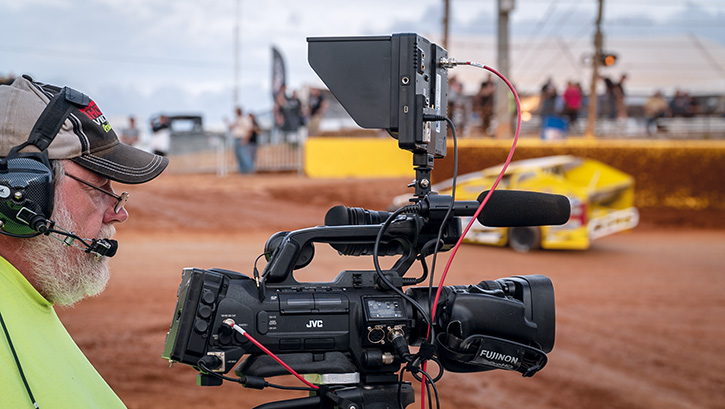 "The improvement of internet streaming has been a cool thing to witness and to evolve with"
Streaming craftsman
When Dunlap started at World Racing Group 15 years ago, a good portion of his job involved overseeing broadcast packages for the terrestrial sports networks, alongside the group's tentative streaming schedule.
World Racing Group still does a handful of shows for terrestrial broadcast in the form of edited highlights or a tape delayed post-produced show, but now the media strategy is built around livestreamed broadcasts, available exclusively online.
With free registration at DirtVision.com, users can access live audio from each event and archived video of races, made available a week or so after each event. Access to the live broadcast is available via pay-per-view or a monthly $39 subscription. The site currently has around 85,000 registered users.
The racing archive houses recordings of live broadcasts dating back to 2004, as well as selected classic races going back to 1979. World Racing uses the off season to continue to ingest historic races and is building up a vault of 40 years of dirt racing history. It is currently hosted on Vimeo and embedded in the DirtVision.com website, but the company is looking for new tech solutions that will keep pace with its growth.
"As rapidly as we've grown, we have to constantly re-evaluate what works for us," says Dunlap. "I signed a year contract with a content delivery network (CDN) and then four or five months later, I've found it hasn't been able to meet our needs. Vimeo works for our archiving now, but I won't be shocked when we have to find an alternative."
The geographical heart of dirt racing is the US and Canada, but enthusiasm for the sport is growing, with particular support Down Under.
"The way their summer and our winter coincide, a lot of the professional racers from the United States will go race in Australia in the off season. They build a strong fan base over there, then those fans use our product to watch them when they come back for the US season."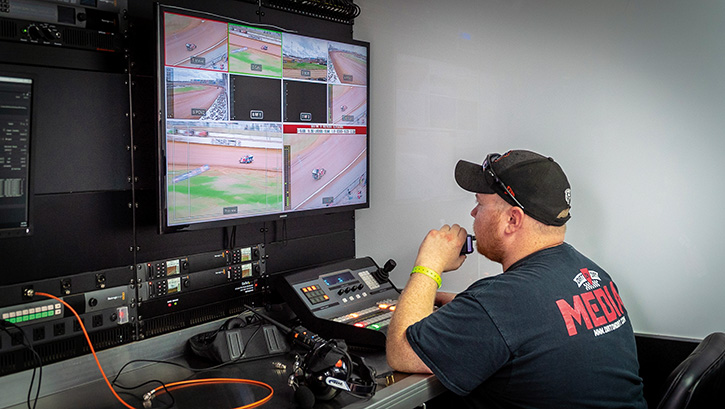 Keeping pace
To keep up with its super-charged production schedule, Dunlap wants to take Dirt Vision to the next level technologically and move beyond browser-based delivery.
"Our next step is to be continuously evaluating technology and products to enhance our broadcasts and make them the best they can be. We haven't yet been in the mobile OTT market, but we want to start looking at that and at apps for platforms like Apple TV or Roku."
Having a full race schedule available online is great for fans, but it's also been good for the racing community as a whole. Dunlap notes a case where one car owner was finally able to enjoy his investment, watching his car in every race, 93 times a year, where he wasn't before.
"That's one of the success stories we've been able to bring about in the community of racers. It means a lot for car owners that are investing large sums of money. They're finally able to watch their cars race."
This article originally appeared in the January 2019 issue of FEED magazine.