VizrTV: Tech vendor turns broadcaster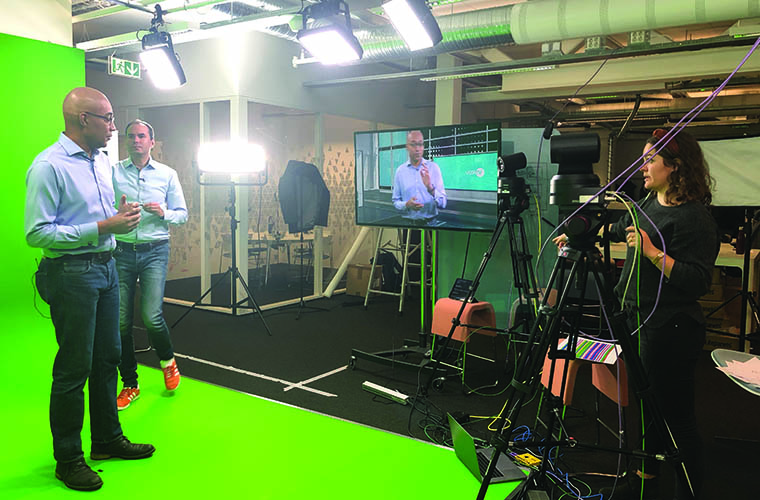 When a high-end video technology company decided it needed a corporate comms solution, it decided to put its own tools to the test
Vizrt is known as one of the world's top technology companies for high-end graphics and virtual sets for television. Its tools are used on everything from sports events and weather to election coverage, providing visual fireworks and data illustration. However, the Norway-based company has 700 employees in 30 offices around the world, meaning that effective internal communication has become an ongoing challenge as the company expands.
"We wanted to not only reach our employees, but engage them," says Catherine Webb, internal communications lead at Vizrt. "For a while, we'd been thinking about the fact that we produced all these amazing products for broadcasters. Why can't we use them for ourselves internally to do what broadcasters do? Reach an audience and engage with them as well."
Vizrt already had a solid internal comms system in place, but knew it was time to up its game. The company had tried internal newsletters, webinars, town halls and various internal social platforms. The company used speciality enterprise social networking site Yammer for some of its internal communications, but its similarity to a social media site was problematic. Since the site prioritises engagement, an important message from the CEOs could be drowned out by pictures of someone's baby.  
"We had to find a way to make sure the CEO's message or the important message of the day gets lifted up to the top," says Chris Black, Vizrt's head of content and communications. "And it's been proven that video is the most effective way to communicate with people, which is where this new initiative came from."
Earlier this year, Vizrt acquired NewTek, a media technology company specialising in affordable tools for microbroadcasters and live production teams who need user-friendly speed and flexibility. Suddenly, Vizrt has all the pieces in place to do an entire internal broadcast facility on their own.
"We have the switchers, NewTek's NDI protocol as an IP standard, the graphics tools, virtual sets and AR," says Black. "All these pieces were there, it just took putting them all together, like our customers do."
VizrTV on the air
The new internal channel, called VizrTV, was trialled in late November with a simple live show delivered from Vizrt's Bergen, Norway R&D centre and corporate headquarters. The show was done three times to accommodate the working hours of Vizrt's global workforce. Microsoft Stream was the platform used to deliver the address, which included a talk by Vizrt Group CEO Michael Hallén, and incorporated a Q&A. 
"Because we have offices in Sydney, Bangkok, EMEA, North and South America, there is no perfect time zone, so we delivered the stream three different times," says Webb, who as internal comms director is also producer of the show. "At some of the larger offices, they got together in a conference room and watched the live stream as a group. People working from home could watch on their laptops. We also had people watching it live from airports. Other people who weren't able to catch the live stream watched on demand later."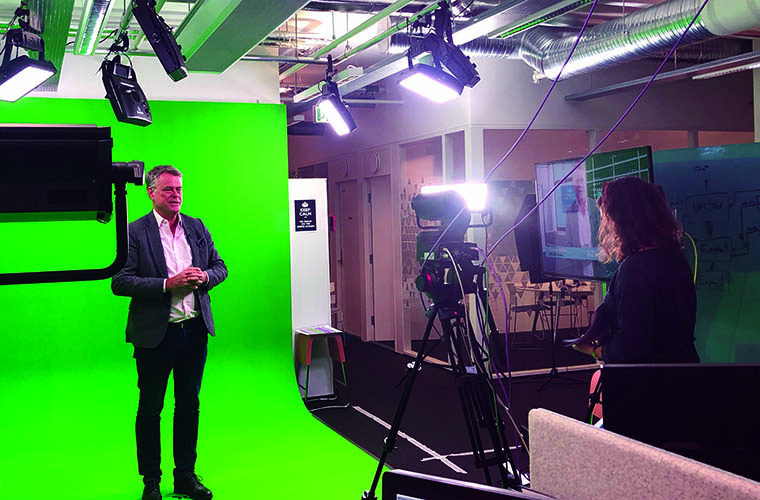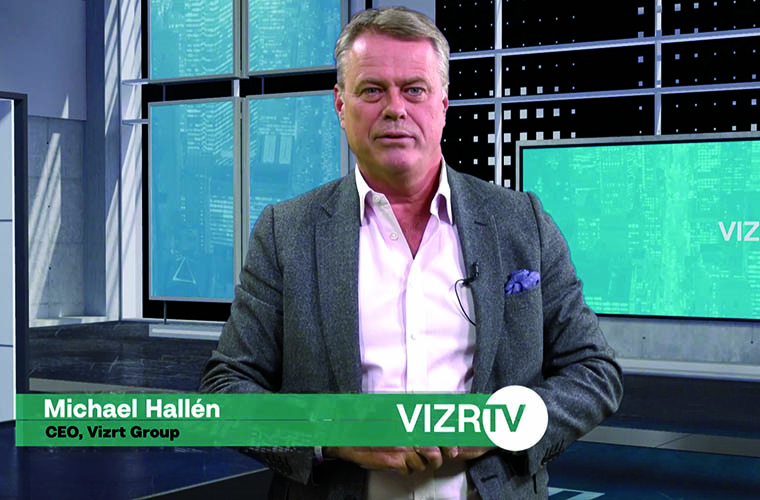 Stream on: VizrTV was trialled in late November and the stream included an address from Vizrt CEO, Michael Hallen
The Bergen studio includes a full virtual set, using Viz Virtual Studio to add in AR graphics. The virtual set has multiple, 'virtual' video walls built into it, which are treated for the purposes of the broadcast as if they were physical video walls on the stage, able to display graphics or video, controlled by Vizrt Software. The production team uses a software-based switcher, called Viz Vector, which is based on NewTek technology. All the components are tied together using NewTek's NDI protocol for IP-based video.
This is going to allow the R&D guys to come in and actually see how this stuff is being used
The plan for Vizrt going forward is to try to have fun, while learning how to develop an effective, video-rich internal comms platform. It hopes to use more AR in the productions and to give its developers a chance to show off and experiment with things that might not be broadcaster-ready. "We hope we can use it as a play tool and learning tool for our R&D team," says Webb.
"The R&D teams are guys who don't get out of their office much," adds Chris Black.  "They're sitting there crunching code most of the time. This is going to allow the R&D guys to come in and actually see how this stuff is being used. They've already gotten a few ideas just from our first session."
Corporate idol
The new studio will also be used for other business-building ventures, including 'Viz University', an online training resource to help Vizrt users build their skills as well as webinars and sales demonstrations. It can also be used as a testing ground and showcase for Vizrt partners, like camera tracking software developer Stype, to integrate and promote its products.
Black is also looking to see how the set up can be rolled out to other businesses looking for the next step in corporate communications. For starters, he'll be replacing the flagship Viz Vector graphics platform with the Tricaster Mini, a switcher newly released by NewTek aimed at the corporate and microbroadcaster market. "Then it becomes something that is more palatable for corporations. If we can add something like that, with some very simple graphics, and have it easily tie into Microsoft Stream or another streaming platform, then it can become something easily used for corporate communications by industry."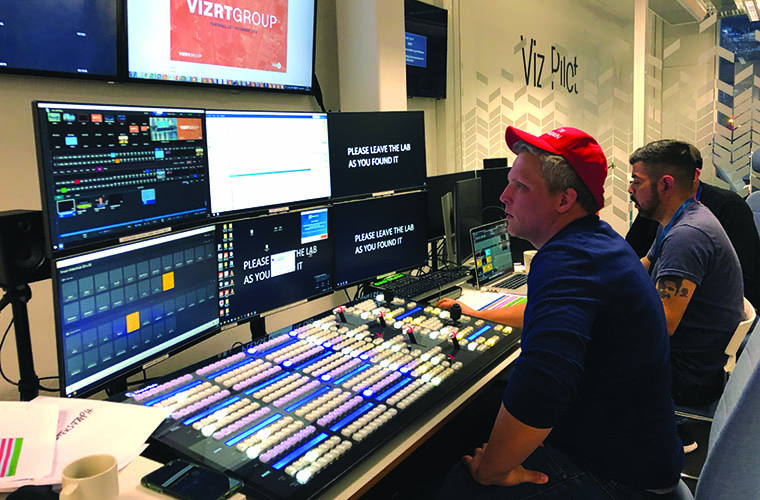 Black, trained as TV director, has also traditionally been Vizrt's public spokesperson. As he focuses his attention on making sure the VizrTV broadcasts run smoothly, he will have to abdicate his role as Vizrt's on-camera personality. As a result, the company has launched a 'Vizrt Idol' to scout it's in-house talent for suitable hosts.
"We've gotten a lot of submissions from all over the company. What we want to do is find a person who has the pieces of the talent there, a spark that we can see. And then we'll get them public speaking classes and presenting classes and get them on the stage to be the new host for VizrTV."
Using video to build a brand has become essential for many businesses. It looks like those same tools can be just as effective when aimed inward. With real broadcasting tools used for corporate communications, it looks like people are finally going to get paid to watch TV at work. 
This article first appeared in the January 2020 issue of FEED magazine.