Feeling good about TV again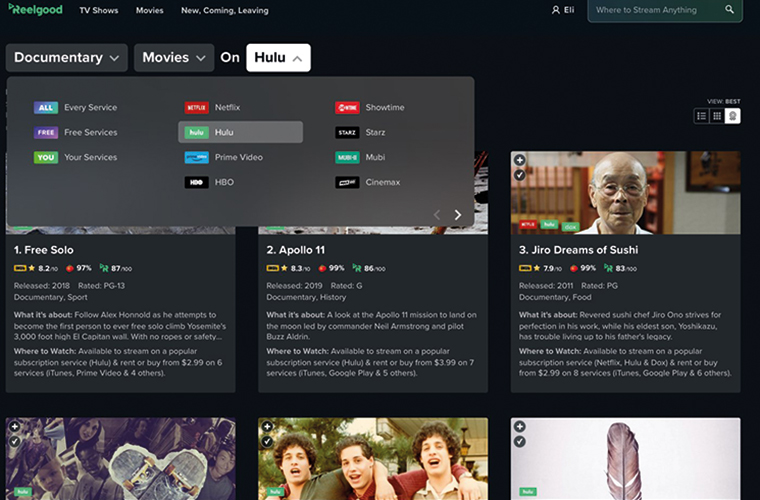 <![CDATA[With the proliferation of streaming video services, watching TV is starting to become a chore. Reelgood has a solution Just when you think you've hit peak TV, you realise you're only in the shallows. There is much more looming on the horizon – Disney+, Apple TV+ and Britbox, and a bunch of other services spun off from broadcasters and brands new to the media space. Some of these services are big and powerful, some light and agile, some just throwing their hats in the ring to see if they can find a new revenue stream, but they are all desperately hungry for eyeballs.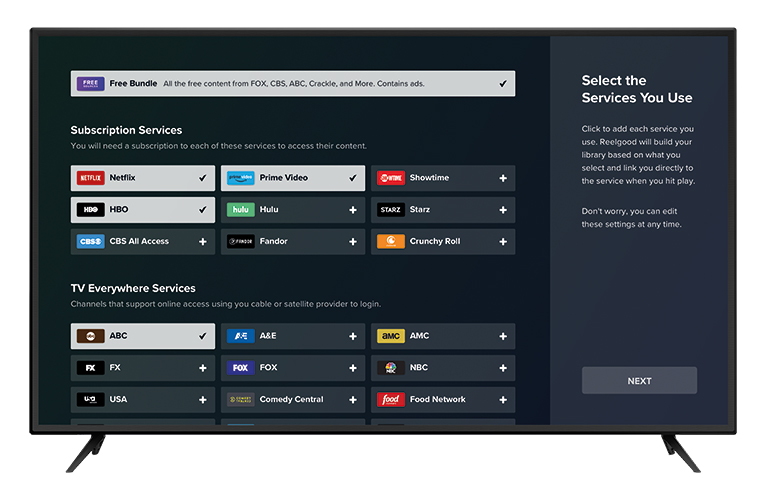 In the meantime, most viewers already find swapping back and forth between Netflix, Prime and the couple of other services they watch to be back-breaking work. For some people, it's a fine line between peak TV and digital noise. California start-up Reelgood has come up with a solution – a platform that aggregates multiple video service into one platform and allows viewers to search for and be recommended content, regardless of where that platform lives. Say you have a hankering to watch Futurama, a search will show you all the places you can see it – Netflix, Hulu, broadcast streaming services, wherever. And the service will make recommendations for you across services, as well. Company CEO and founder, David Sanderson, created Reelgood out of his own personal frustration as a consumer, after moving from his native Canada to the San Francisco Bay area to join the Facebook team in its early days. "Facebook is where I fell in love with building products," he recalls. "I had been an accountant before. When I found out I could build products for a living, I felt like I was cheating, because I absolutely loved it. I couldn't believe I got paid to do it." When Sanderson moved to the Bay Area he didn't bother getting cable. One of the early cord cutters, he had Netflix and another service and that was it. But then as more must-see TV began to enter his life – in his case, Game Of Thrones (HBO), Homeland (Showtime), Brooklyn Nine-Nine (Hulu) – he began to acquire more streaming services.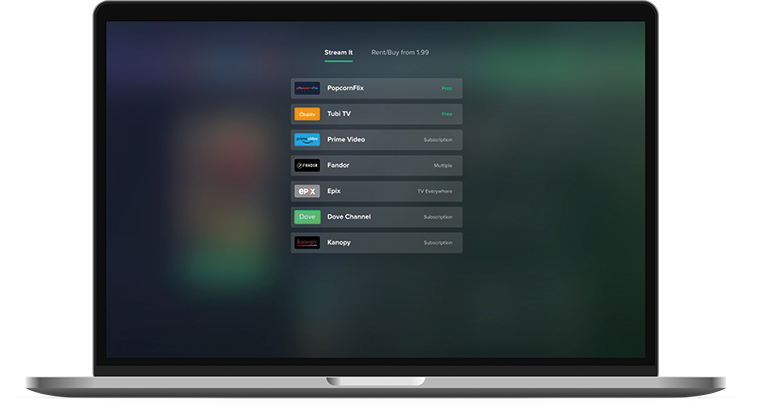 "Every night I was flipping between all of my different apps to see if there was a new episode of one of the shows I was watching. Or if it was a Friday night trying to find a movie I was like, 'Let's see what we have in Netflix. Okay, then let's see what we have in Hulu' . It just seemed so antiquated and silly. And the problem just kept getting worse, with more and more services coming out.
When TVs first came out, they had a knob with three channels on it and that was fine. You didn't need anything more
"It's one of those classic stories. I thought someone else would solve it – it was such an obvious problem. I even waited a couple of years. Eventually it was clear that it was something I would have to do. I knew how to launch products from my time at Facebook and I saw that this was essentially a data problem. And that's what ultimately led me to leave, and to start Reelgood." It's the data, stupid Sanderson feels very fortunate to have had the right idea at the right time. Interest in the Reelgood solution has snowballed as both content companies and content distributors realise they have a mess on their hands without an overhaul in content discovery across platforms.

"I think it's just a little bit of history repeating itself. When TVs first came out, they had a knob with three channels on it and that was fine. You didn't need anything more. But once cable came there were then hundreds of channels, and there needed to be a TV guide to navigate all of that. Well, now TV has moved to the internet, and when it was just Netflix that was fine. But now we're getting past the three channels and that same problem is coming about."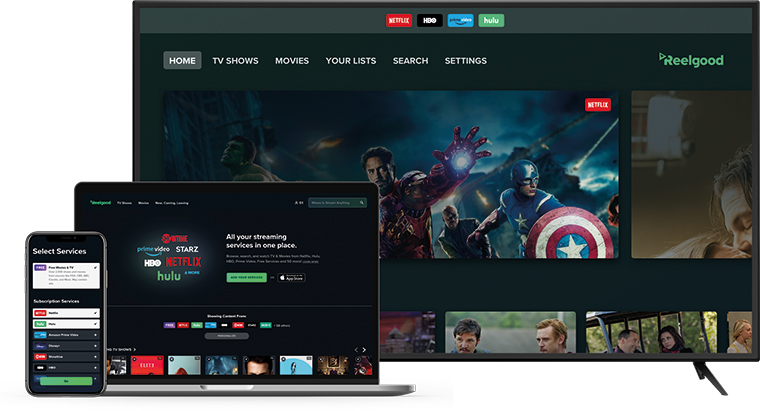 Since it was launched in 2015, the Reelgood platform has acquired tens of millions of users, says Sanderson, and after growing in the US it's about to launch into Europe and South America, starting in the UK in early 2020. The growth of the service has been largely organic: Reelgood hasn't spent any money on advertising. The company won the Webby award last year for best entertainment app.

And Reelgood hasn't just been a success with TV viewers. Technology companies, as well as the streaming platforms themselves, have come to the company for help. "A lot of the big TV manufacturers and other hardware devices in the market have come to us looking to get us on their platforms," says Sanderson. "They see we have a working product that people really love and want to try and bring that to their smart TVs or set-top boxes. That's our next evolution – to be launching with those different manufacturers." Reelgood's attention to putting the user experience front and centre is one of the drivers of its success. The simplicity and clarity of the interface hides a lot of technical complexity.

"If we're doing our jobs right it's not seen, but there is a very complicated back end that powers the whole thing. And largely that's the matching of the data from all the different services. There could be a situation where Season 1 through Season 6 of a show is on Netflix, Season 7 is on Hulu, and Season 8 is on AMC because that's the newest season. Well, Netflix and Hulu and AMC all have completely different IDs or identifiers for that show. What our system has to do, is to match all those together. Gathering the data isn't hard, but matching the data is." How Reelgood receives the catalogue data from the different streaming platforms is also quite complicated. There are a few different APIs that Reelgood uses, but data can come from the platforms through different feeds, FTP dumps, or emailed XML files.
We're getting better content, but the ultimate nightly experience for the user, I think, is suffering
This solution to such a messy problem has brought the company an unexpected, new area of business. A lot of big companies are now licensing that cleaned-up and matched programme data from Reelgood, among them Microsoft, Verizon, Roku and CBS Interactive.

Top-Quality AI The company is employing helpful algorithms and AI liberally, both for its own cross-platform content recommendation engines, and to manage the mess of data created by multiple services.

"For the description field, we may have ten different descriptions for the same movies stored on our database. But which is the best one? We've had to build algorithms for every single field that will look at those and say, 'This is the best description. This is the one we'll show.'" Those differences can also appear in the quality of the content itself. One platform may be streaming a new, remastered version of a film, while another could be streaming a lower res version from 15 years ago.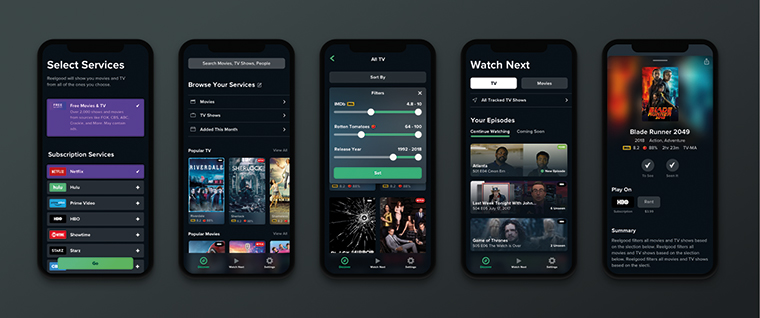 "We are in the process of adding that information now. Part of it has been because Disney, from what we can see of their new streaming service, is flagging content so you know what is an oldie, what the different quality is. Netflix does a bit of this, too – it will tell you whether something is 4K. So we're adding that feature right now, so people can filter that." Reelgood does its very best to nurture and respect its relationships with all of the platforms currently providing VOD. The company wants to be 'like Switzerland' , Sanderson says. "In fact, there was one of the major services that was interested in investing in us. And while it was flattering, we turned it down because that could be seen as playing favourites with the content. So we keep a completely neutral status with all the providers.' "In the past year, for the average US household, the number of streaming services they use is now over four," says Sanderson. "I think that number could go to five, six. But I think at a certain point it will top out. People will only pay for so many services. But I do see the problem getting worse and fragmentation becoming a bigger problem. You have all these walled gardens and it creates that fragmentation. And while we're getting better content, the ultimate nightly experience for the user, I think, is suffering."]]>