Start-up: HoloMe, UK, 2017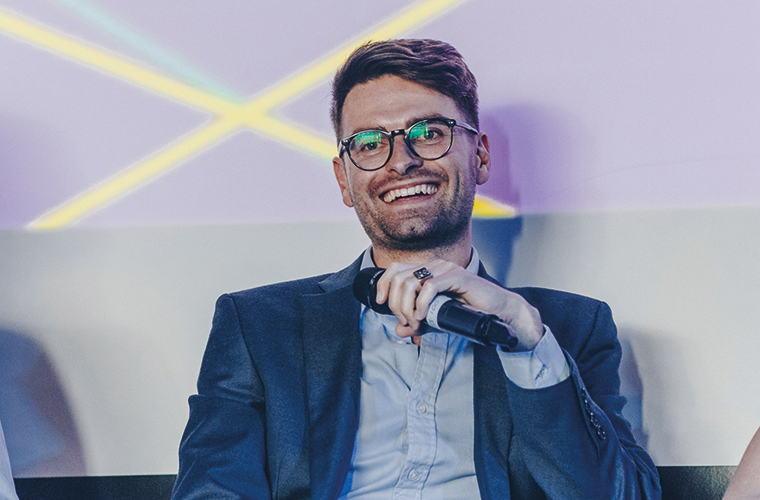 Growing up on an Australian commune with only a black and white TV and phone line as windows to the outside world, Swiss-born Jan Amstutz admits that he's always been fascinated by how humans communicate.
"If you needed to reach someone when I was growing up you'd have to walk down the path, find them and tap them on the shoulder – and that has always struck a chord with me," he says.
"We've seen the digitisation of almost everything, but often at the expense of the human experience. At HoloMe, we want to bring the human experience back into the digital environment," he explains.
HoloMe is a London Bridge-based start-up that Amstutz founded in 2017, producing AR software for creators and brands that allows people to exist in hologram-like form. Think Princes Leia's message via R2D2 – only one that claims to project a much sharper image.
Early uses of the application have included a virtual catwalk for online fashion retailer ASOS, which showcased a range of new looks via models that were beamed through users' smartphones.
Earlier this year there was also a real-time AR fashion show for The London College of Fashion, while French artist Amir produced an AR music video with the software back in May.
People are filmed against a green screen using a simple video camera, which HoloMe's software is then able to cut out and project into any environment.
The image – enhanced with effects to make it appear three dimensional – attaches itself to the floor and occupies the space, moving around while also allowing the person viewing the hologram to move closer or further away.
What's unique about the software, says Amstutz, is its ability to transfer data processing to real time, meaning it uses far less data than its nearest competition.
"A major challenge with AR is that the data sets make it difficult to scale. That's why most efforts so far have been put into smaller marketing and event-based experiences," he explains.
"With HoloMe, the results are almost instant and it requires less data; traditional 3D scanning needs about 100MB, whereas the ASOS AR tool created 20 looks that only consumed between 5MB and 7MB."
Amstutz has been working on the software for over two years, after financing a team of Russian scientists using savings from his six figure earnings working as a commodities manager.
The software team includes HoloMe's current CTO, Denis Islamov, who hails from a family of nuclear physicists and is an "absolutely amazing problem solver", according to Amstutz.
The founder quit his commodities job when the 15-strong company formed and he continued to self-finance the venture until the end of last year, when the firm raised seed funding through a syndicate of business angels, a US venture capital firm and The London Mayor's Office.
"London has a great ecosystem of start-ups and there's a major push by the UK government to win the race in immersive technology – there is so much support here," he says.
Brands typically sign up to HoloMe's SaaS-based platform to use its tool,
which offers a range of licensing packages. Clients trialling the technology include H&M, Net A Porter, Warner Music and Volvo.
While HoloMe's model is currently B2B, Amstutz adds that the company is building out its own ecosystem and will soon have an app to help consumers and influencers create their own messaging with 3D holograms.
Creating a hologram and sharing it, he argues, should be "as easy as making and sharing a video".
HoloMe's ultimate goal, however, is to enable people to travel down that metaphorical path and tap people on the shoulder – people who may actually be miles or continents away. This ambition has led to a partnership with a major B2B communications provider, to create a training tool that blends recorded content with the holograms of trainers in real time. Amstutz believes the arrival of untethered headsets, such as Microsoft's HoloLens2, will make commercial use of this application "frictionless".