Start-up: Streamix, Italy, 2017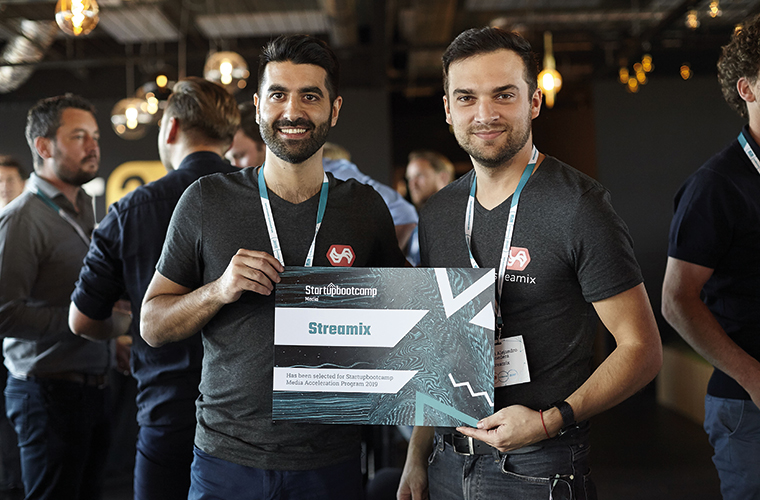 Streamix is a multi-camera live streaming and cloud-based video mixing application for smartphones, for people without high-level production skills or big budgets. It's the brainchild of two full stack developers from Buenos Aires – Cristian Conedera, the firm's chief technology officer, and Sebastian Greco, its chief executive
The childhood friends founded an agency together in their twenties, before going their separate ways to work on other projects, with Greco now based in Milan. However, when the pair viewed a sports journalist friend's "awful" Facebook Live stream two years ago, they saw how limiting technology was for users who live stream videos from multiple sources within the same network.
"Our friend works for an all-digital modern publishing company, but he couldn't produce something more professional at a reasonable price," says Greco. The pair decided to reunite to work on an affordable mobile streaming solution for video journalists, live events companies and news broadcasters.
Armed with the belief that "anything is possible with the internet and a cell phone", by December 2017 they had come up with their first proof-of-concept, an application that comprises two parts.
The first is a wireless camera application, which allows users to stream video via a smartphone (using Wi-Fi or 4G), or via a professional camera using a provided device that allows a Canon 5D, for example, to become 4G enabled. Multiple cameras can connect to the system from around the world.
The second is a cloud-based video mixer, where everything else gets added and which allows users to direct actions from their browser. The mixer also enables users to click to switch cameras, operate cameras simultaneously and to add graphics.
There is a talkback-style communication system built into the app, too, which can be used to prompt journalists to ask questions or let people know when they're about to go live.
Greco explains, "We designed this around a journalist so it has ease-of-use in mind – you don't need a deep technical knowledge base. We take care of things like the frame rate and the resolution on our servers, while the video mixer aspect is highly intuitive."
The product boasts less than half a second's latency using the latest web-based protocols and, with one founder based in Italy and the other in Argentina, Greco adds that they have gained plenty of experience in testing this out.
"We always say you can connect from any part of the world and it would be as if they were in the same part of the room"
"We always say you can connect from any part of the world and it would be as if they were in the same part of the room," Greco says.
The venture is financed by the founders themselves along with backing from Italian VC Embed Capital and the London-based media accelerator, Startupbootcamp.
Clients of Streamix include a handful of event and production agencies that stream events and conferences, as well as mobile journalists and a French news portal. Last month, the company also helped close the Marseille Web Fest by live streaming the closing ceremony using screen sharing, clean audio and multiple camera coverage.
"We're also looking at the minor league sports who don't typically have the budget to do multiple camera productions," Greco adds.
Price plans include monthly subscriptions for single profiles or channels, while agencies and video production companies are offered various packages of hours for live streaming.
Greco says that the firm is now preparing itself for the roll-out of 5G, which, he adds, will further enhance Streamix's capabilities and use cases.
"It will allow us to start experimenting with some crazy things, such as VR streaming and connecting drones directly with 5G – it's going to be quite a revolution," he concludes.