NAB Centennial Celebration: A show to remember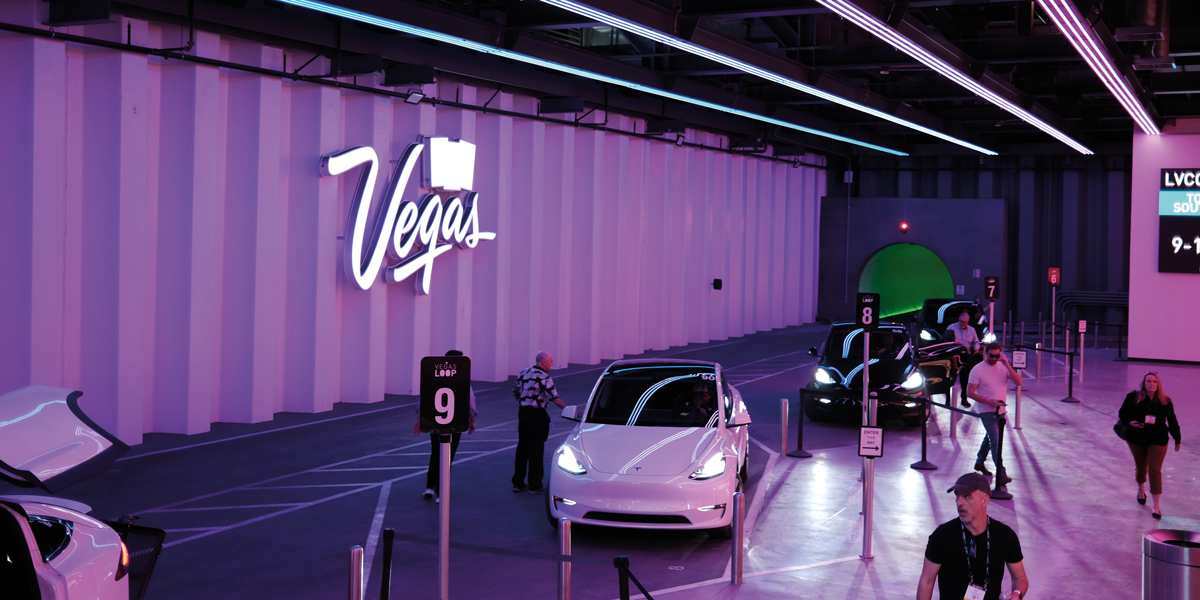 Posted on May 5, 2023 by Katie Kasperson
2023 marked 100 years of NAB – and there's no better place to celebrate that than Las Vegas. The FEED team showed up in style to meet industry leaders, exhibitors and communicators. Here are our biggest takeaways
Just touched down in Vegas town! On Saturday 15 April, the (now all-female) FEED team convened in Las Vegas for our long-awaited appearance at this year's NAB Show. For some (me), it was the first time in Sin City. Luckily, I had three Vegas veterans showing me the ropes.
On Sunday, we made the trek from the LINQ Hotel to the Las Vegas Convention Centre via futuristic monorail. Our first stop was the Central Hall, where we met with Calrec and Clear-Com before splitting up to cover all bases and reconvene later.
Monday began with a Bubble breakfast at the Renaissance Hotel, where we met – round-robin style – with many of its clients. In the day, we visited over 15 stalls, including our friends at Rohde & Schwarz, Blackmagic and Haivision, and I also saw 'A conversation with Brett Goldstein' on the Main Stage, moderated by Ashley Nicole Black.
On our final day, spent almost entirely in the expansive West Hall, we saw over 20 stalls and familiar faces at AJA, Qvest and M2A Media, to name a few. We dropped by the Streaming Summit, listening in on 'FAST, AVOD and SVOD: Defining the new pay TV bundle' before packing up to head home.
As with every NAB, themes emerged, clueing us into the state of broadcast. By speaking with vendors and making our own observations, we saw some clear patterns.
On the up: AI
Of the vendors we met, many have incorporated AI into their latest products and solutions.
Trint uses AI to transcribe audio and video files in over 30 languages, and can also create closed captions, increasing accessibility.
EVS's XtraMotion 2.0 is an AI-based service that uses 'frame interpolation' to create clips in super slow-motion. This even works on archived content.
Magnifi's AI-powered highlight generation enhances sports content and promotes fan engagement. These bite-sized clips can be published to a range of platforms in real time.
Audio Design Desk (ADD) created its own 'Sonic Intelligence' to simplify sound editing during post-production. I saw this first-hand at its booth, where I spoke with CEO and co-founder Gabe Cowan about how 'sound can see'. ADD then gave a demonstration using original audio, with video borrowed from the Oscar-winning Everything Everywhere All at Once.
Meghna Krishna, chief revenue officer at Magnifi, noted that people seemed 'positive but sceptical' about AI at this year's NAB. Gone are days of equating AI to robots rendering us obsolete, but it's new territory nonetheless. AI can parse and generate text, audio and/or video quicker than humanly possible, boosting workflow efficiency. It's likely a tool that's here to stay – at least in the media sector.
An industry first 
Tedial debuted its Smartpacks, a new feature of Smartworks that is a suite of Package Business Capabilities (PBCs). According to Tedial, PBCs are 'reusable software components that provide the key building blocks of a composable enterprise" to streamline business units for broadcasters. It's the M&E industry's first PBC solution. 
Pay TV panel
This year's Streaming Summit featured about 75 speakers in 26 events, covering everything from user experience and engagement to advertising opportunities. We attended 'FAST, AVOD and SVOD: Defining the new pay TV bundle', a panel discussion moderated by Barry Tishgart about what's next for OTT services.
Speakers Archana Anand, Gio Punzo and Brian Rifkin touched on Netflix, Disney and other popular streaming services, analysing their business models and suggesting improvements. They took questions from the group, providing insights for everyone – but especially those new to streaming.
Environmental importance
NAB launched its first-ever Excellence in Sustainability awards, to highlight 'outstanding innovations in media tech that promote conservation and the reusability of natural resources'. Harmonic won the sustainability in product or service award for its CableOS Broadband Platform; EVS, Varnish Software and Immersion Room received honourable mentions.
Most vendors had a take on sustainability, like Alteon.io. Matt Cimaglia, co-founder and CEO, explained how the platform encourages sustainable practices. "I have a philosophy of one file… Not only are you reducing how many hard drives your team needs, but the energy it takes to download or copy that file." By turning away from physical hard drives, companies are reducing the carbon footprint caused by shipping and transportation.
All about optimisation 
There's demand for increased efficiency in all business areas, and 'optimised workflows' seem to be the answer. Both CGI and NPAW offer one-stop shops for data analytics, customer insights and other info, where everything is accessible via one dashboard.
Creative conversation 
Roy Kent himself, Brett Goldstein, graced the Main Stage to discuss his creative approach to writing, acting, stand-up comedy and everything in-between. The conversation, moderated by Ashley Nicole Black, drifted from Goldstein's background and what it's like working in a writer's room to fears, dreams and working with Harrison Ford.
The talk was like watching two friends catch up – which is essentially exactly what it was – Goldstein and Black work together on Ted Lasso, which is now in its third series. Goldstein is also co-creator of Shrinking, the host of Films To Be Buried With and the winner of multiple Emmy awards – not bad.
Hybridisation: Striking a balance
We have seen an undeniable shift towards hybrid workflows. While physical equipment is often irreplaceable, companies are transitioning to cloud-based systems that encourage remote access across teams or entire organisations.
As we head to an even more globalised economy, teams in the US and UK may need to collaborate on a project. Dalet offers solutions for media workflows (Flex) and news production (Pyramid), both of which 'break silos' between locations and make this collaboration possible.
Reliable, high-speed internet is paramount. Dejero prides itself on its 'resilient connectivity', calling this the 'secret sauce' of cloud-based workflows. Smart Blending Technology allows products like EnGo 3 to act as 'souped-up hotspots', regardless of place.
According to Chris Lennon, director of standards strategy at Ross Video, the on-premises/cloud balance depends on your goals. "We're not believers in the cloud for the cloud's sake," he says. By having conversations and educating consumers, companies can find solutions that meet their clients' needs.
'til next time
This year's NAB proved one thing: in-person conferences are truly back. With attendance surpassing 65,000 and 166 countries represented, the industry well and truly showed up. In three short days, FEED connected with countless innovative organisations. We're already counting the days until next April!