Podcasting 101: How it changed the content landscape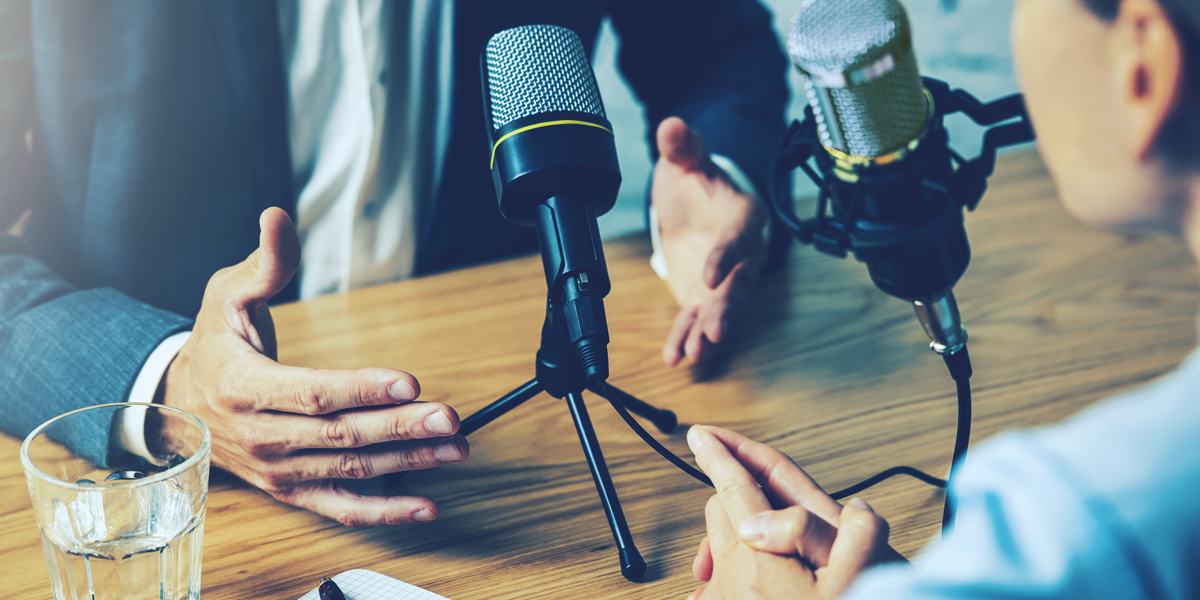 Posted on Feb 1, 2023 by FEED Staff
From cave paintings to virtual reality, humans have always been creative when it comes to storytelling. Enter podcasting – an industry that's challenged and changed the ways we consume content
Words by Verity Butler
The term 'podcast' didn't exist 20 years ago. But in 2022, it has multiple Cambridge Dictionary definitions – the predominant being: "A broadcast that is placed on the internet for anyone who wants to listen to it or watch it." 
That the streaming industry is so young it's coining new phrases on a yearly basis is quite astounding. It's thought that this term was first penned in an article for The Guardian by Ben Hammersley – back in 2004. 
He was writing about the potential for an explosion in amateur radio, arguing: "It all seems quite obvious. MP3 players, like Apple's iPod, in many pockets, audio production software for cheap or free, and weblogging an established part of the internet; all the ingredients are there for a new boom in amateur radio. But what to call it Audioblogging? Podcasting? GuerillaMedia?"
Inadvertently, Hammersley had named an industry with a 2021 market value of $13.785m, and an estimated worth of $153.071m by 2030. 
The year 2004 was also when former MTV video producer Adam Curry and software developer Dave Winer coded a program called iPodder, allowing the download of internet radio broadcasts to iPods. Curry now hosts one of the most popular podcasts on the internet. 
Though, 2005 was truly the year of the podcast; the year that the tech giants' ears began to prick due to exponential increase in volume and demand for this new form of media. Apple led the charge with iTunes 4.9 – the first update to include native podcast support. Media attention was further ignited by George W Bush, who delivered his weekly address over podcast, with the New Oxford American Dictionary declaring 'podcast' its word of the year. 
Now, in 2022, podcasting is a multifaceted realm. Having outlived its near-namesake, the iPod, the concept has become malleable. You have audio-visuals, platform exclusives for the likes of Spotify or Amazon, production studio-quality videos, panel podcasts, documentary formats – the list is truly endless.
FEED spoke to three experts from around the industry to uncover what's behind a successful, clickbait-saturated, 21st-century podcast.
"HAVING OUTlived its near-namesake, the ipod, the term 'podcast' HAS now BECOME malleable"
Step 1: Upgrade your studio
A flashy, red news desk sits backed by a TV screen along with a display cabinet filled with awards and golfing memorabilia. The table is adorned with a pair of expensive-looking microphones and a laptop. From this alone, you may think I'm describing a regular sports television or radio studio.
In fact, what I'm describing is the scene of The Rick Shiels Golf Show – an all-things-golf podcast that can be found on YouTube, Spotify, Apple Music and other platforms. The channel has amassed more than 188,000 YouTube subscribers since its inception, with over 18.1 million total views as of November 2022.
The podcast is hosted by former professional golfer Rick Shiels and producer Guy Charnock, each week streaming a blend of news, product releases, interviews and general golf discussion. All this content is presented by the hosts in a conversational, humorous and light-hearted manner, making for easy on-the-move listening.
"After the success of Rick's YouTube channel, in November 2019 we decided to launch a podcast," says Charnock. "We had two reasons. One I'm not too proud of: everyone was doing podcasts. But the second was that we wanted Rick to share his ideas in a longer-form model. 
"Most of his YouTube content was around eight minutes long – sometimes 15. As a result, people really got to know Rick and his personality, which in turn built a large and loyal audience.
"But we found that creators with smaller audiences had more diehard fans. Our thinking became: 'How do we turn these casual viewers into a hardcore fanbase?'"
The main channel Guy is referring to is Rick Shiels Golf, totalling 2.4 million subscribers and racking up more than 624 million total views.
"We found early on that we got a great level of traction," continues Charnock. "Our audience demographic is broad in terms of age, and has a massive younger dynamic – something people might not expect from golf."
With the growth spurt of their own podcast, let alone its genre, the team started to search for ways to achieve a crisper, more sophisticated look. This was also in response to other podcasts transforming from amateur set-ups to near broadcast-quality levels of production. 
"It was mid-2020 when we started filming. We didn't have a great set-up or venue, so the videos weren't looking brilliant. But we did find that there was an appetite for people to consume them both as long-form video, but also short, bite-sized clips. 
"The strategy initially was to release the clips as eight-minute, clickbait-y snippets from the podcasts. However, the response from our audience was that they wanted to watch it in its entirety. Now, we release the full episode on YouTube, which has continued to go from strength to strength.
"It's normally just myself and Rick talking about golf. But we've been starting to have a great mixture of guests, including some of the world's biggest names in golf – such as Bryson DeChambeau and Nick Faldo."
Shiels' team worked with livestream consultants to improve their hardware and software, including an all-important transition from HD (1080p) over to glittering 4K, which is gradually becoming the industry standard for any top-tier podcast production.
"Before, we were rocking up to the local golf club with two iPhones and an old DSLR," describes digital content producer at Rick Shiels Media, Matt Nowell. "I was having to export and import each one of those files into Final Cut. To create that more conversational style, I'd be swapping between all the angles quite quickly, rather than sticking with just one wide shot.
"This meant that I would film the podcast, but would then have to sit and rewatch the entire thing in real time, chopping each clip individually and hiding all the different shots. It was completely ridiculous how long it took me to get just one clip finished."
The team began to look for tools that could elevate their studio and workflow to the next level. Once they got three Blackmagic cameras and an Atem Mini connected up, Nowell was able to film, produce and edit the podcast to the studio-quality, conversational style they had been trying to achieve.
"The Atem switcher takes so much time out of the editing process," explains Nowell. "Now I have a big monitor that's linked up with all the Atem software. That means I'm able to see all three cameras, live, with a programme output in the corner. It makes cutting between different speakers so much easier."
"We're in a good spot now with the studio. We've got the set-up, equipment and a mixture of guests with great stories to tell," Charnock concludes. "What's also great is that the guests come and are blown away by the set – it looks so professional."
Step 2: Grow your audience
You could build the most elaborate podcast studio imaginable, but none of it would matter if you didn't have the audience to appreciate it in the first place. 
Somewhat unsurprisingly, podcast popularity has risen alongside the unstoppable growth of social media over the past few years.
As podcasters have been learning how to build content and develop output, to be successful they have had no choice but to grapple with social media strategy too, making sure it can be exploited to its full potential.
Take, for example, Steven Bartlett's The Diary of a CEO series: a wildly popular YouTube-based podcast, acting as the Desert Island Discs of money and fame. The show sees entrepreneur and Dragons' Den star Steven Bartlett grilling famous faces, uncovering the secrets behind their professional prowess – as well as some personal stories, too. Interviewees have included politician Matt Hancock, Deliveroo founder Will Shu, Gymshark CEO Ben Francis and the intrepid Bear Grylls – to name but a few. 
With over 34.5 million channel views since its 2019 launch, The Diary of a CEO stands out for its crisp video quality, pioneering a new movement of visual podcast productions. Its intimate feel enhances a show that can cover some deeply sensitive topics. 
Anthony Smith is the trailer editor for the series and knows better than anyone how to rake in those gargantuan viewership numbers.
"Currently, I believe we are the biggest podcast in Europe – it's doing unbelievably well. My job is to create a trailer for each episode, to entice people to watch or listen to the full episode," Smith describes. "This trailer footage is used at the start of every episode, too, almost as a teaser introduction to the full video."
"My background prior to this was working on social media, as an editor for some of the biggest film franchises and TV shows in the world; creating teasers and social trailers."
Smith emphasises how knowing every fragment of content in the upcoming episode is the key to executing a dynamite trailer.
"I start the process by watching the entire length of the video, to create a storyline in my head. That in turn helps me decide what will capture viewers' attention the most.
"Then it's a case of finding a way to create the trailer itself; uncovering the best ways to tell that story through cutaways, archive footage, music, sound effects and so on. Then it goes through the amends process, where we continue to chip away right up until its release."
It feels virtually impossible to scroll through TikTok without its algorithm spitting out one of Smith's captivating trailers, successfully leaving enough out that you are driven to watch more. The role of trailer editor is a tall order, responsible for presenting content to the podcast's audience, both current and prospective, for the first time. 
"The biggest challenge sits behind those storylines," emphasises Smith. "Due to the nature of the podcast, every episode offers a completely different takeaway for our listeners. The tough part is converting the content of a one hour 40 minute emotionally charged episode into a one minute 30 second trailer. 
"We have a mantra of the 1% rule. Every time we start a project, we ask what can we do to add that extra 1% to make it better than before? It's down to me to find fresh ways to edit the trailer – something as small as the text font, or pace of footage. It's a challenge, but a welcome one."
The algorithm battlefield social media presents is another fight taken on by Smith and the team.
"If you want the podcast to grow, you have to look at what does and doesn't work," Smith continues. "What I try to do is sit and read every comment on every platform – and what I learn from that I relay to the team. 
"A good example is trailer cliffhangers. I've always tried to find a strong one to end trailers with, and I saw so many comments saying 'you got me with that cliffhanger again' or 'I need to watch this now'. With that, we learned very quickly what works – without falling into a pit of trying to please absolutely everyone."
Like many others, Smith was new to the podcasting space prior to his current role, but demonstrates an example of how skills can be transferred to this fast-growing industry.
"I was instantly sucked in," he concludes. "The way this industry's grown is fantastic. We've been to a couple of podcast shows and expos, and the atmosphere at those was so exciting. 
"I love how it can be so reactive but also so regular. That many are stepping into visual podcasts adds a whole new dynamic."
Moving on up
Sports podcasts are undoubtedly on the rise. So much so, there is now even an awards show dedicated to them – the Sports Podcast Awards, which had its inaugural show take place virtually earlier in 2022. It commenced after records from the year before demonstrated that sports podcasts were the fastest-growing genre in the medium, with a download increase of 89% on the previous year.
Step 3: Expand the workforce
The two previous examples demonstrate how podcasting is one of those industries you don't usually plan on falling into – but once you do, you're hooked. 
Understanding the degree to which you can transfer almost any skill to the industry is crucial to the creation of a future podcasting workforce. Also, learning the astonishing rate at which you can succeed in the sector may help motivate anyone who's considering taking that step.
Rufaro Mazarura graduated in 2020 with a degree in English literature and creative writing, and in just two years has curated an impressive portfolio of experience as a podcast producer. Her background in the medium highlights how electric the world of podcasting is right now.
"At the moment I work freelance, mainly under a company in Manchester called Audio Always, producing a bunch of different shows for them," begins Mazarura. "One is the Yours Sincerely podcast by Jess Phillips MP, and I'm working with BBC Sounds' latest podcast, Pinned. That unpacks the stories sitting at the top of your social media feeds, including TikTok trends and pop culture."
The sheer variety of content Mazarura has written and produced over the past two years is remarkable. From being the assistant producer on BBC Radio 5 Live's It's… Wagatha Christie, to producing, writing and hosting Whose Stories? – a podcast about the history of Black British children's books for Newcastle University – it's a safe assumption that there can never be a boring day in the office.
Mazarura emphasises how she's constantly learning, no matter the podcast: "With Pinned, our very first episode was about the Harry Styles and Florence Pugh Don't Worry Darling scandal. It was fun, as most people had no idea how that all started, but also fascinating, as the aim of the show is to take those trends and uncover their deeper meanings – to contextualise how we interact with each other online. 
"The reasons it got so much attention were discussed. Like, it just happened to be one of the few female directors in Hollywood. It takes things that seem flimsy and makes them interesting."
Mazarura stresses the profundity of podcast production, and how it's a medium that's unique in delivering captivating, long-form narratives.
"With anything I record, whether I'm the interviewer or listening to the host interview someone, there's always a moment over the course of an interview where, after 45 minutes of filler, you think – that's the story. Everything has been building to that moment, a moment I always look to include at the start of the episode, when I'm editing.
"It's when you have that light-bulb moment of how you are going to craft the podcast into something really interesting," explains Mazarura.
A crucial element of achieving that light-bulb moment is to build a rapport with your guests from the get-go.
"Let's say I was speaking to a psychologist – someone who knows everything about their field," explains Mazarura. "There's still something about being put in front of a microphone that can make people fold in on themselves. That's why I more often feel that podcast producing is about making friends with the person you're interviewing. Because that in turn makes them deliver their thoughts in an engaging way, rather than as if they're reading from a script."
The future of the podcasting industry is undoubtedly bright, with untold space left to grow in the years to come.
"I think we are going to see lots more companies – ones who have cultivated a very specific way of storytelling – start to be given much higher budgets for creating their podcasts," concludes Mazarura. "I would also definitely say to anyone looking to get into this industry: make sure to listen to the credits at the end of any podcast. That's the moment when you realise, there's so much more work going into it than you think." 
Microphone Mania
Swathes of new microphones and audio products enter the market every single year. Sony has recently released the C-80 microphone, a unidirectional condenser mic that's perfect for vocal and instrumental recording, voiceovers and podcasting. 
This inherits the technology of Sony's industry-standard C-800 and C-100 models, thus creating a professional tier of audio quality that is now attainable for even the most amateur podcast productions.
This article first featured in the winter 2022 issue of FEED magazine.