Start-up: Brand Advance, UK, 2017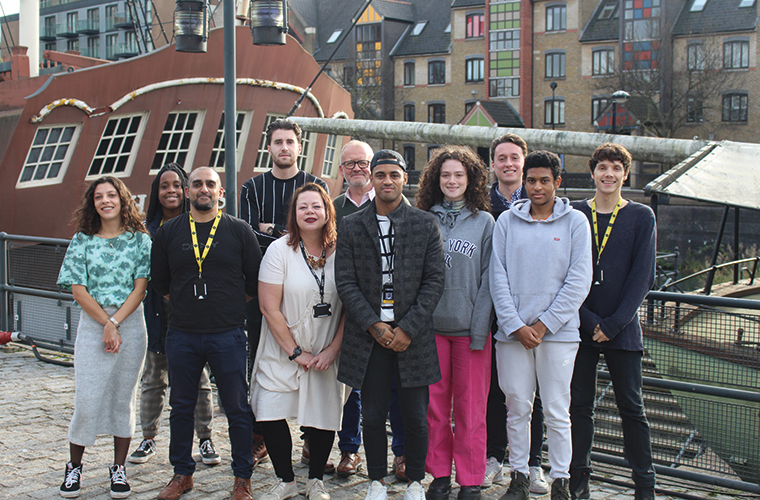 Christopher Kenna (centre) was inspired by his personal experiences to launch a diversity-driven media platform
No brand wants to appear next to online content that promotes terrorism, race hate or unsolicited porn, and one way of preventing this from happening is through keyword blocking. The problem with this method, however, is that requests are rarely contextualised and a whole host of banned words are preventing brands from reaching diverse audiences.
Former advertising executive, Christopher Kenna, observes: "The top five blocked words in the US and the UK and most of mainland Europe right now are 'black', 'Muslim',' 'interracial', 'gay' and 'lesbian'." He adds that these come above 'gun', 'murder', 'stab' and 'rape' and they are blocked by every brand and agency.
According to Kenna – who has also worked as a commercial director at Gay Times – this is counterproductive: LGBT, BAME and disabled audiences are estimated to represent £81bn, £300bn and £250bn in spending power, respectively. More worryingly, the practice of keyword blocking is also killing media outlets' reach and robbing minority groups of a voice. At Gay Times, Kenna said he was forced to haggle with media agencies over £500 for a double page spread, while the same agency was willing to spend £30,000 at GQ to reach the same number of people.
But what really drove Kenna to launch his own diversity-driven media platform to help agencies and brands reach minority groups was his personal situation. The black, gay, former soldier has two teen children – a white daughter and a mixed-race son. "So, as advertising is right now, under the guise of brand safety, can only speak to one of my kids digitally – the other is just blocked," he says.
Building his own solution started off as a way of correcting this issue. And so Brand Advance was founded two years ago, with little more than a spreadsheet and an idea: a walled-garden ad server catering for publications that speak to BAME, LGBT, disabled, female, Gen Z and elderly audiences. They are all carefully vetted for brand safety, meaning that advertisers don't need to use keyword blocking.
"The first iteration was built mainly by me watching YouTube videos two weeks over Christmas," Kenna confesses. "At one point I got stuck, but because it was Christmas Day and I couldn't reach anyone, I put out a message on my social and someone from Pakistan got in touch. I sent him my code and he talked me through what to do via Skype."
By January, a rudimentary prototype was developed that persuaded their first major partner to come on board. "Winning business is sometimes like the chicken and the egg," he reflects. "I sort of had to sell the idea and get someone to buy it before we could build the server properly."
The top five blocked words in the US and the UK and most of mainland Europe right now are 'black', 'Muslim', 'interracial', 'gay' and 'lesbian'
The platform is now on its sixth iteration, and partnerships with Ad Butler and Integral Ad Science have enabled Brand Advance to refine and scale the system. The platform now claims to reach around 850m people every month and boasts around 550 minority audience publication partners and platforms.
Now in its second full year of trading, Kenna says the firm is on track to make around £4.5m worth of bookings with brand clients including Unilever, Diageo, L'Oréal, Google, Mercedes and Warner Bros. Media agency partners include Omnicom, Mindshare and Dentsu Aegis. There are also plans to expand into the US and Germany. Although Brand Advance runs its own campaigns for retailers such as Zalando, Kenna doesn't view his start-up as a media agency. "We act more as an extension to the agencies that are already out there," he says.
The London-based company's reach also includes out-of-home advertising. A deal it cut with Clear Channel sees Brand Advance manage the OOH operator's network of digital screens in the UK's LGBT bars. The company also now manages 55 screens in chicken shops around the UK, which, Kenna concludes, is the only place in the world – "besides Fornite" – that advertisers could ever hope to reach his 15-year-old son.
This article first appeared in the June 2020 issue of FEED magazine.