Start-up: Zencastr, US, 2015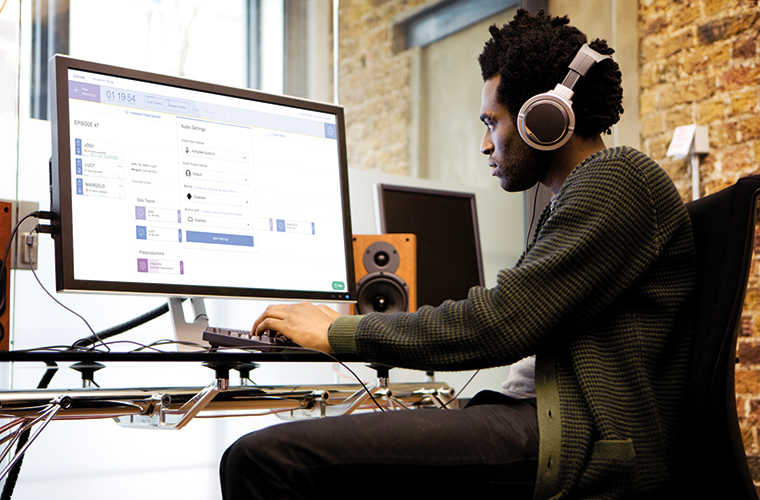 Posted on Jun 25, 2020 by AnnMarieM
Zencastr helps podcasters avoid bad sound quality for their remote guest speakers
As the coronavirus pandemic forces many parts of the world into lockdown, home-based working and web-based communication tools have become vital to us all. Which probably explains why Zencastr's website is getting slammed with new traffic right now.
The company is the brainchild of Utah software developer, Josh Nielsen, and offers a solution that makes it easier to record high-quality audio for remote podcasters. According to Nielsen, Zencastr became possible around five years ago when web browsers started to offer new audio features that enable developers to create features, such as oscillators and synthesisers.
Around six hours of work goes into the average podcast episode, from scheduling and scripting to editing and distribution
"These allow you to mix and record audio in your web browser – which was interesting to me, because browsers are the ultimate accessible platform," he says.
The resulting solution took time to develop, with Nielsen spending 30 hours a week on Zencastr, as well as taking on contract work to support his family. "I thought it would take six weeks, but it took six months," he recalls.
For podcasters wanting to feature guest speakers contributing from a remote location, however, it was worth the wait. While many rely on video conferencing apps such as Skype, Zoom or Hangouts to record the call, these apps tend to record the podcaster in good quality, while their guests often sound as though they are speaking over video conference – or from very far away – with all the sound dropouts and compression artefacts that this experience can bring.
"With actual video conferences you tend to forgive this," says Nielsen, "but on a podcast, listeners are very sensitive to this kind of experience." While it's possible to make a quality record of each person on both ends with some apps, this approach doesn't work for one-off guests who might not be tech savvy, Nielsen adds. "It can be hard to train them how to do that on their end and then you have the hassle of getting the audio back and forth, and exporting it and sending it."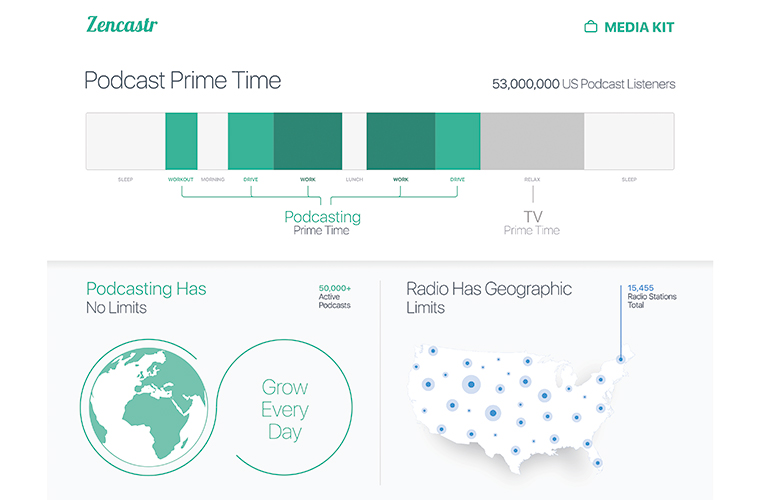 Zencastr addresses this pain point by recording each participant separately on their computer via their web browser. The podcaster sends each guest a web link and they automatically join in a live VoIP connection. Neither party has to install anything, not even a browser extension. Once the studio-quality recording is complete, each solo track is uploaded to the Zencastr cloud and synced to the host's preferred cloud drive.
Since its beta launch in 2015, the tool has become a standard for remote podcasting and, according to Nielsen, has already crossed the 40,000 hours of podcast content per month mark.
Users include independent productions such as Making Sense with Sam Harris, as well as enterprise-level clients, including Amazon and Microsoft and General Electric – which uses the podcast facility to address staff for its internal comms. In addition to providing recording facilities, Zencastr also offers an automated mixing service, delivering files in MP3 or WAV formats in minutes.
Becoming the host of a company's web files is also on the start-up's road map – and something Nielsen says is scheduled for the third quarter of this year. He adds that V2 will involve hosting and distributing content, as well as marketing it. "Around six hours of work goes into the average podcast episode, from scheduling and scripting to editing and distribution, so we're looking to become more of a one-stop shop, offering a 'click record and we'll take care of the rest' type service," Nielsen says.
While some of these solutions will inevitably form part of a premium package – a paid version aimed at professionals was first launched in 2017 and includes multiple users and up to ten hours of
post-production – Nielsen is keen to support hobbyists on its free plans, some of whom have been using Zencastr since its initial 18-month beta trial period.
During the coronavirus pandemic, the start-up has also announced it will be waiving the limits for all of those on its hobbyist tier, as US states such as California ring-fence podcasting as one of its essential businesses. For this hobbyist group, the company has dropped its limits on hours and the number of participants until the beginning of July.
This article first appeared in the June 2020 issue of FEED magazine.