Start-up: M2A Media, UK, 2016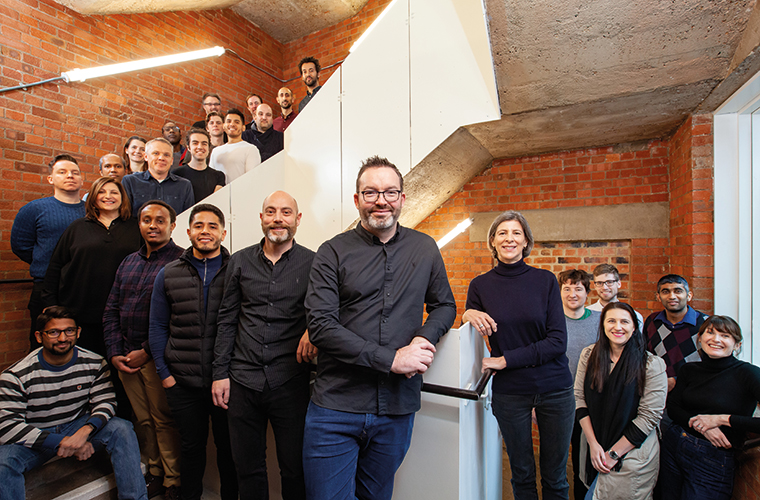 Posted on Jun 25, 2020 by AnnMarieM
Marcus Box (centre) is the CTO of M2A Media, a start-up offering cloud-based services and solutions for delivering live capture and VOD workflow
M2A Media was founded by Marina Kalkanis and Marcus Box, two software engineers who led on the launch of the BBC's iPlayer and the delivery of the broadcaster's 2012 Olympic coverage.
Their experience of migrating the broadcaster's tape-based linear playout workflow to file-based IP delivery, running in a public cloud, has shaped their start-up, which offers cloud-based services and solutions for delivering live capture and VOD workflow.
Kalkanis says: "We saw the success we had with this at the BBC, and while not everyone was doing it yet, and VoIP hadn't yet become a trusted standard, we knew it was the way things were going. With the cloud, you are talking about weeks to get a channel up and running; you can react to new platforms far more quickly."
It was cloud's ability to expedite the launch of new services that led to its first long-standing broadcaster client, Channel 4. Serendipitously, the UK public service broadcaster bagged the rights to air Formula One in early 2016, at roughly the same time M2A launched.
Talks began in April to launch a live capture service that would drop events as soon as each race has finished, and they were delivering by June. "It was the perfect cloud solution: the races are once a month, so they don't want to invest in the kit, but when they do happen, you want to throw as much processing power on the production as you can," Kalkanis says.
While M2A also provided capture from live streams for UK commercial broadcaster ITV, its main offering is its live streaming product, which provides an end-to-end service, taking video from a range of sources and delivering it to a variety of consumer devices.
"We also offer this on an event basis, so the client will give us their schedule and we will automate all of the structure they need just for the periods of time when they are streaming," adds Kalkanis.
One of M2A's biggest customers in this area is sports streamer, DAZN. The firm offers other important specialist services around live streaming, including making live rewind windows and catch-up content available and putting advertising insertion breaks into the screens and on the live stream.
With the cloud, you are talking about weeks to get a channel up and running; you can react to new platforms far more quickly
M2A's products are charged on a per-licence basis, while its 24/7 operational support services is structured around audience size. Almost a quarter of the start-up's 43 staff is dedicated to supporting its around-the-clock MCR operations.
Kalkanis admits that being a service provider as well as software company can make it a more complicated business to run at times, "but on other the other hand, our aim is to make sure our customers have a really great service".
While bespoke engineering jobs – for companies such as US music streaming service, Vevo – provided the company with much-needed cash flow in its early days, Kalkanis adds that she has learned not to rely too much on this work. "It's better to focus on building products so that when we build something, all our customers can get the benefit of it – this scales better."
Also crucial to the company have been the strong partnerships it has formed with third-party companies that help support the service M2A offers, which include cloud provider AWS Elemental, the packaging and origin service provider Unified Streaming, and UX design and platform specialist, Ostmodern.
The company is currently working to develop further products, including one that handles the transportation of contribution video – typically provided by satellite or fiberlink for large-scale live outside broadcasts and events.
"We see that as another area that is going to move into public cloud – for the volumes that people want to do and for the flexibility they require, overheads for satellite are just too high," she says.
Other areas the team is working on intensively include a low-latency video over IP solution to deliver video over the internet as quickly (or quicker) than broadcast television, as well as the integration of ads into live streams.
As we speak, at the beginning of the UK's coronavirus lockdown, the firm is dealing with new challenges. Kalkanis says that many clients are exploring how they can deliver live content to bigger audiences, while VOD processing requests have also increased, with sports clients in particular looking at how they can exploit their archives to fill new gaps in the schedules.
This article first appeared in the June 2020 issue of FEED magazine.