What broadcasters need to know about TikTok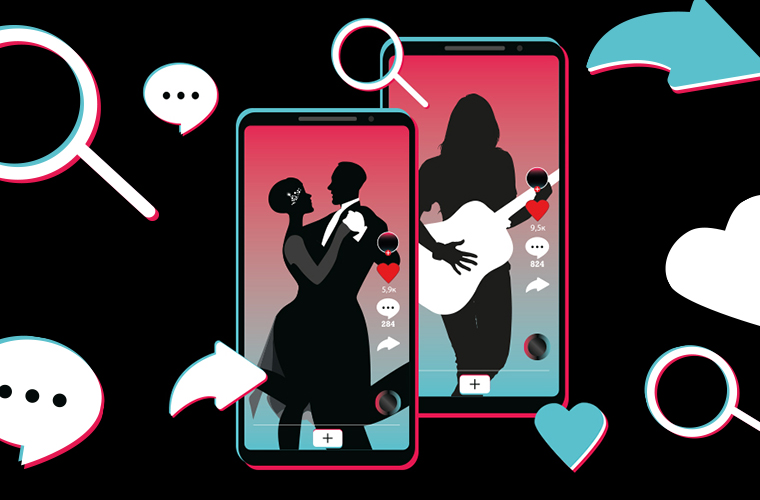 Posted on Jun 25, 2020 by Nicole Koble
TikTok is the social media playground du jour, but the social app could also be big business for broadcasters
A record-breaking, chart-topping single. Public health campaigns. And silly, globally viral dances. TikTok isn't just for kids – it's big business now.
TikTok arrived in 2018, evolving out of lip-syncing app Musical.ly after it was bought for a reported $1 billion by Chinese app maker, ByteDance. Like Vine before it, TikTok lets users post short, 15-second to one-minute looping video clips, and dance moves and lip-syncing dominate the app.
The bewildering user interface, with text laid over the top of video snippets, may put off some older adults, but now only half of its 800 million active monthly users are under the age of 34.
A TikTok spokesperson tells FEED: "While Gen Z have been TikTok's early adopters, we have seen our audience gradually expand and mature over time to become extremely diverse."
Even if you're not on the app, you've no doubt heard its influence: last year's country-rap single, Old Town Road, spent a record-breaking 19 weeks as the number-one song in the US after going viral on TikTok. "We've found many artists break through to the mainstream charts following going viral on TikTok," says the spokesperson, "including Doja Cat's song, Say So, and Dance Monkey by Tones and I. We think that will only continue."
Alongside promises of success, there have been concerns — particularly around content moderation, censorship and data privacy. That's exacerbated by the fact that TikTok is owned by Chinese developer ByteDance, at a time when Chinese-US relations are strained, and when concerns around Chinese surveillance via technology are being openly debated with regards to Huawei's technologies in 5G networks. In response to criticism by US politicians last year, TikTok issued a statement stressing that all of its data is stored outside of China, and that it has never been asked to censor by that government. It's worth noting TikTok is the version of the app available outside China, while ByteDance runs a separate app called Douyin inside the country.
How does TikTok work?
One of the key differences between TikTok and other social apps is the AI algorithm that suggests what users see — unlike most other social media, it doesn't care who you're friends with.
"The details behind the algorithm are a closely guarded secret," explains eMarketer principal analyst, Debra Aho Williamson. "But what is generally known is that users don't have to follow anyone in order to start using TikTok. Immediately upon opening the app, it shows a steady stream of content that TikTok thinks a user might like."
But, over time, the algorithm learns more about each user, watching how they navigate the feed, which videos they skip and which they like, says Williamson.
"New videos with fewer engagements are interspersed with other videos that have a large amount of engagement, and TikTok watches the view-to-like ratio closely to determine how quickly to start showing a new video to a wider audience."
That focus on content over connections means a video doesn't need to have a million views before it'll be surfaced to users, says Ismael El-Qudsi, CEO of social marketing platform SocialPubli. Instead, it'll be shown to users if their interests match its hashtags, which are used to describe the video.
"The TikTok algorithm is based on the content instead of the number of followers," El-Qudsi explains. "Each user sees videos related to their interests, no matter if they are following a person or not. It's common to find some profiles with a few followers that have videos with thousands of views."
The details behind the algorithm are a closely guarded secret
Advertising to your audience
That has an impact on advertising — and, like others in the social space, TikTok is still grappling with how to make money out of its 800m users. Alongside the usual video and full-screen ads, there's also Top View, which shows an ad when the app is opened, making sure it can't be missed or ignored; all of that can be targeted based on demographics, device, interest and more, says the TikTok spokesperson. Another way for companies to get involved is the Creator Marketplace, which helps brands partner with TikTok creators, tapping into their knowledge of the app and their audiences for marketing.
However, the most popular ad format on TikTok is the 'hashtag challenge', a viral marketing system that invites users to participate in contests or make themed videos. BBC One's The Greatest Dancer ran a challenge searching for dance moves, sparking more than ten million video views, while ITV's Love Island sponsored hashtag challenges using ideas from the show.
"This allowed users to put their own creative spin on what they had seen on TV," says the TikTok spokesperson, "and engage with the content in a way that had never been done before."
However, it's still early days for TikTok and advertising, says Williamson. "Its main ad formats – the hashtag challenge, the homepage takeover ad, the in-feed video ad – will no doubt be refined in the coming year," she says.
One change she predicts is the creation of an auction-based ad-buying platform, similar to that used by Google, which should make it easier for smaller companies to advertise on TikTok.
Broadcast success
That said, TikTok's business model need not be limited to traditional advertising, says Williamson — there are other ways it could open up to commerce. "Its rival, Instagram, has spent the past few years turning itself into a shopping destination, and shopping-related ads and activities are a growing business," Williamson says. For example, Instagram offers ads that directly link to shopping pages, making it possible to shop in-app.
"TikTok has lightly experimented with letting its creators engage in commerce, but there is a lot more ground to explore here," she adds. "Live broadcasting is another potential revenue source. TikTok's Chinese sister app Douyin makes money from selling virtual currency that users can then give to influencers who do live broadcasts on Douyin."
I think that sports outlets are making better use of the platform
Indeed, broadcasters have found success marketing on TikTok without buying hashtag challenges or other advertisements. BBC's Strictly Come Dancing used the app to extend its reach with younger audiences simply by posting videos.
"They've generated a huge amount of engagement, posting behind-the-scenes videos using TikTok filters, and participating in trending dance and acrobatics challenges like #flyingpressup and #ohnana, which has helped them grow a six-figure audience in just a matter of months and get millions of views on their videos," the TikTok spokesperson says.
And it's not only for reality shows. Sky News streamed government press briefings about the coronavirus pandemic via TikTok, in order to expand its reach. Sports broadcasters have also had particular success. "The significant news outlets have more than 100,000 followers now – including NBC, CNN, New York Post, Fox – but ESPN has seven million," El-Qudsi says. "I think that sports outlets are making better use of the platform."
To get started with TikTok, El-Qudsi shares a few basic tips: use filters and stickers to appeal to younger generations, publish at least three times a week, and ensure you tag your videos or they won't get any attention. One way for smaller businesses and niche broadcasters to get attention is to join in the daily video challenges that draw the attention of everyone on the app, but it's worth noting that TikTok fans will see straight through stuffy attempts at marketing.
"The brands we see having the most success advertising on TikTok are those that embrace the creativity and authenticity of the TikTok community to create bold campaigns that bring in all the tools on offer," points out the spokesperson for TikTok.
And that might be the biggest challenge of all: convincing a global audience of Generation Z creators that your video is the one not to skip.
This article first appeared in the June 2020 issue of FEED magazine.