Start-up: Holographics, Netherlands, 2019
Holographics is a start-up that evolved out of the Amsterdam-based video production firm, Stream My Event
The technology-driven company, founded by Thom Verdenius and Floris Porro in 2011, specalises in live streaming and other technically complex production issues, with corporate clients including Philips Lighting, Hyperloop One, Deloitte and NAB show.
The pair has also recently returned from the Bridgestone World Solar Car Challenge in Australia, where they provided the Dutch team with internet connectivity, innovating with specialist military satellite kit and convoy LAN.
Operating in the mid-level events sector, Verdenius and Porro note that for firms like theirs there was little in the way of flexible live graphics solutions that didn't come with clunky hardware and long contracts.
"We need super flexible solutions that allow for last-minute changes. A change in speaker line-up at an event, for example, might mean a last-minute change of a lower third," Verdenius explains. "The idea was to create something lightweight that adds value to live productions because in this space, graphics tend to get killed for lack of time." 
After creating and beta testing a live graphics solution for video streamers last year, the pair launched Holographics at the beginning of 2019.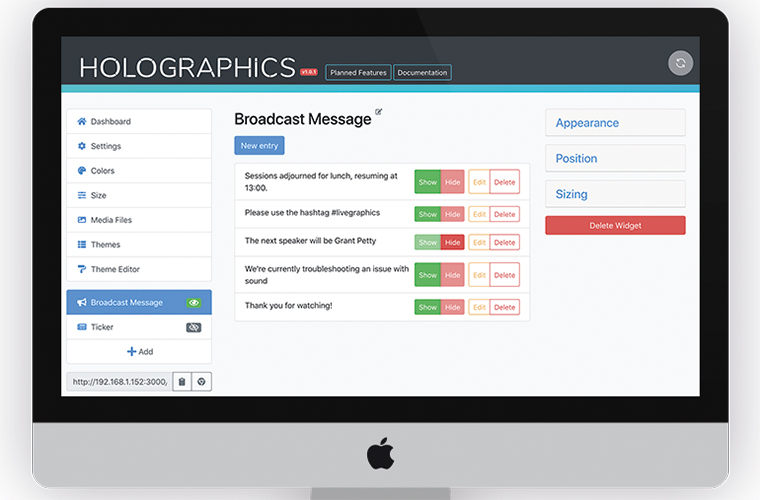 The duo's aim is to target the rapidly growing segment of small and mid-sized live content creators with a product that they claim, "fills the gap between expensive hardware products and fragile DIY freeware". 
Verdenius likens their vector-based live graphics software package for OS X and Windows as "WordPress for graphics". The technology is based on widgets and themes, with a built-in library of both that includes tickers, lower thirds, broadcast messages and countdown timers.
One of the package's USPs is that it enables non-technical users to make their own adjustments and create their own features with relative ease. Design styles are based on a standard web-based Cascading Style Sheet (CSS) and allow users to tweak fonts and colours, while more advanced users can create a full, custom design package.  
Holographics also offers users an API, enabling firms to create their own bespoke widgets. "When we go to meetings about this software, I often prepare a company's graphics in their own colours and house style – this takes about three minutes once you've downloaded the logo and
the primary and secondary colours," explains Verdenius. 
"If you compare this to all the existing live broadcast graphic solutions on the market, you realise how fast and flexible it is by comparison," he concludes.
Because Holographics uses web browser technology to render and display, the company claims to be able to output to most third-party software that supports web templates, including OBS, V-Mix and other multi-camera software applications supporting HTML overlay. Holographics also allows for industry-standard key and fill output to video switchers, including popular models from Blackmagic, For-A, Grass Valley and other major vendors.
While some vision mixers come with their own graphics, it's Verdenius's opinion that they offer a limited, dated-looking selection – including those cheesy 'glow' graphics. He adds that these solutions are also less flexible because they're not vector based.
Holographics – which is entirely bootstrapped by Stream My Event – offers several different price structures. Creators can download for free to start using a basic version of the software, while subscribers can create unlimited widgets and receive support for just $20 per month. The software's V1 is also available to buy under a perpetual licence model for $200.
Verdenius, whose company is being supported by start-up accelerator Startupbootcamp, admits that running a software company is a new challenge for the entrepreneurs. "We always wanted to do software – we just needed to grow our company first. But it is a completely different ball game.
"The main different is volume. You have lots of consumers at a low price point compared to a few customer with a much bigger one. But software does allow you to scale really fast."