AWS: In league with remote workflows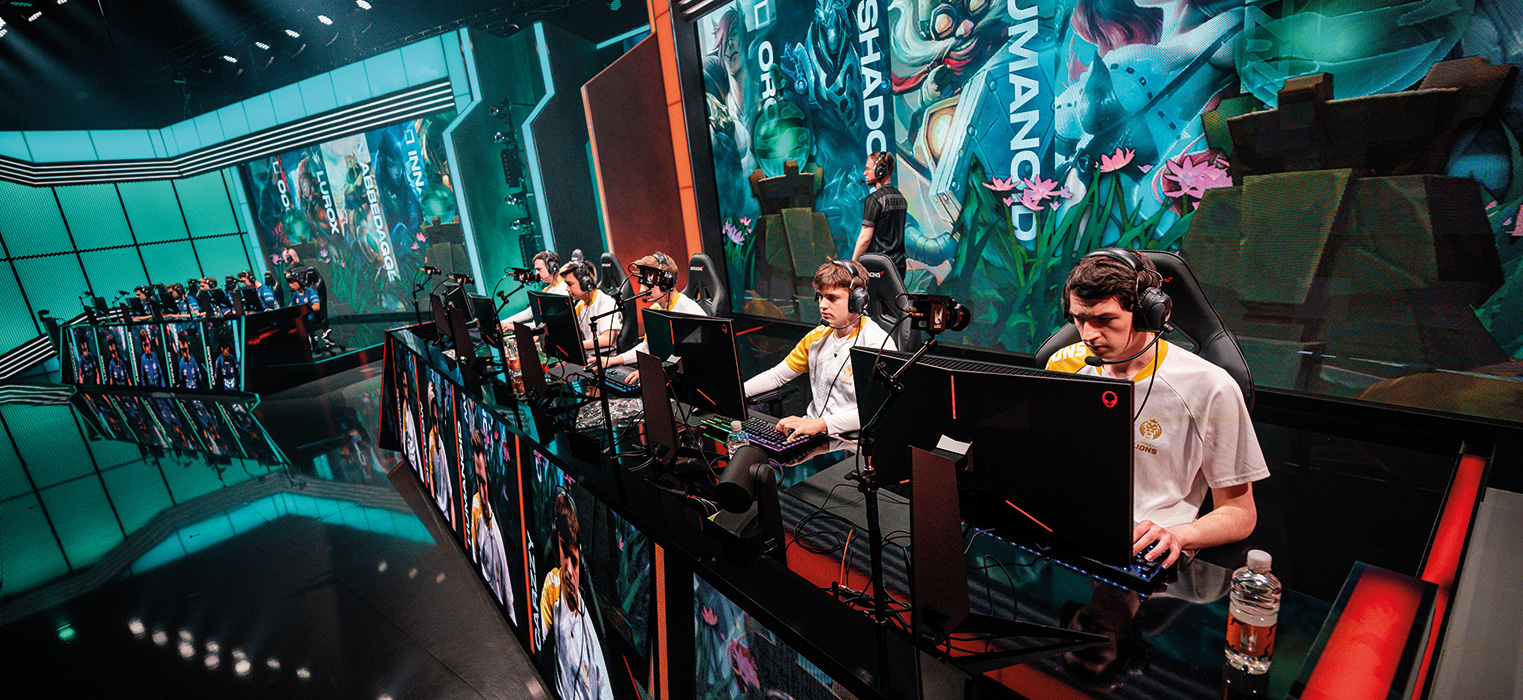 Posted on Aug 3, 2020 by FEED Staff
Sponsored editorial
To adapt quickly to the big industry changes of 2020, Riot Games started broadcasting remotely. It's using the experience to build a new way of doing content
It's been a challenging year for sports, but one high-octane sector has weathered this year's trouble spots especially well – and even come out the better for it.
Esports broadcasting originated with small groups streaming their gameplay to their peers on a personal basis. Now, those early days have come full circle, with major esports competitors circumventing the big stadium events and streaming to fans at home directly.
Riot Games, publisher of worldwide online battle arena hit League of Legends, has temporarily parked its record-breaking stadium battles for studio-based broadcasts to a fan base that just keeps on growing. "Esports has been in a unique place," says Jose 'Diego' Tramullas, head of esports production, Europe. "We don't necessarily need the physical space to have a competition. Unlike traditional sports, we have been able to continue with our competitions."
Another contributing factor to the positive run that esports has had this year is the number of people staying at home. This has led to an increase in video streaming in general, but for Riot, this has also meant a greater uptake in players of the company's games. However, all of this good fortune doesn't mean there aren't still problems to be solved. For example, Riot had to cancel this summer's League of Legends European Championship.
Tramullas explains: "Over the last couple years, we were trying to find new ways of doing things, but it's human nature that people find it hard to change. You are always thinking about the risk. But this year, we had no option. We had to find a way to do our show without doing it in a live arena."
It felt good to see how much we were improving with each show
The Riot team undertook rebuilding an online show from scratch, adding improvements and tweaks to the workflow week after week.
"We tried things that we were scared of doing," continues Tramullas, "but if we didn't do it, we would have no show. We went from a fully controlled environment in our studio to everyone at home, and there are a lot of things that can go wrong. Our thought was how to minimise the risk. For some of the key roles, we made sure they had fully redundant internet connectivity. We also went with some LTE backup options."
With any great degree of latency, competitive gaming cannot function. Riot has been creating international productions with gameplay taking place in Berlin before being produced in a studio in LA and then being distributed. There is a certain amount of latency in these international workflows, but nothing that can't be managed and nothing that is going to affect the audience experience.
"Latency in the broadcasts generally isn't as much of a problem, as long as we bundle video and audio together. But we can't afford any latency in the gameplay itself. You have to get it perfect," explains Tramullas. "So the only solution is to have local game servers, where the only latency is the time it takes for data to get from your PC to the server hosting the game."
The Riot Games Nimble servers were hosted on Amazon Web Services (AWS). The servers control all the feeds that go into the game broadcast, including the player, observer and shoutcaster feeds. Some of these go to partners, others to different distribution platforms like YouTube or Twitch.
Riot ended up doing its show entirely remotely, with the competitors playing in Riot's studio in Berlin, but with the rest of the production crew operating remotely. The biggest challenge was moving from a full studio to production to a remote production in a very short amount of time – in a single week in fact.
"It took us a while to get where we are now, because we were learning as we were going. It was a stressful time, but also very exciting. It felt good to see how much we were improving with each show," Tramullas adds.
League of Legends is a legendary hit in the esports world, but Riot has recently released several other games, including Valorant and Legends of Runeterra, and it is eager to roll out content around these new titles.
Tramullas concludes: "We want to learn how to scale what we do, and this experience has helped us a lot. The more we can stream remotely, the more we'll be able to do for our new games and new ecosystem."
This article first featured in the September 2020 issue of FEED magazine.